Magento 2 stores - Attract more customers by Custom Stock Status
The Most Popular Extension Builder for

Magento 2
With a big catalog of 224+ extensions for your online store
Overview
Product status seems to be an introduction and crave the first impression for customers who click to see them. Moreover, you know that anyone loves the beautiful design and looks which make them stay still to see things longer. Understanding the customers' behaviors, Custom Stock Status module is built to help stores admin to generate an unlimited number of statuses. Thanks to this, your customers can track the stock status of the products and then make the purchasing decisions easier.
In this blog, we will discover detailedly what is Custom Stock Status and why this function is a must-have add-on for e-commerce stores.
Main contents
How is Custom Stock Status defined?
Custom Stock Status is an extra function surpass the default configuration of Magento. In which, it offers exact information about the products stock availability by allowing admins to create unlimited stock statuses and labels. In addition, it also enables your customers to get notifications when the products are available or out of stock. Hence, product visibility is improved significantly and bring better customers experience on webshops.
Who most need Custom Stock Status tool?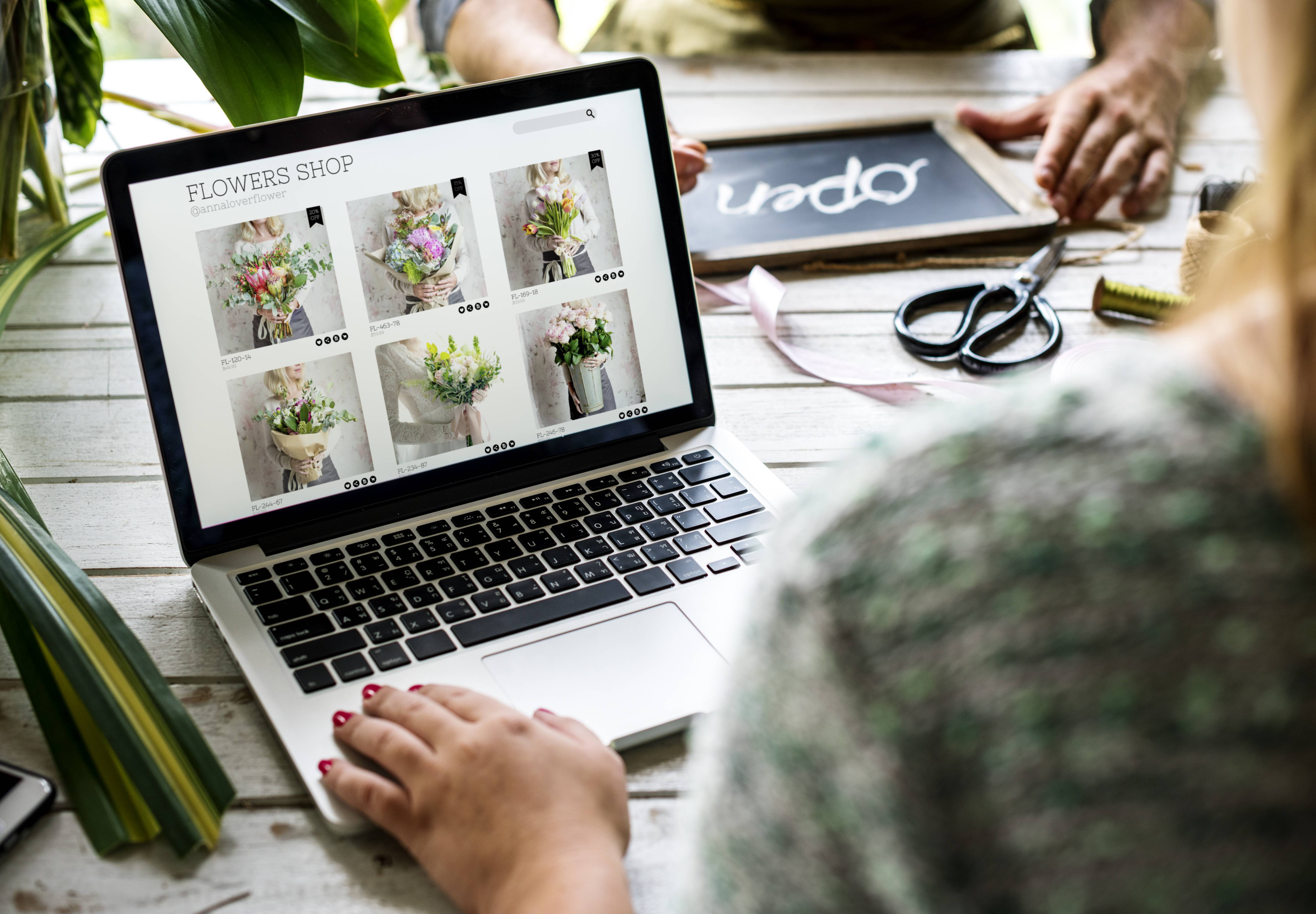 This fantastic tool is obviously used for stores owners and admins who need to manage and update the products' statuses continuously.
Also, this tool is especially necessary for Online Stores who have to deal with a huge amount of products and categories. With the automatic update and edit the stock statuses, Magento admins save a lot of time and effort to control their data. By this time, they can spend on other tasks which are more important with which machine cannot process.
Why online shops should use Custom Stock Status?
Limited stock status in Magento default
In Magento 2 Default, the number of stock status is restricted for In stock or Out of Stock only. The stores' admins are unable to add more functional statuses such as Coming soon, Available next week, Hurry up! Last items!
Another minus point of Default Magento is that customers would like to know about the detailed situation of stock of products such as the current quantity is many or not, but it is impossible in Magento default configuration.
As a sequence, store owners cannot add more appealing text or image at the place of stock status of a product with the aim to attract customers and increase sales.
More information to customers
Custom Stock Status allows adding unlimited stock status for specific products. Customers can find all the needed information right on the product page without asking store admins for anything more. As a result, customers can get to know the details of their concerned products and make purchase decision easier.
More chances to increase sales
Custom Stock Status allows adding any appealing texts and eye-catchy images to specific products. Therefore, the store owners can have more opportunity to attract customers, speed up their purchase, and increase sales for targeted products.
Better user experience
When customers reach their favored items and clearly know about the product availability, they will have a better impression in stores which provide full information that they need to know about products. Besides, the eye-catchy image and appealing text will make them more excited to shop on stores' sites.
How can Custom Stock Status bring benefits for e-stores?
Offer An Unlimited Number Of Custom Stock Status
This extension allows store admins to create product stock status. As a result, the stock labels will no longer be limited in In stock and Out of stock.
Besides, there will be no restriction to any stock status labels, which enable store owners to set the suitable stock label for each or product groups based on their purpose and the situation in reality.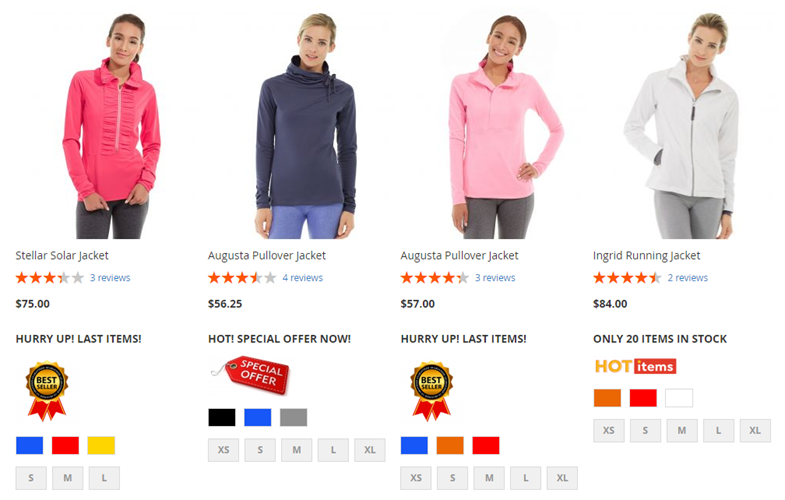 Apply Stock Status Label Automatically
This is one of the most outstanding features of the Custom Stock Status extension. Certain stock status labels would be auto-applied to each product based on the change in the ranges of product quantity.
For instance, the status would be Hurry up! Last items if the product quantity is from 1 to 10. On the other hand, if the quantity of that product is less than 1, the notification will be changed into In Stock in 5 Days automatically.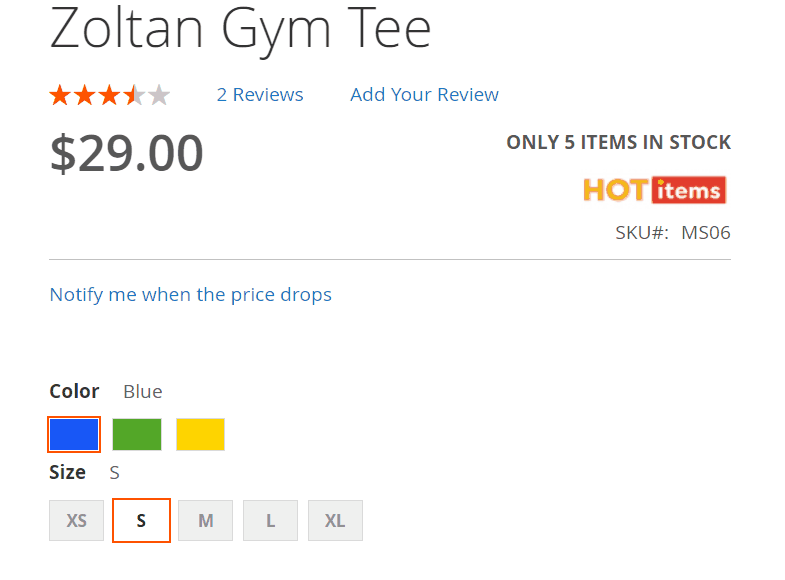 All Types Of Products Are Supported
Admin can apply Custom Stock Status to the following product types
Simple Products
Group Products
Bundle Products
Configurable Products
Because of that, the stock status of an item will be adjusted automatically once the customers change the attributes of it. For instance, the T-shirt Pro red color, size M is about to out of stock. If the customers select a child product, the Hurry up! Last items status will appear spontaneously.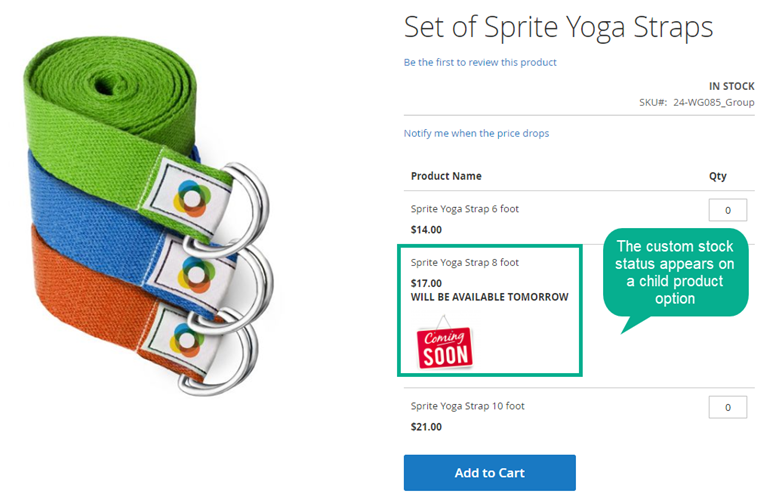 Display Stock Status On Multiple Positions
The product stock status will be displayed at the most common positions on your sites, which would ensure that customers can be well notified. Below are several pages which customers can view the stock status:
Product Listing Page
Product Detail Page
Product Widget Block
Shopping Cart Page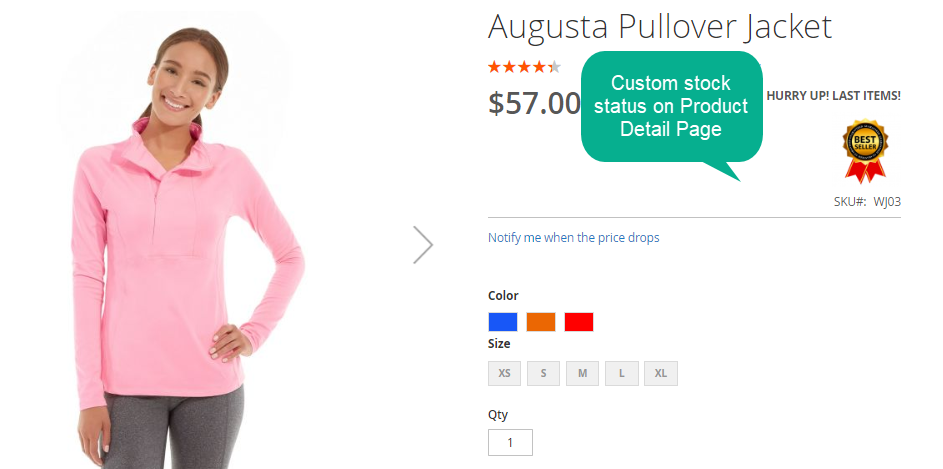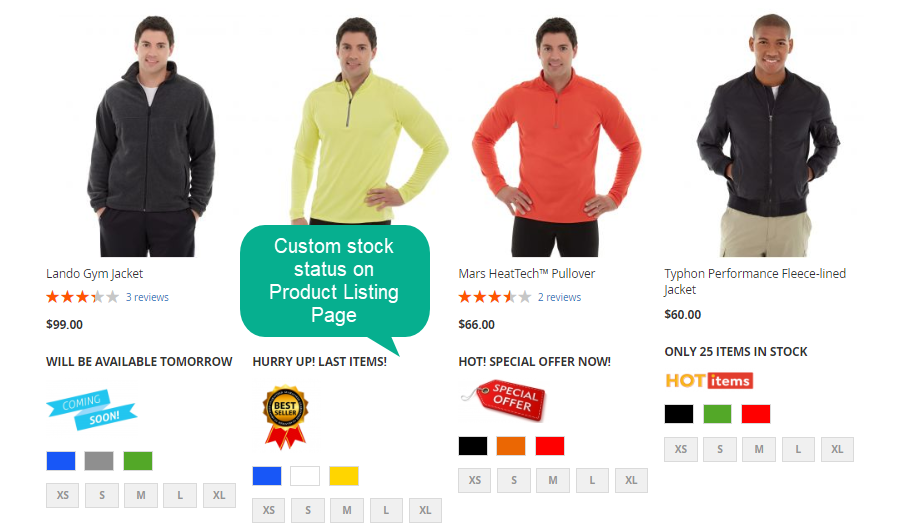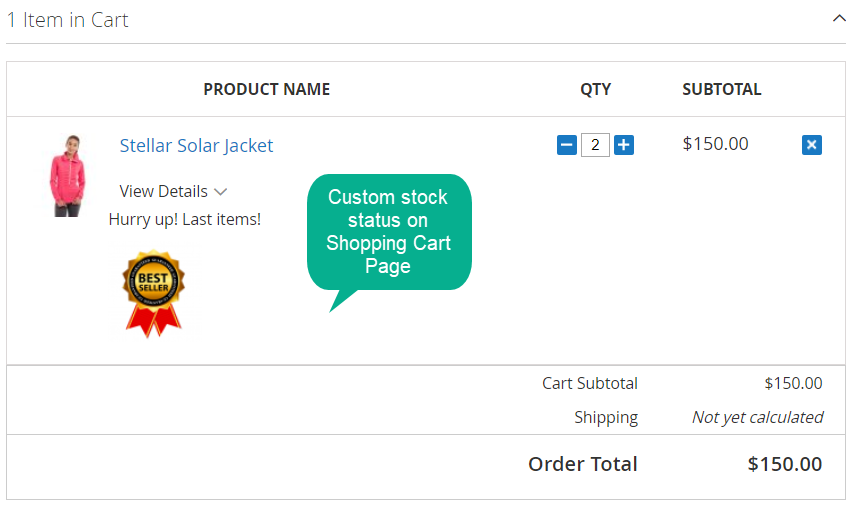 Provide Labels With Beautify Images
In order to make the stock status label more lively and appealing, admins are allowed to easily upload an image before entering the status text for a product.
Thanks to the eye-catching images, the store status display as well as the whole page would have an attractive and nice look, which would grab the customers' attention effectively. Not yet, store admins are also able to place the image either in front of or behind the text.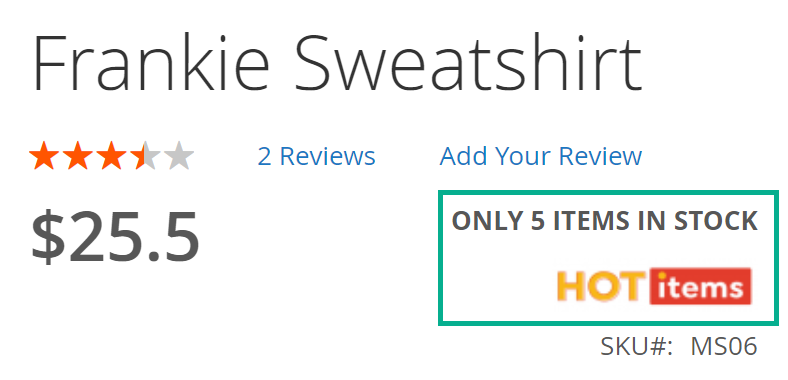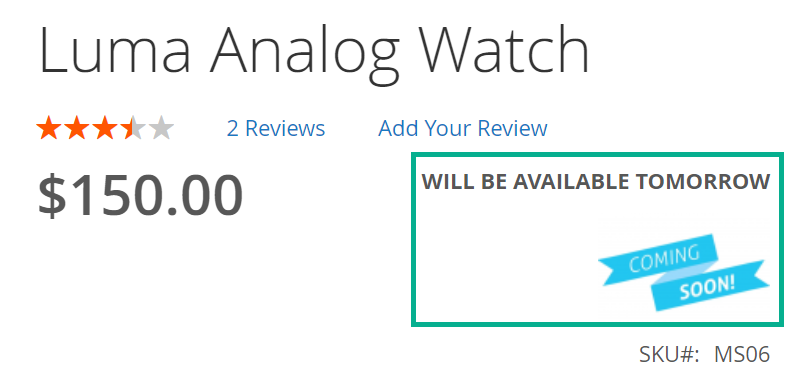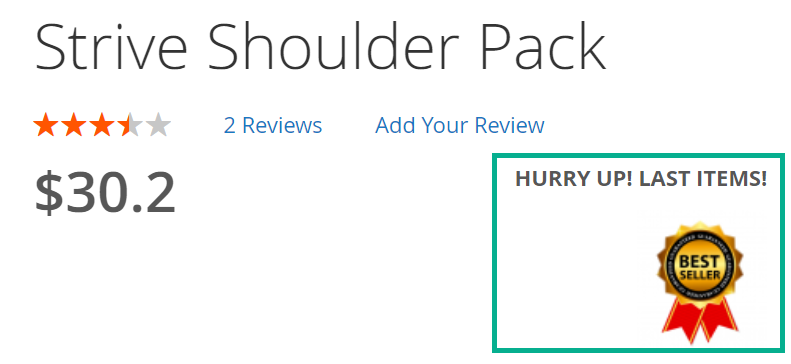 Full Features List of Custom Stock Status
For Store Admins
Enable/ Disable the module
Apply In stock, Out of stock or both to specific products
Choose the format of the status: Text Only, Image Only, Image & Text, Text & Image
Set the status display positions: Product View, Product Widget, Product Listing Page
Enable/ Disable adopting custom stock status to child product options
Allow/ Disallow displaying stock status depending on dynamic quantity range
Offer the ability to configure the text or/and image for stock status
Allow configuring the automatic stock status according to the ranges of quantity
For Customers
Have more details about the product stock status
Being notify immediately when the product available again
Experience superior shopping experience
Final Words
If online stores are finding a solution for updating and editing their products' status, Custom Stock Status is the answer for them. The module allows store owners to add any stock status to any products. In addition, this extension is an effective solution to provide customers with more details about product availability, while it helps stores increase sales considerably with attractive stock status labels.
Website Support
& Maintenance Services
Make sure your store is not only in good shape but also thriving with a professional team yet at an affordable price.
Get Started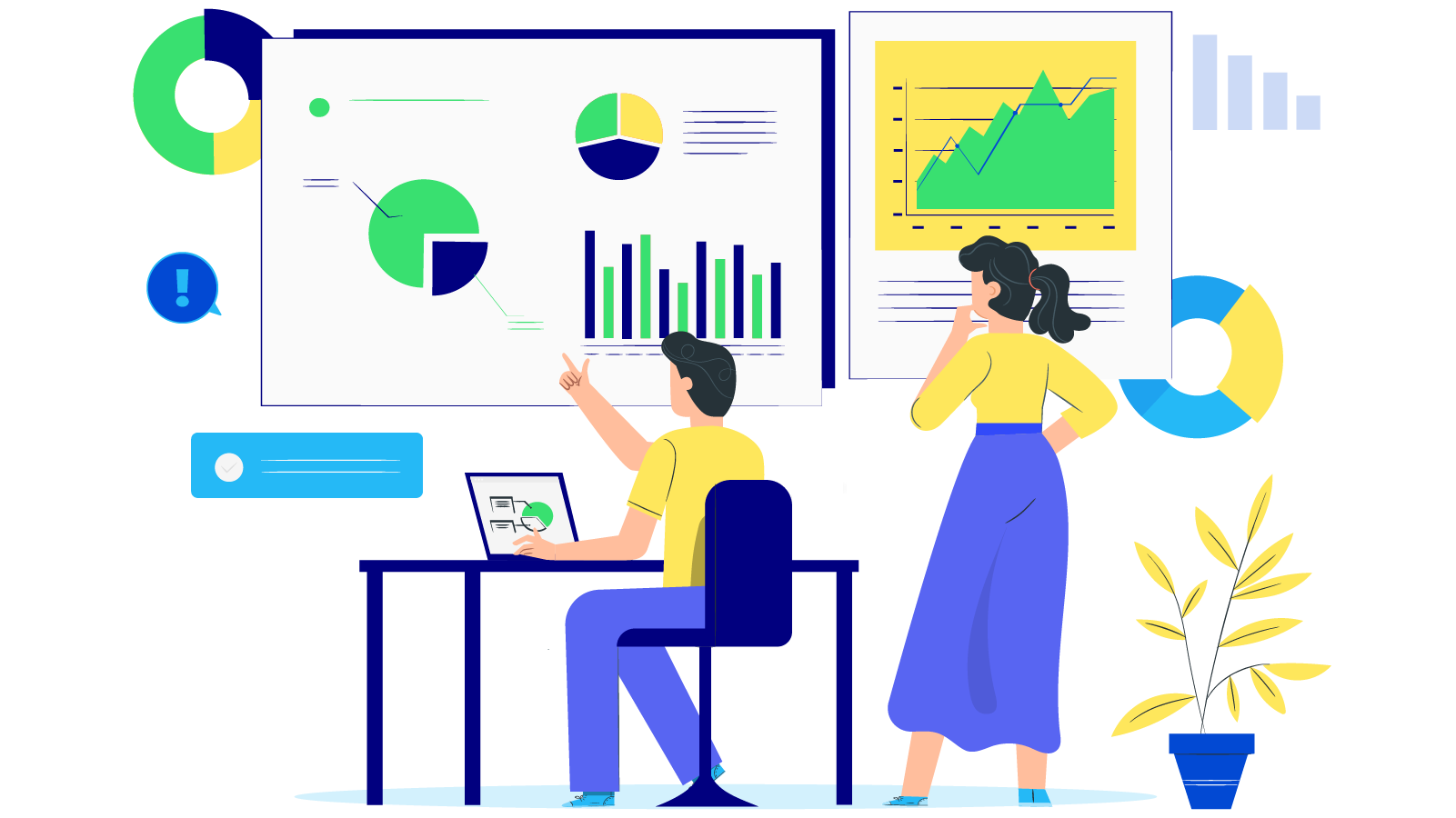 New Posts



Subscribe
Stay in the know
Get special offers on the latest news from Mageplaza.
Earn $10 in reward now!