Alfa9 SL's Locations (1)
Llacuna 22, Barcelona, Barcelona 08005, Spain. View Map.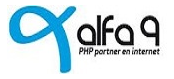 Founded in 2003, Alpha9 is a leading provider in the field of e-commerce. It was born to bring great technological solutions to Magento merchants. With 15 years of experience in the field of ICT, Alfa9 with a team of professional, experienced marketing experts has brought online stores amazing results. Alfa9 helps your store boost sales, increase conversion rates, and reach out to customers faster. Work with Alfa9 to make a difference to your store and get the best from Alfa9.