Mageplaza Product Alerts - 5+ Case Studies on Actual Magento 2 Stores
Mageplaza Product Alerts - 5+ Case Studies on Actual Magento 2 Stores
When your customers are interested in your products, but they are out of stock, it can lead to a big loss for you. There is nothing to make sure that they'll not go to other stores to fulfill their wish.
An effective way to keep customers coming back is to increase their engagement with your products with a restock notification. In this post, you'll see how Magento 2 stores add product alerts to the out-of-stock product page to increase customer retention and save potential sales.
Express care for customers by constantly updating them with every change in product availability and price
Check it out!
How do Product Alerts perform on actual Magento 2 stores?
Example #1: Willow Bay Home & Garden Store
Willow Bay is a UK-based retailer of high-quality home furnishings and garden furniture dedicated to offering unparalleled customer service, expert design consultancy, and competitive pricing on everything from the company. With over 30 years of experience combined between two founders through aspects of interior design and home furnishing industry, the company can provide customers with the best and most tailored service.
Inevitably, sometimes products will not be available to serve customers. For customers' demand and the purpose of not letting customers leave without their favorite items, Willow Bay engages customers and retains their interest in products by enlightening them without waiting hopelessly.
A "Notify when available" button is included on each page of products that are out of stock. It works as a connection between customers and the stores about the update of product status as soon as possible.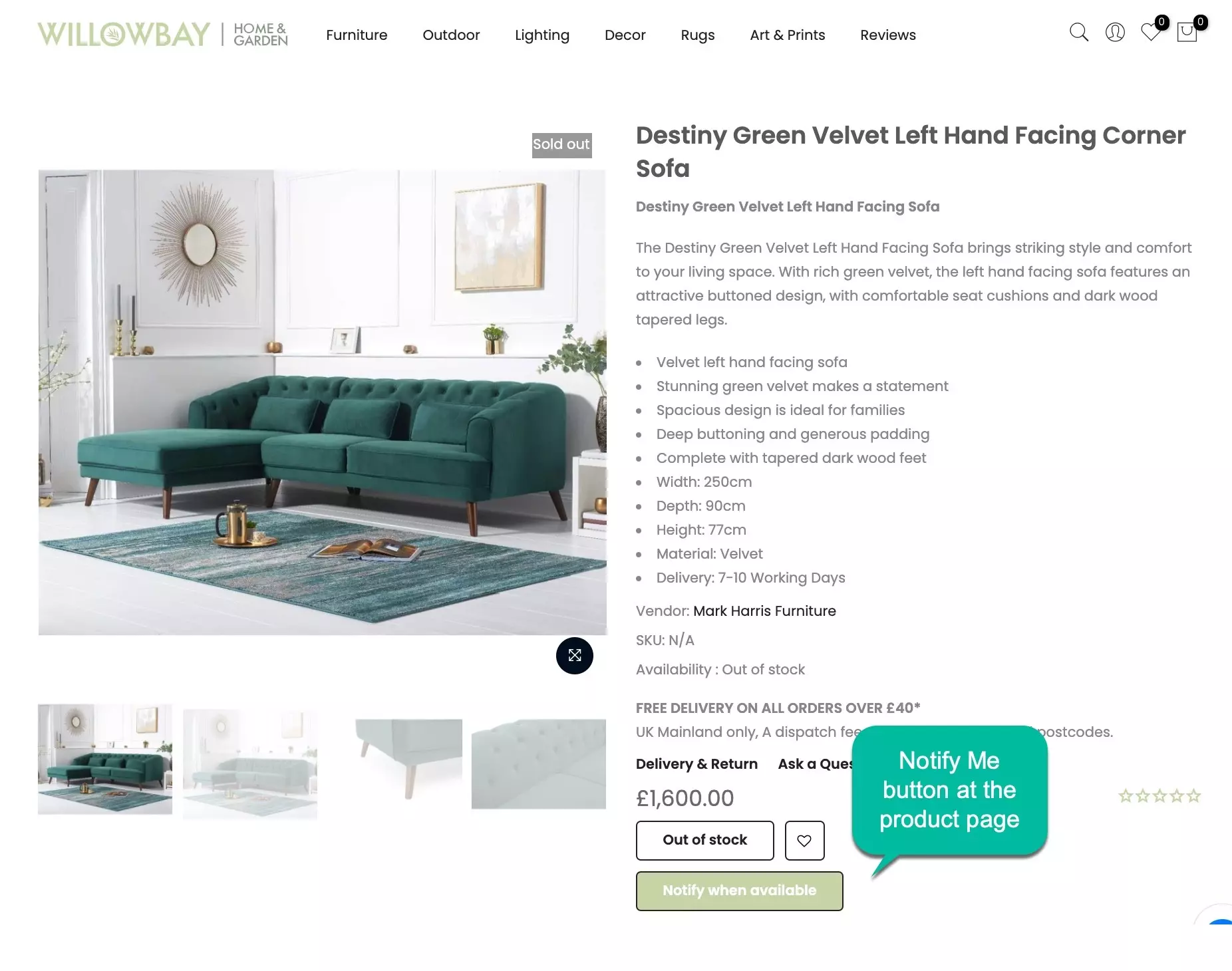 When customers click the button, a popup appears in which they may enter their email addresses to be notified when the product is refilled. This popup collects emails from customers while maintaining a high level of privacy and security.
Example #2: RCBattery Store
RCBattery provides high-quality batteries sourced from one of the world's most advanced Lipo battery manufacturers specializing in remote control batteries for planes, drones, jump-start kits, and power tool batteries. RCBattery is committed to providing every customer the best quality product, service, and price.
The store uses Magento 2 Product Alerts to notify customers about the product status, providing customers with a convenient shopping experience while preventing the stores from selling out-of-stock items.
Right from the homepage, RCBattery displays out-of-stock products with a "Notify Me" button. Customers can click on this button and fill in their emails right on the popup to get updated about the products they want to buy.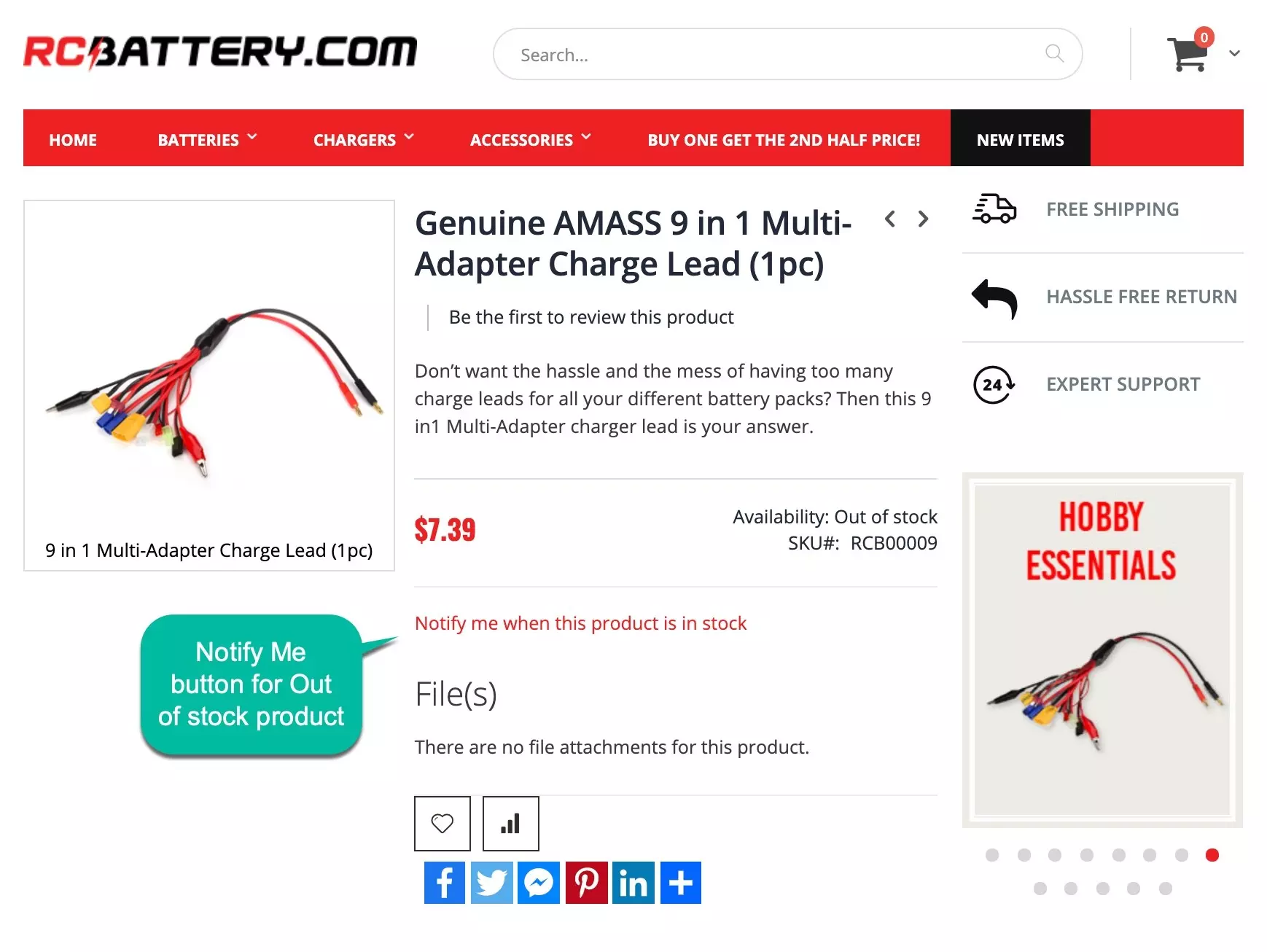 Notify button is also included on the product page as the line "Notify me when this product is in stock" with the same functionality as the one on the home page. For RCBattery, the back-in-stock email will be delivered only one time. It helps avoid bothering customers if they change their minds and can motivate them not to miss out on that one chance to buy what they want.
Example #3: Just Rip It Store
Just Rip It Store is a nice place for your hobby and collecting experience. Here you can find various cards of unopened sealed vintage hobby packs.
Right from the homepage, Just Rip It displays a lot of featured card collections, which seems easier and more convenient for customers when visiting the store.
Aside from the instant Add to Cart button following each card, a Notify Me button is there too with out-of-stock products. Customers can see which card is not available now and choose to receive an email notification as soon as it is restocked.
You can also find "Notify me when this product is in stock" on the product page.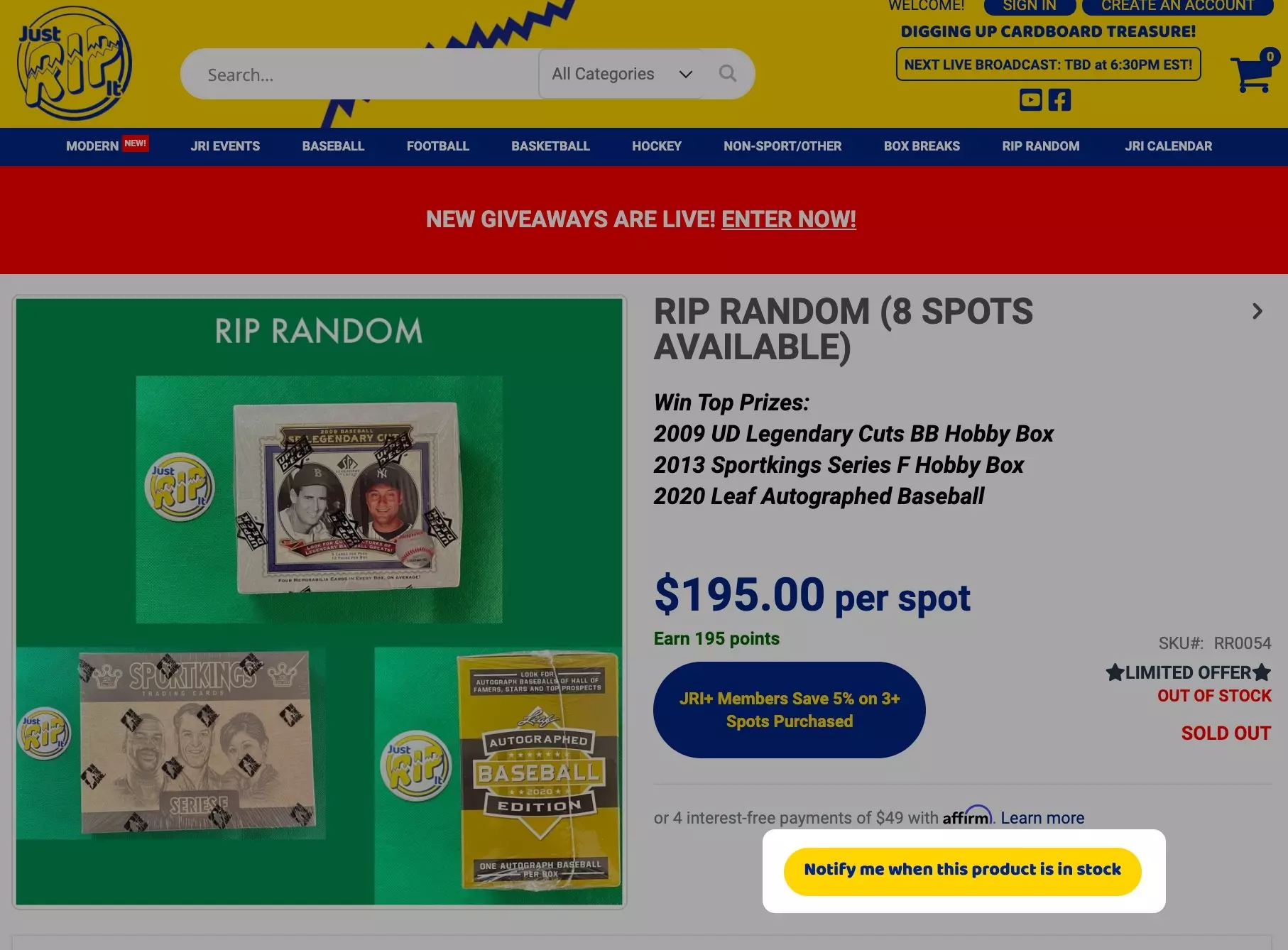 Enter the email address and you'll get notifications once the product is in stock. The email is sent only one time and your email not be used for any other purpose.
Example #4: The Countrystore
You can find anything from accessories, clothes, footwear, etc., in The Countrystore. At the Notify me pop-up, the store puts a message that ensures customers' emails will be kelp private and not shared with any third party. Before leaving emails for back-in-stock notifications, you can totally make sure about the site security.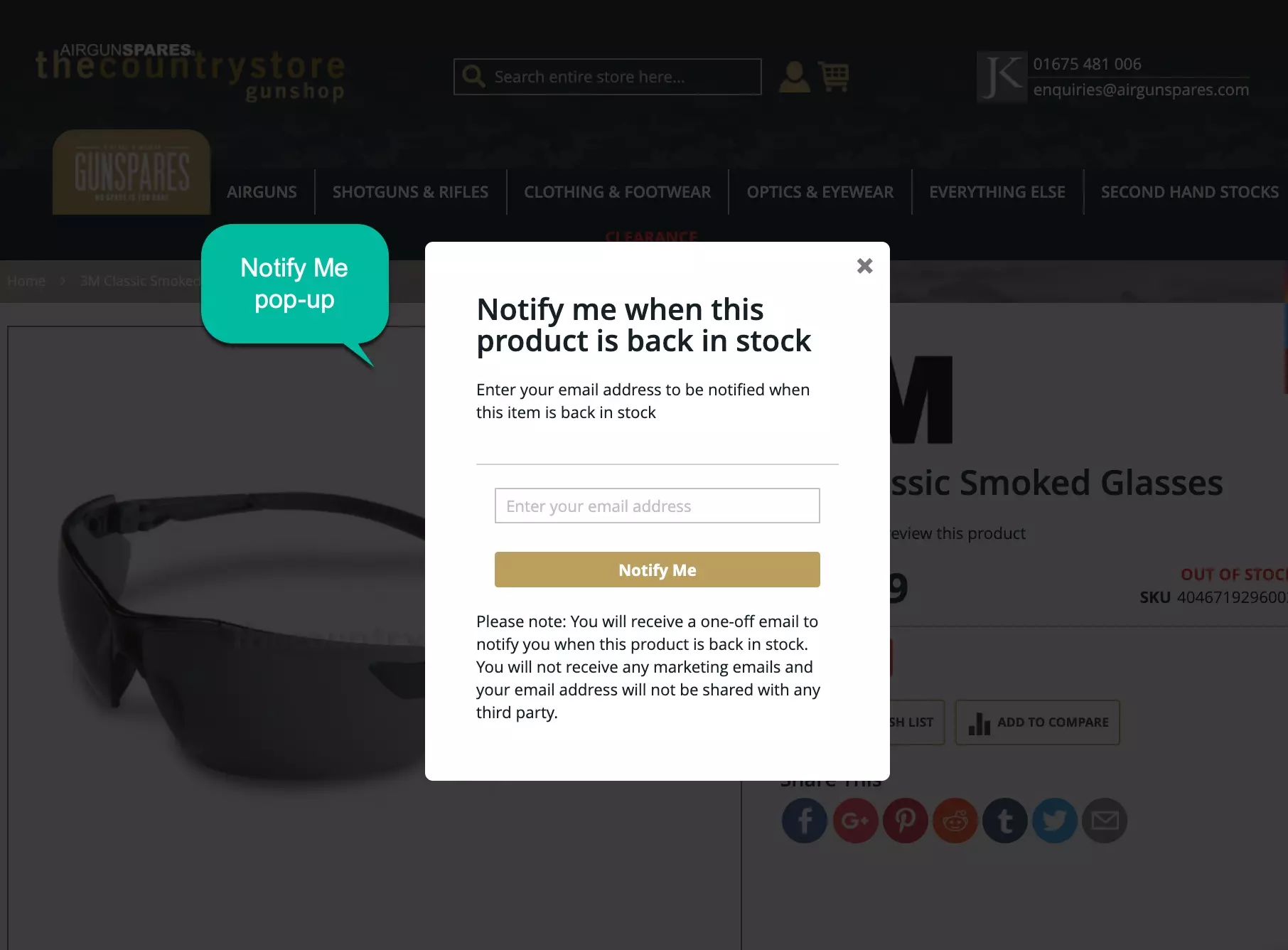 Why is important to notify your customers about product availability?
It's a good idea to communicate product changes with your customers. This helps retain the relationship between customers and the products they're already interested in.
Inform clients when their favorites will be restocked so they can purchase them. It will entice customers to return to your store and make a purchase. A timely back-in-stock notification can alert potential customers and encourage them to buy once a particular amount of time has passed.
The benefits when using Magento 2 Product Alerts
Using [Magento 2 Product Alerts[(https://www.mageplaza.com/magento-2-product-alerts/) gives you two main benefits:
Applicable to a wide range of products
No matter what products you have in your stores, you can easily use Magento 2 Product Alerts extension. It doesn't limit you to turn on back-in-stock notifications for any products from virtual products, simple products, bundle products to downloadable products. It's also applicable for configurable products. The product alerts will be activated when all child products are out of stock.
Increase customer experience
Product Alerts creates a simple way for customers to be informed about product changes. They just need to enter emails in the pop-up, and notifications will be delivered automatically once the products are back in stock. Security of the customers' emails is guaranteed, so there is no problem using this extension.
Final Words
It's vital to keep customers informed about product changes and encourage them to buy. Using Magento 2 Products Alerts, you can accomplish this without pressing clients to sign up for emails or spamming them with follow-up emails. The one-time communication will most likely serve as a friendly reminder about the products rather than a sales push.
---
---
Jade is a content creator, book lover, and a hodophile. She loves to learn skills and practical knowledge to excel at marketing, especially content marketing.
Subscribe
Stay in the know
Get special offers on the latest news from Mageplaza.
Earn $10 in reward now!