12+ Best Zoho Alternatives for Your Business
The Most Popular Extension Builder for

Magento 2
With a big catalog of 224+ extensions for your online store
Zoho is one of the best-known CRM and project management software with a long list of outstanding features. However, that doesn't mean it's always the best solution for businesses looking for end-to-end business management software.
Some researchers found that users often switch from Zoho as their business grows. The platform no longer meets their needs, and they begin looking for a Zoho alternative.
The good news is that there are many Zoho alternatives on the market. We did the hard work for you and picked 12+ as the best solutions. Check out their top features, pricing plans, and what's special about them - and find a solution fit for your business.
Let's get started right now!
Table of contents
1. Bitrix24
As a very scalable program, Bitrix24 starts by offering a fully free version for startups and small businesses, but that can grow to support unlimited users and enterprise-sized teams.
Bitrix24 provides a wide range of different features, including CRM solutions, document management, time management, project management, online store support, and varying levels of free cloud-based storage. The exact features you get, and how helpful they can become, depends largely on which pricing plan you choose.
Bitrix24 was designed to make business communications simpler than before with the help of both social features and automated processes. That's why some well-known brands, such as Forbes, TechRepublic, and TechHive, choose this platform to plan and execute their work.
Bitrix24's top features:
Social intranet for internal communication
Employee workload management
Customer relationship management (CRM)
Time planning features, such as event schedule, calendars, and meeting manager
Search, store, discuss, and share files and documents
Real-time updates, smart following, company-wide announcements, and notification settings
Telephone integration
Gantt charts
Bitrix24's pricing plans:
Free Plan
Start+ Plan: $19/ month (billed annually)
CRM+ Plan: $55/ month
Project+ Plan: $55/ month
Standard Plan: $79/ month
Professional Plan: $159/ month
2. Basecamp
Basecamp is ideal for managing a larger team and a lot of clientele, with unlimited collaborators, clients, and projects.
It's widely considered one of the best and most reliable project management tools, which can be set up in no time and no prior experience or professional training to start running right away. The platform enables you to organize team members, delegate different tasks, and monitor the progress right from the beginning.
You can also use Basecamp as your files and documents manager, as it lets you store, tag, link, comment, or share your corporate information quickly, thanks to a drag-and-drop feature. Plus, its long 30-day free trial is very helpful, as it gives you more time to see if it is really a good fit for your business needs.
Basecamp's top features:
Manage tasks, schedules, discussions, files, and more in one place
Manage multiple users' projects and work
In-app collaboration with your team
Separate dashboard to show to clients only
Email and desktop notifications
Report on project performance
Basecamp's pricing plans:
Basecamp Personal: $0 (3 projects, 20 users, and 1GB storage space)
Basecamp Business: starts from $99/ month (unlimited projects, unlimited users, and no per-user fees)
3. EngageBay
EngageBay is one of the most affordable all-in-one marketing, sales, and customer support software for small businesses and startups. Loved by over 46,000 businesses globally, EngageBay's features are tailored for businesses on a budget.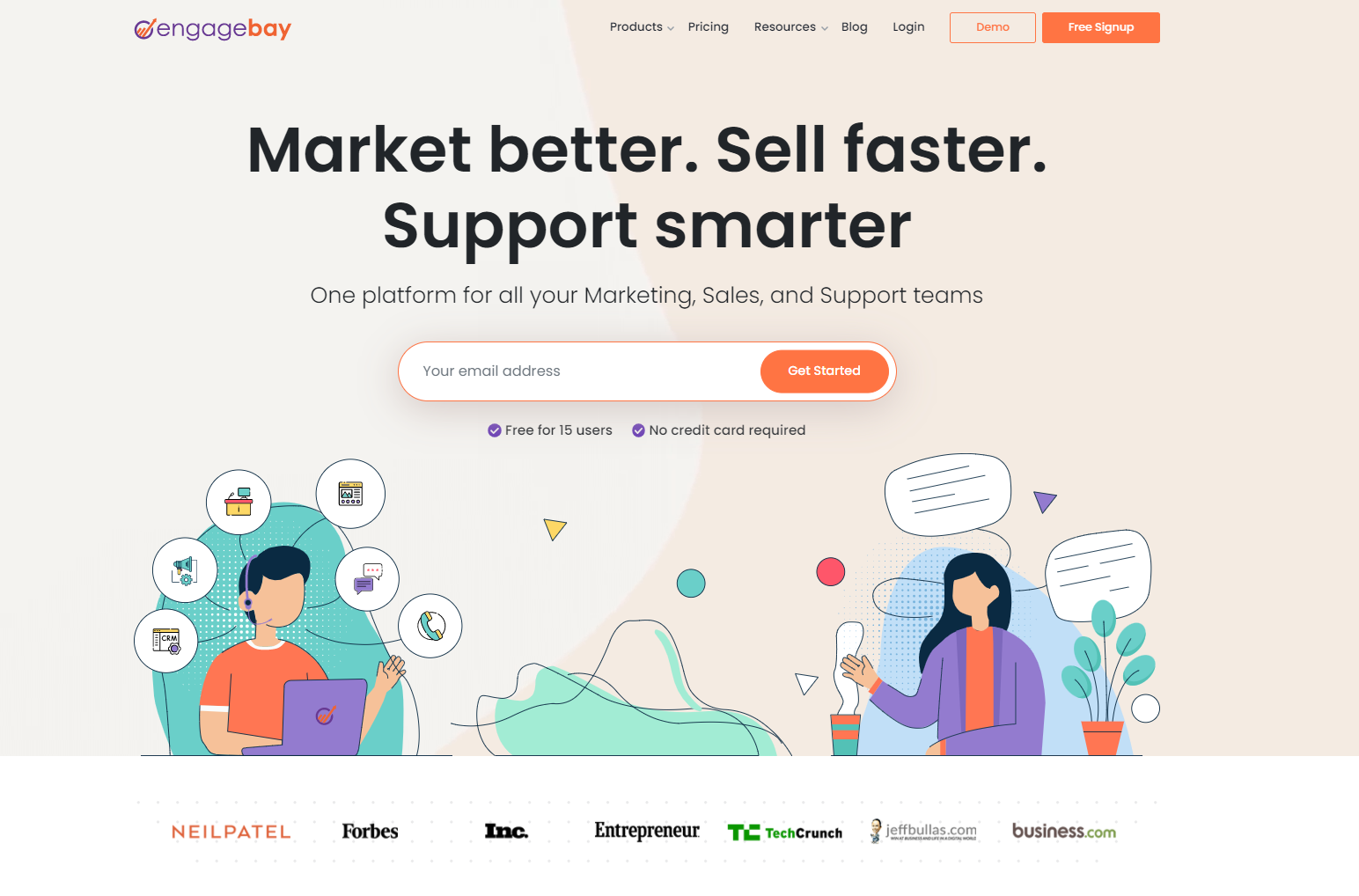 EngageBay's CRM suite can be used as a standalone software product or an all-in-one suite. The features are neatly categorized for better UI and UX. You get omnichannel marketing to help you engage with your customers using automated campaigns through email, phone, SMS, web, social media, and push notifications.
EngageBay's drip campaigns let you nurture your leads over time. In addition, the platform's multistep visual workflow automation builder helps you automate both simple and complex tasks easily.
The Sales Bay offers deal pipelines, quotes, proposals, in-CRM telephony, sales funnel reports, and so much more. You also get LiveChat, helpdesk, autoresponders, and service automation.
EngageBay's top features:
Intuitive dashboards for marketing, sales, and customer support
Multistep automation builder
Drag-and-drop landing page builder
A/B testing for landing pages and email broadcasts
Drip campaigns for continuous lead nurturing
Smart lists for advanced segmentation
Centralized CRM for quick access and update of customer data
2-way calendar sync
In-CRM telephony
Dozens of integrations
EngageBay's pricing plans:
Free-forever plan
Basic plan: $14.99/month
Growth plan: $49.99/month
Pro plan: $99.99/month
3. Celoxis
Celoxis is an award-winning project management tool, which comes with good-to-great features, not just for small and midsize businesses, but also for large enterprises. Its comprehensive features address the real-world complexities of managing projects, planning, delegation, collaboration, tracking, and reporting.
There are two different ways to subscribe to Celoxis, including an on-premise version (where it is installed directly on your own servers) and a cloud version with monthly and annual subscription options. The on-premise option is a one-time $450 fee, but you may want to subscribe to some additional costs, like ongoing support and troubleshooting from the company.
Its simplistic design and bright colors make it one of the most readable CRM, and drastically lower the learning curve. Its flexible subscription style also makes it easy for different business types to adopt quickly and relatively painlessly.
Celoxis's top features:
Build project plans that adapt to real-world conditions
Track budgets, costs, and profits in real-time
Exchange comments, share files, and discuss online with your team and clients
Gantt charts
Reporting analytics
Celoxis's pricing plans:
Cloud solution: $22.5/ user/ month (billed annually)
On-premise solution: $450 (billed once)
4. Scoro
Scoro is an online business management tool designed for small to midsize businesses, especially those in consulting, information technology, and advertising.
Scoro is the only platform that managers can control their business from a single location. As for the CRM side of things, the software keeps all contact details - both suppliers and customers - on a single page where they can be searched, filtered, and sorted easily.
Some features like the task board, calendar, and planner make collaboration simple, especially when you're working with a distance or time barrier between team members. Plus, Scoro helps with managing bills and finances, with even the lowest pricing levels providing valuable financial trackers and insights to make business planning easier.
Scoro's top features:
Get a comprehensive overview of any project on one single page, including time spent and billed, invoices and expenses, comments and files, and planned tasks and meetings
Assign and delegate tasks within the team
Compile and send invoices and quotes - and automate overdue reminders
See the schedule of everyone in a shared team calendar
Track performance and important KPIs on an eye-appealing dashboard with real-time data
Scoro's pricing plans:
Essential Plan: $26/ user/ month (billed annually)
Work Hub Plan: $37/ user/ month (billed annually)
Sales Hub Plan: $37/ user/ month (billed annually)
Ultimate Plan: custom price
5. ProofHub
ProofHub is an awesome collaborative platform for your team, no matter if you're all working in the same office or spread across the country. It consists of invaluable software, such as time-tracking and proof and approval systems, which help make it clear where and when your attention is needed.
ProofHub also offers project templates and more advanced B2B features on higher subscription plans. Though ProofHub seems to be an expensive Zoho alternative at first glance, it's a good option for larger teams that need great coordination tools. Some companies like Nike, Taco Bell, or Tripadvisor use this tool to plan and execute their work.
It also gives significant discounts for non-profit organizations that might not otherwise be able to afford this kind of comprehensive program.
ProofHub's top features:
Simple and well-designed user interface
Kanban boards and workflows simplify task and project management
Gantt charts help plan projects and manage resources efficiently
Online proofing brings clarity to the feedback-sharing process
Get clear business insights with dynamic reports
ProofHub's pricing plans:
Essential Plan: $45/ month (billed annually)
Ultimate Control Plan: $89/ month (billed annually)
6. Insightly
If you're looking for a powerful app that will take care of all your CRM needs with an amazing feature set, you have to go for Insightly. It has been trusted by more than 25,000 companies around the world, and is regarded as one of the best cloud-based CRM solutions for both small and large enterprises.
Its wide range of features helps businesses build strong customer relationships over time and exceed expectations every time. They also improve collaboration within the business itself to achieve higher levels of efficiency and productivity.
Insightly works smoothly on devices running Android and iOS (as well as Kindle services), which lets users do their work regardless of their location. For more functionality, Kindle integrates with many third-party apps, systems, and services, such as Google Gmail, Google Apps, Office, Outlook, Evernote, and more.
Its pricing plans are flexible enough to suit most businesses, and it even offers a free plan for startups and small businesses.
Insightly's top features:
Manage contacts, leads, partners, vendors, and suppliers
Automate your project processes and keeps things moving
Create and track milestones in projects or assign events and tasks to milestones
Go social smoothly
Easy integration with other apps, programs, and systems
Insightly's pricing plans:
Plus Plan: $29/ user/month (billed annually)
Professional Plan: $49/ user/month (billed annually)
Enterprise Plan: $99/ user/month (billed annually)
7. Clarizen
As an enterprise-class project management tool, Clarizen has a single goal: to help move your business forward. Like some other platforms that offer a more extended trial run, its 30-day trial really helps you get to know the advantages of this tool.
The centralized system makes it simple to access and organize several different projects at once, all within one collaboration environment. You can also designate separate areas for various teams and projects.
Plus, the tool can prioritize and organize critical tasks, even whole projects, and portfolios, which makes managing larger organizations much easier.
Clarizen's top features:
Empower users with an intuitive, flexible interface
Generate automated and repeatable processes, workflows, and alerts
Share immediate project data and track progress
Centralize and share resources, develop different strategies and align communications
Constantly track project budget and expense
Clarizen's pricing plans:
Enterprise Edition: $45/ user/ month
Unlimited Edition: $60/ user/ month
Clarizen Salesforce Edition: $100/ user/ month
8. Copper
Copper simplifies work processes as an affordable executive tool from large multi-national projects to small home-based ventures. Considering that even its base level subscription comes with unlimited users and unlimited projects, this tool is an amazing Zoho alternative.
The platform lets you centralize all your project documents, and provide a collaborative environment, which makes it significantly easier to keep track of different teams within your organizations.
The drag-and-drop calendar is quite easy to use, while tasks and task timer functions keep everyone on track and organized. It's also easy to hold your team members accountable for their progress toward critical project goals.
Unfortunately, the base subscription rate doesn't give you access to phone support, but the mid-tier plan does, along with several additional tools and added storage in the cloud.
Copper's top features:
Migrate your existing database into its system in just a few clicks
Its built-in communication and collaboration tools make sure everyone in your team is kept in-the-loop about projects
Give you a 360-degree view of your business operations
Integrate seamlessly with existing business systems
Copper's pricing plans:
Basic Plan: $25/ user/ month (billed annually)
Professional Plan: $59/ user/ month (billed annually)
Business Plan: $119/ user/ month (billed annually)
9. LiquidPlanner
LiquidPlanner becomes a representative of the new generation of collaboration and project management tools. Instead of being a one-size-fits-all approach, LiquidPlanner has specific features for IT teams, project managers, development teams, and marketing teams. It can match the project needs of both small businesses and large enterprises.
The software enables you to carry out flexible best and worst scenario planning for risk assessment situations, and provides multiple features to adapt to changing priorities. It also integrates time tracking, client portals, and resource management to help businesses keep a tab of their clients, such as tracking hourly rates for each team member with greater accuracy.
LiquidPlanner has mobile apps for Android and iOS, making it convenient to use wherever and whenever you are. You can also integrate the software with Dropbox, Google Drive, and Box, the three most popular cloud share services.
LiquidPlanner's top features:
The automated and predictive scheduling feature incorporates all updates into the project plan in real-time, giving you an accurate completion schedule
Its analytics and reporting are smart and highly customizable
Dashboards are simple and highly customized
Include a deep library of videos, expert coaching, training, and customized consultation to help users every step of the way
LiquidPlanner's pricing plans:
Professional Plan: $45/ user/ month (billed annually)
Enterprise Plan: custom price
10. Smartsheet
As a leading enterprise collaboration solution for businesses,Smartsheet offers an innovative way to collaborate on projects and processes. Accessible from any device and browser, Smartsheet efficiently combines the ease of use of a spreadsheet with collaborative file sharing and discussions, visual timeline management, and automated workflow capabilities.
Smartsheet offers targeted solutions for high-value, mission-critical work processes in your organization. This consists of simplifying planning and budget, streamlining facility managing, elevating customer experiences, etc.
Its solutions are specialized for multiple industries, ranging from manufacturing, retail, technology, professional services, education, and construction. The software also caters to a wide number of teams and roles, including project management, IT and Ops, sales, marketing, software development, and HR departments.
Smartsheet's top features:
Increase your work agility with its simple, user-friendly, and intuitive interface
Automate your repetitive tasks, prompt your teams to make updates, and get reminders when tasks and projects are due
Get your hands with real-time data using live reports and Smartsheet Sights
The combination of data encryption, user authentication, and physical security ensures top-notch protection
Work with different apps and integrations (Google G Suite, DocuSign, Box, Microsoft Office 365, etc.)
Smartsheet's pricing plans:
Individual Plan: $14/ month (billed annually)
Business Plan: $25/ month (billed annually)
Enterprise Plan: custom price
Premier Plan: custom price
11. ActiveCollab
As an interesting project management and collaboration tool, ActiveCollab combines time tracking, task management, and billing into one easy-to-use and well-designed app.
With ActiveCollab, your team members can communicate, get informed, and see what to work on next. They can share files, brainstorm, discuss, and much more. Working with clients is also possible without sacrificing the confidentiality of your internal data, as the platform can limit your clients' access only to features and areas they have permission to use.
On top of that, the solution lets up create invoices and estimates faster and more accurately. It features an invoice designer and tools for recurring invoices, reminders, as well as payment status tracking. It also integrates well with online payment gateways.
The platform is available on a web-based platform, leaving you free of any administrative, hosting, and maintenance work. You no longer have to worry about upgrades, as the web-based version always runs on the latest version and maximum speed. Plus, if you need full control of your own data, custom URL, and an unlimited number of team members, you can opt for the self-hosted option.
ActiveCollab's top features:
Time tracking and invoicing
Kanban board
Creating tasks with multiple and deadlines
Gantt-like timeline for planning
A shared team calendar for collaboration
ActiveCollab's pricing plans:
ActiveCollab Project Management: $6.25/ member/ month (billed annually)
Paid Bundle Features: additional $3/ member/ month (billed annually)
12. Easy Projects
As a professional vendor of project management services, Easy Projects helps your team plan projects and deliver your best work quickly and efficiently. This cloud-based service improves team collaboration, keeps clients engaged throughout the project lifecycle, and keeps budgets and expenses under control.
The expense tracking and project billing features keep your teams from going over budget, while its time tracking features allow for accurate tracking of employees' billable hours. The platform offers detailed reporting capabilities for you to view and analyze project performance and profitability, while identifying bottlenecks in activities and tasks.
Easy Projects also ensures easy and effective communication within teams and departments. Messaging capabilities let team members exchange messages at the task or project level. It also has an intuitive interface that teams can understand and master easily.
Easy Projects' top features:
Expense tracking and billing tools
Accurate analysis and tracking of multiple projects
Machine learning and AI features for project completion forecasting
More than 2,000 integrations with business software and productivity tools
Easy Projects' pricing plans:
Easy Projects Team: $24/ user/ month (billed annually)
Easy Projects Enterprise: custom price
Easy Projects Team (Professional Services): custom price
Easy Projects Enterprise (Professional Services): custom price
13. Freedcamp
Freedcamp is a web-based collaboration and project management tool developed for single and multiple users to help them work effectively via the cloud. It provides users with an extensive set of tools and capabilities, including core features, such as assigning tasks to each team member, scheduling events via calendar, discussion boards, and time tracking, to name some.
It's an ideal tool for anyone who wants to stay in control of their projects, budget, resources, and time. No matter if you're planning a corporate campaign or a big party, Freedcamp gives you the necessary features to determine your targets and achieve your goals without having to settle for a pricey project management service.
One of the most excellent benefits that Freedcamp brings to the table is that it's free to use. There's no limit to the number of users and the number of projects you can work on. That said, there's a 200MB storage limitation, but for heavy commercial users, that can be addressed with affordable subscription levels.
Freedcamp's top features:
Issue tracker
Shared team calendar
Project templates
Task lists and status management
Invoice management
Freedcamp's pricing plans:
Free Plan
Minimalist Plan: $1.49/ user/ month (billed annually)
Business Plan: $7.49/ user/ month (billed annually)
Enterprise Plan: $16.99/ user/ month (billed annually)
The bottom line
Choosing the right Zoho alternative is not an easy task, but you've come to the right place for help. The best way to find an appropriate tool is by matching up your project/ business requirements against whatever key features are in the program.
We hope that you find this list of 12+ Best Zoho alternatives helpful. If you have anything to add, please let us know. Finally, good luck and happy hunting!

Marketing Manager of Mageplaza. Summer is attracted by new things. She loves writing, travelling and photography. Perceives herself as a part-time gymmer and a full-time dream chaser.
Website Support
& Maintenance Services
Make sure your store is not only in good shape but also thriving with a professional team yet at an affordable price.
Get Started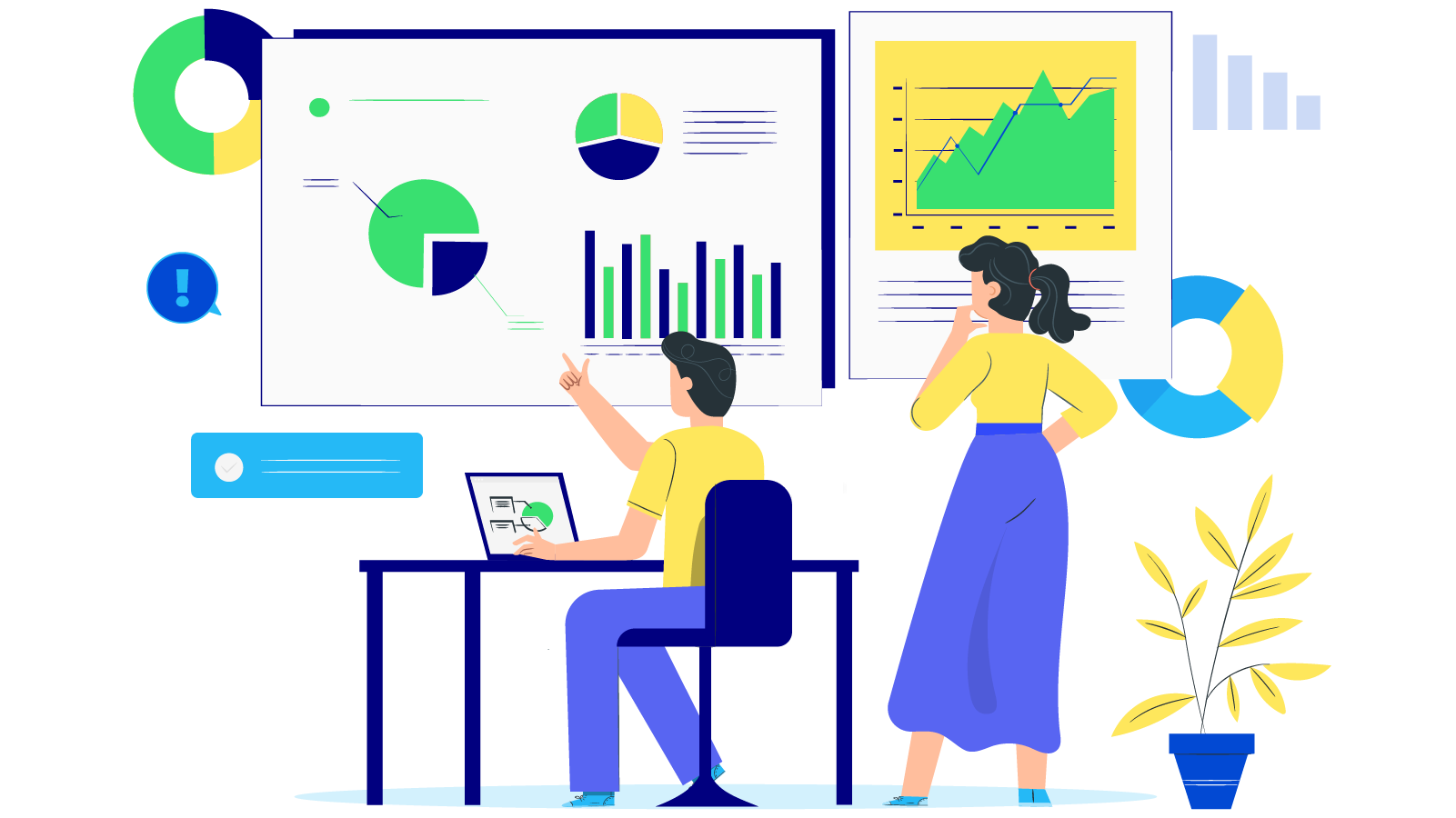 New Posts



Subscribe
Stay in the know
Get special offers on the latest news from Mageplaza.
Earn $10 in reward now!