CartaSi for Magento 2
v1.0.0
Magento 2 CartaSi / Nexi Payment extension brings another payment gateway facilitating e-commerce stores in the Italian market. CartaSi supports the most common payment cards, which creates the most convenience for customers.
You've just added this product to the cart:
CartaSi
Impressive Numbers & Great Benefits
There are 13 million CartaSi cards in circulation.
More than 2 billion transactions have been completed to date with CartaSi.
17.7 million Italian consumers regularly buy products or services online.
41% of the Italian consumers made purchases abroad in 2016
Most used payment method in Italy, with 13 Million issued cards.
Very swift payment processing
Safe and reliable with 3D Secure, minimizing chance on chargebacks.
Refunding possibility
Bring more convenience for both customers and e-commerce stores
Offer extra payment method to checkout
CartaSi - Nexi pay is a payment gateway to provide payment services for entrepreneurs on the Italian market.
Adding CartaSi / Nexi as a payment method on the Checkout page brings convenience, trust and security among your Italian customers.
Support the most common card types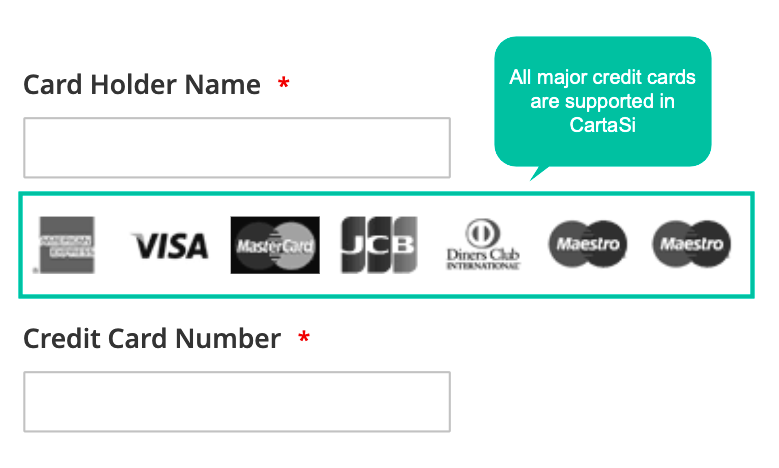 CartaSi - Nexi Pay accepts the mostly-used cards in the worlds VISA, VISA Electron, V-Pay, Mastercard, Maestro, American Express and Diners. The diversity in card types brings great convenience for customers to make payment via CartaSi gateway.
Show CartiSi payment based on amount conditions
One of the most outstanding features of CartaSi is setting the eligibility of CartaSi usage based on the orders' total amount.
From the admin backend, store admins can set the minimum and maximum order total to qualify CartaSi payment. When Order Total meets amount limit requirement, the new CartaSi payment method is displayed at frontend.
It is a way to motivate customers to make further purchases to apply their preferred payment method - CartaSi.
No sensitive data stored
Customers after selecting CartaSi - Nexi Pay as payment method will be redirected to the hosted page of CartaSi provider. When customers complete their payment they will be backed to the shopping site. Therefore, all sensitive data will be kept secure for customers.
Full Magento 2 CartaSi / Nexi Payment Features
For store admins
Enter the title of the payment method displayed on the checkout page.
Set Status for Order to be set by CartaSi payment method: Processing or Suspected Fraud
Select payment action to capture payment: Authorize and Capture (Payment will be Capture immediately after the Customer place order successfully) or Authorize (Payment will only be captured when admin creates an Invoice for Customer's order)
Choose 1 of 10 languages to display on the CartaSi payment page
Select countries which are applicable to CartaSi payment
Set minimum amount of the whole order (including ship, tax, discount) to be paid by CartaSi
Set the maximum amount of the whole order (including ship, tax, discount) to be paid by CartaSi
Enable/ Disable debug mode to store payment information in Magento web server
Specify the display position of this payment method compared to other payment methods
Enable/ Disable the extension
Select testing environment: Sandbox or Production
Set Payment Page URL to redirect customers when paying with CartaSi
Input Merchant Alias and MAC Calculation Secret Key
Compatiple with other Checkout & Payment Extensions: Stripe Payment, Moneris Payment, SagePay Payment
For customers
Another payment method with security and fraud prevention
Use Cartasi with all major card types
Save credit cards for further purchase
Make payment fast and conveniently
Have a better shopping experience
FAQs
Yes, definitely. CartaSi is properly compatible with Mageplaza One Step Checkout
There are 10 languages available in CartaSi.
Yes, you can do this by setting Payment from Applicable Countries as Specific Countries, then select the nations you want.
Yes, of course. From the admin backend, you can set Minimum Order Total and Maximum Order Total. If Order Total reaches minimum limit, the new CartaSi payment method is displayed at the frontend. When Order Total exceeds the maximum limit, CartaSi payment method will be hidden at the frontend.