Magento Imagine 2019 - Recaps and Personal Experience from Mageplaza
The Most Popular Extension Builder for

Magento 2
With a big catalog of 224+ extensions for your online store
Table of Contents
Magento Imagine 2019 is the biggest event hosted by Magento annually. This global-scale conference is one of the most desired destinations for all geeks working in Magento and e-commerce including online merchants, retailers, agencies, developers, and ecommerce industry leaders. This year, the number of attendees reached a peak with roughly 3,500+ people coming from around 60+ countries all over the globe.
Mageplaza had a chance to attend Magento Imagine 2019 as a silver sponsor under a group named VEDC which unites a group of 6 IT companies in Vietnam. In the conference, apart from meeting with many customers who I had only worked online with and making a lot of friends, there were priceless lessons learned and so many important announcements that I was thrilled to get. Below are some recaps and personal experience written by Summer from Mageplaza.
Overview of Magento Imagine 2019
It's been one year since Adobe took place Magento and there seems to be a lot brought to the whole community from this acquisition. This made the very first general session & keynotes on May 13 full of announcements. All of these were about Magento Commerce Cloud, Adobe Sensei, Progressive Web Apps, Page Builder, important integrations with Amazon and Google Shopping, Omnichannel order management and many more related to support and certifications. I was a bit overwhelmed to deal with a large amount of information and imagined the bright future of Magento which was claimed to be better than ever by many speeches.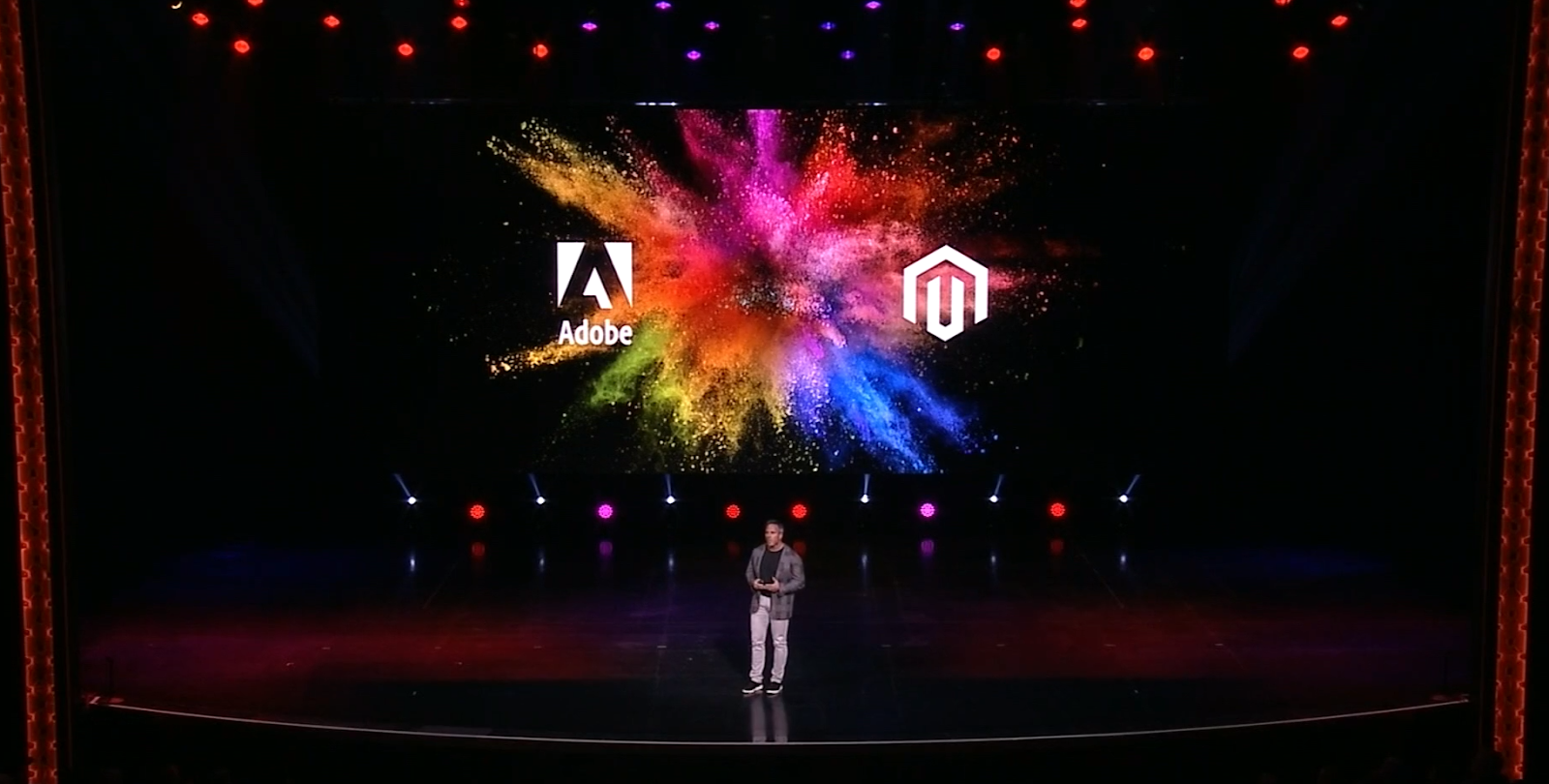 Gray Specter emphasized that Magento has never been about a single leader, Magento strengths come from empowering a global community of individuals.
Within one year, Adobe has established a lot in Magento. They have invested a lot of time in innovations to make sure this community continues to be empowered. The Magento association is firmly established with a new board of directors who are trying to get everyone involved.
With the active performance of Magento innovations lab, there are some great functionalities contributed including tools for A/B testing, AR virtual search, emotion robotics, and several Adobe integrations.
New Challenges & Opportunities
The integration of Magento Commerce with Adobe Commerce Cloud alongside Adobe marketing, advertising and analytics clouds brings us a greater opportunity in marketing. We now have an opportunity to reshape, redefine and own the customer journey like ever before. This goes well beyond the customers. Owning the journey with your brand over a lifetime of the engagement is infinitely harder and more complex. The dynamic offer new challenges and opportunities to expand our own skills set.
That big data, AI and machine learning are being utilized at the highest level leads us to use insights to drive real-time relevance and personalize experiences. This requires even greater openness and collaboration to reach a cross-function within our organizations. Hence, one more time, the line Expand the Experience was emphasized; and beyond this, expanding your knowledge, expanding and enhancing your relationships, expanding your experience with Magento, Adobe and with each other is what needs focusing.
Also in the first general session & keynotes, Gary informed that Adobe is always behind the community and is willing to support us seamlessly in the future.
Progressive Web Apps - the future of mobile shopping are here
PWAs(Progressive Web Apps) have appeared in conversations among Magento geeks and got mentioned more than ever during Magento Imagine 2019. According to Chris Sater from Google, PWA is the future of mobile commerce and this is no doubt at all.
In Imagine, there were some special/breakout sessions hosted to discuss PWA such as Stories from the Edge: First Explorers of Progressive Web Apps and PWA Studio and the Future by Eric Erway - Sr. Manager, Product Management, Magento.
In one of these sessions, the future of PWA was impressively shown by some figures. Noticeably, it was estimated that by 2020, PWA will have replaced 50% of general-purpose, consumer-facing mobile apps. This figure may push you to act accordingly and requires you to be more attentive about the trend right today. Otherwise, "you could be out of business tomorrow", said Grzegorz Bandurowski, Magento Tribe Master at Divante
That's serious! And we are here ready with @VueStorefront and @DivanteLTD

Reach out to @sandermangel or @PatrickFriday20 at #MagentoImagine2019 #Imagine2019

Let's talk #pwa! pic.twitter.com/xo62kXSwaP

— Grzegorz Bandurowski (@gbandurowski) 13 tháng 5, 2019
PWA Studio to have a native and robot integration to Paypal Braintree
This allows merchants to accelerate the time that market for high conversion mobile experiences. PWA studio has now made it easier for merchants and for developers to get started on creadit and debit transactions with a trusted gateway.
Integration with Adobe Commerce Cloud
With this integration, Adobe offers an opportunity for Magento to access Adobe Commerce Cloud which helps extend the overall experience into every channel and the end. The Adobe Commerce Cloud is built on Magento Commerce to leverage the Magento platform with limitless flexibility and the ability to customize and scale. Hence, this opens up the possibility to operate any business case and any industry globally across B2B or B2C.
Adobe Commerce Cloud serves large multinational stores, supports entirely customer journey and enhances business outcomes.
Magento Roadmap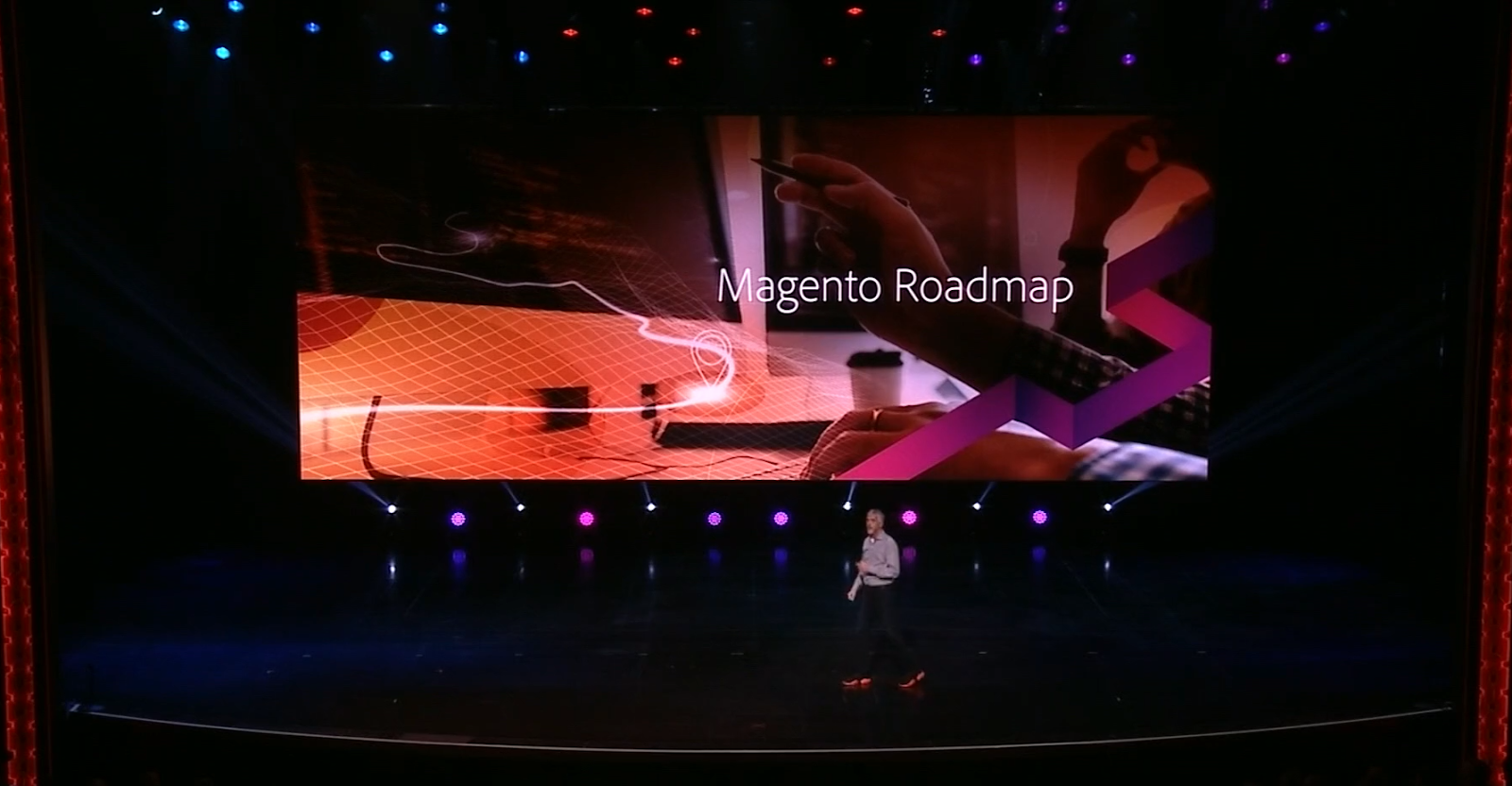 Power of Adobe Sensei to be brought to Magento Commerce
With the power of Adobe Sensei, a new personalization capability powered by Artificial Intelligence (AI) and machine learning framework offer intelligence and robot recommendations based on customer behaviors. You can see a video to have a quick view here (starts from 1:05:46)
Amazon Sales Channel Integration
This integration offers a huge capability for merchants to sell on the Amazon marketplace. It's become much easier to synchronize your inventory, your products, and your catalogs and your orders.
Google Shopping ads Channel Integration
This helps merchants target new audiences with a comprehensive integrated end-to-end Google shopping solution. Once again, the tagline Expand the Experience was repeated alongside with the emphasis on expanding the audiences that you reach and the channels which you reach them.
Omnichannel Order Management
Speaking of channels in Magento Imagine, omnichannel innovations like Magento order management with multi-stores and the capability to buy online and pick up anywhere. This opens up an opportunity to manage the inventory globally which includes:
Multi-tender payment workflows
Exception management for payments
More granular roles & permissions so you can better your business models
Full API coverage unlocks incredible new integration opportunities
Microservices architecture for improved scales and reliability.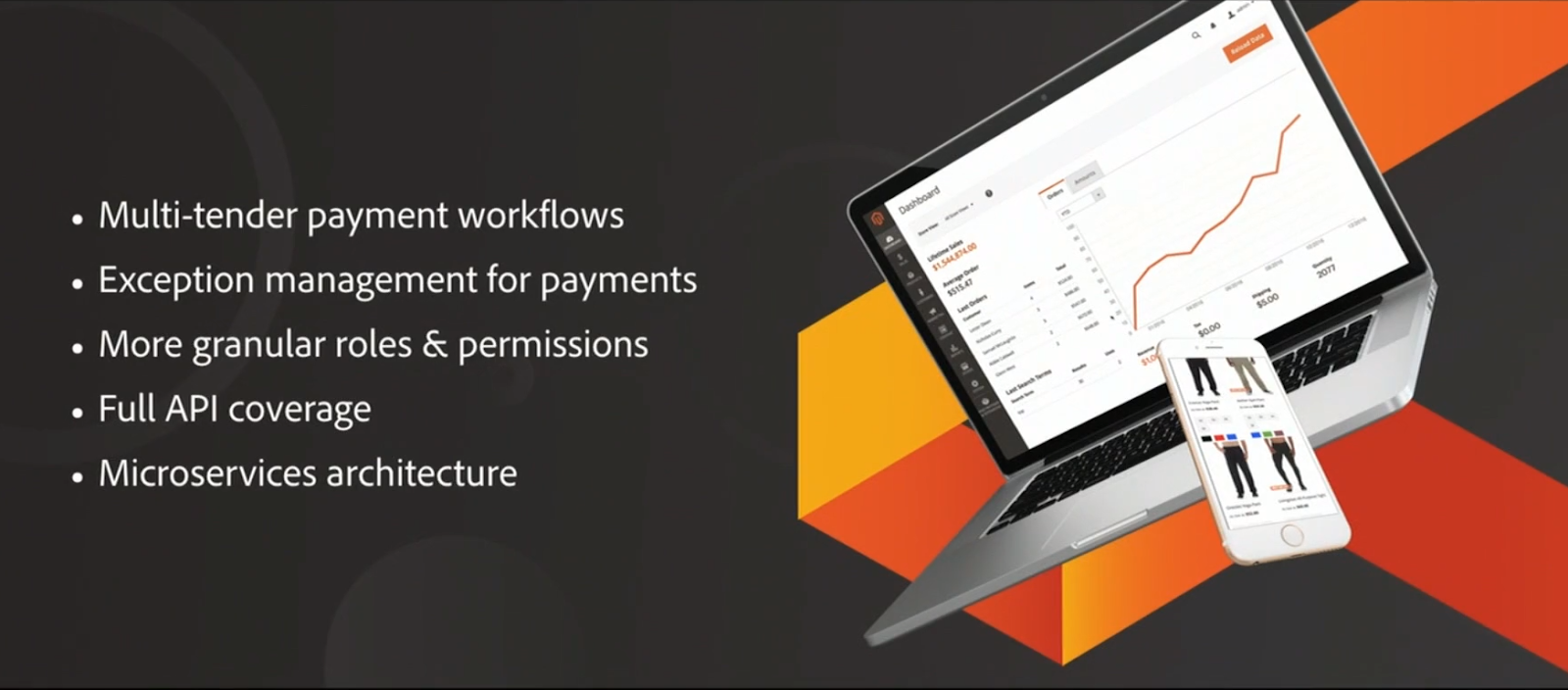 Future of Magento and Adobe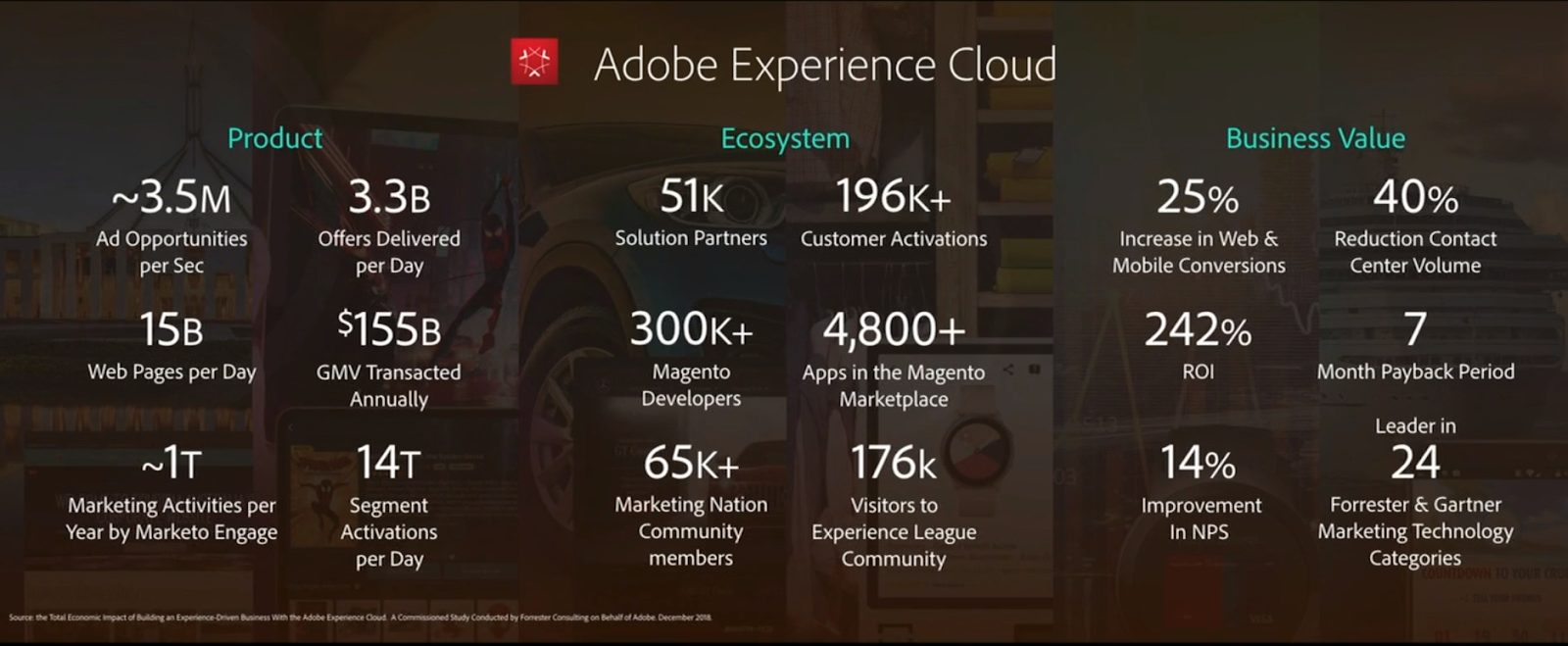 The strength of Magento does not come from an individual leader but the cooperation and the power of the big community of over 360,000 developers. This is why the importance of building a strong and healthy Magento community remains an ultimate mission. Adobe, for sure, acknowledges this and seriously focuses on nurturing this community. It is claimed that in 2020, Magento Imagine will still remain separate with Adobe Summit, which I personally prefer.
My Personal Experience in Imagine 2019
Though I have participated in so many events, Magento Imagine stands at the top for its scale. Plus, Imagine 2019 was the first Imagine that I have ever attended so I was pretty overwhelmed at my very first step inside the Wynn Las Vegas. Not to mention that sin city itself was overwhelming enough for me.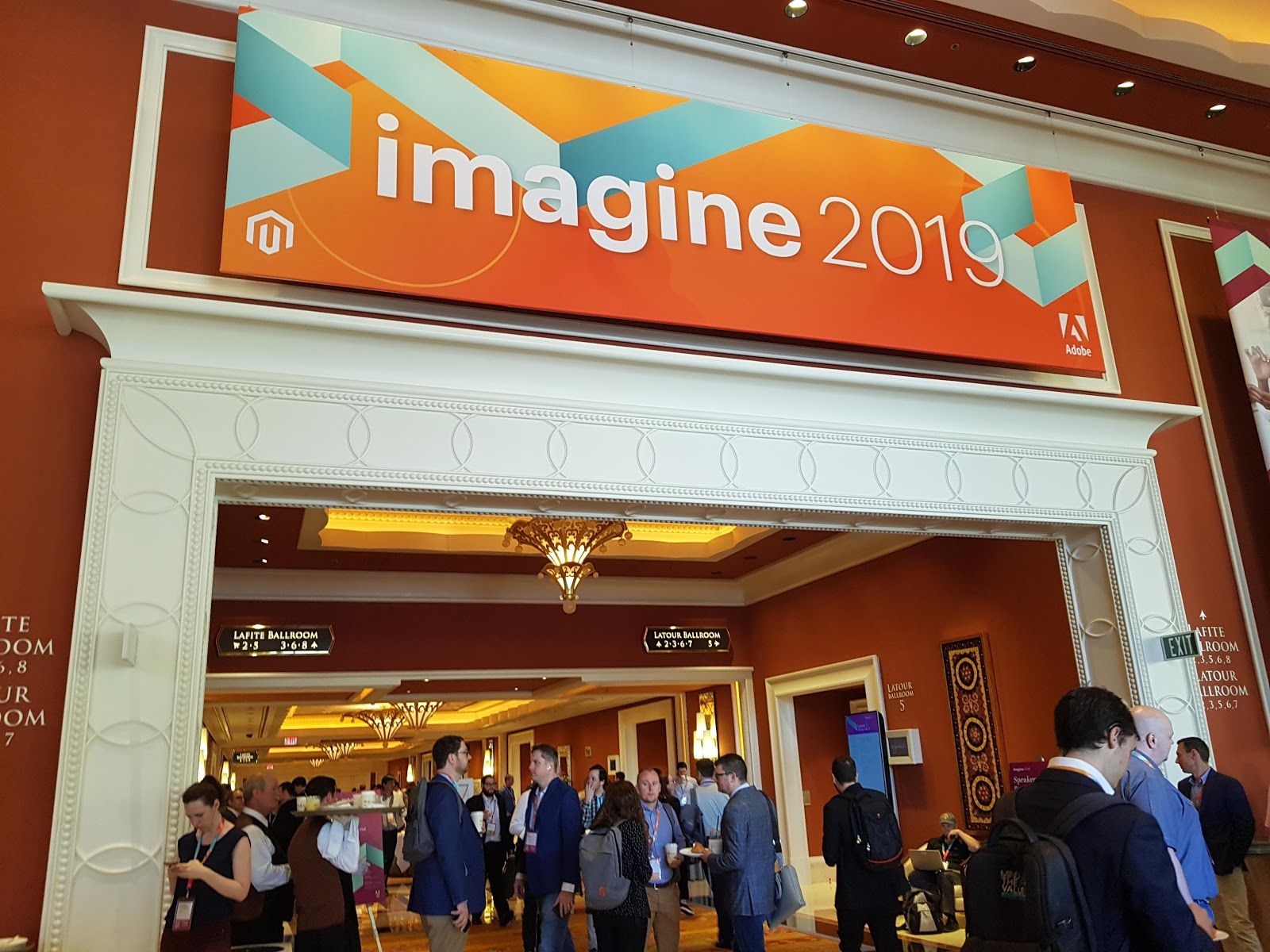 To get to Vegas, I had to take 3 flights. The first one from Hanoi to Narita, Japan got me to experience my first painfully long 12-hour layover followed with a 10-hour flight to Los Angeles and 5 more hours to reach Vegas (including 4 hours waiting in LAX). A total of 17 hours on the sky made the whole experience very memorable. Surprisingly, I didn't feel bothered at all.
Landing Vegas on the 11th, Mageplaza appeared at Big Dam Run 2019 as a silver sponsor right on the next day - the 12th and I decided to be one of the volunteers for this traditional pre-event. It was a really good chance to meet up with very cool people and I'm glad to help the run to finish successfully.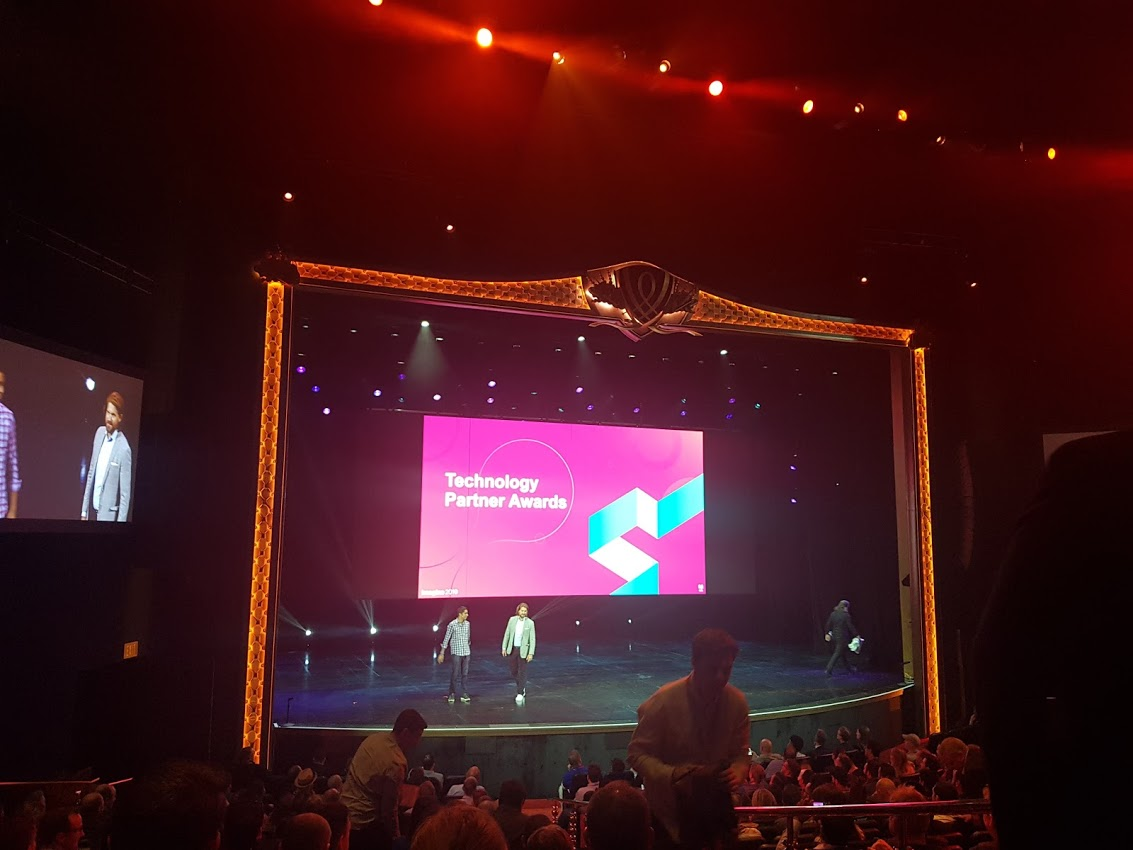 The first day of Imagine 2019 was super busy. All the corridors, lobbies, and halls inside the Wynn were full of roughly 3500 attendees. Although we had already got in the Wynn to register and attend Partner summit on the 11th, I didn't really remember the way to our booth that morning.
It took us about one hour to get ready for the show. After that, we had the first breakfast at the event. All merchants and agencies took this chance to meet up and network. As the number of attendees was really big, only few hours for morning tea was enough to win some more contacts.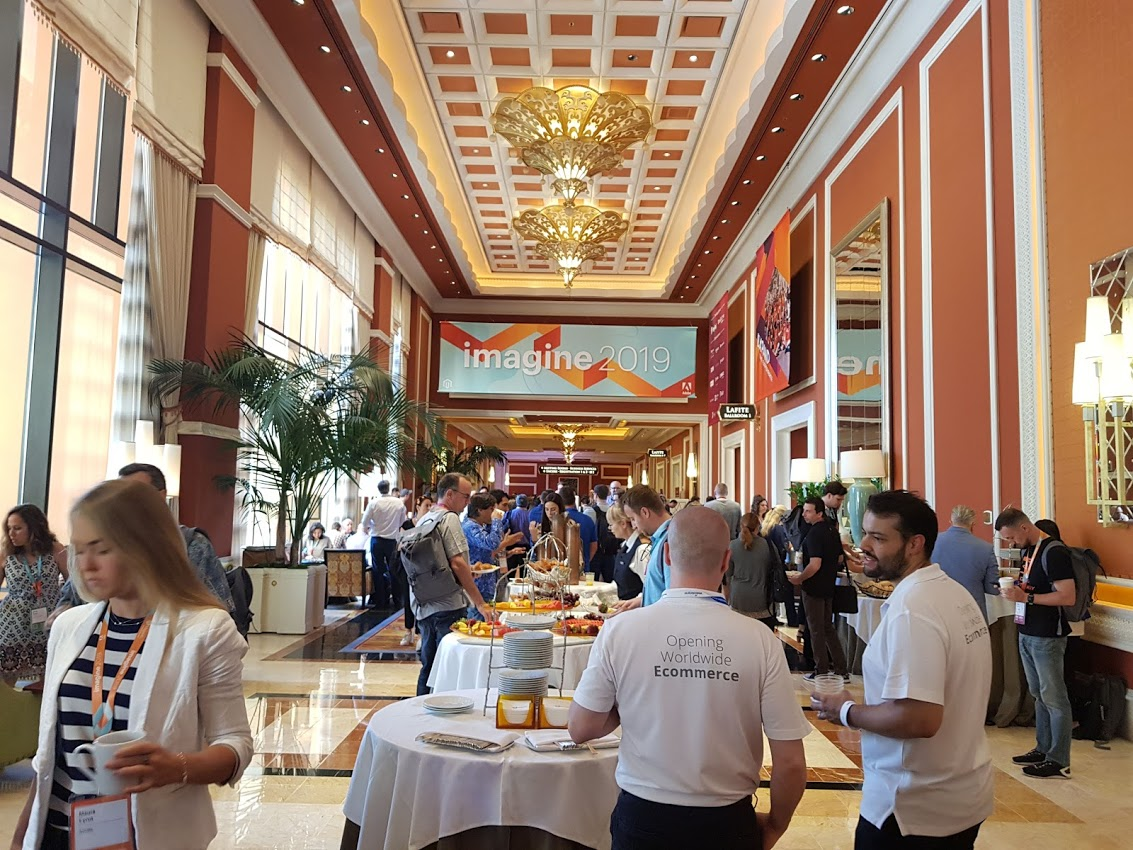 At the event, a lot of general and special sessions were held from 10 a.m until 5 p.m to announce new technology and discuss it. Most merchants and developers would end up listening at least one talk or they were always welcome to visit booths for gifts or information. Besides, a number of activities were held in several zones for everyone to join. I stopped by a big board made by CREATUITY to play with their legos.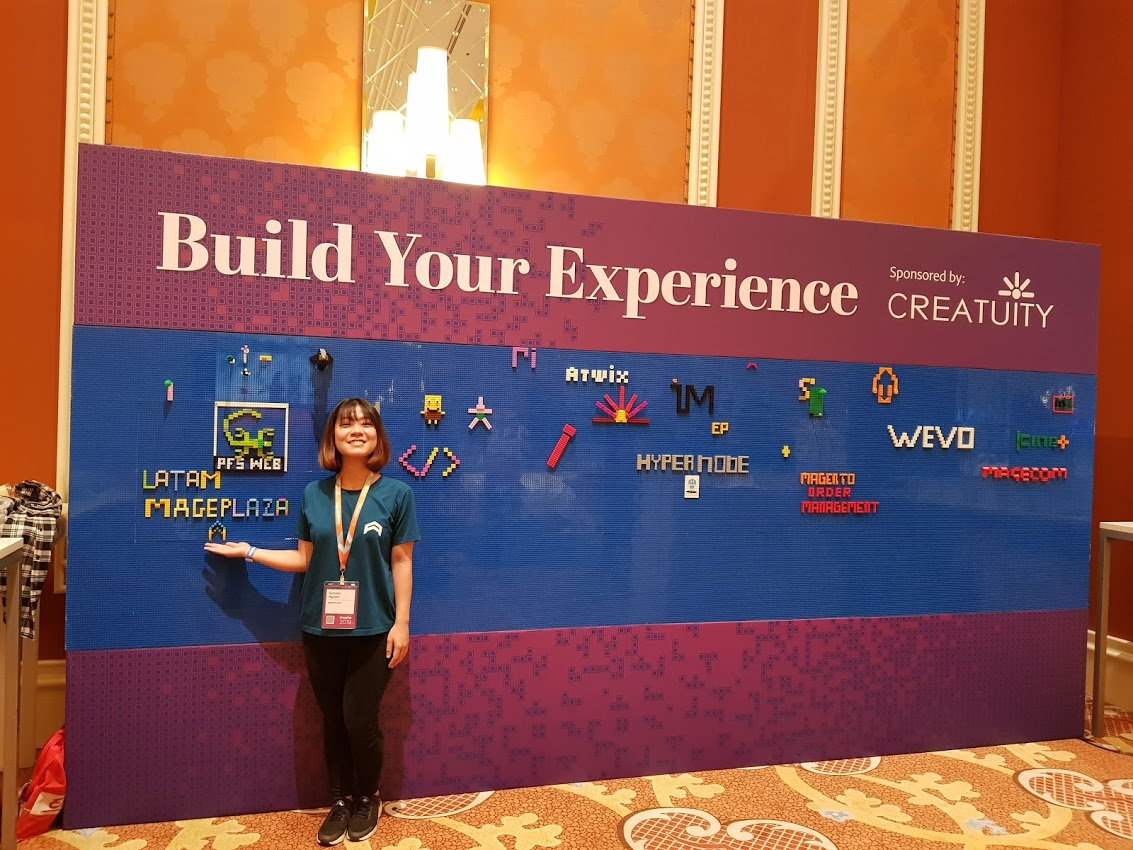 The second day at Imagine 2019 was pretty similar with slightly fewer people yet still so busy. Also on that night, the well-known legendary party thrown by Magento Imagine took place at Beach Encore Club. This was such a great opportunity for everyone to make new friends, connect and even network. Right at this party, I met really cool people who are merchants, developers, and agencies from all over the world.
The third day, also the last day, was a bit quiet until around 11 a.m as, I guess, a result of the previous day's legendary party. All booths must be closed after 2 p.m so we took the last lunch at the Wynn as a chance to say goodbye to new friends we'd met. At Magento Imagine, there is so much to do and to experience. I honestly think this is the place for everyone, no matter if you're there to look for knowledge, partners, potential projects or just to have fun, you're always welcome. After the event, I learned a lot and I truly got inspired. This is my first Imagine and will not be the last!
Some you-already-know tips that everyone keeps telling you
…but you end up forgetting anyway!
Before Magento Imagine, I aggressively looked for the personal experience from people who joined the event as well as from travelers in Vegas. These below are some tips that you must've heard or read about but maybe only experiencing it yourself can help. However, I'd still love to repeat:
Tip #01: Vegas is large
I chose the Flamingo Las Vegas as my home for 5 days since the Wynn is pretty expensive. Looking at it on the maps made me believe that it would be completely a short walk from the Flamingo to the Wynn. However, it was not like that at all. Everything is huge there and even when I kept seeing the Wynn and feeling it so close on the way (I could even see the Wynn from the intersection right next to the Flamingo), it was pretty like forever to walk there. So don't underestimate the distance, pick a nearby hotel or book a taxi in the first place.
Tip #02: It's cold inside
Though Vegas is often very warm during May, inside the Wynn is often really cold because all air cons are turned on to the coolest. Short-sleeves T-shirts didn't work for me so I guess you should at least bring a spare thin jacket to wear when you feel cold and take it off when stepping outside.
Tip #03: It's so dry
Yeah the desert is just right there kids! I knew it is dry in Vegas yet even got excited about this before I actually went there. Why? To people coming from tropical countries where the heat comes with humidity, the idea of being dry during hot weather sounds much better. However, it's not just dry, it's actually very dry that my nose hurt and my lips would've bled without chapsticks. So keep yourself hydrated by drinking lots of water and don't forget to bring body lotion, facial moisturizer, and a lip balm with yourself.
Tip #04: Don't be shy
Be ready to say hi with anyone you bump into, everyone at Magento Imagine is always willing to chat. If it's your first Imagine, you might think that all people here already know each other and might feel isolated. But don't! First, they may know each other as they have participated Imagine many times or they've just even made friends; second, there are many first-time attendees out there also trying to meet people. Third, they want to talk to you too. So, be friendly and welcoming. I would start with something like Hi , what does do? (all the info should be on every attendee's badge)
Tip #05: Install the Imagine app
The app works great. You can actually see agenda with full information and star the talks that you want to join, the app will send you advanced notice before each important/stared talk you mark so you can get enough time to move. Be on time or even early for each session because it may be full before you get in.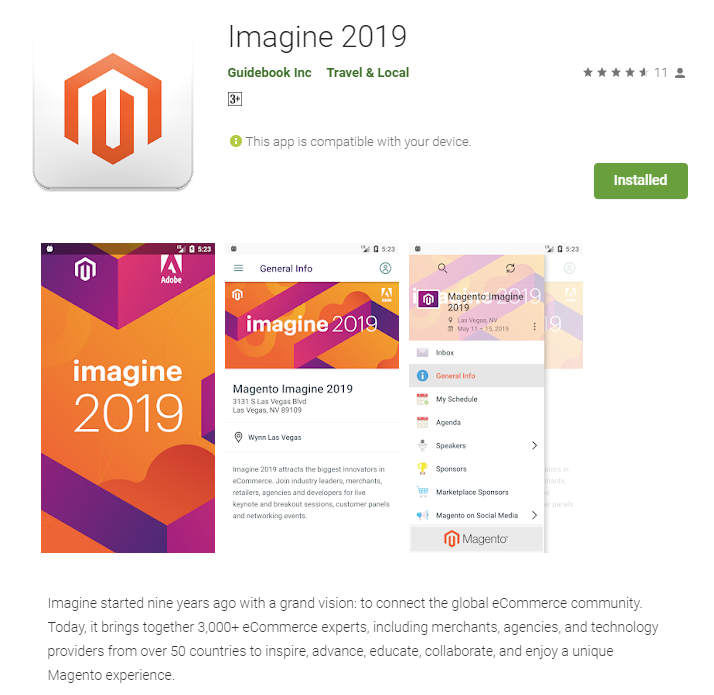 Tip #06: No heels for girls and tight shoes for men
Be ready to stand or walk around a lot during the event, high heels or formal shoes will be so uncomfortable in this situation. So are formal outfits. You don't need to dress up or wear too smart but don't wear casual either. If you've ever heard about "smart casual", that is exactly what I recommend. And remember, at least wear a good and comfortable pair of shoes like trainers or sandals. At the end of the day, you won't like the ache from head to toe at all.
More about Magento Imagine 2019
When: May 13 - May 15, 2019
Where: Las Vegas, Nevada
Website: https://imagine.magento.com/

Marketing Manager of Mageplaza. Summer is attracted by new things. She loves writing, travelling and photography. Perceives herself as a part-time gymmer and a full-time dream chaser.
Website Support
& Maintenance Services
Make sure your store is not only in good shape but also thriving with a professional team yet at an affordable price.
Get Started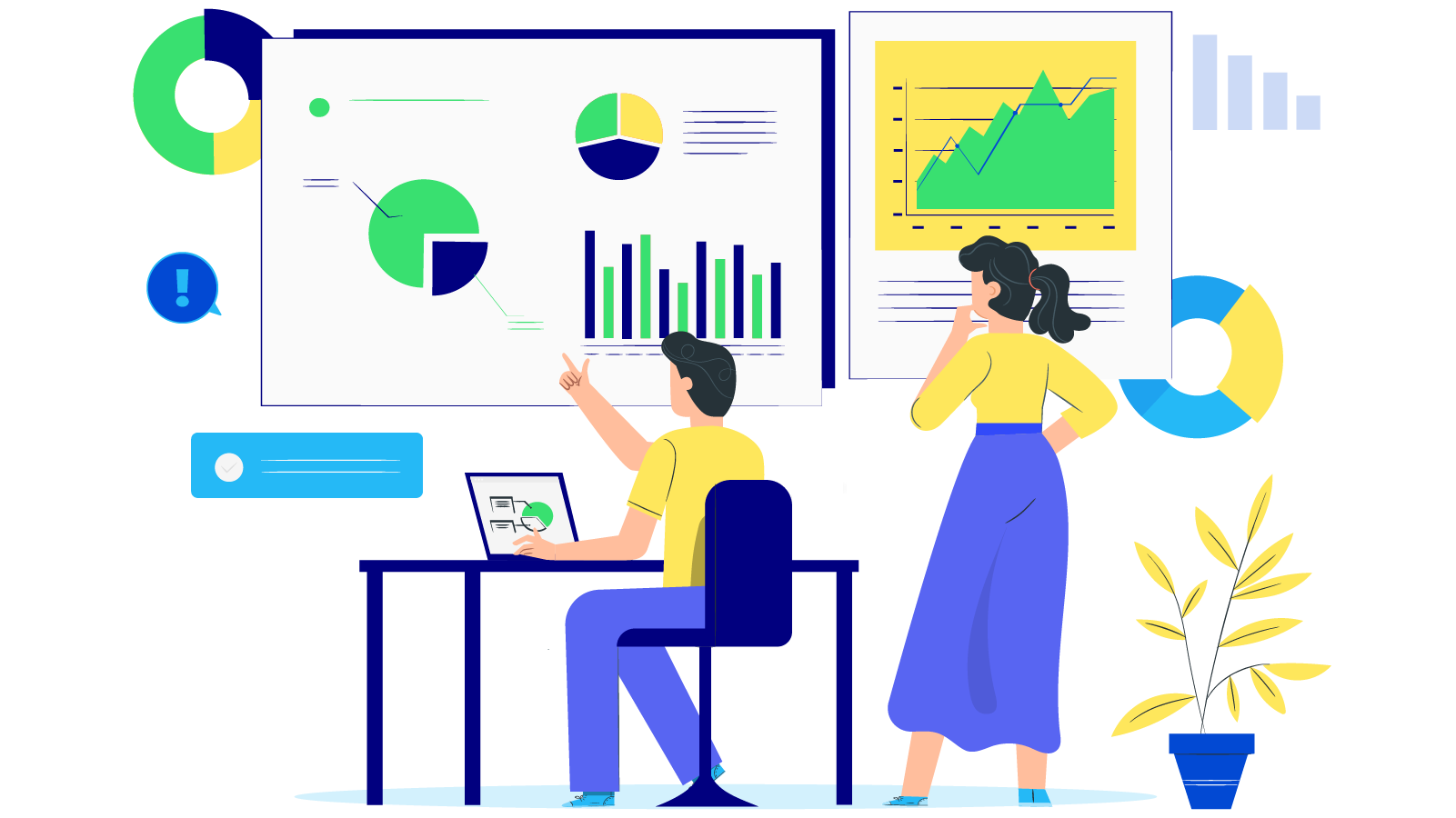 New Posts



Subscribe
Stay in the know
Get special offers on the latest news from Mageplaza.
Earn $10 in reward now!