Mageplaza Reward Points extension is introduced with the aim to significantly support the sustainable development of Magento online enterprises. Functioning as an attractive element to build up customer loyalty, with Magento 2 Reward Points Program, shop admins can easily add or make changes to earning rate for each product and group of customers as well. Besides, store owners are also enabled to customize point label for their reward points to provide better shopping experience for consumers.
Advantages of using point label
Reward points program is considered as one of the most effective strategies to increase customer loyalty; consequently, helps build up an instant number of shopping doers for a business. When running this program, business doers also pay much attention about point label as it remarkably contributes to the success of the campaign. For example, instead of using boring points, store owners can decide to name reward points as flowers, hearts, coins, and so on. These units then will be presented by suitable labels which are parallel with its names. By doing so, shop admins can draw much more attention from shopping doers to have more deals.
How to configure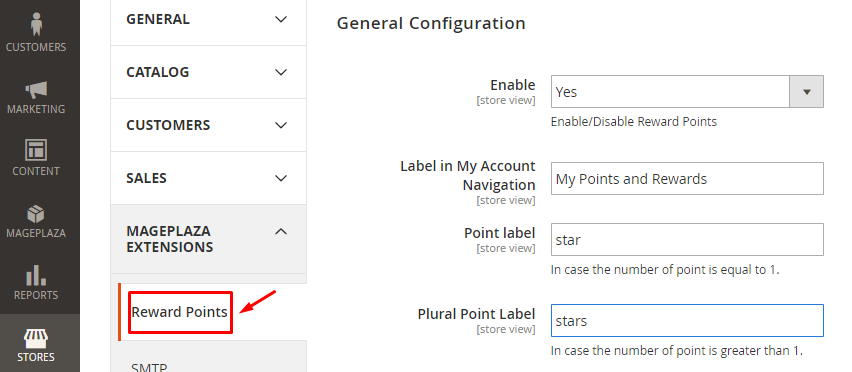 To perform this function, admins can navigate Admin Panel > Mageplaza > Reward Points > Configuration. On the display page, first users need to turn on Reward Points extension by choosing Yes in Enable option. Next, in the field of Label in My Account Navigation, admins can place a name for customers' personal point management. If store owners decide to use default setting from Mageplaza, they can tick on Use Value System to apply the name My Points and Rewards.

After that, users can determine the name for units used for their reward points program such as heart or star. In the Point Label, admins are required to fill in that name when customers have only one point. Under this box, plural form of this name will be completed. For example, if admins want to use star as a reward point unit, they have to fill in Star in Point Label and Stars in Plural Point Label. In case, shop owners want to apply default setting, they can choose Use Value System, then the unit used will be Point and Points respectively.

Next, in Zero Amount Label, users can provide content to present when customers' reward point is Zero. If admins leave this field empty, the system will use default setting as 0.
After that, shop owners can turn on point icon by selecting Yes in Show Point Icon. The last step is uploading icon for reward points to display on the frontend. There are three types of file accepted which are .jpg, .png, and .gif. In case no icon is uploaded, default icon from Mageplaza Reward Points will be applied.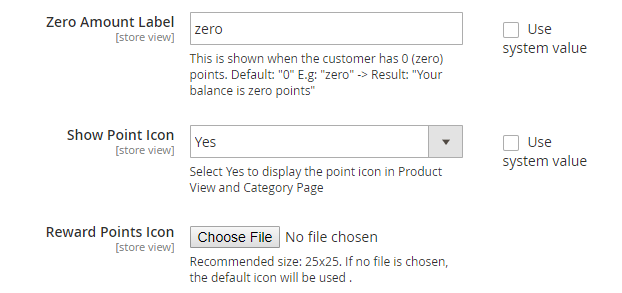 To sum up, beside the main function of providing and managing reward points for loyalty program, Magento 2 Reward Points Extension also offers Magento online merchants chance to customize label for their points depending on personal intention. Additionally, admins are also empowered to determine expiration date for reward points based on different transactions of customers. To get detailed information about this feature, visit here: