Magento 2 SEO Services
Want to be on top of SERPs? Contact our SEO experts right now and generate more organic high-converting traffic!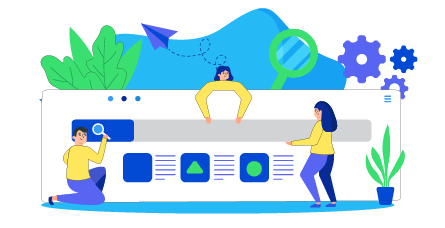 Leave a Message
Now, It's time to tell us about
yourself
Contact us to get your website's SEO optimization.
Why is Magento SEO a high-value traffic driver in years to come?
Around 93% of online shoppers start their journey with a search engine. Your presence on Search Engine Result pages makes you an option for customers.
Traffic
More than 50% of website traffic comes from organic search.
Revenue
Over 40% of revenue is captured by organic traffic
Industries
Even cars are researched and selected through online channels
SEO stands for search engine optimization. It is a process of fine-tuning and optimizing your website to rank high on Search Engine Result pages. Ultimately, it drives organic (free) traffic for your Magento store to convert.
Want to increase organic traffic?
Meet customers where they need you and boost conversion rate!
Benefits of organic search
SEO is a budget-friendly strategy for every business. It opens new opportunities for you to reach your audience and help them with your content and products.
Long-term results
It delivers long-term results. Once you rank high in Google, you can reap the rewards for a long time.
Cost-effective solution
Reduce the cost of pay-per-click and lower the need for Adwords
By passing competitors
You will no longer have to outspend your competitors to outrank them
How is Mageplaza SEO service gonna help you to rank high in SERPs?
Keyword research
Find keywords that best fit the search terms to reach your ideal audiences
On-page SEO
Examine and optimize content, titles, headings, tags, URLs, images, UX signals for search engines and targeted audiences
Off-page SEO
Monitor and improve backlinks, anchor texts, brand mentions, "Google my business" profile
Technical SEO
Examine and upgrade site structure, XML sitemap, structured data, site speed, security. Get rid of 404-error pages and duplicated content
Competitor analysis
Identify your SEO competitor, keyword gaps. Evaluate your competitors' content, featured snippets, and other elements
Reporting
Provide trustful SEO reports that describe how SEO efforts have contributed to the ranking or revenue of your website
Who will be best suitable for our SEO Services?
Are you a new-launched website with traffic of just 10 - 30 unique visitors per day? Have you running a website for a while but got under 50 visitors on the same page at the same time? Do most of your visitors view only 1 to 2 pages in one session?
Any website having low to medium traffic
Connect with us
Get more organic traffic
Why should you choose Mageplaza's Magento SEO services?
We help you to drive more visitors that are truly interested in the content and products that you are offering.
What will you get with Mageplaza SEO Services?
Everything you need. From front to back.
| | |
| --- | --- |
| Audit website | |
| Optimize sitemap, robot.txt | |
| Research and select keywords | |
| Optimize title tag and meta description | |
| Removal of Front branding | |
| Set up Google tools | |
| Improve media (alt tag, quality) | |
| Check and improve headings, breadcrumbs | |
| Find 404 pages and crawl errors | |
| Provide quarterly or monthly reports on keyword performances and site revenue | |
| Analyze link redirect, internal link audit, canonicalization | |
| Add and optimize schema markups | |
| And more | |
Boost your website traffic. Increase your conversions.
Magento SEO Services you can trust. Guaranteed results. Simple process.
At least 2X site traffic
Focusing on driving high-value traffic
More leads
Help you to turn visitors to leads
Increased revenue
More traffics. More conversions.
Enhance brand awareness
Make the brand familiar
Fill in form

Give us some brief information about your business and your request.

Get to know

We audit your website, learn about your business.

Get started

If you agree on the plan we get started
Frequently asked questions (FAQs)
Magento has a wide variety of SEO features to boost your performance, such as:
SEO-friendly URLs for categories and products
Meta tags for the homepage, catalog, and product pages
Image optimization
Robots.txt and meta robots
HTML and XML sitemaps
Rich snippets
Canonical tags
Google Analytics and Google Adwords integrations
Others
You can follow these quick tips to keep your Magento website SEO-optimized
Optimize image format and size
Optimize Alt tags and meta tags
Avoid duplicate content
Improve your website loading speed
Implement schema markup
To know how to do SEO effectively, you can read more via this article
.
Keep in mind that you can do SEO for your Magento website by yourself. However, to save time and effort, you should consider working with a trustworthy Magento 2 SEO service provider.Magento 2 SEO services by Mageplaza include:
Keyword research
On-page and off-page SEO
Technical SEO
Competitor analysis
In-depth reporting
And many more
Mageplaza SEO experts will help you drive more visitors that are really interested in your products and content. We guarantee to:
Increase at least 2X website traffic
Attract more leads
Rocket revenue
Enhance your brand awareness
We know there are many Magento SEO service providers out there, but here are reasons why you should work with Mageplaza:
We have a dedicated SEO team with nearly 10+ years of experience
We have worked with Magento for a long time, so we understand its ins and outs
We audit your Magento SEO and commit to the expected result
We offer a simple process and transparent communication
We provide free two-month support after the audit
All you need to do is contact us for free consultations, and we'll do the rest for you!