Magento
Support & Maintenance

Services
Getting a reliable and smooth Magento online store. Improving customer experience and achieving great sales results.
What will you receive?
Proactive technical specialists
Proactive in identifying problems, seeking solutions to prevent potential risks as well as improve the condition.
Certificated developers
Meet all requirements of Magento projects as they are well-trained and achieved Magento official certifications.
Premium project management
Both ensure the envisioned quality, schedule, cost throughout the project, and quickly adapt to an ever-changing situation.
Get a Quote
Contact us to get proposal right away!
Need Magento 2 Support & Maintenance Service?
Magento websites are powerful but also complex. Along the way you run your online store, there definitely are issues that need to be fixed precisely to ensure a fast & polished website as well as smooth internal operation.
Common applications of Adobe/Magento Support and Maintenance Services that you will need:
Add new functionalities or improvements to adapt to the new market demand

Fix arising problems promptly during the operation of your website

Adjust technical elements to avoid risks or software pitfalls

Integrate your website with third-party applications/ systems

Optimize SEO aspects for better site performance

Maintain the software and hardware to make sure they stay in line with the changing environment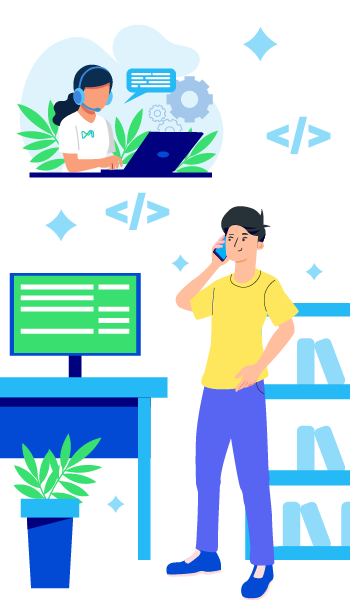 ---
Professional Magento 2 Support and Maintenance Services
are great choices for keeping your Magento website running smoothly and reliably. They also help you to reduce costs by avoiding the development process. Let us help you!
---
Why Choose Magento 2 Support & Maintenance Services by Mageplaza?
Buying Magento Support Packages provided by Mageplaza, you will get a new website that is much improved than it was before.
8+ years in Magento
80+ people for hiring
Customer-centric support
Serve 102k+ global customers
With 8+ years of experience, Mageplaza is known as the most popular extension builder for Magento 2 with more than 15 million downloads. Among others, Mageplaza is for a wide range of well-coded extensions, fast and thoughtful Magento support versions, and the dedication to growing the Magento community.
97%
of our current customers will recommend us.
The Service Process

Our Service Includes
With years in the e-commerce market and being one of the most well-known Magento service providers, Mageplaza can offer you skilled assistance and affordable support packages.
Magento Update
Upgrade your Magento 2 website from older versions to the latest version
Magento 2 Extension Configuration
Install, uninstall, or configure your existing and new Magento extensions
Magento 2 Performance Support
Optimize your website performance with our extensive knowledge and experiences
SEO & Marketing Optimization
Audit your SEO and fix any problems that may affect your position on SERPs
Security Patches Installation
Install new security patches as required and when released
Extension Updates
Update and/or upgrade your extensions no matter what the provider is
Magento 2 Bug Fixes
On-demand issue troubleshooting and fixing to ensure a smooth experience
Security Maintenance
Maintain your Magento website regularly to ensure the best security
Site health check
Discover issues that might slow down your performance or result in system outage
What's Included in Our Magento Support Packages?
Magento Support Packages

Standard

Advanced

Premium

Platinum

Support & maintenance work

Log сhecks

Basic site health check

Bug fixes

Ongoing Adobe Magento support, monitoring, and alerting

Install new security patches as and when released

Install extensions and extension updates

Upgrade your Magento 2 to the latest version

Dedicated project manager

24/7 support including holidays

Website health check report

Emergency after-hours support

Advanced work

Audit your website SEO and fix any problems that may affect your position on SERPs

Optimize your website performance

Ongoing developments

Cost (only from $499/month)

Choose Your Support Package
Quick Response & Resolution Time
Your problem is our problem. We'll treat your issues as our own. By quickly responding to your inquiries, we want to ensure that we truly take care of your website! Mageplaza's Magento Support services classifies the severity levels of your issues to define priorities. This guarantee motivates us to act faster when an issue is raised.
| Incident Severity Level | Description | Response Time | Issues Identification (Weekdays 8 am - 5:30 pm) | Issue Resolution Time (Weekdays 8 am - 5:30 pm) |
| --- | --- | --- | --- | --- |
| Priority 1 | Site is unavailable or down / unable to checkout | 1 hour (24/7) | Within 2 hours | Within 4 hours after issues are identified |
| Priority 2 | An issue that is affecting 10% of customers or more | 2 hours (Weekdays 8 am - 5:30 pm) | Within 8 hours | Within 8 hours |
| Priority 3 | Any other issues or adjustment requests that are not affecting transactions | 4 hours (Weekdays 8 am - 5:30 pm) | Within 24 hours | Within 48 hours or as agreed |
Note: Emergency contacts are available 24/7
Magento Certificated Developers
Where exactly can you find Magento certified developers?
Starting off as a Magento-specialized company, we can provide you with advanced Magento developers who are responsible for important technical decisions and every baseline of the project.
In addition, all tasks will be handled by a team of professional developers with in-depth understanding and strong skills for both backend and frontend.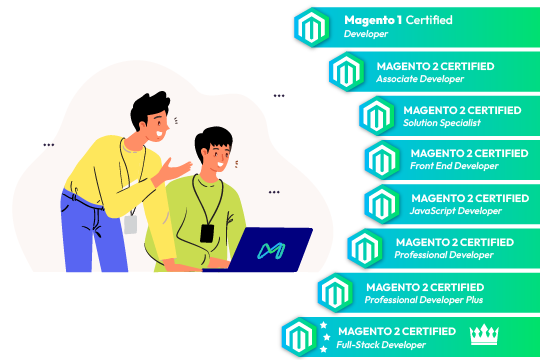 Support All Magento Editions
We offer website support and Magento maintenance services to all editions of Magento including Magento Open Source, Magento Commerce, and Adobe Commerce Cloud.
We have built and optimized many e-commerce websites for customers of different specialties. No matter what edition your website is running on, we can work with all Magento support versions, analyze its architecture and mission-critical system modules to create the results that you envision.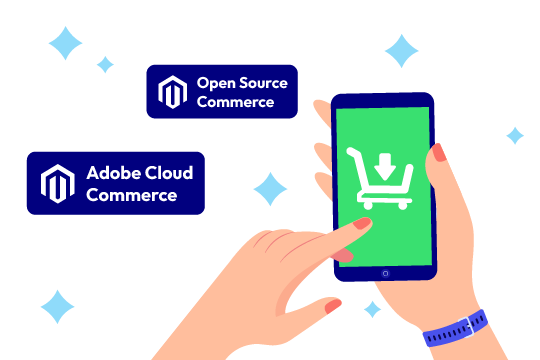 What clients say about us...
Mageplaza has finished the project and has deployed it in the client's live application. They have a very experienced team that released many free extensions in the market. The partners communicate on Slack and so far, communication has been going well.

The team at Mageplaza is exemplary, as they deliver high-quality work at a reasonable price and timeframe. Their inclusive management style is also noteworthy, and internal stakeholders are particularly impressed with the vendor's work culture and trustworthiness.

We can say we are very happy with the quality of Vinh's work. Actually you can let him know that he's the best Magento developer we've worked with in 15 years. Very thorough person, and it shows because issues are solved in a profound way.

We all know the power of a well-maintained Magento website. But simply having your site up and running is not enough. Regularly maintaining and supporting your site is vital to ensuring that your business is running at full capacity.
Here Mageplaza offers technical expertise in Magento E-commerce to make your dream store come true without any hassle.
Adobe Innovate Exchange Partner
All of our products are developed in accordance with the high standards of Adobe, and the workflow is fully in line with the Business Code of Conduct requirements.
Top world's brands trust us
Frequently Asked Questions (FAQs)
Magento 2 support and maintenance is a service that helps you save time and money by having a professional team to maintain your website. The Mageplaza team will keep an eye on your website's health and solve any issues that may occur.
Proper Magento support and maintenance lead to:
Faster page loading speed
Improved overall website performance
Higher security and stability
Better organic traffic
Greater customer satisfaction
More business profits in the long run
Depending on the plan you choose (we have 4 plans, including Standard, Advanced, Premium, and Platinum), our Magento 2 support and maintenance service can include:
Log checks
Site health check
Bug fixes
Magento ongoing support, monitoring, and alerting
New security patches
Extension installation and updates
Upgrade to the latest Magento 2 version
SEO audit
Website performance optimization
Website health check report
24/7 support including holidays
There are many reasons why you should choose our Magento 2 support & maintenance service. Some of them include:
We have nearly 10 years of experience in Magento, so we understand its ins-and-outs thoroughly
We offer transparent working processes, so you can track relevant statutes and change the scope if needed for your business
We understand that not all incidents require the same amount of attention and panic - some are worse than others, and our SLA (Service Level Agreement) helps tell things apart. Just believe that we'll quickly act and solve your problems!
With 4 pricing plans, you can pick the one that suits your budget and business objectives
It depends. Each plan has different features and pricing, so just pick the one that suits you most. Don't forget to contact us to get the exact cost!