After using M2 One Step Checkout extension and seeing not only the sales are boosted but also the customers are happy than ever with the convenience, you think it's enough? No, you can satisfy your customers even more with Gift Message extension for Magento 2.
Gift Message is a core module of Magento 2 allowing customers to add the message to their order and products during the checkout process. This Magento plugin is now fully compatible with Mageplaza One Step Checkout.
With the idea of assisting you on bringing more convenience to your shoppers, gift message options will make your product become more meaningful on the anniversaries and special occasions. The message will be delivered with the item which has been wrapped beautifully. The gift options can surely delight your customers.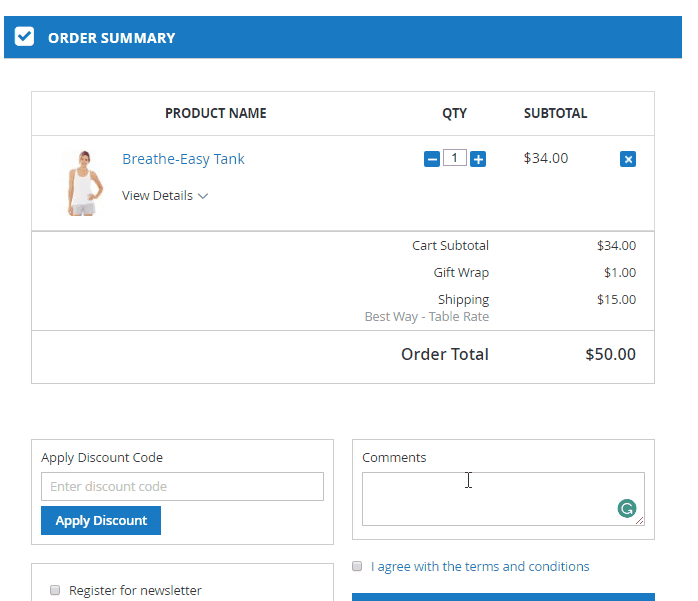 What Gift Message can do?
Improve the customer's experience. Make them happier.
If a busy customer wants to order a product and send to his girlfriend, with Gift Message, he can show his love with a lovely message and make a purchase become a meaningful gift. Adding this plugin is a wonderful way to show how you care about the shoppers. And you know, a devoted store will never lose customers.
Boost Holidays Gift sales.
On Holiday, the demand for sending gifts increases higher than any time of the year. According to MI9retail, more than 77% of adults extravangantly spend on buying gifts every year. Hence, it can be a huge mistake not to equip your store a module supporting customers in e-gifting, gift wrapping and leaving messages.
Interestingly, gift message is the best way for sending gifts to the loved ones on special occasions and holiday, and also, is a useful plugin to boost the Sales.
And More!
Easy Configuration
It is so easy for store admin to configure the gift message feature. Just log in your store admin then choose Store > Configuration > Mageplaza > One Step Checkout. Please expand the Display Configuration section and enable the Gift Message. Click on Save Config and finish.

Compatible
Gift Message is fully compatible with One Step Checkout extension from Mageplaza. This extension is a useful way to improve your store checkout process significantly.
Checkbox and Simple form
During the checkout process, you just need to mark the checkbox and fill a simple form with 3 parts: To, From, and Message.
Features
Allow Gift Message on Order Level: Choose Yes if you want to add a single gift message to the whole order.
Allow Gift Message on Order Items: Choose Yes if you want to add gift messages separately to an individual item of your shopping cart.

Not restriction inside a one-page checkout page, within it, buyers can even communicate with your stores via the Order Comment box. If you wonder how it looks in your store, check it out here.