Since shopping online is increasingly popular and favorable to people, online merchants always try to improve their selling systems. Among several solutions used by Magento store owners, Mageplaza PDF invoice extension is gaining much attention from users although it is recently introduced. The most highlight feature of this extension of course, is automatically creating PDF invoices attached in emails which are sent to customers. However, it still keeps default invoice option in case customers or admins want to select this choice.
Backend configuration
After setting up PDF invoice extension, shop admins have to configure in backend to enable both default invoice and PDF invoice. From the Admin Panel, admins have to navigate Store > Configuration > PDF invoice and then make changes in General Configuration.
Because PDF invoice extension enables users to create four types of billing documents such as Order, Shipment, Invoice, and Credit Memo, first admins have to turn on PDF Attachment for these documents. From General Configuration, store owners can easily notice these four sections and all they need to do here is choosing Yes in Enable PDF Attachment for each section.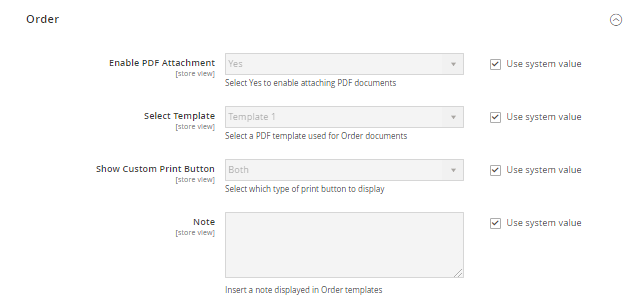 For example, with Order section, admins can personalize their configuration by unmarking Use Value System and selecting Yes in the field box of Enable PDF Attachment. If they decide to Use Value System, PDF Attachment is automatically activated. After that, admins have to access Show Custom Print Button and select option Both. Actually, in this field box, the default setting already enables both Print Invoice and Print PDF Invoice; therefore, they do not need to make changes here. In case they want to select another option, they have to unmark Use Value System, choose the option they want, and then Save.

If admins to not want to offer customers two different choices when printing, they can unmark Use Value System and select Custom PDF to provide one option or No to offer no Print option.
In terms of three others sections, shop admins can take the same actions to configure this function.
Frontend display
Only when admins turn on PDF Attachment for these billing documents and select Both in Show Custom Print Button, can customers choose between Print Invoice and Print PDF Invoice.
Whenever customers want to print their Orders, Invoice, Shipment, and/or Credit Memo, they can go to My Orders, then select which order they want to get hard copies. After that, they can click on View Order to see that order in details. In the product page, customers can easily notice two options Print Order and Print PDF Order.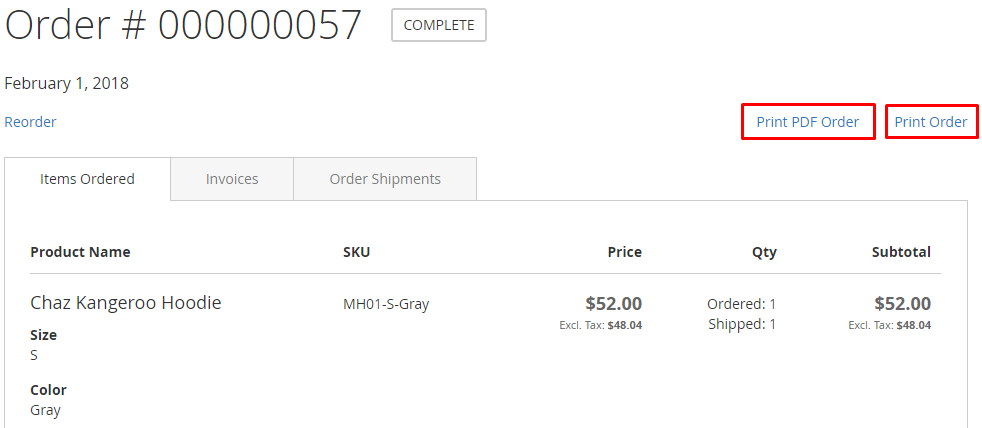 Similar to Order, customers can easily find two options to print in Shipment and Invoice as following:

In case shop admins select Custom PDF instead of Both in Show Custom Print Button, in the product page only one print option will be shown.
In conclusion, Mageplaza PDF Invoice extension is created to support business doers maximize their profit. Beside two offered options in printing, users and customers are also enabled to print these billing documents in mass. If you want to know more about other outstanding features, please visit our website for more information: https://www.mageplaza.com/magento-2-pdf-invoice-extension/