Although recently introduced, Mageplaza PDF Invoice extension has gain much attention from business doers. With the aim to complete online selling system and help store owners provide the best service beside products to consumers, this extension is doing its best in generating PDF billing documents for both sellers and buyers. Moreover, along with creating PDF files, this useful extension also enables users to preview templates designed by them.
What is preview template?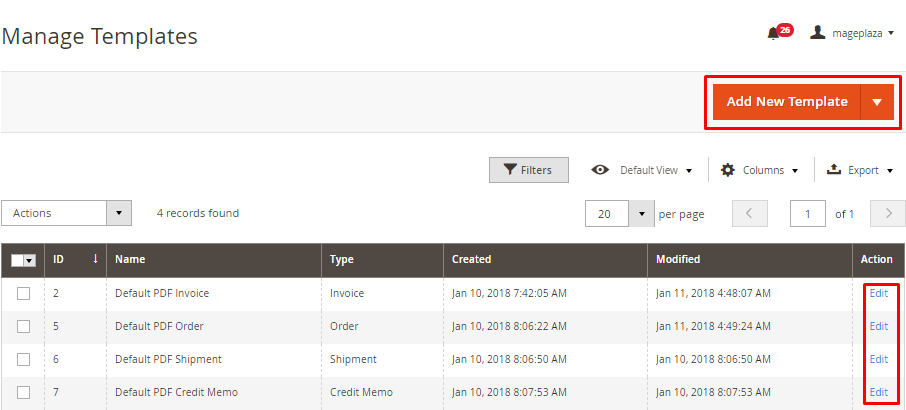 Preview template is a supplementary feature to design template feature. To be more specific, Mageplaza PDF Invoice allows users to design their own templates for PDF files depending on their preferences and intentions. Normally, there are four types of billing documents used by store owners to confirm a deal with customers such as Order, Invoice, Shipment, and Credit Memo. With each of these, shop admins can choose to use a default template or create a new template to apply for their stores. After being activated, information about each customer' purchase will be automatically inserted to make a PDF file which follows the template chosen. That is the reason why several store owners want to create personalized templates for their businesses for different purposes. Consequently, the introduction of preview template is hoped to ensure that users satisfy with the appearance of their templates before putting it into practice.
By taking a look at how the PDF invoice looks like, shop admins can quickly make suitable adjustments to perfect their templates.
How to use preview template?
Preview template can be used when users edit old templates or create new ones for their billings documents. To make changes to default templates or add new templates into template list, admins have to access from Admin Panel > Mageplaza > PDF Invoice > Manage Templates. In the product page, a list of default templates or old templates will be presented in details. Here, admins can click on Edit button from each template or choose Add New Template to create a new one. Only when users perform Edit or Design function, can they use Preview Template feature.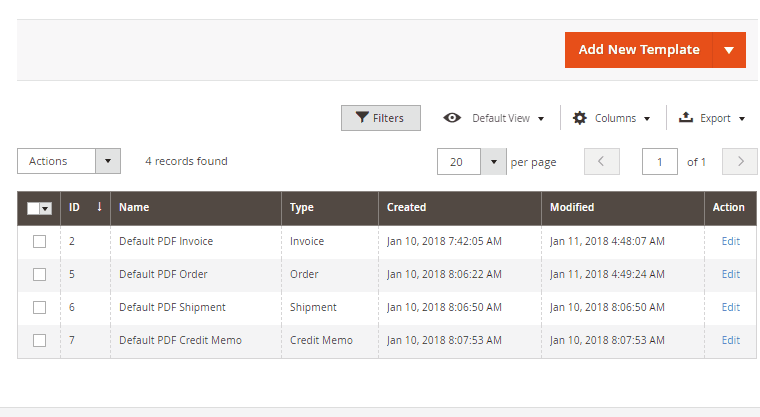 If store owners want to edit an old template, after selecting Edit button, it will be moved to edit page where customers can easily find out HTML editing and Preview button. Here admins can adjust the template by adding or removing variables in HTML field. Before saving configuration, they can select Preview function to check whether any mistakes happen on the display.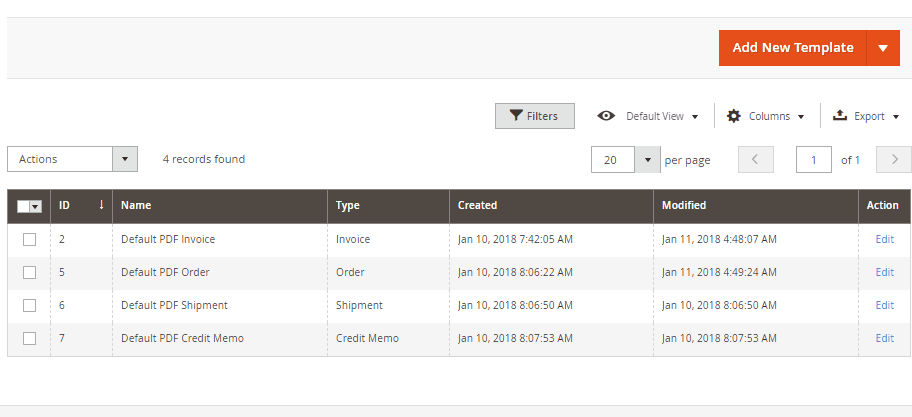 In case admins want to design a new template, first they have to click Add New Template and complete the result page. This is the place where admins can themselves generate an absolutely new template. Additionally, they can save time by inserting HTML and CSS from old templates, then make changes to make a new one. No matter which option is chosen, admins can find Preview button next to HTML field at ease.
In conclusion, with Mageplaza PDF extension, shop owners can not only attach beautiful PDF invoices to customers, but also generate templates themselves for personal intention. With preview template feature, users now no longer need to worry about making mistakes when configuring templates. If you want to know more about how to edit or design a template with HTML and CSS, get detailed instructions here: