Gift Card with Lower Price

Gift Cards are perceived as special products in online stores and they are becoming a hot trend among many people in this digital era. The benefits brought to online business can't be denied in e-commerce and shouldn't be looked down on.
One of the reasons why e-gift vouchers can become a favorite option when it comes to gifting in special occasions is that online shoppers can purchase digital certificates with a lower price. For example, a 90-dollar gift card can be redeemed to place an order which costs 100 dollars. This is amazing, isn't it.
Mageplaza Gift Card extension allows store admins to set up gift card value and price separately. This helps a lot in Marketing campaigns of your business. Let's see what can be done in the configuration.
Unlimited Gift Card Amount can be added
When an online shopper comes to your store to purchase a gift card, he can freely choose a certain value which suits his budget. Interestingly, you can set as many gift card value as you want by configuring in the backend.
To add a gift card's value, you can visit Product > Catalog > Add Product > Gift Card Product. After filling all information related to the gift card such as name, SKU, quantity, stock status and so on. You can configure a gift card product like what you often do for other products in your store.
After having the above step done, you can scroll down to see the Gift Card Information tab. Remember to select Gift code pattern and gift card type before you configure gift card's value.
After that, gift card's values can be added unlimitedly by clicking on the button Add in the Gift Card Amount section.
You are able to set price for each respective gift card's value by entering a number in the Price box. Look at the gif picture below to see this step in close-up.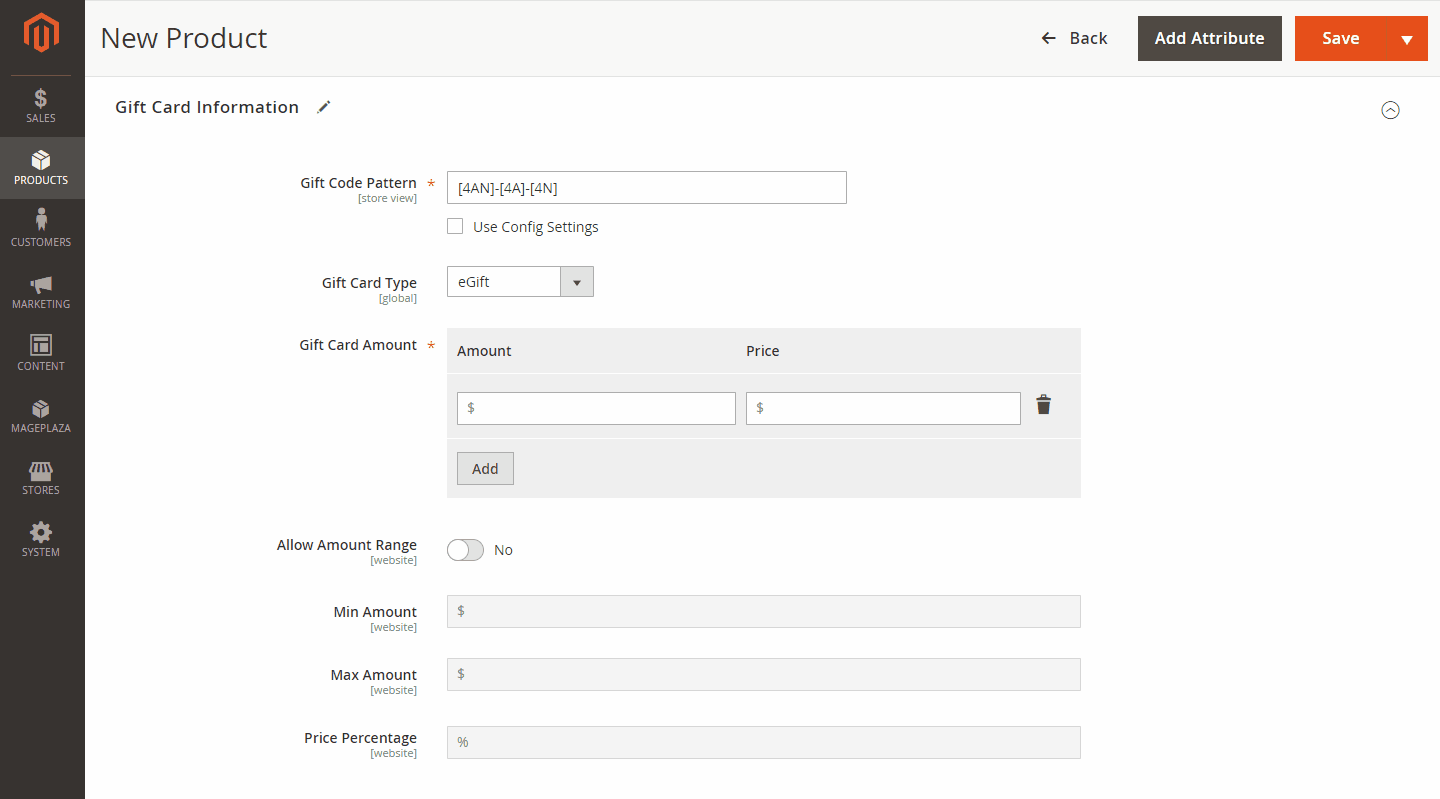 Allow or disallow amount range?
If you allow amount range, buyers can freely select any gift card's value they want as long as it's in the amount range. For example, you set the amount range for a gift card from $50 to $500, so the buyer is not allowed to select a gift card valued under $50 or above $500.
Please select Yes to use this feature. Otherwise, only gift cards with certain values that you set in the Gift Card Amount section can be purchased.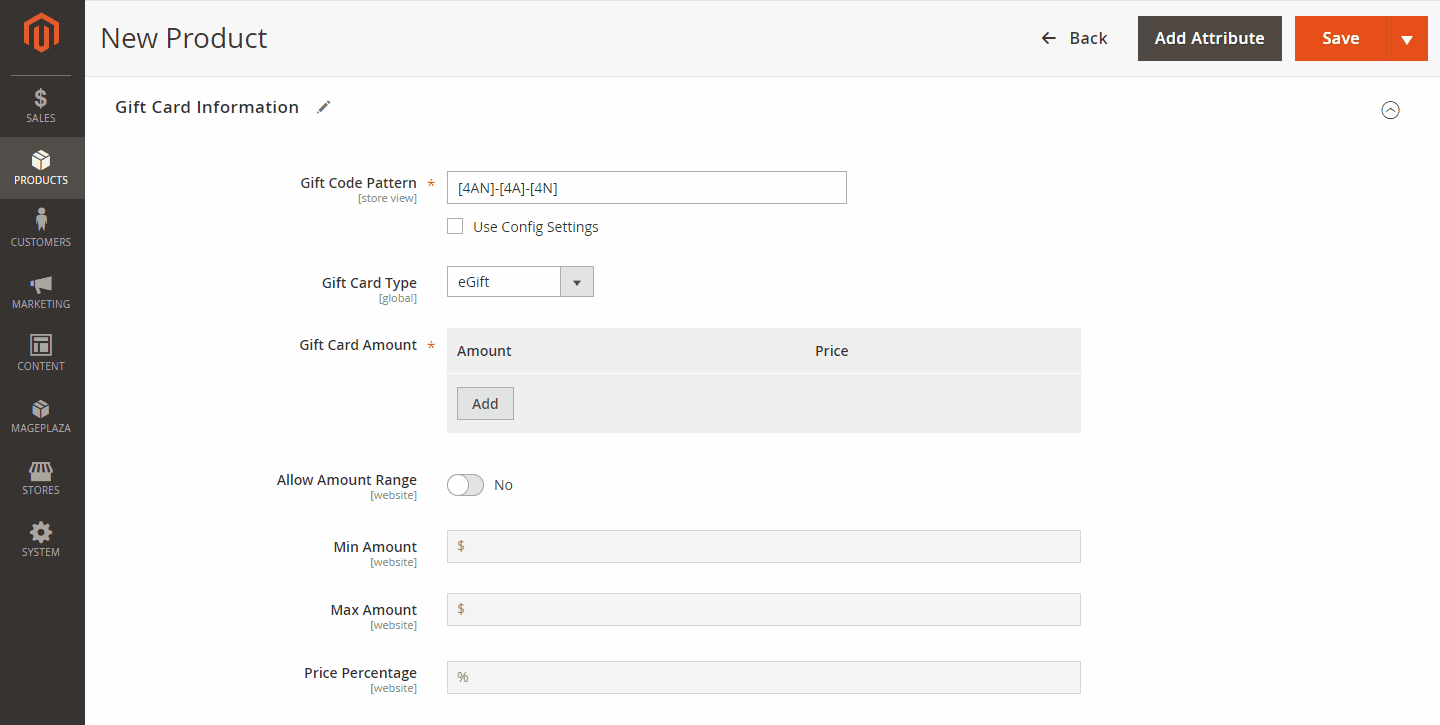 Restrict Gift Card's Value
If you allow amount range, you should set the minimum and maximum values of a gift card. Only by typing numbers in the Min Amount and Max Amount boxes, you can get all the things done. Remember that if you leave these boxes empty, the Min Amount will be 0 and the Max Amount will be equivalent to the gift card's price.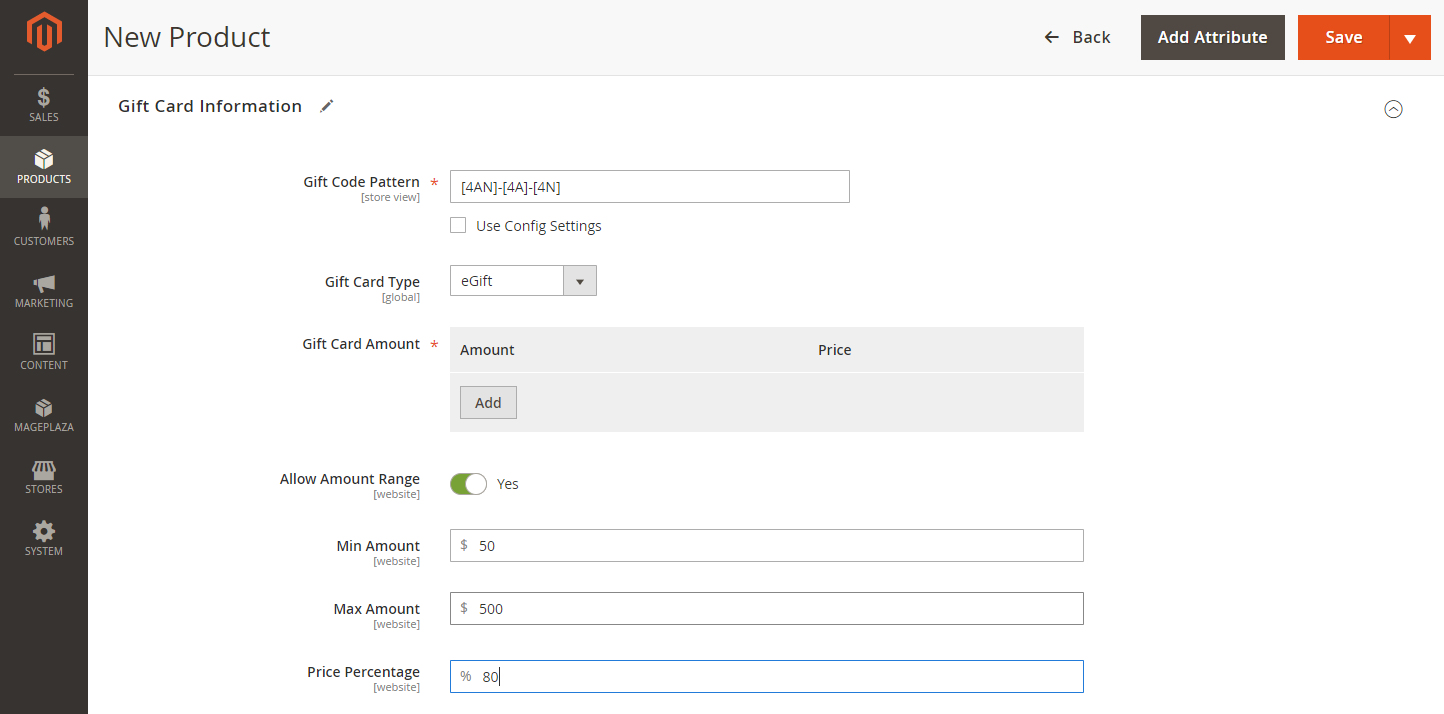 Gift Card's price - value ratio can be defined
One more smart feature of Mageplaza Gift Card extension is that you can set the ratio between gift card's price and gift card's value. Normally, online stores set this ratio under 100% to encourage buyers to purchase their gift cards. This also means that shoppers can buy a gift card with a lower price. Just type a number in the Price Percentage in order to get this done.
Let's see the result on the frontend below: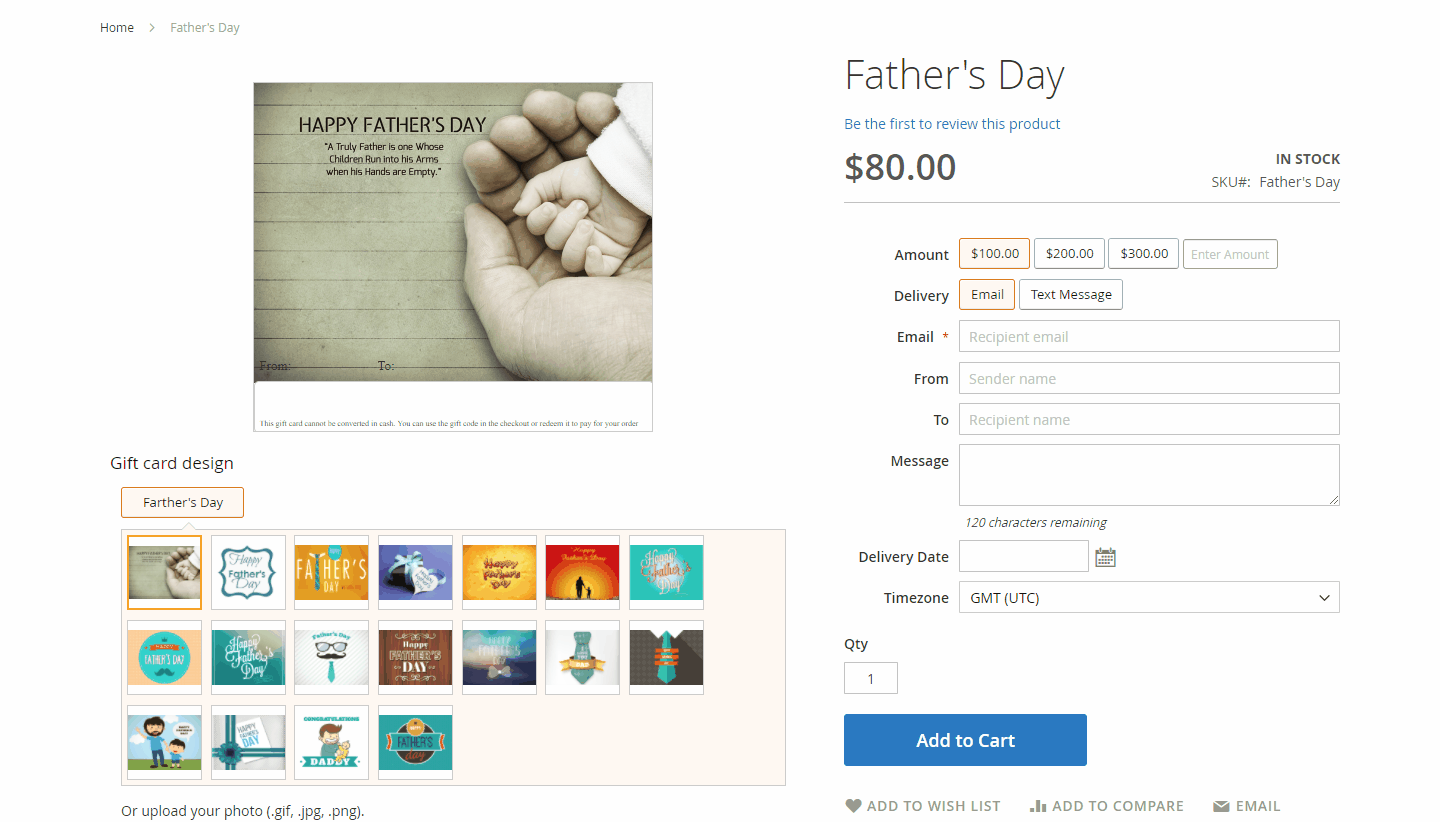 In conclusion, finding an extension that can satisfy both admins and buyers is what every online merchant want to possess. Because of all outstanding features offered, Mageplaza Gift Card extension deserves to be one of the most appropriate supporting modules for any e-commerce. If you want to know more about how significantly this extension can contribute to the ongoing development of your company, please visit us here: https://www.mageplaza.com/magento-2-gift-card-extension/
Related Posts: