Although digital gift cards have been increasingly popular among shopping doers, Magento 2 Gift Card by Mageplaza still offers printed certificates to satisfy more customers who want to own a physical voucher. Besides, store admins are also enabled to export gift codes to easily manage the performance of their stores. This function draws much attention from people who want to use and manage gift cards in traditional way. In this post, let figure out how to make the best of this function.
For customers
Normally, there are four delivery methods applied when Magento stores are installed with a Gift Card extension. These methods are email address, phone number, post office, and print at home. If buyers want to send their purchased vouchers directly to senders via internet or phone number, they can fill in required information and do nothing else. On the contrary, once customers choose their cards to be printed at home, after providing information, they can have their physical certificates printed from their email addresses or Gift Card account. If buyers hope to print from their accounts, they can go to My Gift Cards. This is the place storing all their cards either active or inactive. Remember that only when they select delivery method as Print At Home, can they get their cards printed here. After that, navigate the card that they want to print.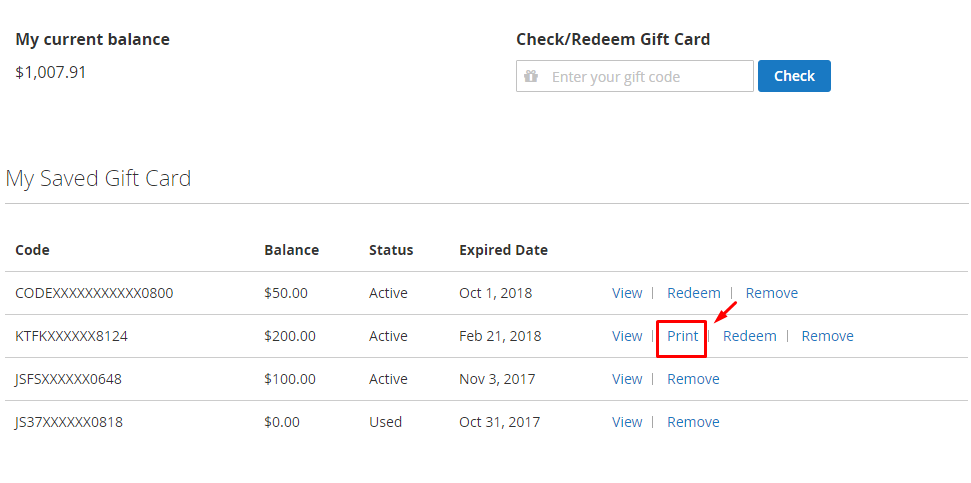 On the right side of the gift code, there are several options such as View, Print, Redeem, Remove. Now you can click on Print button to get your card. In this view page, you can take other actions and keep track of all your cards.
For shop admins
For admins, if they want to have a report printed to classify and manage all their stores' orders. By classifying data into different groups, store owners will find it easier to manage the performance of their businesses.

To start configuring, they can follow Admin Panel -> Store -> Manage Gift Card Code Pools. On the right hand, lies an Export button that admins can click on to start downloading the file .csv from the system to their devices. With the printed report, readers can see all the parts included in the original file from the system such as Status, Name, Balance, Created Time, Expired Date, and so on.

In case, users want to export gift codes from their stores, let visit Admin Panel > Store > Manage Gift Codes, then in the View Page, there is an Export button on the right side of the page. Simply click on that button can you get the wanted files from management system.
In conclusion, finding an extension that can satisfy both admins and buyers is what every online merchant want to possess. Because of all outstanding features offered, Gift Card extensions deserves to be one of the most appropriate supporting modules for any e-commerce. If you want to know more about how significantly this extension can contribute to the ongoing development of your company, please click the button bellow.