Adobe Commerce
Upgrade

Service
Give your Magento website a new look with the latest version update.
Talk to us now!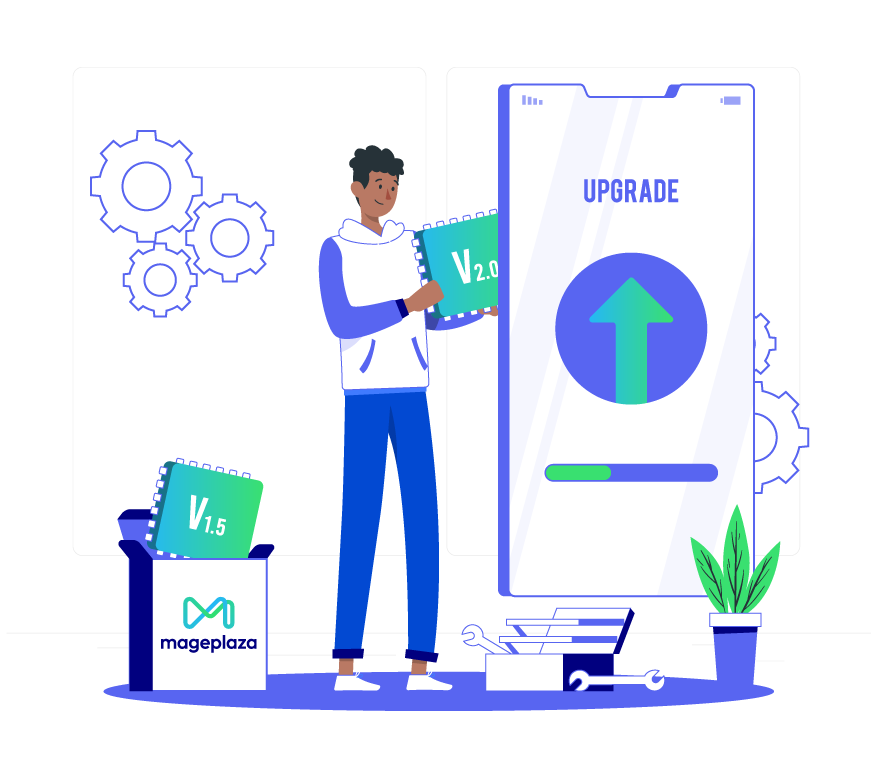 Why upgrade to Adobe Commerce's latest version?
Guaranteed results. Simple process.
Drive more traffic
Focusing on driving high-value traffic
Higher conversions
Help your visitors finish the checkout
Higher security
Protect your site from possible attacks
Enhance brand image
Make the brand more professional
Security improvements

All the bugs of the previous versions have been fixed, as well as a secure approach is added to protect your website better.

Performance enhancements

Customers can have a better experience thanks to improved performance (optimized site speed, beautifully designed pages, etc.)

New features

Additional features of the default Magento will be added for more convenient management and saving on 3rd-party extensions.

Higher code quality

With code quality improved, you can rest assured that your site is developed efficiently.
Why Mageplaza?
Adobe Commerce upgrades can happen every quarter, so why not let our developers take care of everything? You don't need to worry about data loss, slow progress, or any possible conflict.
8+ years of experience
Mageplaza has been in the industry since 2014, which helps us build our own legacy and improve our expertise
Adobe Commerce experts
Our developers know how Adobe Commerce works and can make sure the progress is quick.
Strict Adobe standards follow
The only standards we make sure to follow are from Adobe. We always try our best to adapt to the latest requirements.
Highest security
Now your site can be protected with the latest Magento security patches installed by us.
No downtime
We understand how time matters to online businesses like you. Rest assured about the progress, there will be no downtime.
No data loss
With Mageplaza Upgrade Service for Adobe Commerce, all data can be stored and transferred without any loss.
Quick progress
Through consultation and the fit schedule, the final timeline is always made the shortest to save your budget.
Flexible packages
Our Adobe Commerce upgrade service comes with budget-friendly packages. Please leave your contact details below, and we will reach out to you for a detailed quote.
Dedicated support
We are ready to assist you within 2 months after the upgrade to make sure everything works smoothly. Moreover, Mageplaza support team is available up to 16 hours a day to solve any issues.
How does the upgrade service work?

FAQs
The latest version of Adobe Commerce comes with lots of new features updates and enhancements as well as bug fixes to improve your website performance. Moreover, this upgrade process ensures that your store is supported with other future enhancements.
We make sure that our customers are satisfied with the outcome, so we will monitor and solve any upgrade-related problems within 2 months post-upgrade.
Mageplaza experts guarantee that your data is 100% protected during the process.
The cost is decided based on your technical requirements and other criteria discussed during the consultation. Contact us, and we will suggest the best package for you.
Again, it depends on the store's complexity and our availability. However, for most of our customers, it will normally take 3-5 working days.
Of course you can. However, remember that if you are not an expert in Adobe Commerce, this task could be tricky. It can lead to unwanted results such as data loss or compromised security.
Adobe releases its upcoming versions on the official website, so you can easily follow it to learn more information.
Leave a Message
Upgrade your Adobe Commerce website now
Leave your details here and wait for our quick replies. We are more than happy to help! Contact us now!