In working on any process, effectiveness and efficiency are always the 2 most important things. The same with SEO. It's a long-term process, which takes time and effort to bring back the wonderful and long-term result for the SEO performance.
Understand that, to boost the effective and efficiency while the customers are using the Magento 2 SEO extension, Mageplaza is proud to release an advantageous feature, named SEO Checklist in Magento 2.
How the SEO Checklist works
Basically, the Checklist feature will list all the important actions and steps which are required to be done for the best SEO performance. There are 3 kinds of notifications:
Success: Notice the action is done successfully.
Error: Notice the action is wrong.
Warning: Notice the action is missing or has not done in the best way.
SEO Checklist benefits
1. Boost the effectiveness
The effectiveness means 'doing the right thing'. With the Checklist feature, it's undoubted that you will never miss any important SEO actions or make some mistakes but never notice.
For example, if you forget taking care of the robot.txt file, don't worry, the checklist will show this notification to remind you and surely you won't miss this again.

2. Boost the efficiency
With the efficiency, it can be understood that is 'doing the thing right'. The checklist will notice you which actions are already done or remind you to do the actions with the specific direction to the configuration page. As a result, it will lead to a better SEO performance and boost the whole business.
Let's see some of the examples: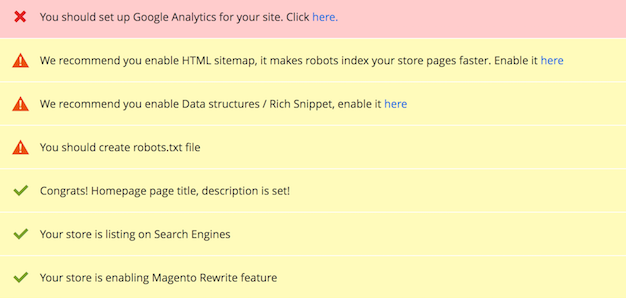 Configuation
Follow Mageplaza > SEO: Checklist
SEO Checklist includes a list of the notifications: Success, Error, and Warning. Based on this status of the notification, you will know whether your store is optimized and ready for SEO or not.