Breadcrumbs for Magento 2
The recent research finds out that 93% of online experiences begin with a search engine. Hence, it's critical to have an effective SEO process to boost the SEO performance and increase the click rate.
There're 3 kinds of breadcrumbs:
Location-based breadcrumbs
Path-based breadcrumbs
Attribute-based breadcrumbs
While the Location-based and Attribute-based are the kinds of the breadcrumbs which are shown on the website to show the navigation as well as the structure, the remaining one displays the search result. In regrading the Mageplaza SEO extension with the Breadcrumb feature, we will pay more attention to the Path-based breadcrumb.
However, please note that if you want the search engines such as Google displays your website's breadcrumbs, you must set up the magento 2 breadcrumb on your web pages first.
How the breadcrumb display on the search result
Normally, the breadcrumb is shown below the Meta title and helps to visualize the structure that leads the user to the search page. Those breadcrumbs are flexible while usually based on the search results.
Here is the example of the breadcrumb: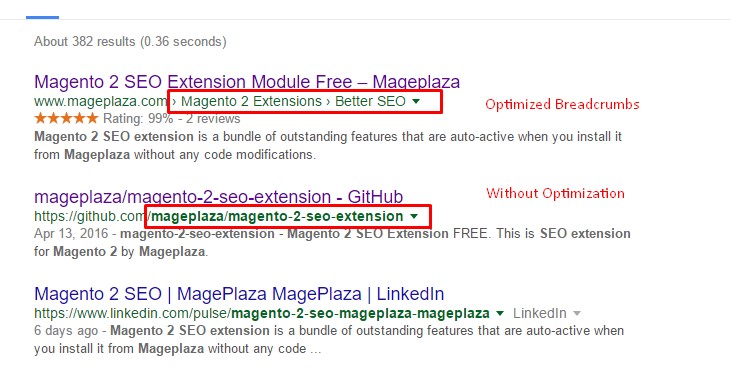 Benefits
Boost the site ranking
From the SEO point of view, having breadcrumbs is an outstanding improvement for the SEO performance. Not only it helps to high up the code but also allows the search engines crawling the site quicker as well as easier to understand the site structure. As a result, the breadcrumb can completely have the positive impact on the site ranking as well as the overall SEO performance.
Improve the customer experience
As the breadcrumb is shown, the shoppers can easily know the path which leads to the search page. They can familiarize with the site structure faster, fell safer with the website and easily follow. Moreover, the shoppers can navigation to the webpages based on the path elements are listed. Especially for the large and muti-level website, the breadcrumb is a huge benefit for the shoppers while finding their desire items to make a purchase.
Increase the click rate
Having the breadcrumb is already a good way to attract the click rate as the site is on the higher ranking.
Besides, it will be a lack if we don't talk about how to visualize the breadcrumb can bring to site search result. Comparing to the others, a search result has the breadcrumb on the result usually bring a more professional and trust vibe. As a result, the searchers are likely to click on the one that they are attracted and of course, the click rate raises.
Configuration
1. Go to Configuration field
Go to Admin Panel > Mageplaza > SEO > Settings 2. Enable the feature
Go to the Breadcrumbs tab.
In the Enable Breadcrumbs Rich Snippet field, choose Yes to enable the feature and leave No to disable.

3. Finish
Click Save, Flush Cache and see the result.
Related Posts: