Mageplaza Product Labels - 10+ Case Studies on Actual Magento 2 Stores
Mageplaza Product Labels - 10+ Case Studies on Actual Magento 2 Stores
The product search process is the first step and may take the most amount of time before customers make their purchase decisions. Shortening that process can enhance user experience and achieve better results in marketing campaigns, which in the end will help your store boost sales easily.
Mageplaza Product Labels have been used by hundreds of stores, with the aim of creating an attractive store frontend and gaining customer loyalty. While the default Magento 2 does not enable flexible content edit, label designs as well as rule-based and timeframe settings, the Product Labels module by Mageplaza with those impressive features can support you amazingly.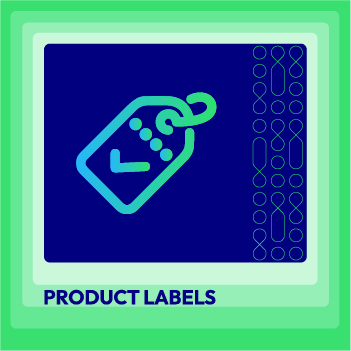 Create eye-catching product labels to grab more customer attention
Check it out!
Table of Contents
What types of product labels can you use for your Magento 2 store?
As mentioned above, stores are free to adjust and customize their labels so that they serve their goals right. However, there are several commonly-used product label types based on goals as follows:
New products
Best sellers
On sale products
Limited items
Free shipping
In stock/Out of stock products
Products with special features and many more…
If you want ideas to start with, take the following stores as examples and inspiration:
How do the actual Magento 2 Stores apply the Mageplaza Product Labels extension?
New product labels
The quickest way to inform customers about a new product launch is using New labels. It is short, straightforward and attractive for sure.
Case study 1: Warrix
Warrix is Thailand's sport merchandise seller, who is offering sports clothing and equipment inspired by the national football team.
On each league or special occasion, the store launches new collections. Hence, it is in need of a simple but attractive label to guide customers better. That is why it uses Mageplaza Product Labels extension to make use of the 'New' label.
Case study 2: Black Briar Music
Black Briar is a Netherland alternative metal rock band, who released one album, three EPs, and various other musical pieces, such as singles, music videos, lyric videos and live videos. The band has a website where their music works and related merchandise are displayed and sold to the fans.
In the event of the new album release, the website also introduces merchandise inspired by that album. Therefore, on each product related to the new album, there is a 'New' label used.
Case study 3: Bandanas Unlimited
Bandanas Unlimited is a brand focusing on pet products. On the product page, it can be seen that new products are labeled with the 'New' label.
Sales promotion labels
Another commonly-used product label usage is to promote sale promotions. Depending on each store's tactics, it can use different labels to display promotional items. For instance, they can use the simple tag 'Sale', or include discounted percentage, or even give more detailed customized messages.
Case study 1: Dive Shop
Dive Shop, which was founded in 1987 in Kuwait, and later established in 1995 in Dubai. It specializes in apparels, tools and accessories for diving and watersports activities. Owning a 8,000sqft warehouse in Dubai, it is currently the largest diving equipment supplier across the G.C.C, Northern and Central Africa, as well as surrounding islands.
The online merchant shows sales promotion labels in details, including the sale percentage on the price of each product, which will attract customers more effectively.
Case study 2: Flexfit
Thanks to a good background in yoga and health, Flexfit brings active lifestyles to customers through unique and high quality apparels for both amateur practitioners and professional athletes. The brand has more than 230 stores in more than 43 states, gradually becoming a well-known manufacturer and retailer. It well supports everyone regardless of their age, gender or past activities. Beside exercise clothing and equipment, it also sells dietary supplements as well as gift cards.
The label 'Offer' is attached on items that are under sales promotion to guide shoppers better.
Case study 3: My Hair Shop
My Hair Shop is a hair care product retailer in the Netherlands. It provides various products for straight hair to curly, wave, or other hair types. Instead of just showing the discounted price, the brand also converts the discount amount into percentage and displays it at the corner of the product image.
Case study 4: Phooto
Being the largest photo site in Brazil and continuing to expand to North America and Latin America, Phooto helps customers keep memories in photos by printing them out in albums and using them on products, which is quite rare in today's digital world. Since their foundation 8 years ago, until now, the brand provides various product types, ranging from photo albums to frames and other gift products like mugs or puzzles.
Phooto uses the sales messages of 'X% Off', which is easy to understand and emphasizes the discount amount.
Case study 5: Soliduct
Soliduct is a Swedish building material company. Their products include ventilation products like filters, fans, or fixtures, which helps building efficient ventilation systems.
The simple 'Sale' message on the online store is well supported by the 'Check the price' label when the company wants to emphasize on the discounted amount. This is also a wonderful feature of Mageplaza Product Labels extension, where multiple labels can be used for a product.
Case study 6: Bandanas Unlimited
In addition to the usual 'Sale' label, Bandanas Unlimited also customized its 'Closeout Sale' to create even more urgent call-to-action for customers. In this way, shoppers can notice immediately about the closing down promotions.
Read more on how to show sales promotions on Promo Bars
Stock level labels
This tactic can be useful if online stores need to inform customers about the stock level, or clear out stocks in certain products. Buyers do not have to go to the shopping cart page or the description section to look for stock updates anymore.
Case study: Woodlands
Woodlands is a gardening supplier in the United Kingdom. Not only does the brand sell seeds and plants, but it also offers different gardening tools and furniture for the garden.
With such a huge number of items, it is essential for the store to show clearly the stock level of each product. It helps customers quickly identify, which limits questions and concerns about the stock.
Customer favourite or Best sellers labels
It is suitable for merchants to educate and motivate their customers to buy certain products. Customers do not have to waste time considering various choices, because now they are well aware of which products are preferred by others.
Case study: Soliduct
A product may have different sizes and types, which can confuse first-time customers. In that case, Soliduct provides the 'Bestsellers' label to products that are selling fast, in order to educate and guide customers better.
Product types or Features labels
When there are lots of products in different types, merchants usually use this label to classify items effectively.
Case study: Use IP
Use IP provides all CCTV products in order to support customers in creating a secure system in their home or business. There are lots of options to choose from, as well as customized services, so it is suitable for all users and all goals.
Because products at Use IP are electronic devices with different features and attributes, customers may find it difficult to find the exact type that they need. However, when the company uses labels stating features, shoppers can choose instantly. For example, each camera can be labeled with its series, naming 'C series', 'S series', 'V series', etc.
With products requiring quality control, it is important to include those badges to gain trust from customers. Use IP did well in this, by using labels such as 'NSAA compliant'.
Takeaways
Why should your Magento 2 store use Mageplaza Product Labels?
Because our extension is carefully configured with exclusive features for your store:
Use ready-made labels
Customize your label designs
Create rule-based labels
Edit label messages
Add multiple labels
Manage labels via grid
Set timeframe
Display on different pages: Search page, Product page, or Product listing page
Why do you need Product Labels by Mageplaza?
Attract customers: Customers may take notice of well-designed labels immediately
Promote hot items: Increasing sales for hot items will be possible
Launch new or limited products: Promote a new product or a limited version that has just been released
Run sales promotions: Conduct certain marketing campaigns with sales promotions or free shipping offers
Create automatic labels based on rules: Add urgent call to action via customized messages
Be professional: The website frontend will be displayed with labels customized by you, which means they will go along with the brand identity and particular objectives
Read more on how to configure Mageplaza Product Labels
The bottom line
If you are seeking a supportive tool to beautify your online store and attract customers instantly, Mageplaza Product Labels is the right fit for you. Hopefully now you have your own ideas of how to use this module effectively for your needs. If you have any concerns, it is okay, reach out to us and we will be more than happy to discuss with you. May your journey all the best!
---
---
Harper is a content creator by day, and a coffee lover by night. She loves exploring the world of content and uses her interesting findings, experiences and passions to give readers what they are looking for. Her ultimate hobby is travelling, which helps her learn and grow.
Subscribe
Stay in the know
Get special offers on the latest news from Mageplaza.
Earn $10 in reward now!