Magento 2 Themes - Best Free & Premium Themes for Magento 2
The Best 42+ Magento 2 Themes - Best Free & Premium Themes for Magento 2 Themes from hundreds of the Magento 2 Themes - Best Free & Premium Themes for Magento 2 themes in the market (Themeforest, Magento Marketplace, Templatemonster, MOJO Marketplace, Creative Market, MyThemeShop) as derived from Mageplaza Ranking which is using Mageplaza scores, rating reviews, search results, social metrics. The bellow themes were picked manually by Mageplaza experts, if your Magento 2 Themes - Best Free & Premium Themes for Magento 2 does not include in the list, feel free to contact us. The best Magento 2 Themes - Best Free & Premium Themes for Magento 2 theme collection is ranked and result in March 2021, the price from $69 to $89.
Porto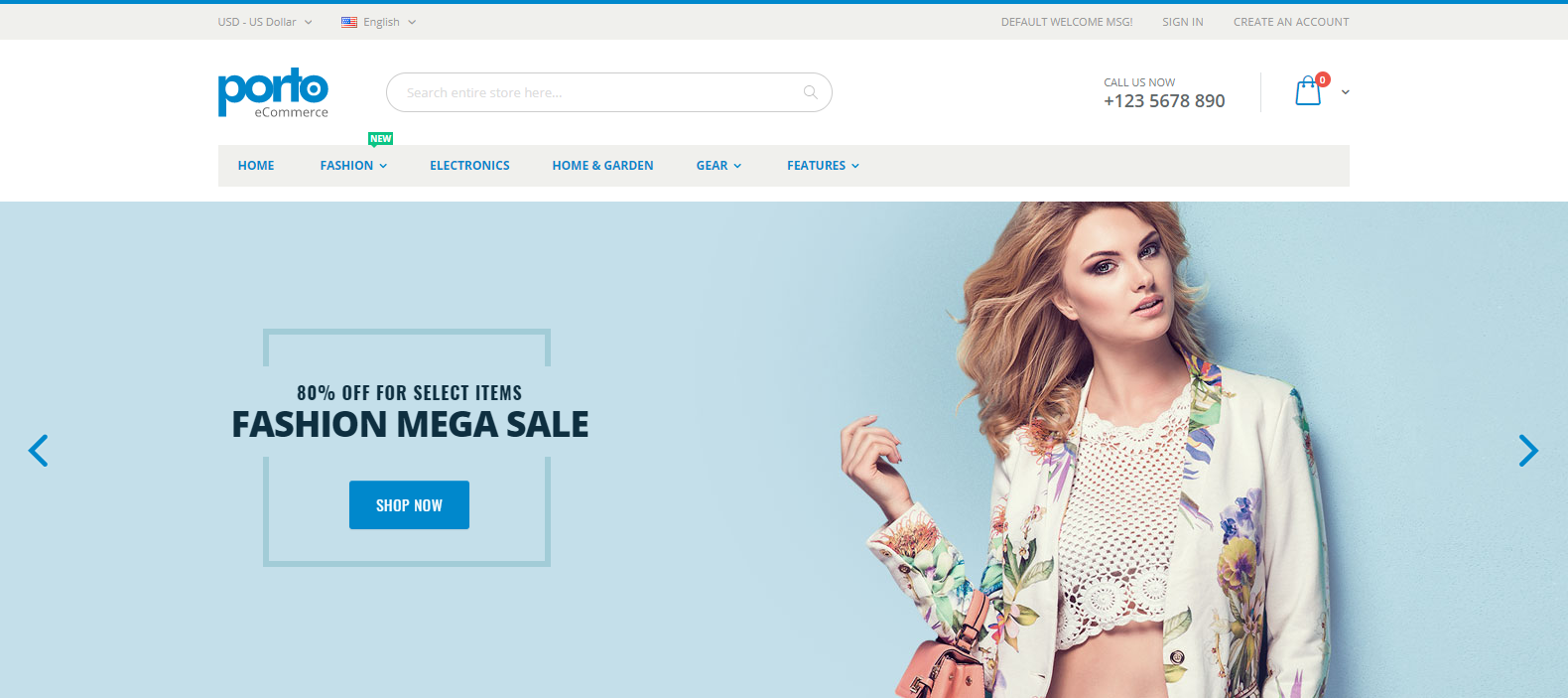 Highlight features
Unlimited header layouts with 20 predefined themes
Easy to customize
Support flexible extensions
Free update guarantees
Super Fast Magento Theme: A Class
To be considered as the most known theme on ThemeForest, Porto satisfies over 17000 customers. Porto is a successful marketplace on the international eCommerce.
Porto is becoming top-class on any speed test tools; therefore, users will be impressed by its speed. It is guaranteed when you choose to purchase this extension, Porto is suitable for the latest Magento version and a huge number of extensions.
---
Gala Bigshop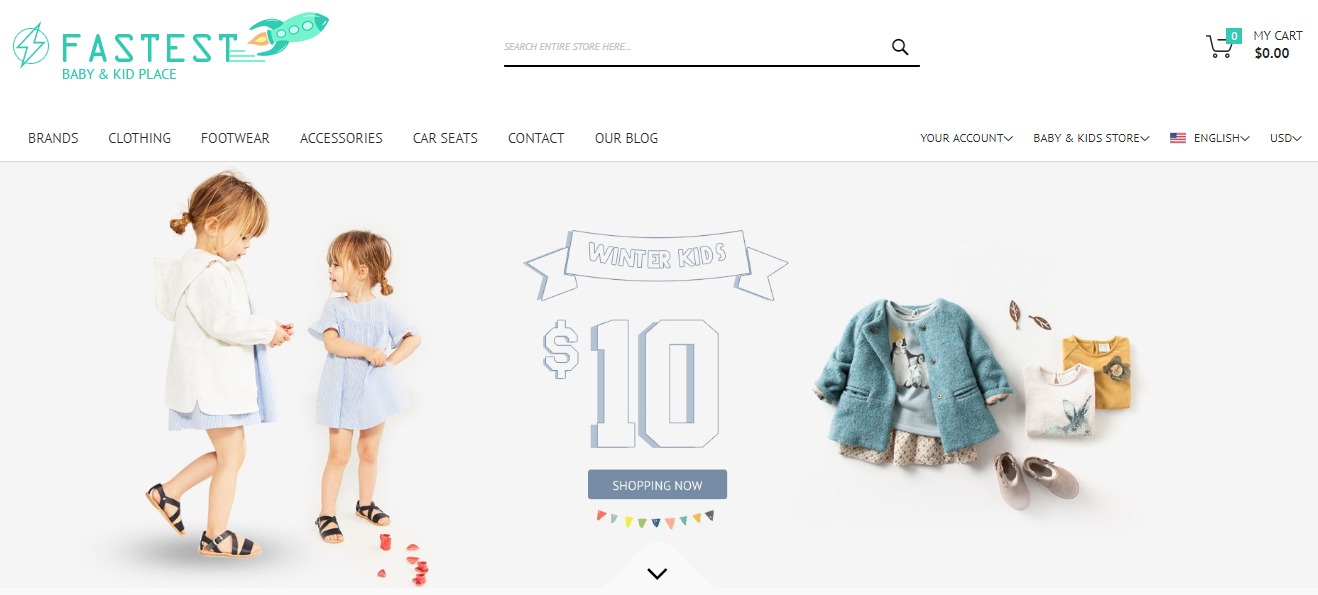 Highlight features
20+ pre-made demos
Powerful Mega Menu supported
Ajax cart pro
Layered Navigation included
Responsive UX design
Easy to customize
Fastest is one of the top 3 best-selling themes of 2016. It can be said that this is a great and perfect theme for online store owners. With over 15 different layouts and unlimited color system, Fastest offers a great shopping experience for customers. Not only does it bring a new breeze to your store, but it also boosts your sales significantly. Purchase Fastest theme today to feel!
---
Claue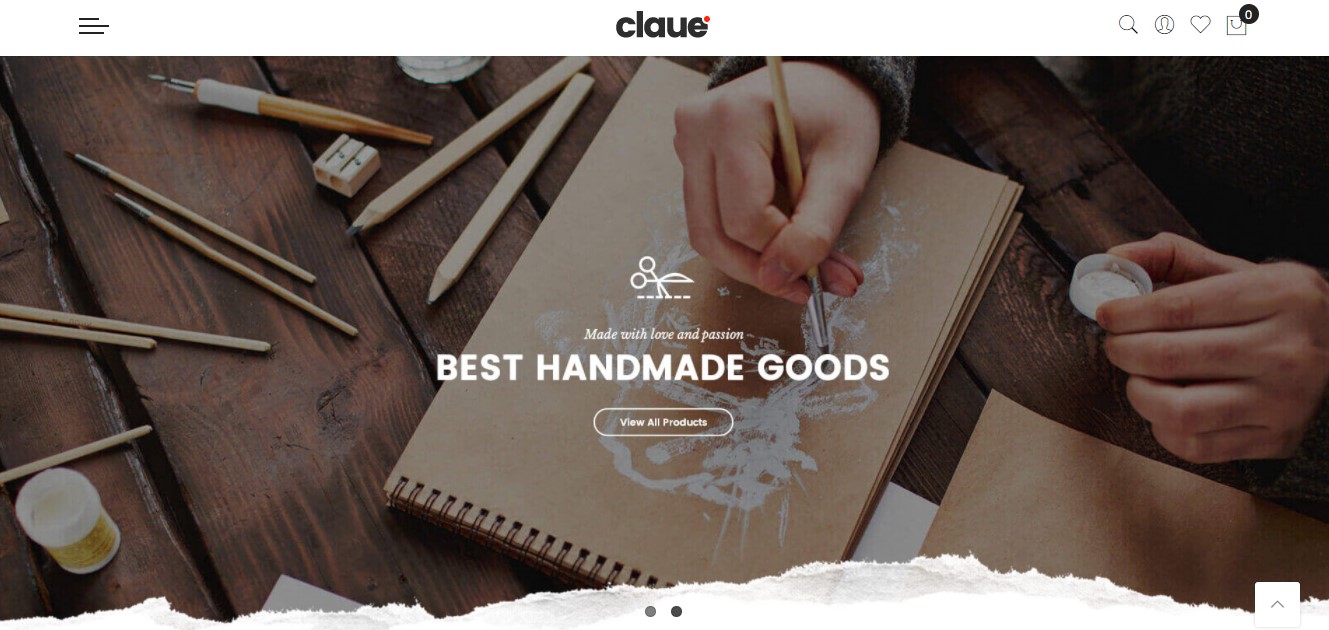 Highlight features
MGS Front-end built
Responsive designs
Support 22+ homepages
Unlimited colors
Include best extensions
Powerful admin panel
Clauze is a perfect theme that includes over 20+ homepage layouts and tons of great features for the shop. Claue can meet all kinds of shops. Besides that, it has eye-catching layouts and rich colors, which is an excellent choice to improve the store's sales as well as the brand of the store.
---
Shopper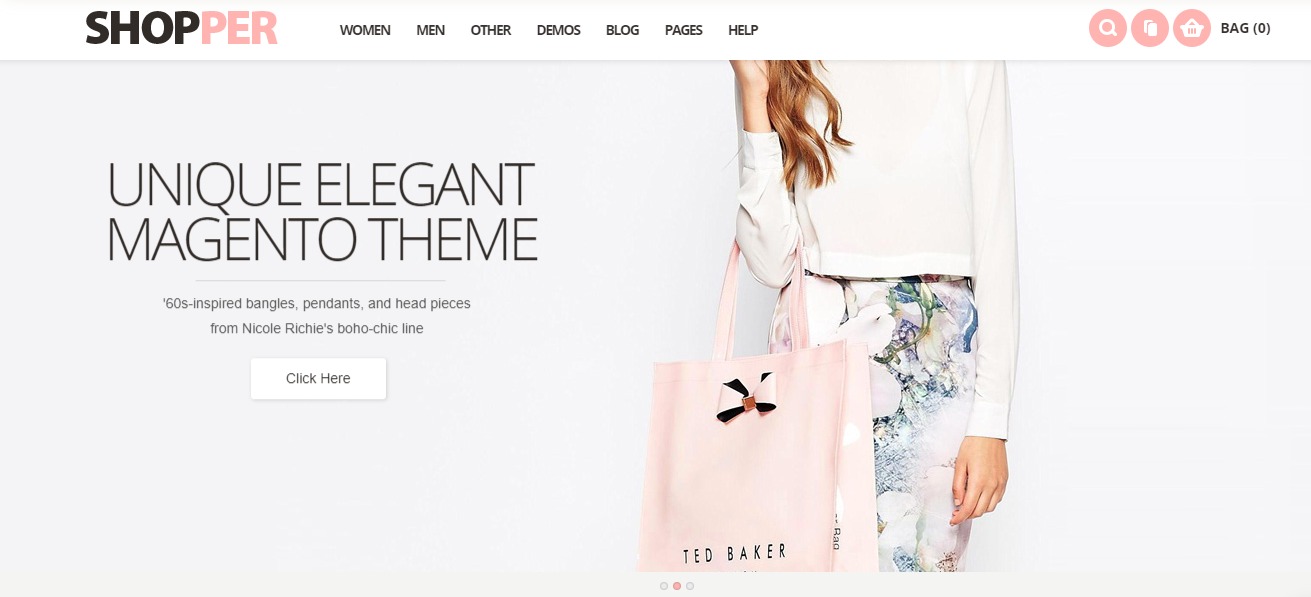 Highlight features
Responsive and retina ready
Allow customizing colors
Powerful admin panel
Integrate Google fonts
Ajax cart supported
Easily install and manage
Shopper is a premium Magento theme that is extremely powerful and flexible design for online shop owners. Shopper theme can fit any type of store and bring many great features like Ajax cart, Slideshow, Revolution slider, etc. With a simple and clean design, it helps customers save time when looking for the product they want.
---
Fortis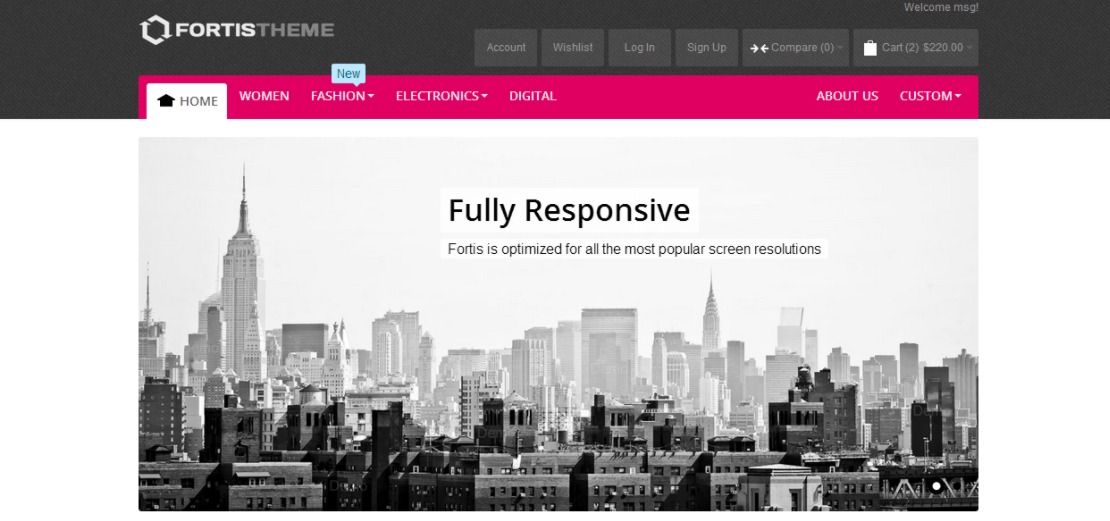 Highlight features
Support multi Google fonts
Various headers and footers
Support multi stores
Support Google rich snippets
Unlimited colors
Friendly interface
Include tons of features
Fortis is a theme that includes tons of outstanding features for Magento shop owners. It was designed by Inforis for the purpose of providing a great experience for both customers and administrators. It helps customers shorten the shopping process and save considerable time for them.
---
Ultimo
Highlight features
Responsive layouts
Unlimited colors and designs
Powerful Mega Menu
Include various brand logos and sliders
Easy to customize
To be a premium theme with eye-catching designs and harmonious colors, Ultimo is highly regarded by store owners. It is suitable for all types of stores and optimized for SEO very well. Can be considered as a great start for your project. Do not hesitate, purchase Ultimo to bring freshness to your online store.
---
Sahara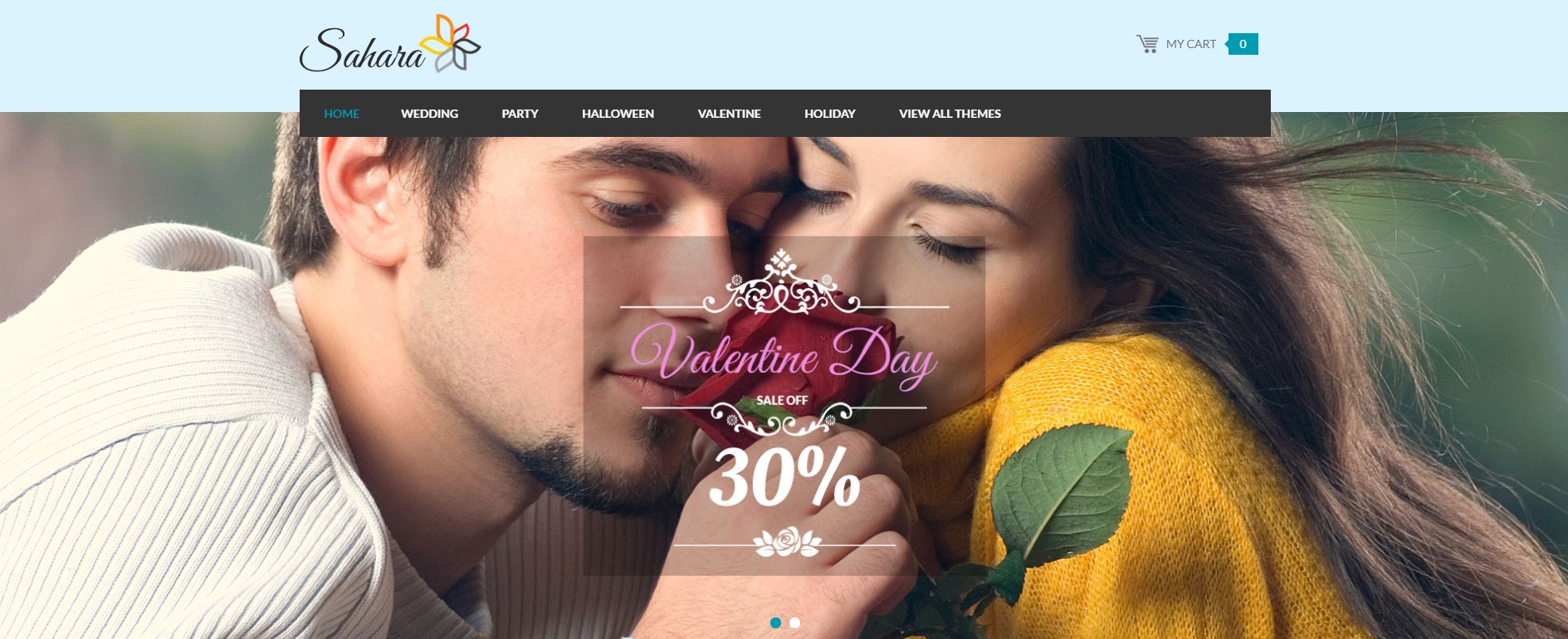 Highlight features
Include 57+ premium themes for your choice
Multiple header types included
Multiple layout options supported
Responsive all designs
Easy to custom banner slider
Once clik to install
Beautiful and attractive design
Sahara is the latest design of Plazathemes. It was created as an e-commerce solution for the Magento online store. Sahara shows a subtle, beautiful layout and tons of the most powerful features of an e-commerce store. In addition, Sahara theme meets on a variety of devices and is compatible with all types of stores such as toys, sports, flowers, jewelry, gifts, digital, fashion, furniture, electronics, etc. It is not only easy to customize but also includes over 57 home page options. You have too many great choices for your store. We believe that Sahara theme will be the best and most effective companion for your store. Try the Sahara theme right now!
---
Athlete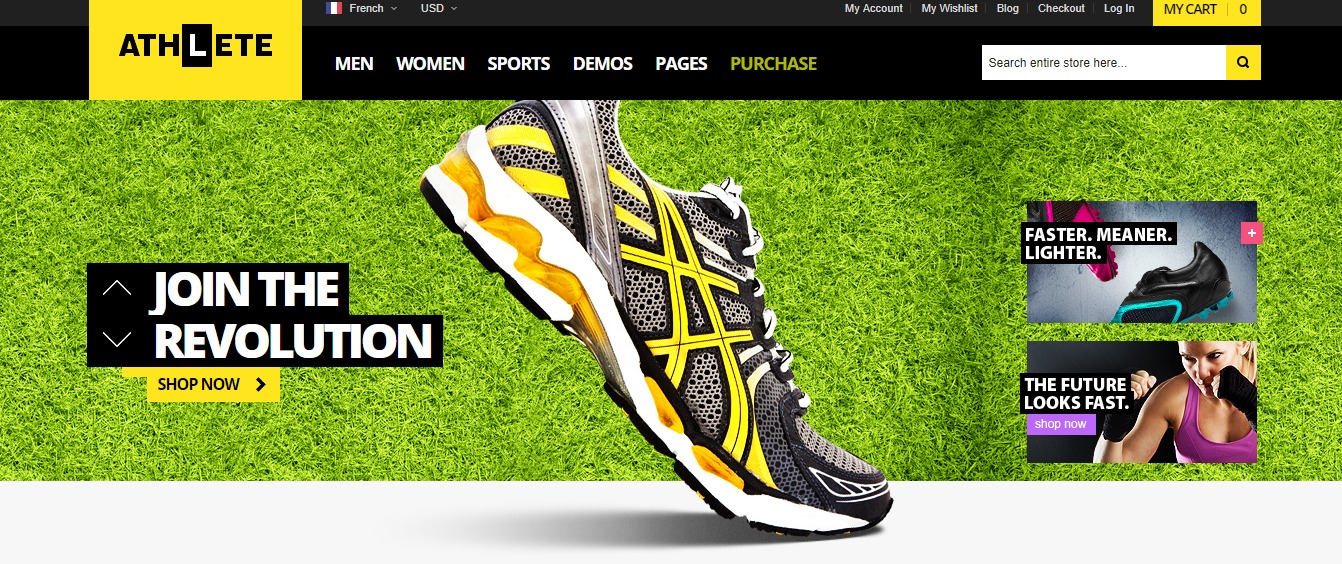 Highlight features
Include 200+ color options
Install themes by one click
Support many CMS blocks
Include many flexible extensions
Powerful Mega Menu
Athlete is a great theme for Magento shop owners. It can fit any type of store and besides that, it includes a lot of great features like revolution slider, one step checkout, quickview, etc. In addition, with its rich and varied colors, it will surely delight customers and can not be ignored.
---
Black&white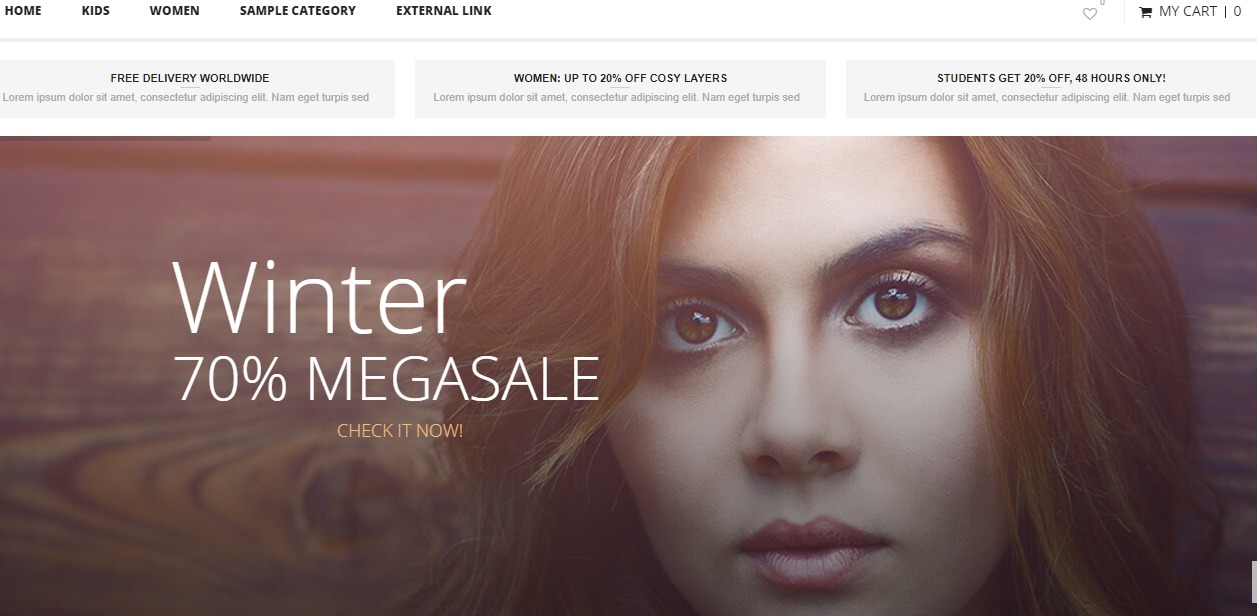 Highlight features
Retina ready
Able to customize colors easily
Powerful grid
Support Google fonts
One click install
Various extensions
Black & White is a best-selling theme of Meigeeteam, it can fit into any type of shop. Black & White themes with great features and powerful design easily attract customers. Besides, with thousands of powerful extensions, it will definitely help you to improve your store's brand in the eyes of your customers and increase your revenues significantly.
---
Market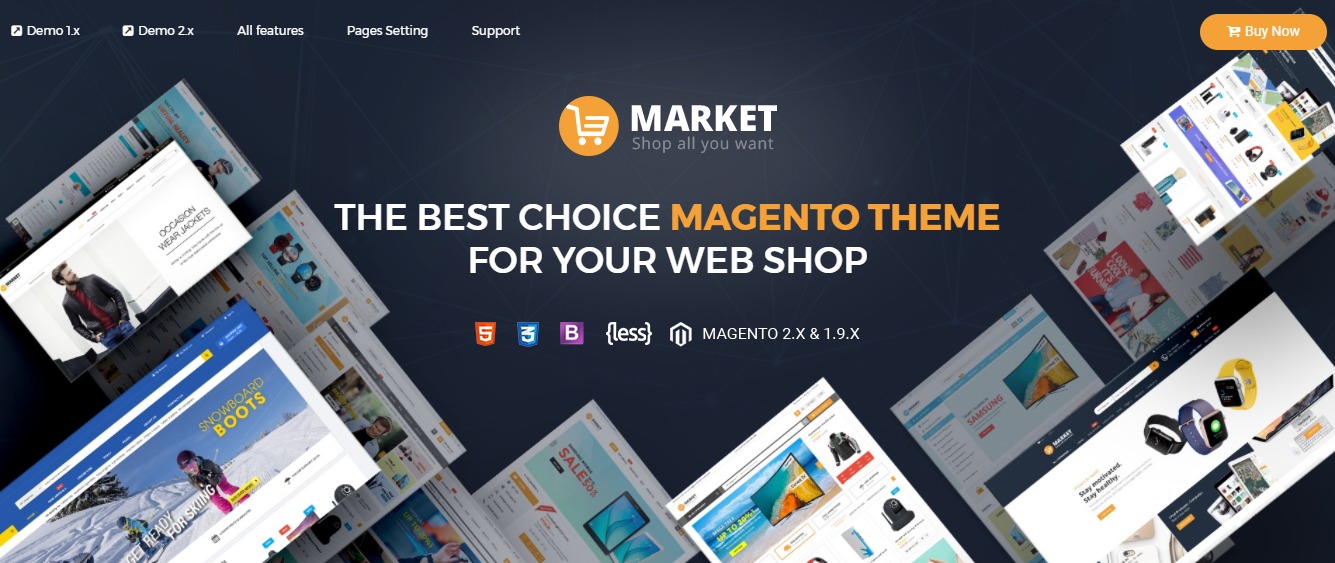 Highlight features
Include 18+ unique homepage layouts
Responsive all devices
Support various headers and footers
SEO optimized
Easy to import data by one click
Allow changing colors of themes easily
Market is a great theme, which can be suitable for online stores, especially stores such as book stores, furniture stores, clothing stores, watch shops, etc. In addition, this theme includes the perfect features of extensions like the Ajax cart, vertical mega menu, SM camera slider, Layered navigation, etc. This is a special integration, it is a modern and young design which helps easily attract customers and improve the brand for your online store.
---
Ves Fashion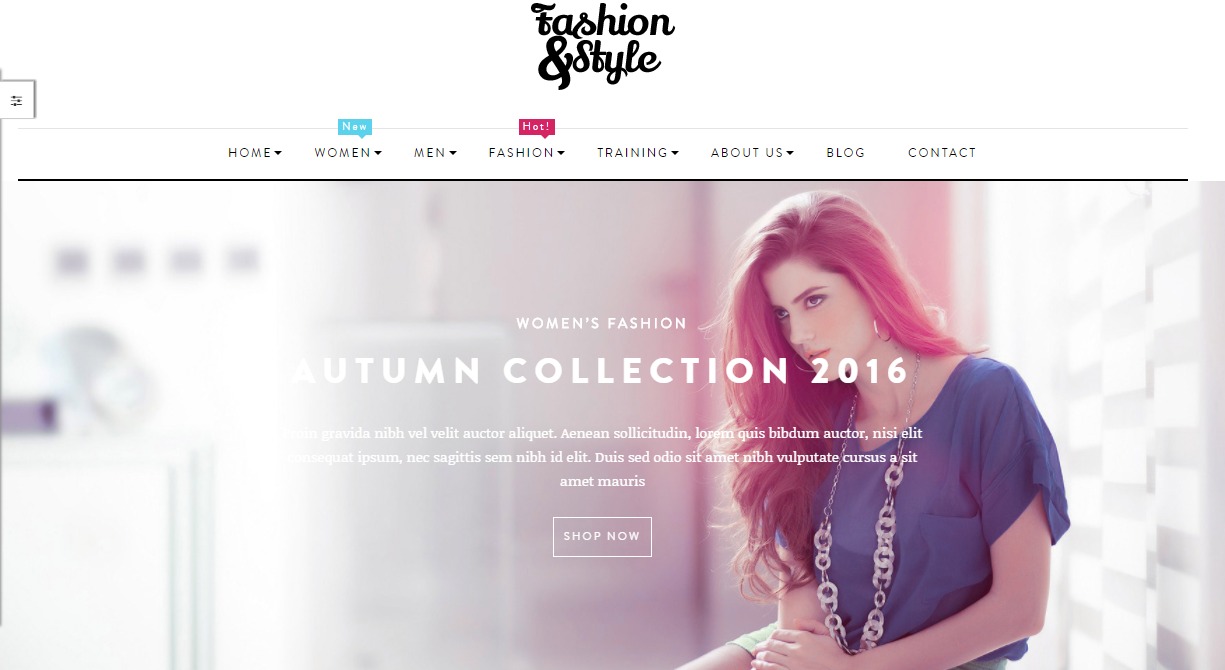 Highlight features
Integrate Mega Menu module
Simple and clear design
Include many extensions
Multiple colors to choose
Integrate Google fonts
Ves Fashion is a theme designed by Venustheme, which is compatible with both Magento 1 and Magento 2. Ves Fashion is a combination of pure white and black, offering a great theme for the store. Structuring and streamlining the products for the store, this will attract more customers. It is suitable for various kinds of fashion boutiques, mobile shops, computer shops, electronics stores, etc.
---
Everything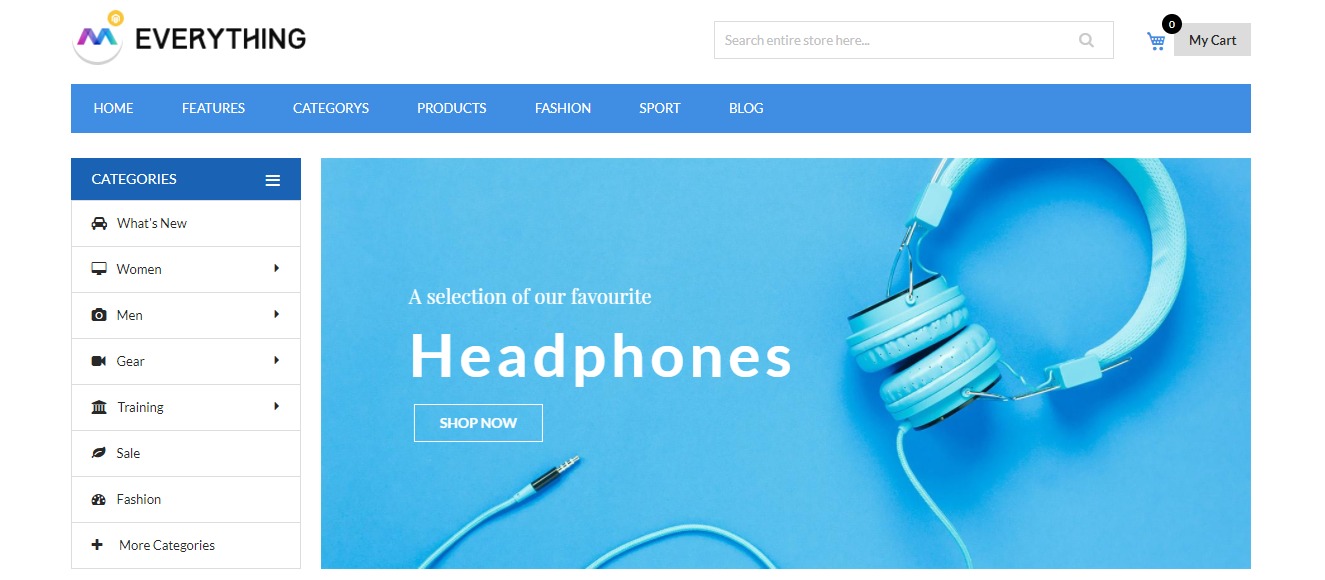 Highlight features
50+Magento themes
Various premium extensions includes
Strong theme options
One click to install
10000+ customer satisfaction with themes
Everything is a premium Magento theme that is used for every type of shop. Everything offers more than 50 different home page layouts that bring modern looks to your online store. This will attract and impress customers fast. Everything from color to font can be customized easily, saving you time managing the store. One more thing, Everything is fully compatible with both Magento 1 and Magento 2 stores. With Everything theme, your store will become unique and eye-catching.
---
Gengar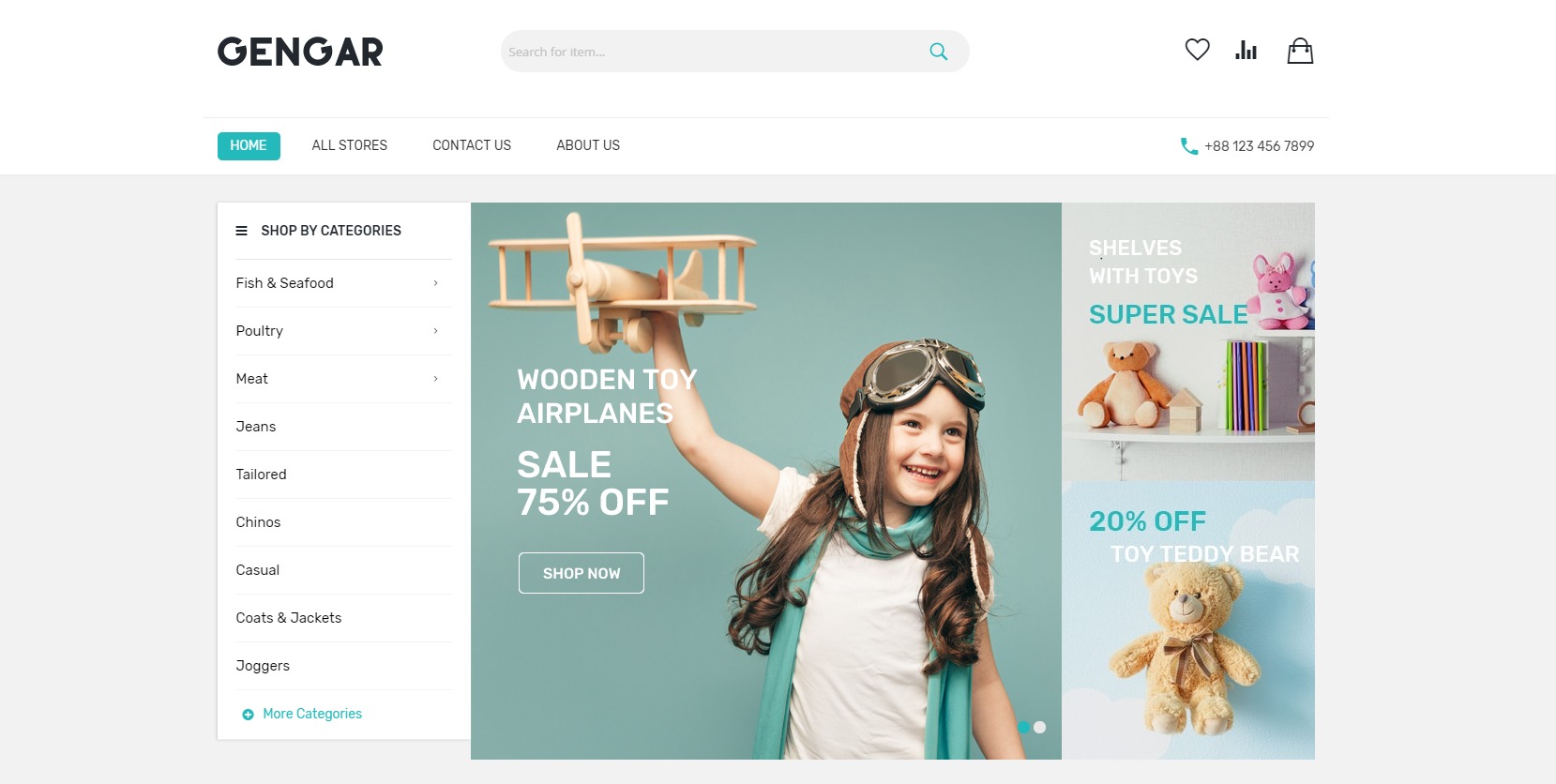 Gengar theme is developed by Plazathemes and is compatible with Magento themes 2. This theme supports the sale of hand tools, toys, baby products. Besides that, it is combined with harmonious colors between yellow, blue, green and white. Text and titles are black color, which makes the product on the Gengar theme become outstanding and eye-catching with customers. Gengar theme is a great opportunity for you to create a different store than your competitors. We believe you will be satisfied with Gengar theme!
---
Giftior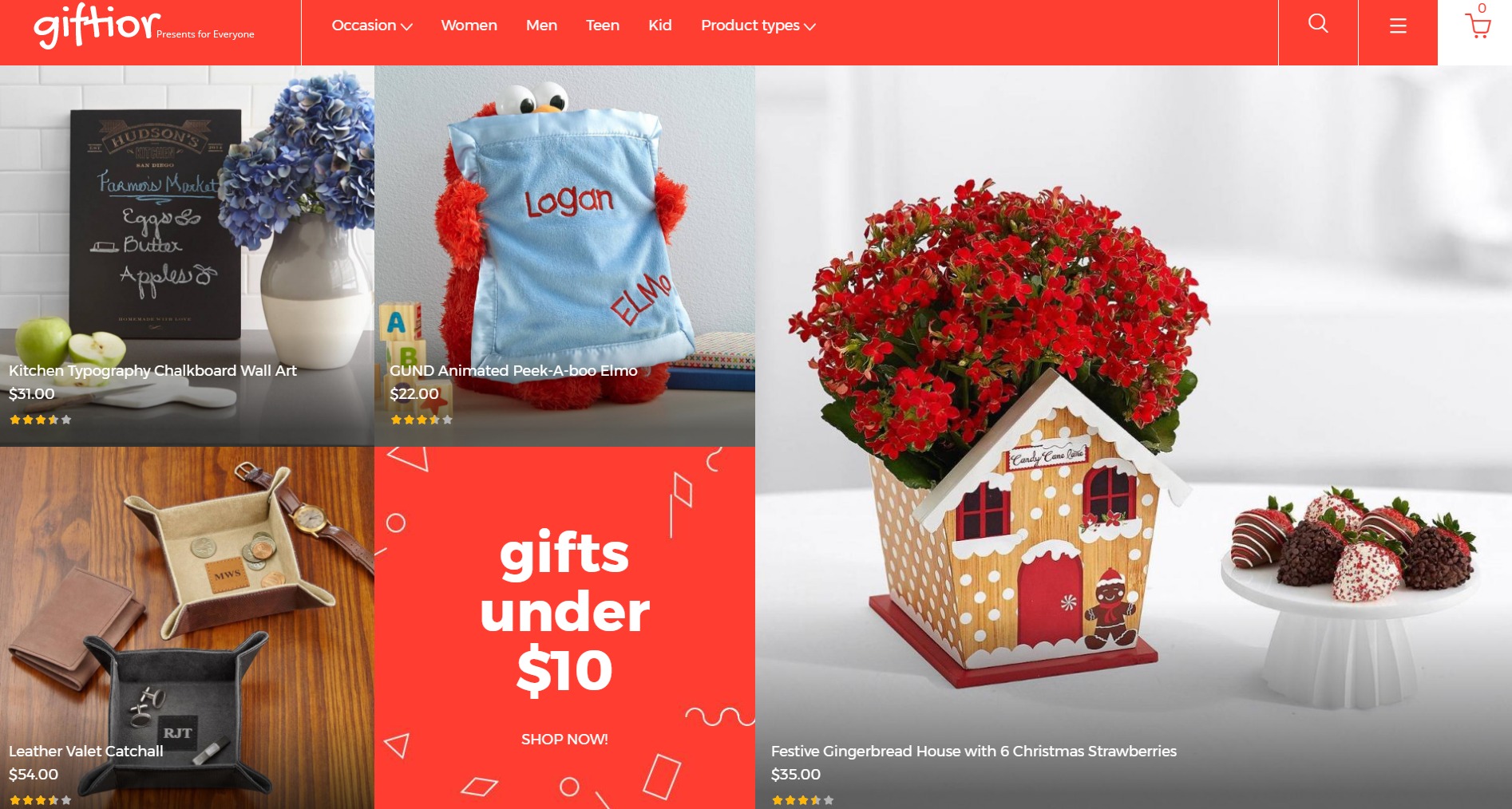 Giftior has an attractive homepage layout, a striking pattern and easy to impress customers. Although there are not many layout options, it also has a lot of powerful modules that provide a great user experience for the website. In addition, it is designed in line with the gift shop, children's toy store. When using Giftior you will bring a sense of fun to customers when shopping, which helps to improve sales as well as brand of the store.
---
Hippospa
A nice and neat design, HippoSpa is one of the great themes for spas and wellness centers. This is a combination of beautiful visual aesthetics and great effects. It helps to display images on the website beautifully and clearly, customers can search for products and be attracted at first sight. Besides that, HippoSpa meets 100% of the devices, easily customizable and in particular, supports the optimization of SEO effectively. Do not hesitate, choose this theme for your store today to feel!
---
Koppen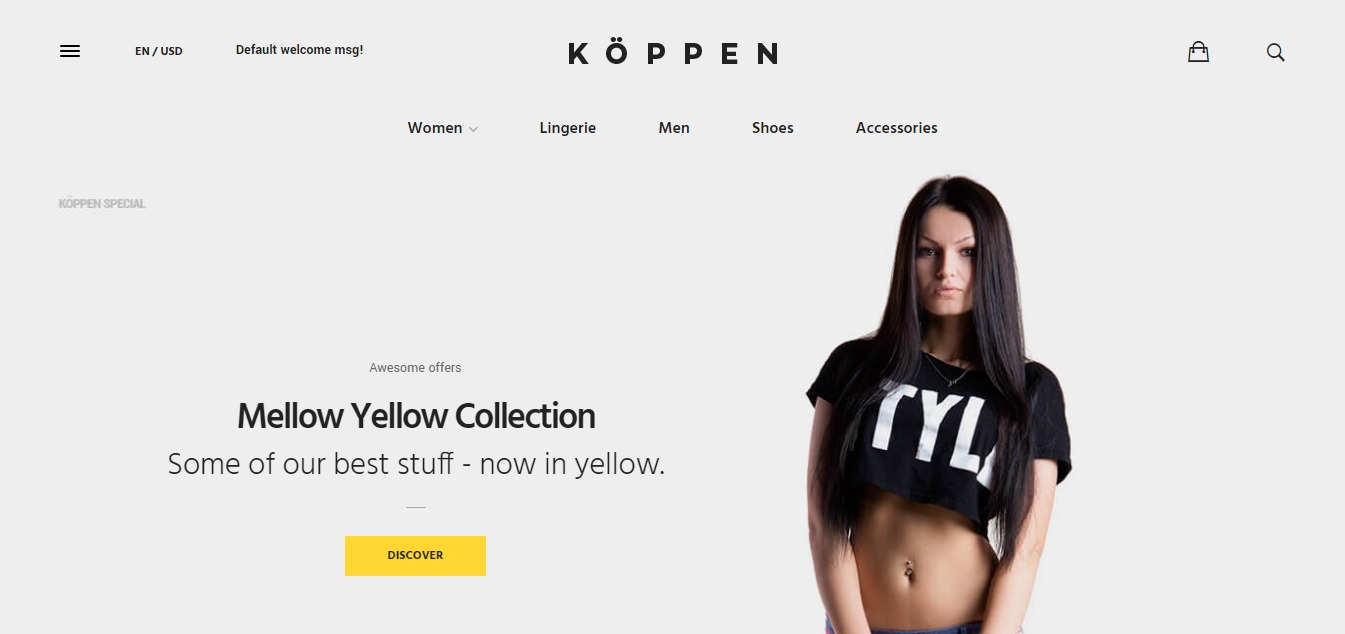 One of the newest theme of MeigeeTeam- Koppen Magento 2 theme is perfectly suitable for any kind of online stores especially fashion shop. It also includes many layouts and includes premium support such as Blog, Brand Slider, Most viewed Products Slider, etc. Furthermore, the design is extremely clean and modern. Especially, it is updated with new technology like bootstrap.
---
Lantiana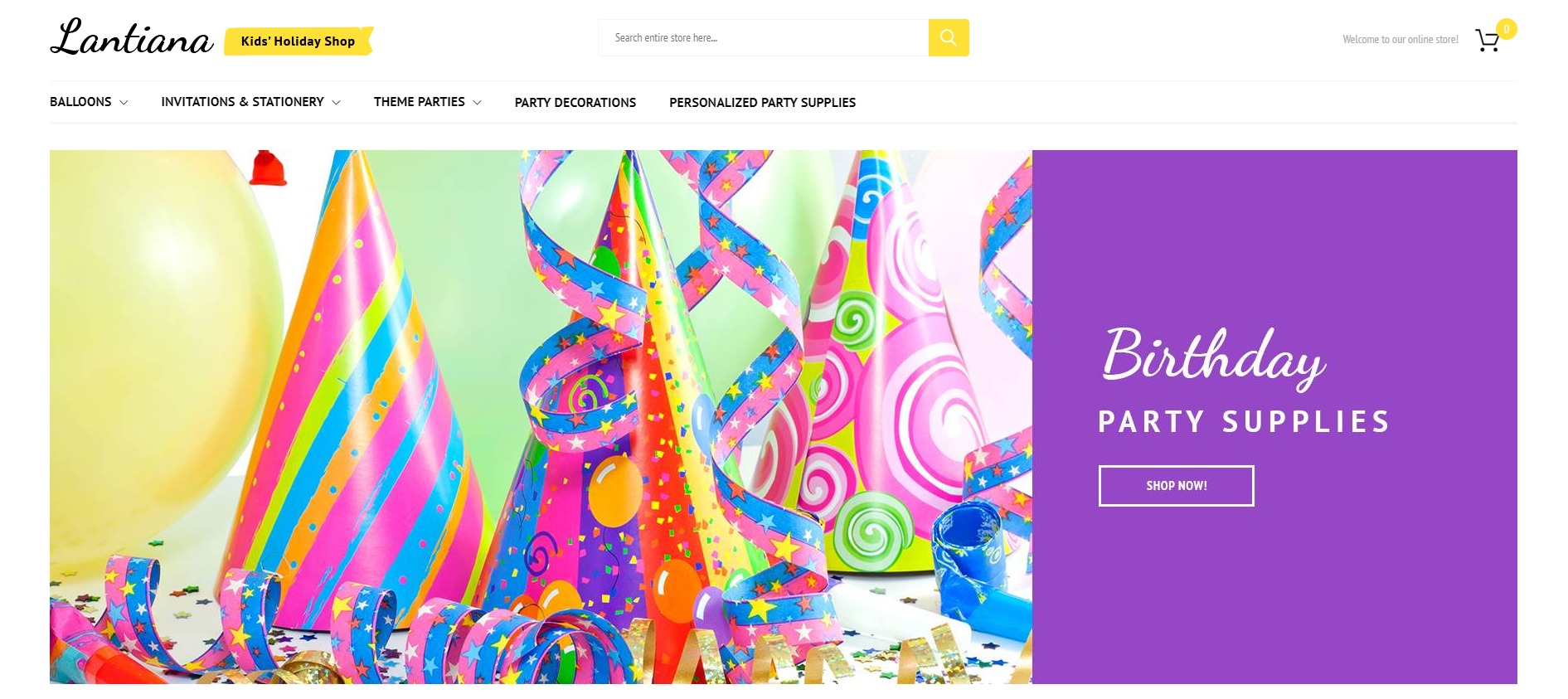 Lantiana is a theme that fits into Magento stores. It is designed to serve to online gift shops, children's shops. Besides that, it has a flexible administrator system that is easy to customize and manage. In addition, this template integrates many features such as sliders, banners, featured products section that will attract customers and improve the traffic of the website. This is an ideal theme for your shop, try it!
---
Magictoy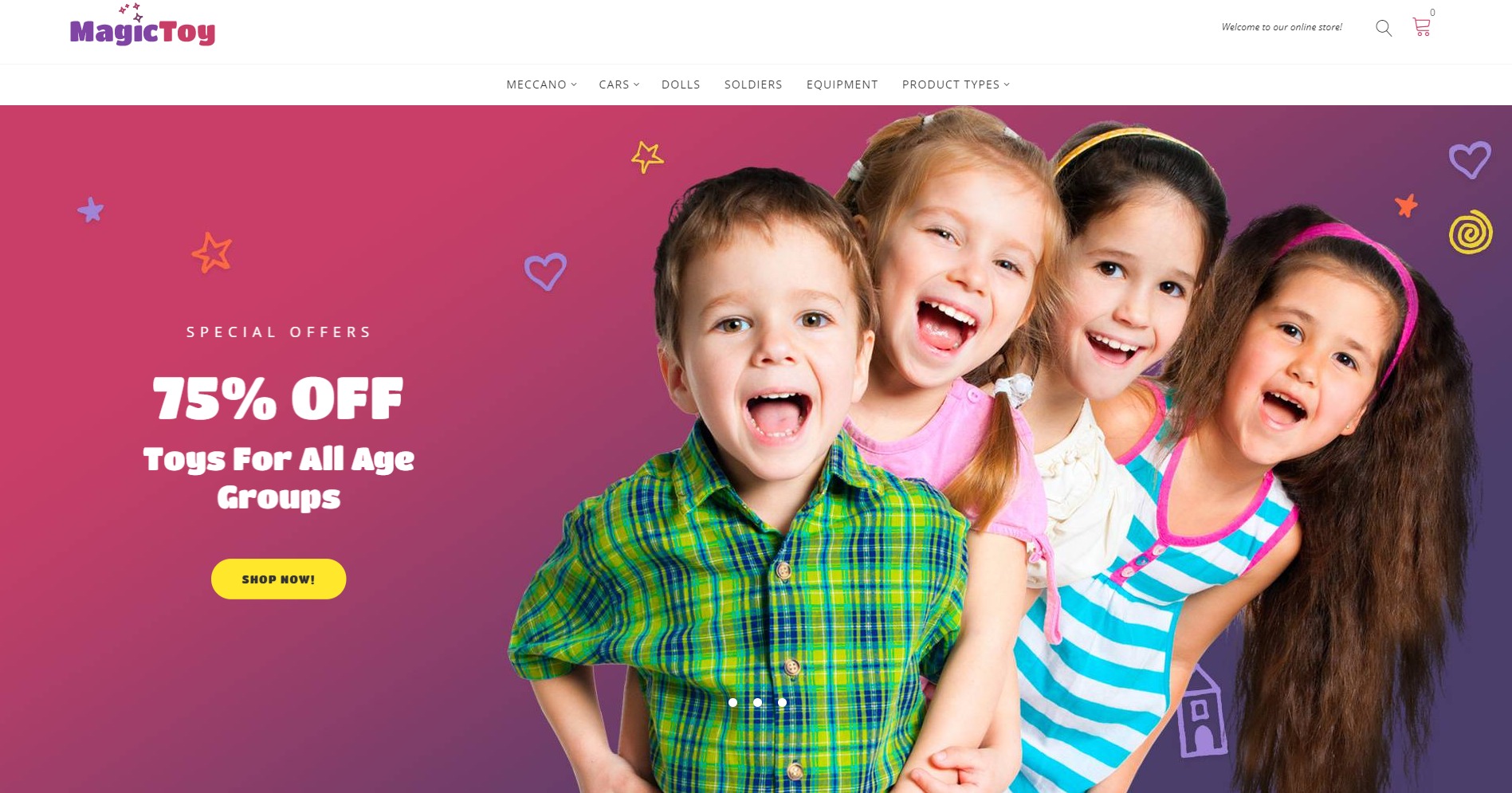 If you are an online shop owner, you are looking for shop themes to make a difference to your competitors, Magictoy is the perfect solution. It not only includes great features but also has a beautiful, attractive and highly customizable design. This theme helps you promote your products to the best. Let's discover the Magictoy theme today!
---
Maxiglass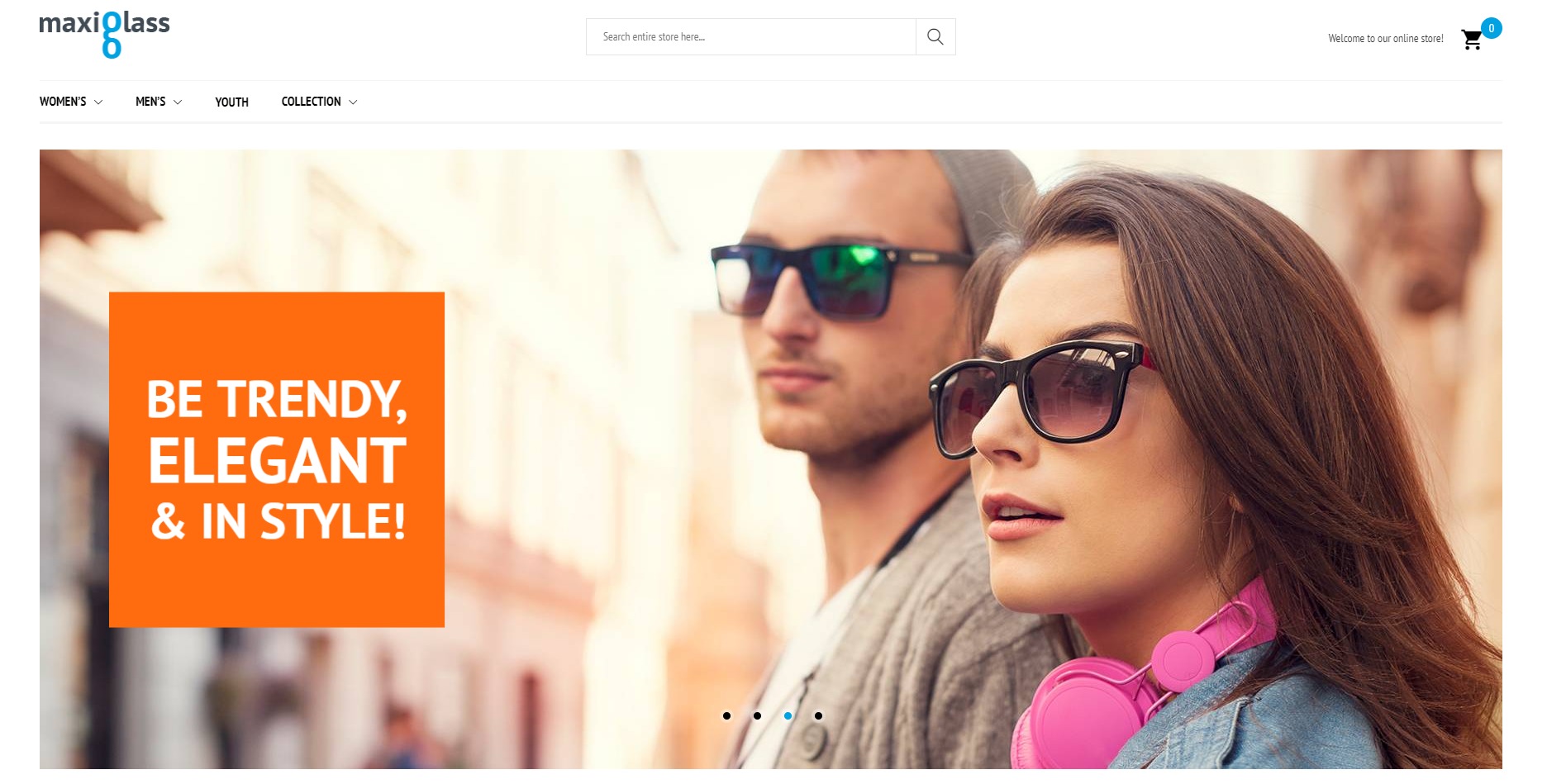 Maxiglass is a wonderful Magento theme. Designed from the latest trends and great features, it promises to give the shop a new breeze and a unique distinction. It is a beautiful, eye catching and attractive design. If you are looking for a theme that fits your fashion boutique, do not miss out on this great opportunity. Maxiglass will help your website to be user-friendly and improve the user experience significantly.
---
Pharmann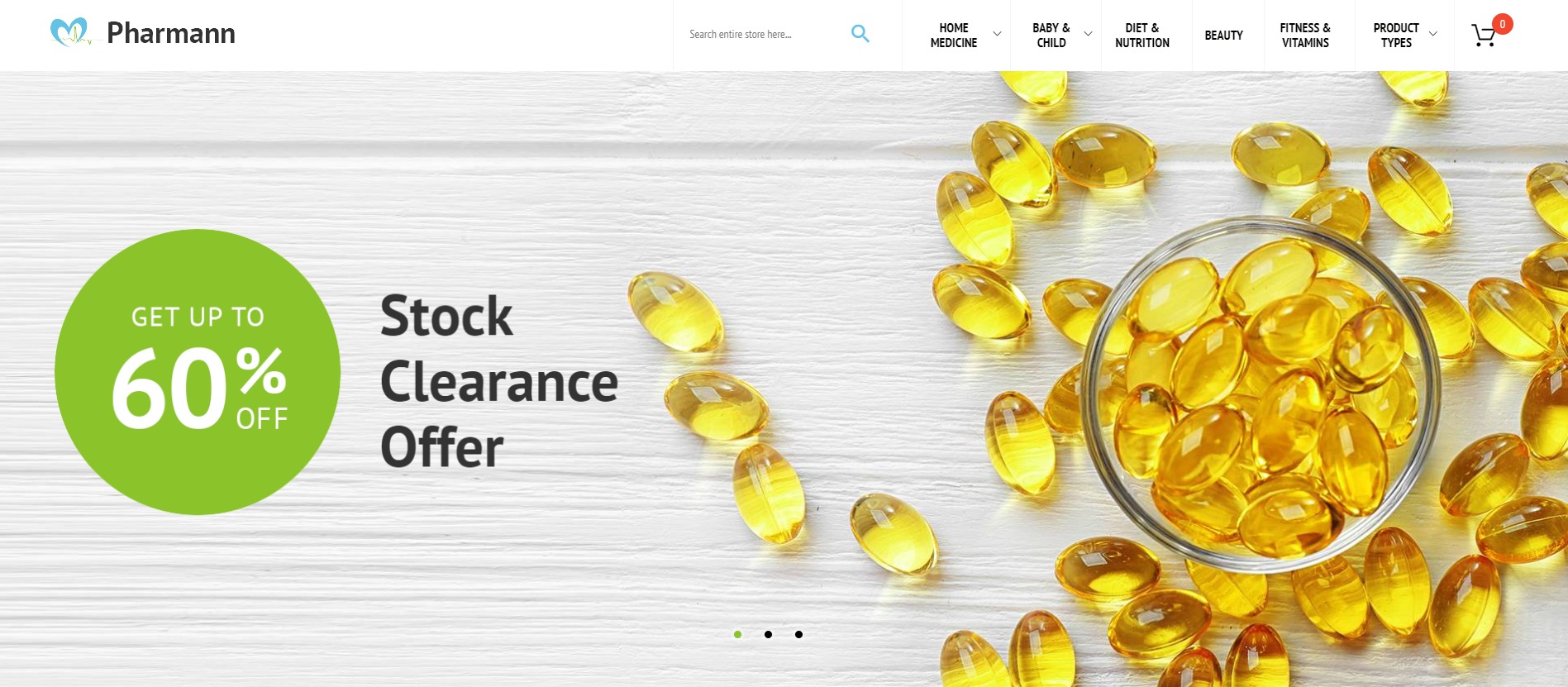 You are wondering about choosing a theme for your online store, do not worry, Pharmann is a great solution for your store. It is compatible with Magento stores and is suitable for health and medical outlets. Besides, this is a very easy to use and custom theme. Not only is it designed eye-catching and attractive but it also creates a new airflow for your online store. It offers many powerful modules. Catalog Images Grid supplies an innovative view of the store. Social Login provides customers with the opportunity to log into the site easily. Ajax Search helps users find exactly what they are looking for and so on. Do not miss this great theme!
---
Recuidi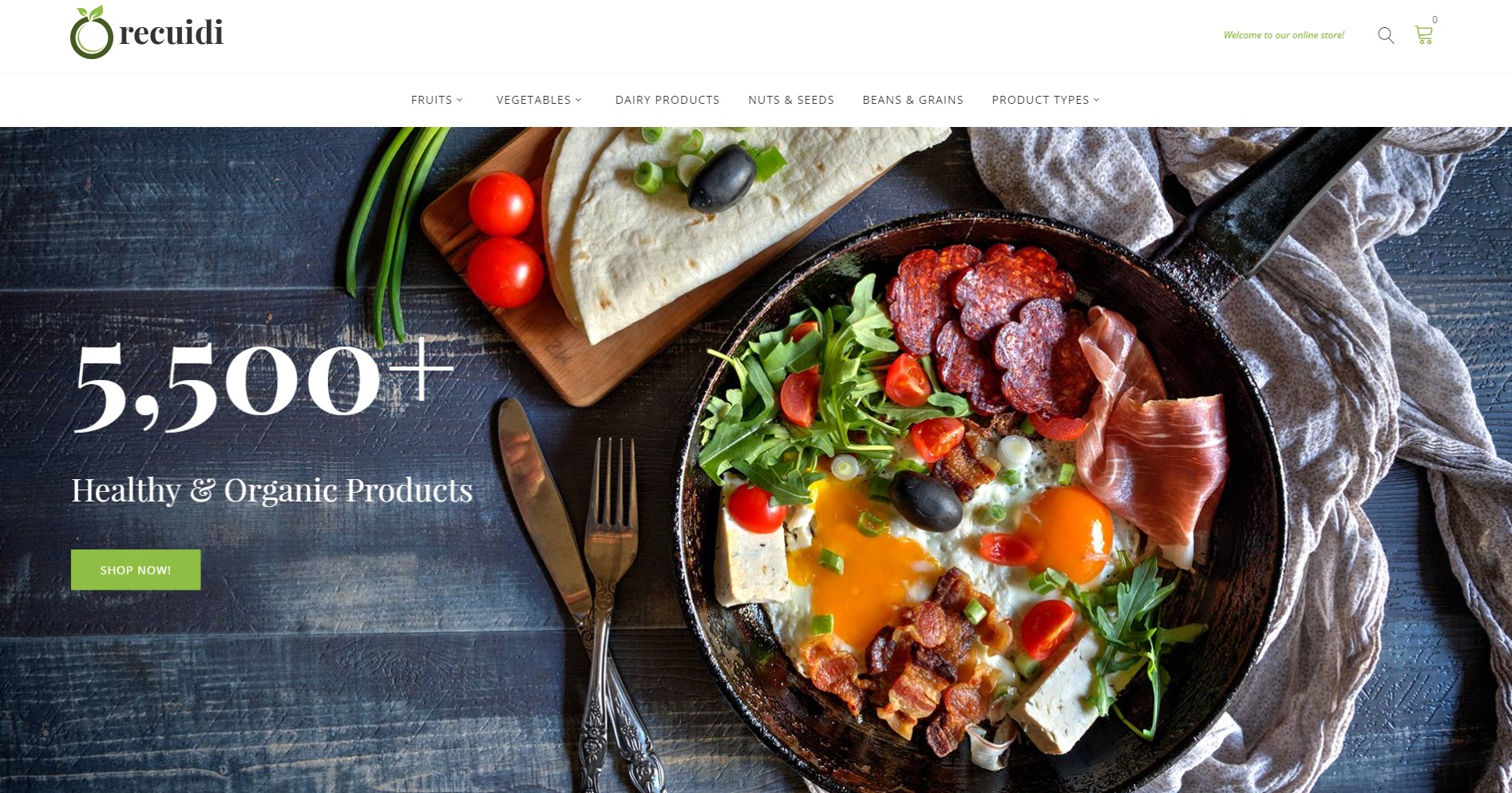 Recuidi is a Magento theme that is designed for food stores. It gives your shop the most beautiful style. This is a perfect theme for you to choose from your organic food store online. In addition, it includes a lot of useful features, saving you time in finding products. Try Recuidi theme for your store to make a difference for your store.
---
Babyis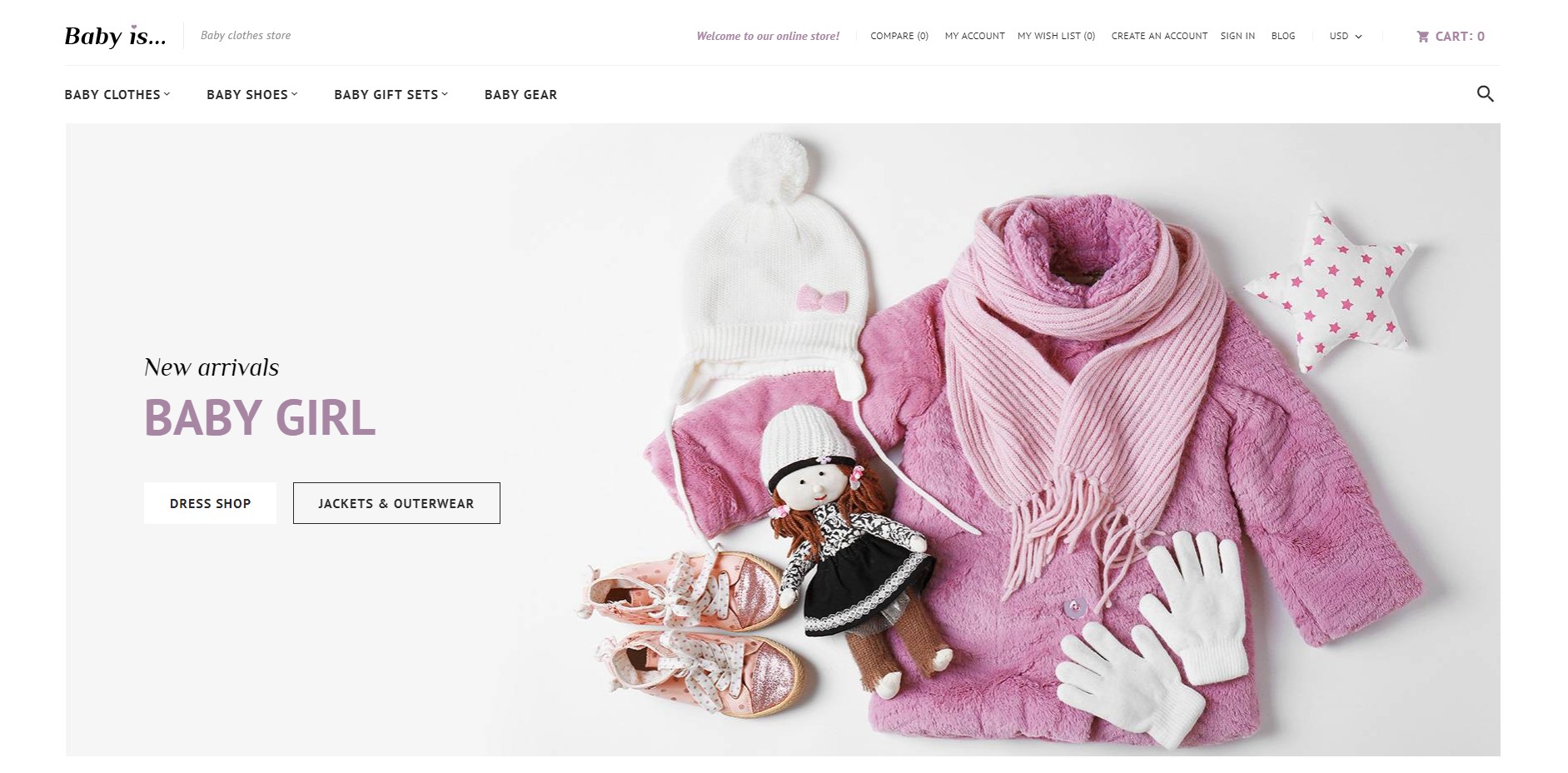 You need a gorgeous theme for your Magento online store, try this gentle and elegant Babyis theme. This is a beautiful theme that fully meets the requirements of the regular online stores. It is designed specifically for children's outlets such as clothing, toys, etc. Using Babyis theme, customers can easily shop on all devices. Besides that, it supports a lot of advanced features. Ajax Search module will help customers find products with just a click, Products Slider plugin allows for clear product display with eye-catching effects. In addition, this theme provides you with a flexible and customizable website management system. Do not hesitate, try Babyis theme for your shop now!
---
Carilli

Carilli is a great Magento theme for you to fulfill your dream of creating a great website for your business. It covers all the things that you need to meet for online stores. This is a modern, elegant and eye-catching design. Using this theme means that you provide an enjoyable shopping experience for all customers. As soon as coming to the site, customers will be fascinated by the attractive images and beautiful layout. In addition, it integrates a lot of different powerful modules, making the difference and unique for your website. It's time to select the Carilli theme and change the look of your website today!
---
Handicraft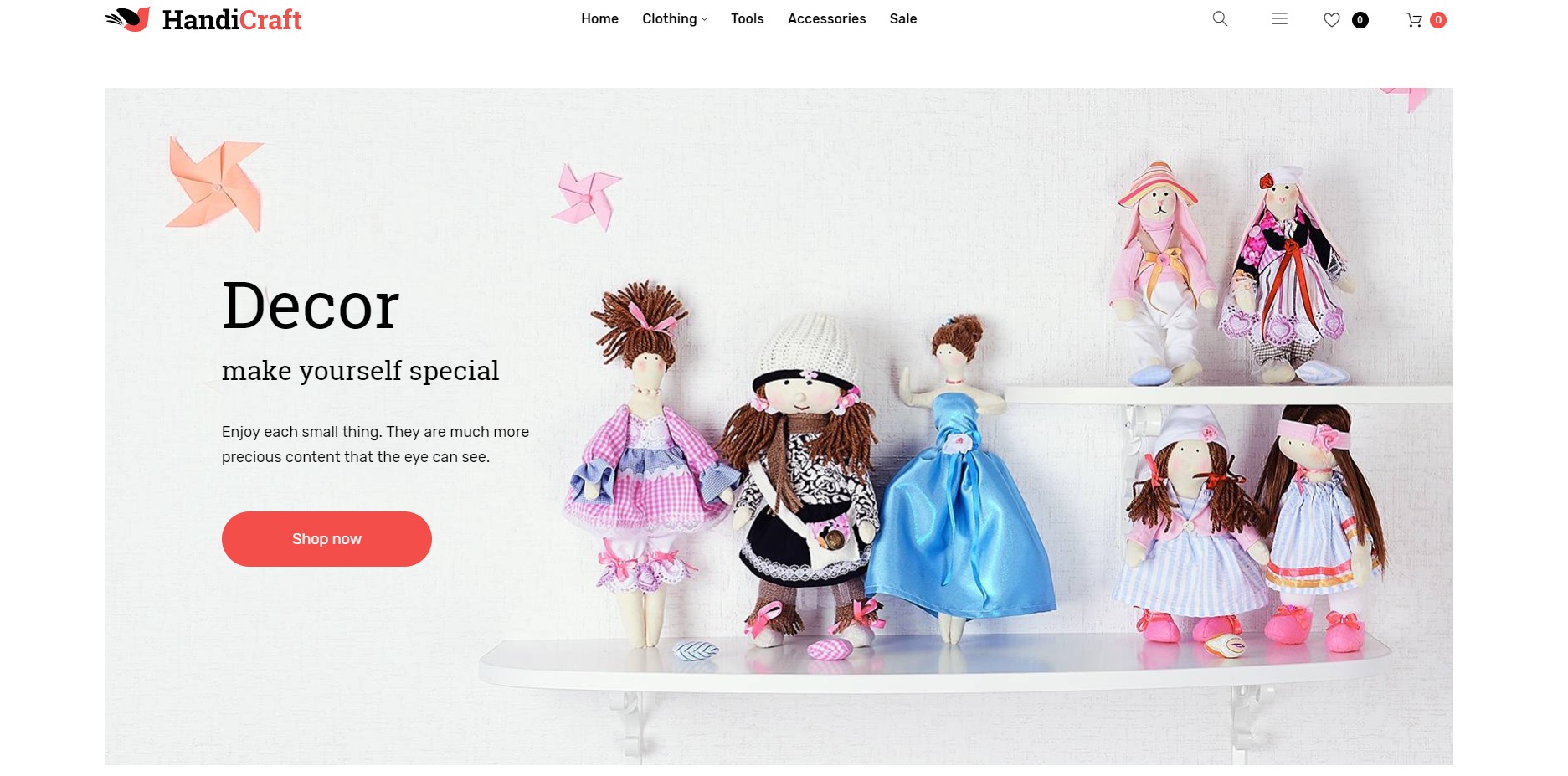 HandiCraft is a great theme for any e-commerce store. It fully meets the must-have features of an online store. This is a clean, neat and attractive design. With this theme, your customers easily find and shop by brand, manufacturer, price, style or sort all products by price, location and product. In addition, you can set up star rating for your website. All thanks to the powerful modules such as Shop By Brand, Blog, Ajax Search, Ajax cart, Mega Menu, Compare, Social sharing, etc. Plus, you have a flexible website management system. Let's explore the great features of HandiCraft theme!
---
Teen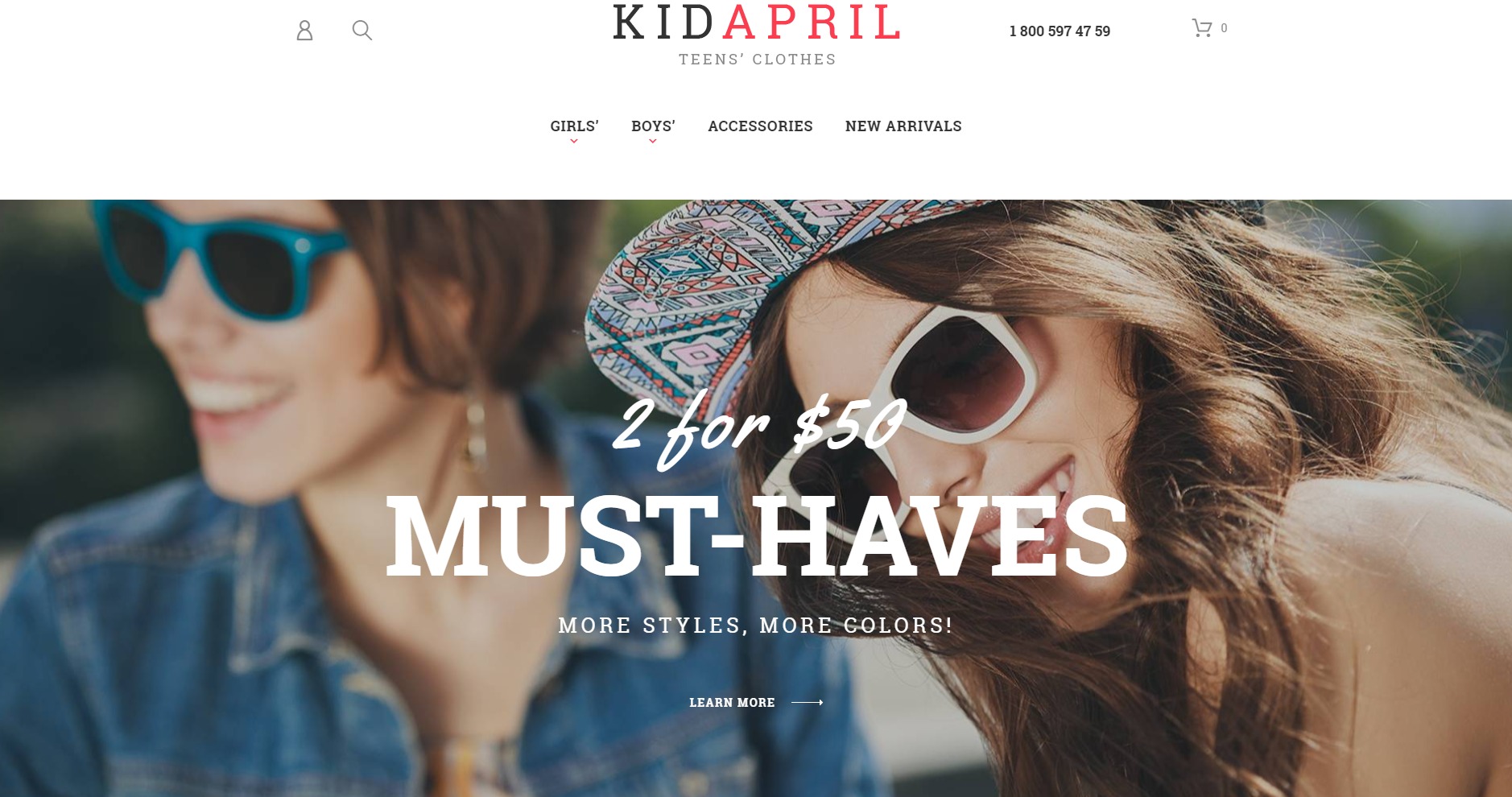 You are wondering in choosing themes for your e-commerce store, don't miss Teen theme. This is a theme for fashion stores. It is a perfect design for online stores with nice visuals and friendly layouts. Besides, the theme is completely responsive on all the different devices, allowing customers to shop on any device. This not only helps you keep visitors coming to your website, but also helps your website rank higher on the search engines, because responsive design is essential for any website. In addition, this is a theme offering a collection of advanced modules that can improve the features on your website. That's why you need to choose this theme for your store today!
---
Evolveris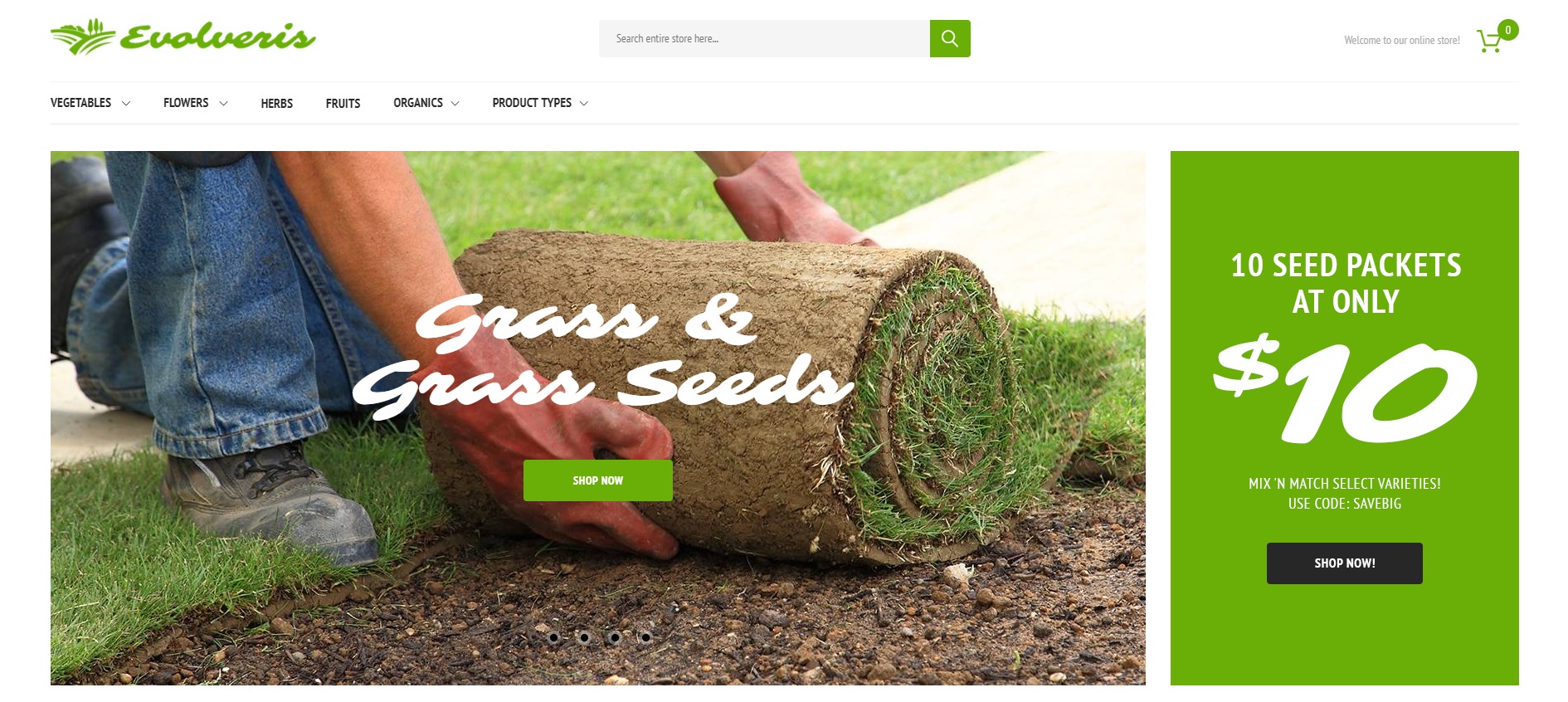 You are anxious to choose a theme for the gardening shop, don't waste time anymore, Evolveris is a great choice for your shop. It includes a full range of great features for Magento online stores. In addition, it can meet on different devices. Selecting this theme, it will help you boost more sales for the store and increase your revenue significantly. Take advantage of the powerful and flexible modules from this theme and create a perfect online store with Evolveris theme.
---
Picozen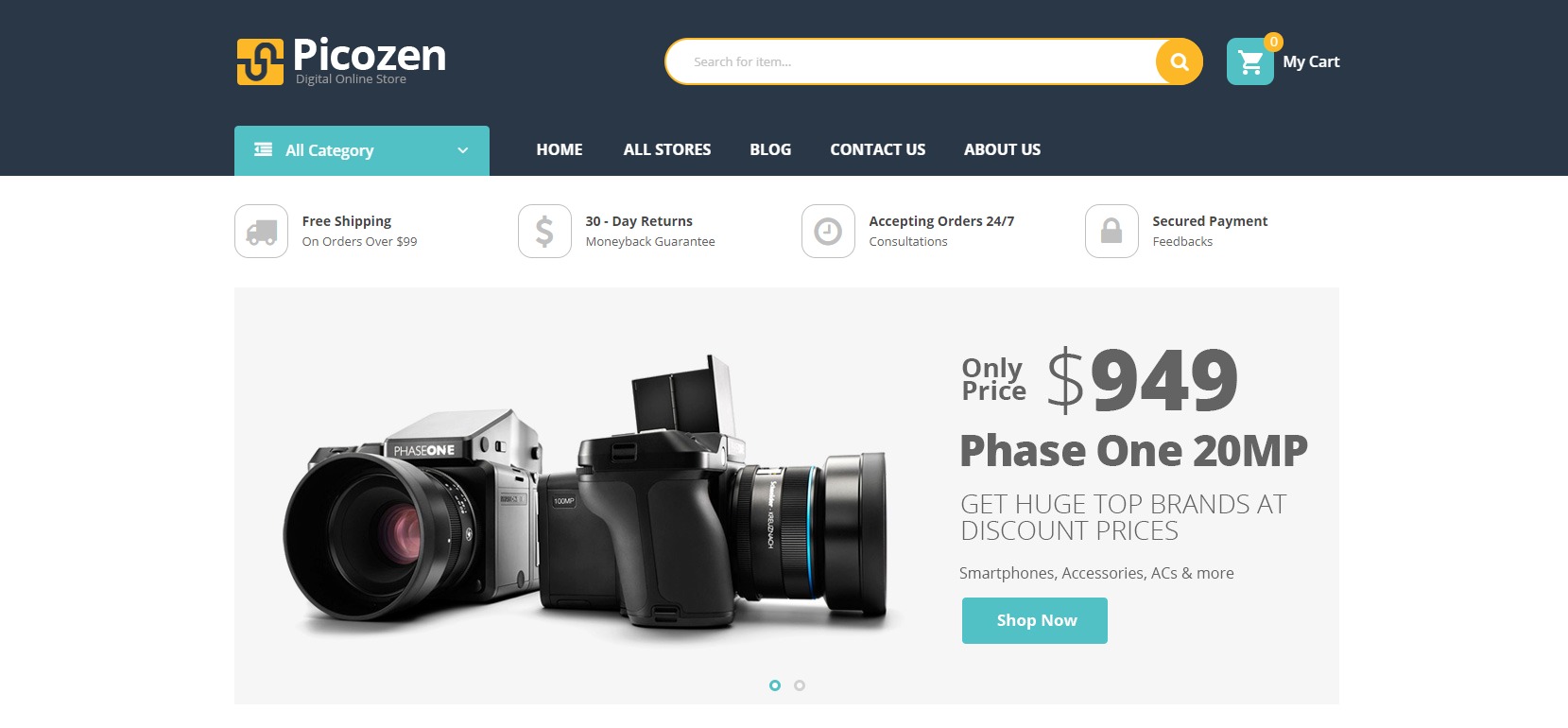 Picozen is a Magento theme with a digital field. It is built on Bootstrap and powerful features. Picozen is suitable for online stores such as digital cameras, electronics, hi-tech, etc. This design comes with 8 unique homepage widgets and unlimited colors. It was created for the digital store, so it focused on highlighting outstanding products and displaying the categories in each tab with thumbnail images. In addition, it integrates a lot of powerful and flexible modules, bringing satisfaction to customers. Purchase and experience Picozen theme!
---
Stormage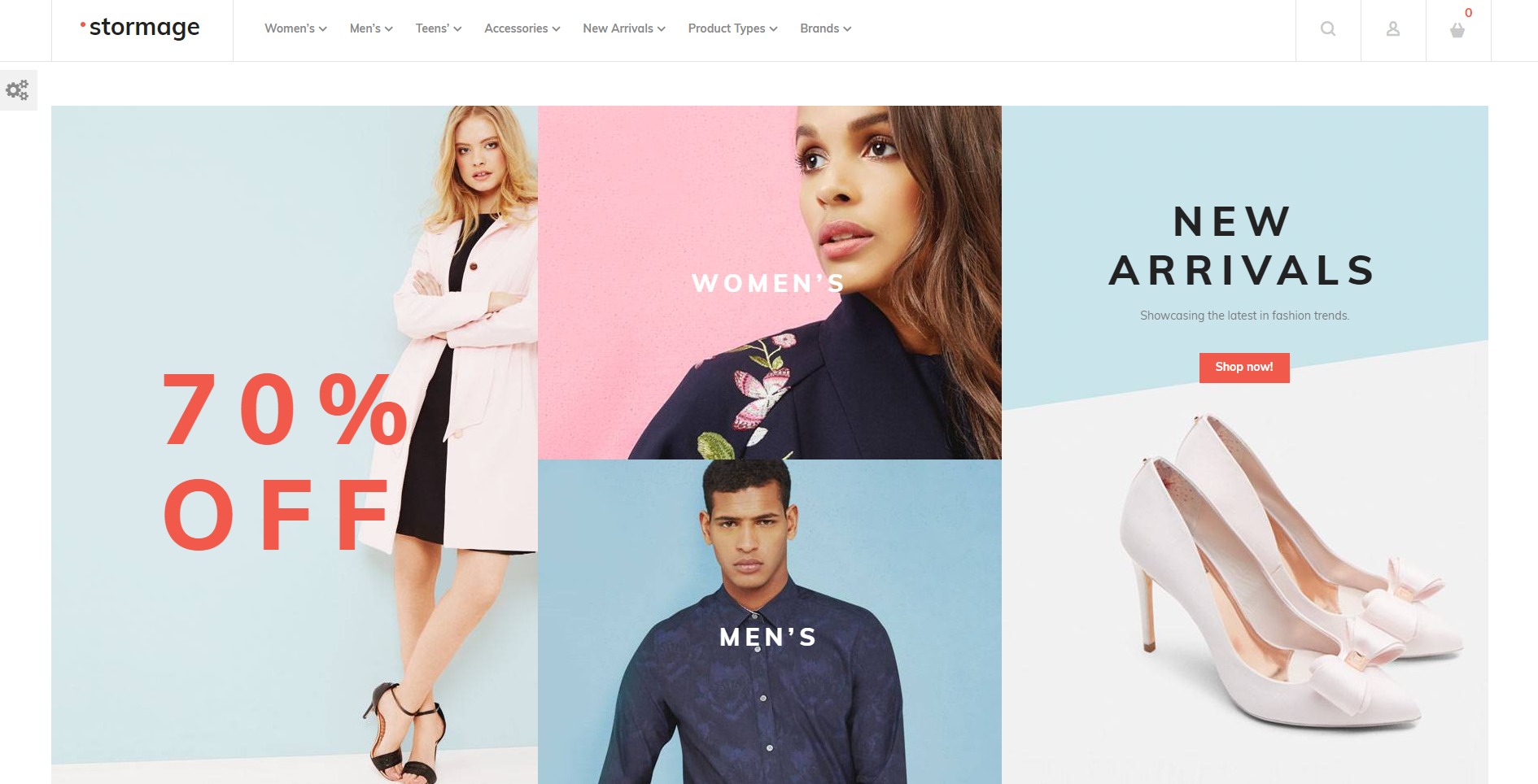 Stormage is a Magento theme that is designed with modern fashion trends. It fits into online stores like clothes, shoes, and accessories. In addition, it integrates many customization tools to help improve your site. Besides that, this topic includes Strong Mega Menu and Advanced search which ensure to improve the shopping experience of customers. Let's try the Stormage theme!
---
Cleanjinn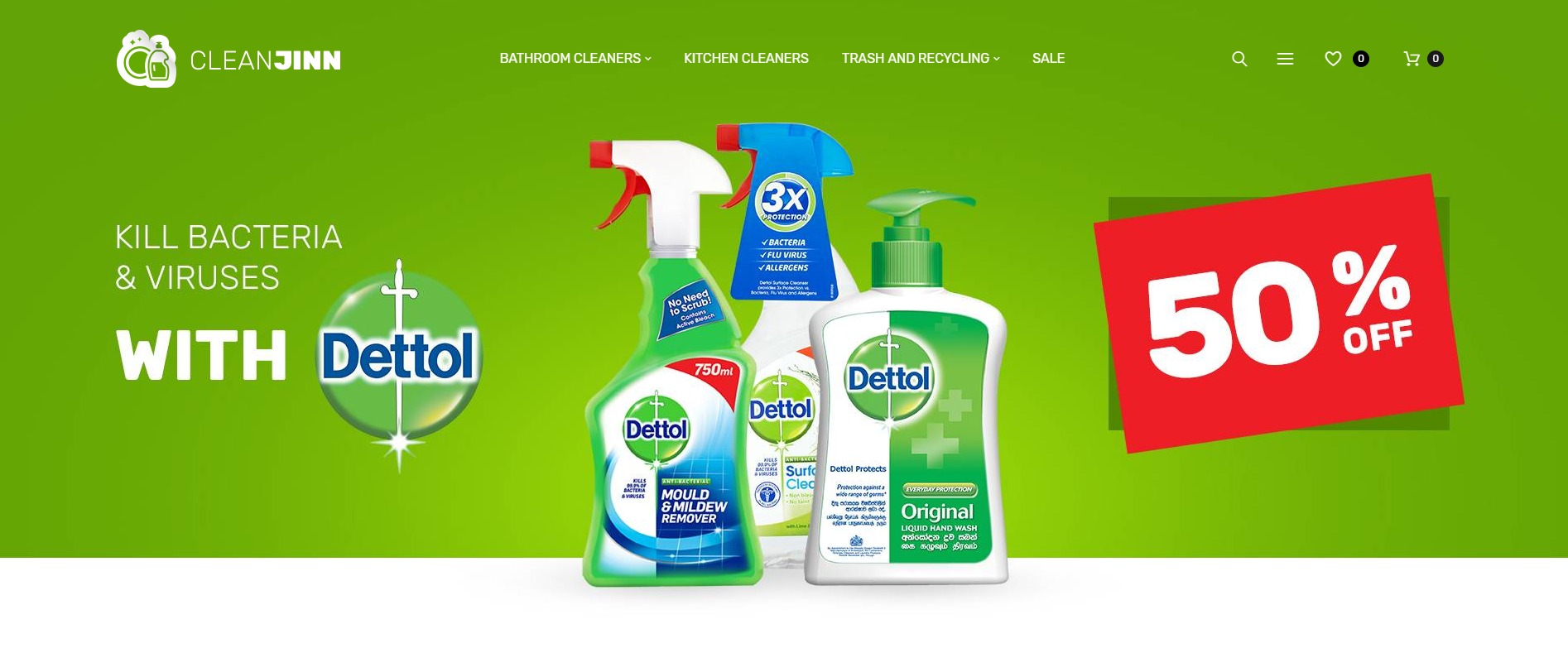 Have a dream of creating a profitable and highly efficient cleaning site, do not skip the CleanJinn theme. It promises to fully meet all the requirements of a Magento online store. Designed by leading e-commerce experts, this theme offers great features and modules. The Banner Slider module helps you display beautiful and attractive images to your customers. Layered Navigation plugin helps search and filter thousands of products on the website quickly. Thanks to the Social Login module, you can promote the brand of your business on social media. Try the CleanJinn theme!
---
Mottasco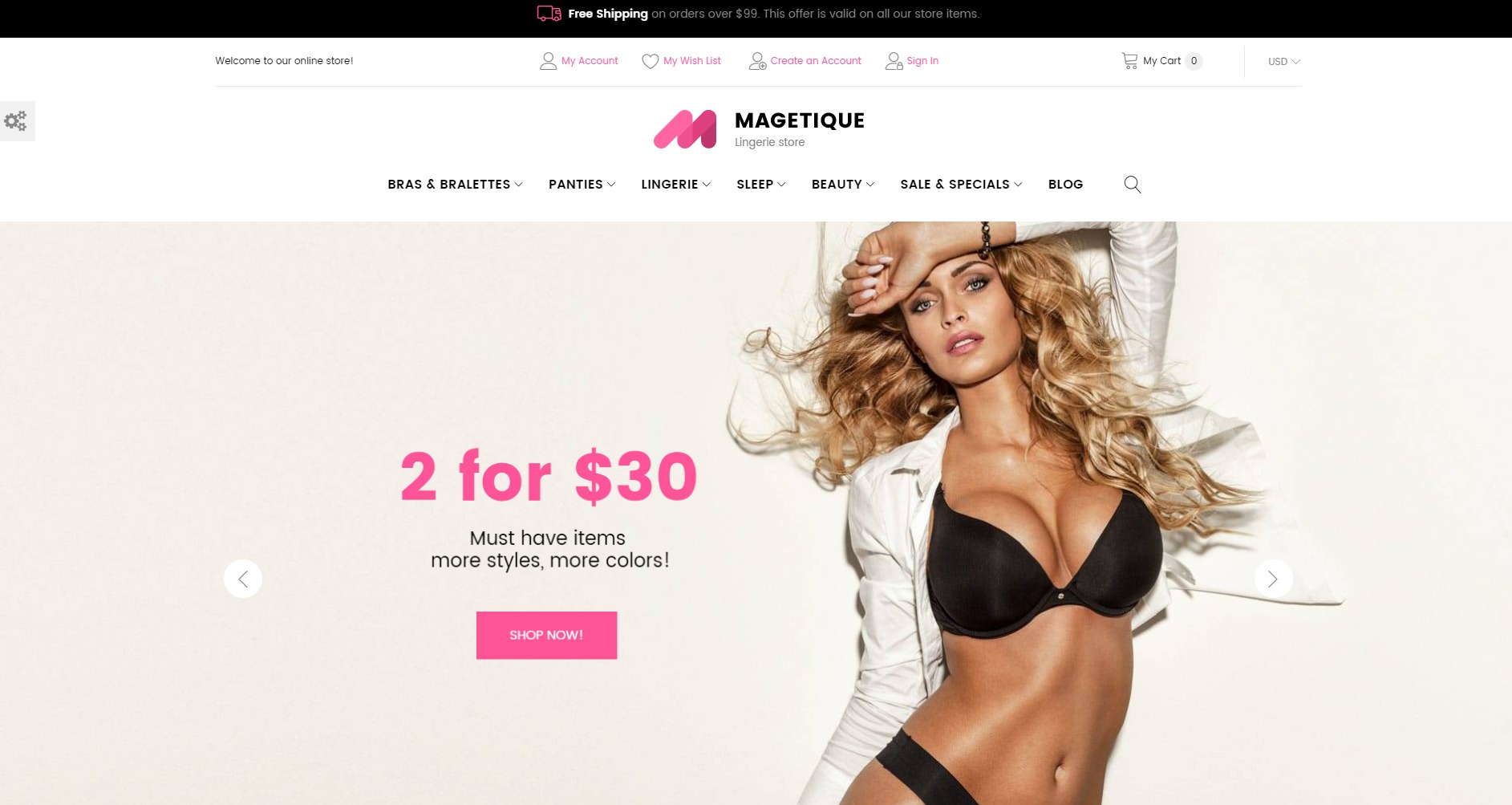 Mottasco is a powerful and flexible Magento theme. This theme may be what you are looking for. It includes the full functionality of an online store. Besides that, it has a flexible and powerful administrator system. In addition, it integrates thousands of useful features to deliver a great shopping experience for consumers. One more point, it helps customers save time when looking for products on website. Try and experience it!
---
Pallas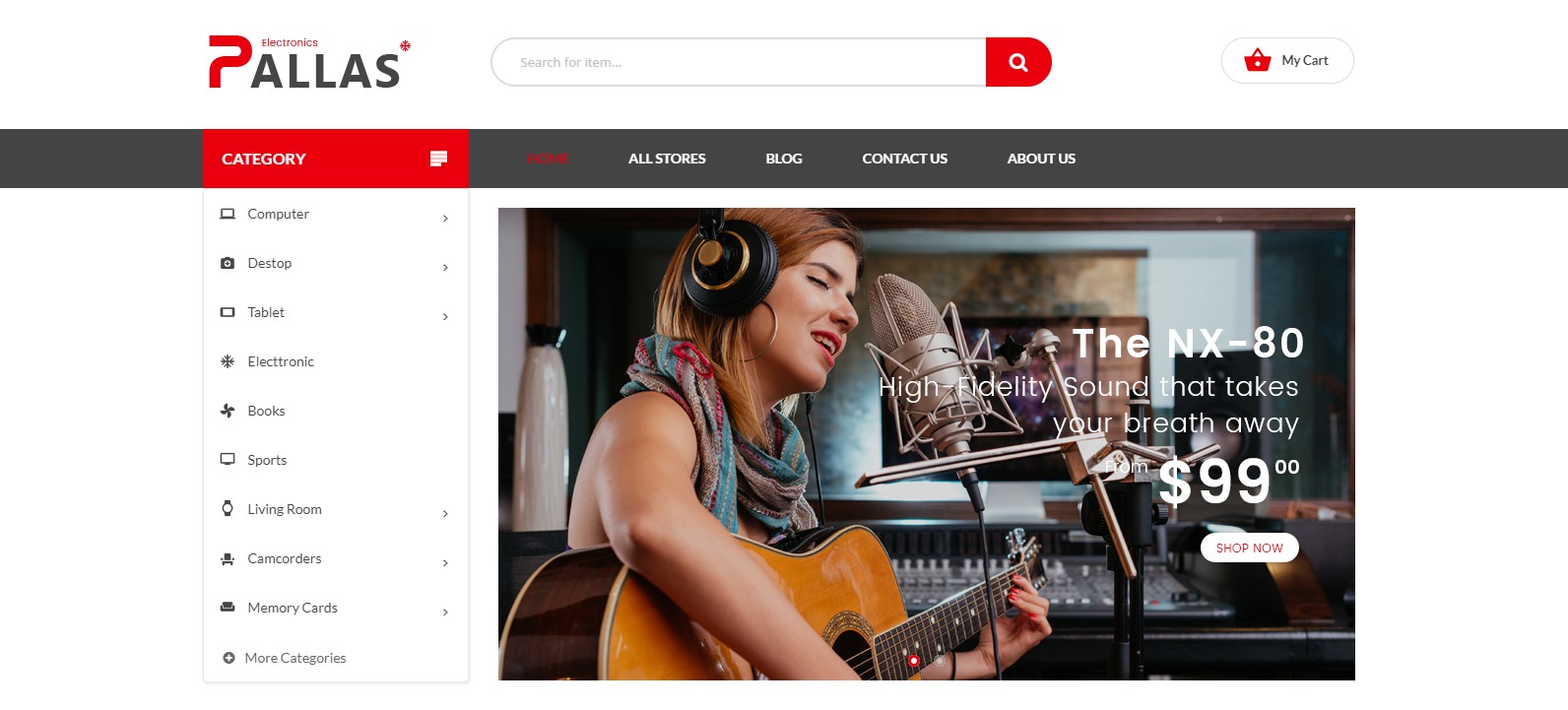 Pallas is a Magento theme designed specifically for digital and electronic stores by Plaza-themes. This is a beautiful and attractive theme with a neat and clean design. Select Pallas, we believe you will not disappoint. It offers over 8 demos and tons of flexible modules such as Category tabs, Vertical Mega Menu, Blog, New and Featured products, etc. In addition, it is integrated SEO optimization, which helps your website rank high on Google search. It brings so many benefits to your store, do not miss this great opportunity.
---
MediaCity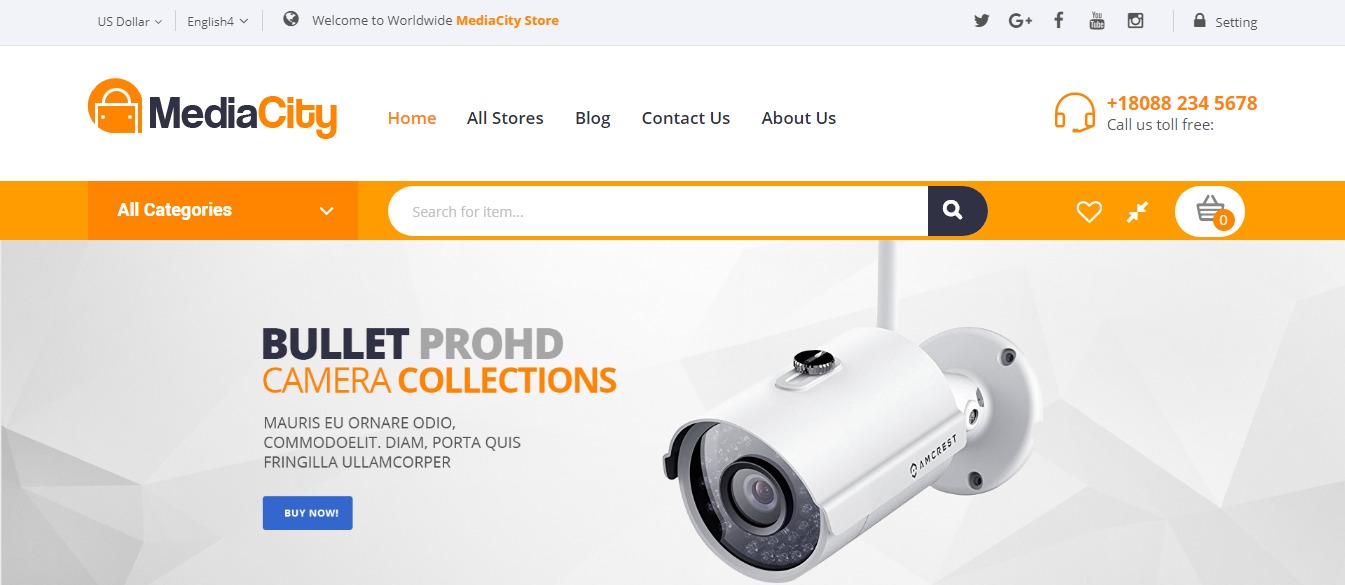 Mediacity Magento 2 theme which can bring the technological shops such as digital, electronics, hi-tech products the impressive design. It has many good features, for example, Mega Menu allows store owners to display product categories in vertically and the Contact page, Blog page, About Us page in the horizontal direction. Furthermore, it is easy to show products on Category Tabs Slider and the bestseller, random, new, featured, most viewed products are shown in each tab with Product Tabs Slider. In addition, Footer and Header include social icons, PayPal icons, contact phone, contact address, etc. Moreover, CMS blocks integrate with nice images, meaningful text, which helps admins impress customers.
---
Cosmetta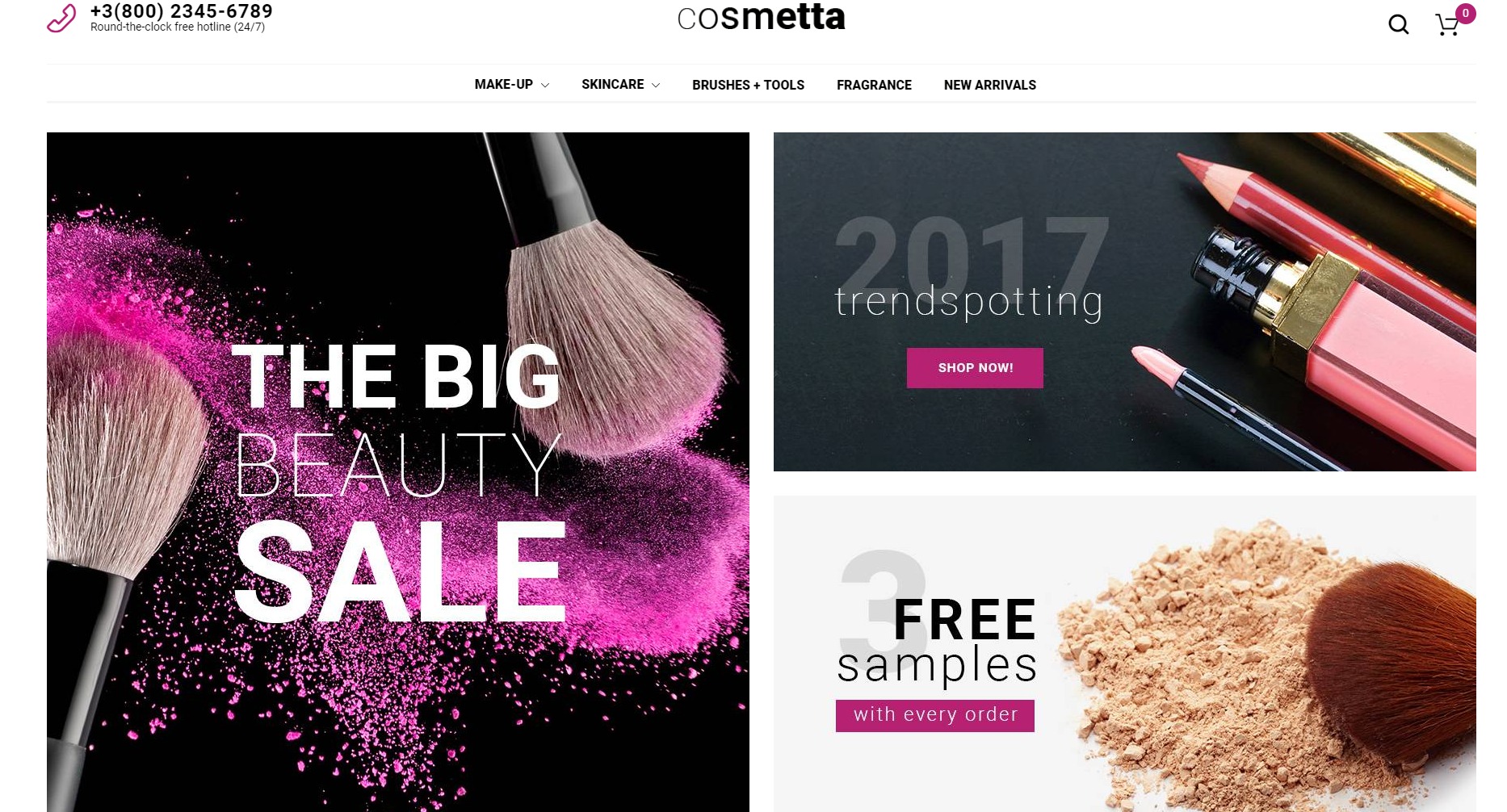 Cosmetta is a premium Magento theme that is designed for cosmetics, fashion and beauty shops. This is a very beautiful and harmonious design of color. It focuses on highlighting your product in the most stylish way. In addition, it integrates a wide variety of modules to bring your store unique and distinct. Try Cosmetta now!
---
Kiddo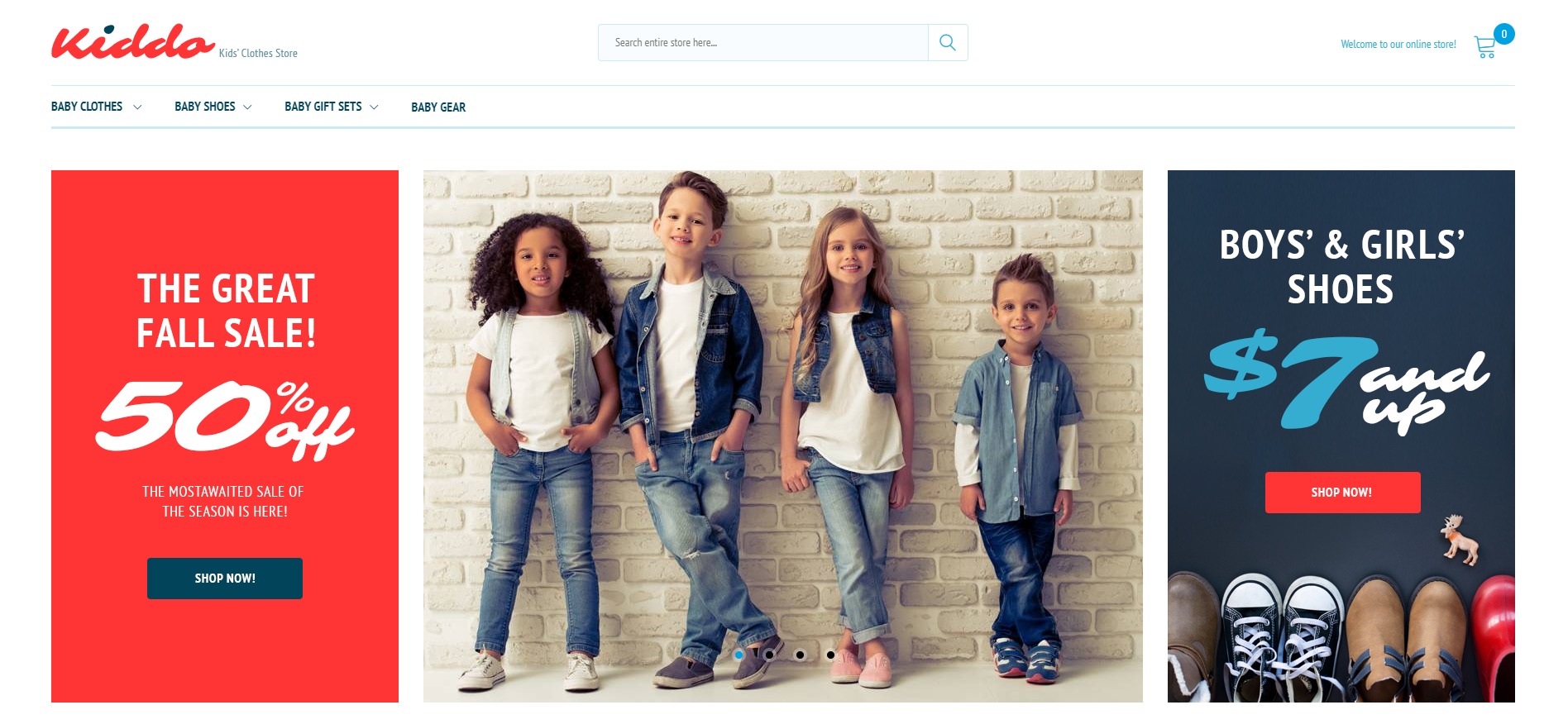 Kiddo is a theme developed by Jetimpex which is compatible with Magento stores. This is a nice and neat theme. It is designed specifically for children's clothing stores. Besides, it can fully meet on every device. In addition, it integrates tons of powerful modules, which help improve the shopping experience of users and attract more customers to your website. Moreover, customers can also be a marketing tool for your store. They will share your product through the social media integrated into the theme. People will know your store and your revenue will improve significantly.
---
Lacellia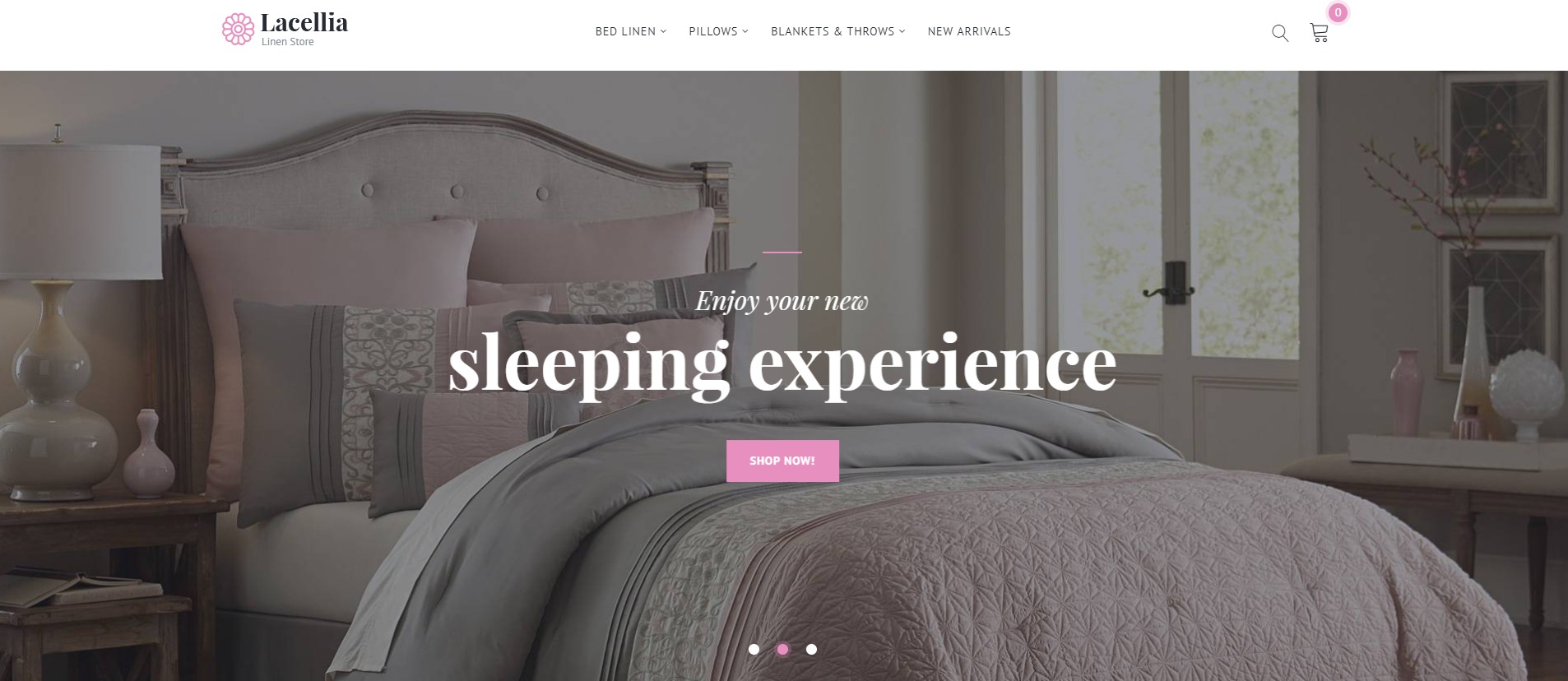 Lacellia is a perfect theme, designed for online stores for furniture. It is a design that you will be fascinated at first sight. Besides, Lacellia has a flexible administrator panel system that allows you to easily customize them. In addition, it includes countless other attractive and advanced functions, which you will surely satisfy. It promises to help you increase conversion rates and improve the store's brand significantly. Why not choose Lacellia theme for your store today?
---
Arcademo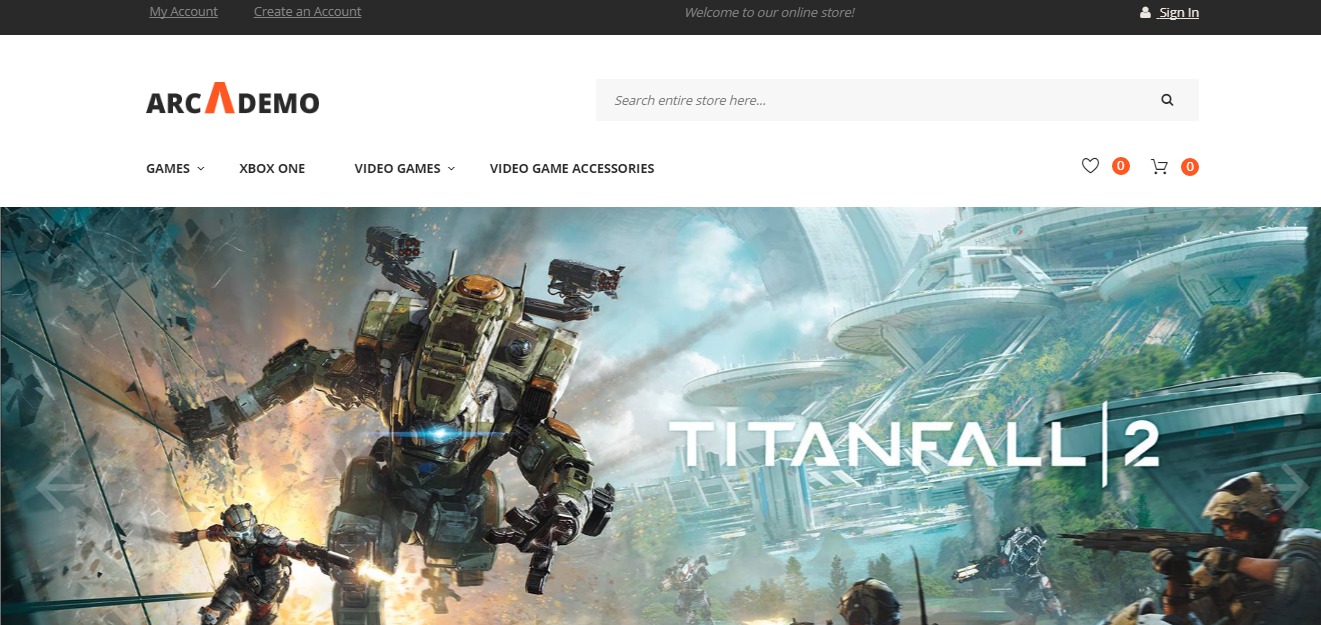 Designed as an outstanding video games theme, Arcademo helps our websites much more impressive and reliable with the audiences. Furthermore, by Live Search, the customers enable to choose shopping options from versatile genres, developers, manufacturers, pricing, etc. Moreover, the powerful Wishlist & Compare plugin will satisfy all the potential customers to lay aside favorite games and compare them. Last but not least, Banner Grid is the best tool for admins to display eye-catching video games presentation.
---
Kerbelco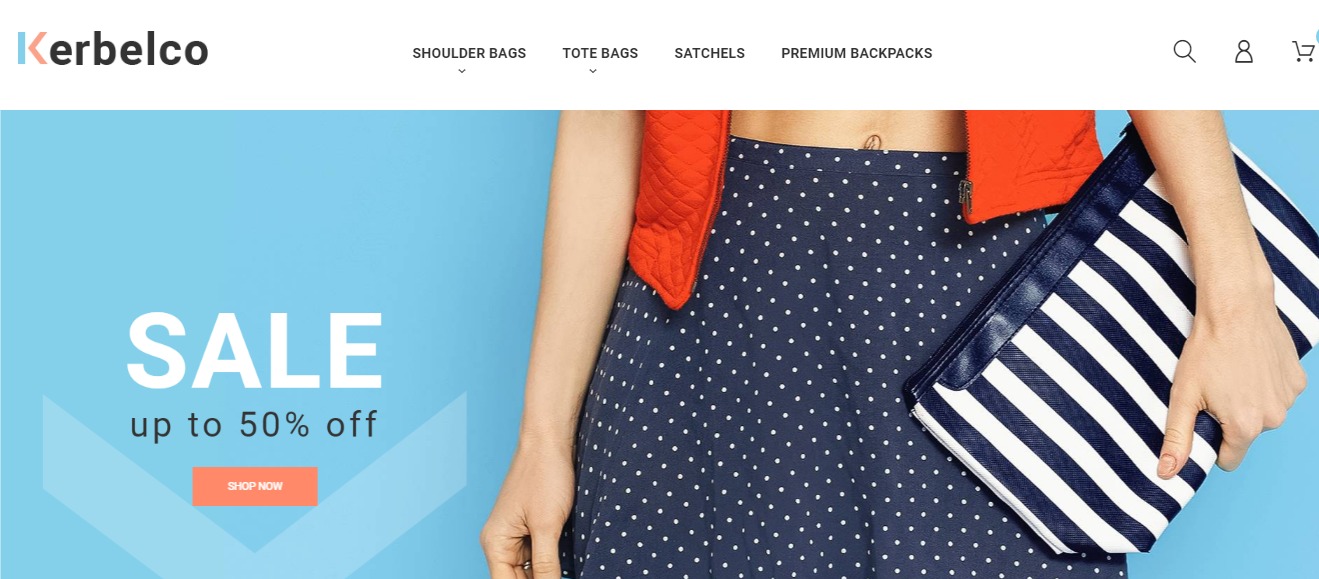 With a modern design, Kerbelco which is a sleek and stylish handbags Magento 2 theme. Besides, it is also suitable for online stores such as accessories, clothing, leather bags, purses, etc. The theme is fully responsive and supports any modern browser. Furthermore, the visitors are free to review and give comments to the products by newsletter subscription. Besides, it allows admins to display products in a memorable manner. With Mega Menu, it is easy to access any products customers are looking for. In addition, the template also includes PSD source files.
---
ShirtlX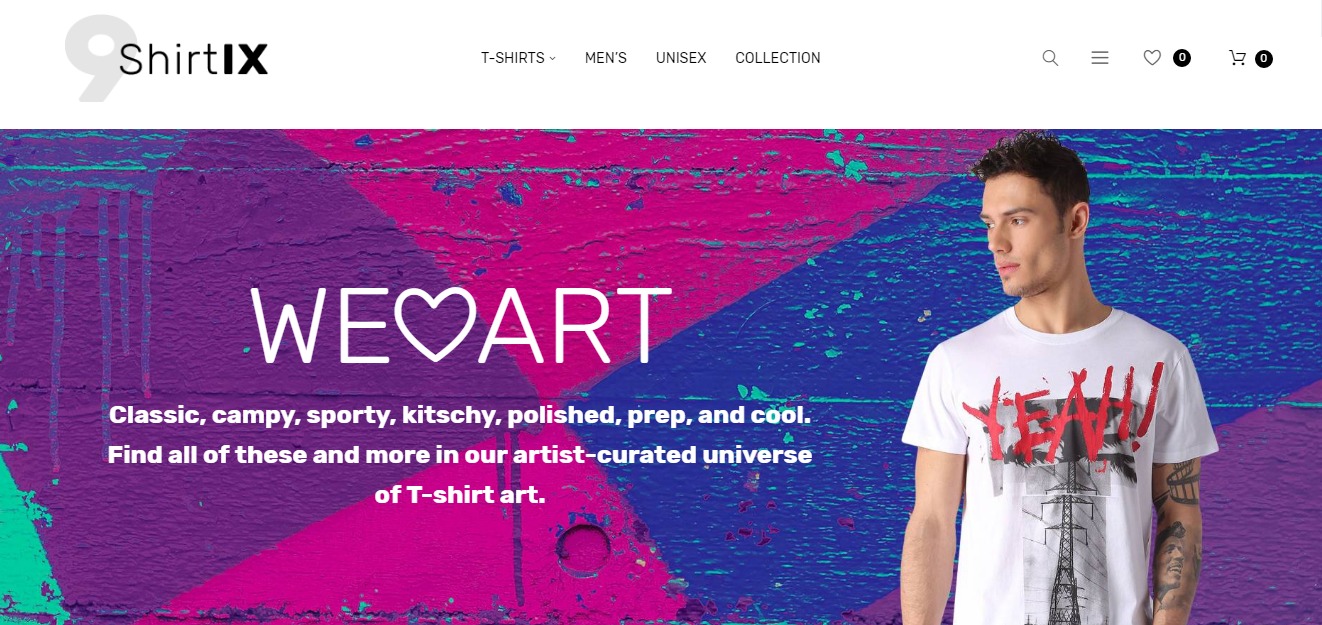 It is such a tech-savvy solution, T-Shirt Shop Magento 2 Theme is the best way for admins to raise the conversion on the website. It is outstanding, bright and visually-centric style layout. Furthermore, card design, image banners, and the animation will definitely make the store impressive. Moreover, customers can update everything about newest products, hot deals by newsletter popup.
---
Selena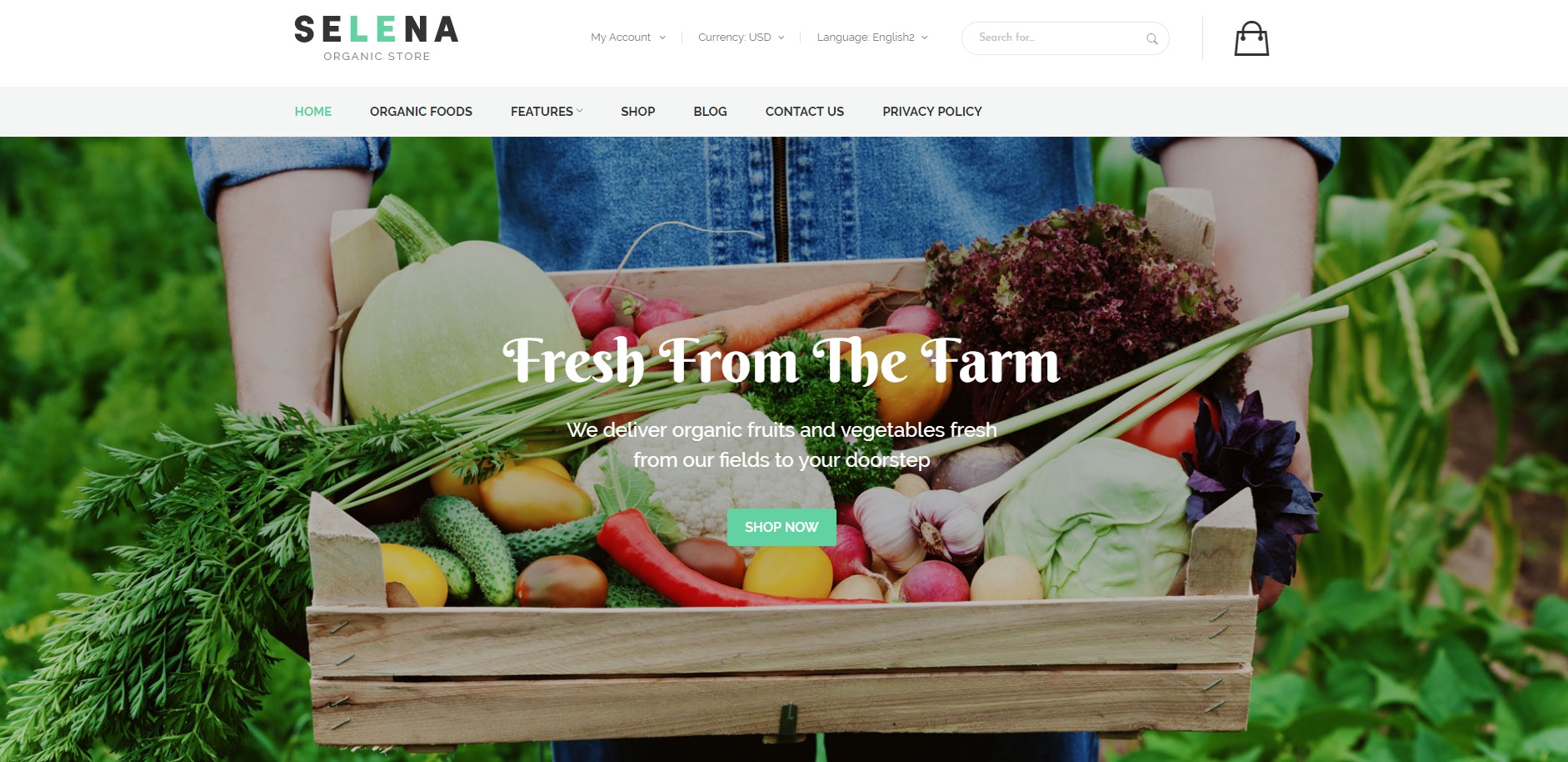 Selena is a theme developed by Plazathemes. It is suitable for any type of store such as fashion, watch, jewelry, furniture, cosmetics, etc. It is a neat and clean design that responds to any mobile device. In addition, it comes with 4 beautiful home pages and many useful modules. If you are looking for a perfect theme for your store, Selena is a great opportunity. Make your Magento 2 store different and unique!
---
AllyBike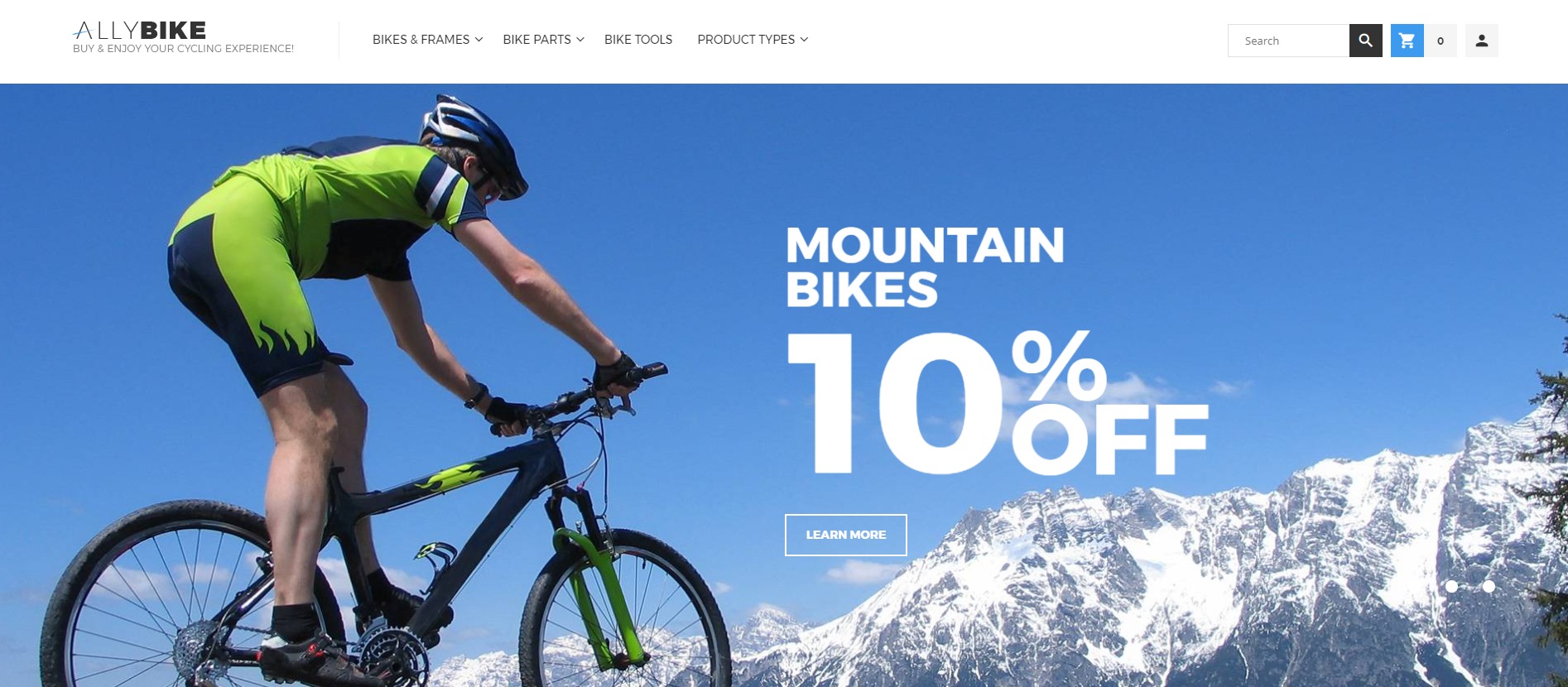 AllyBike is a theme compatible with Magento stores. It is designed to focus on bicycle equipment products. AllyBike can respond on any device. This theme has a super clean code and an intuitive setup. In addition, it integrates tons of powerful modules to attract customers quickly. Moreover, you can choose social networking buttons to share your products on social networks. This is a significant improvement in revenue.
---
Covertati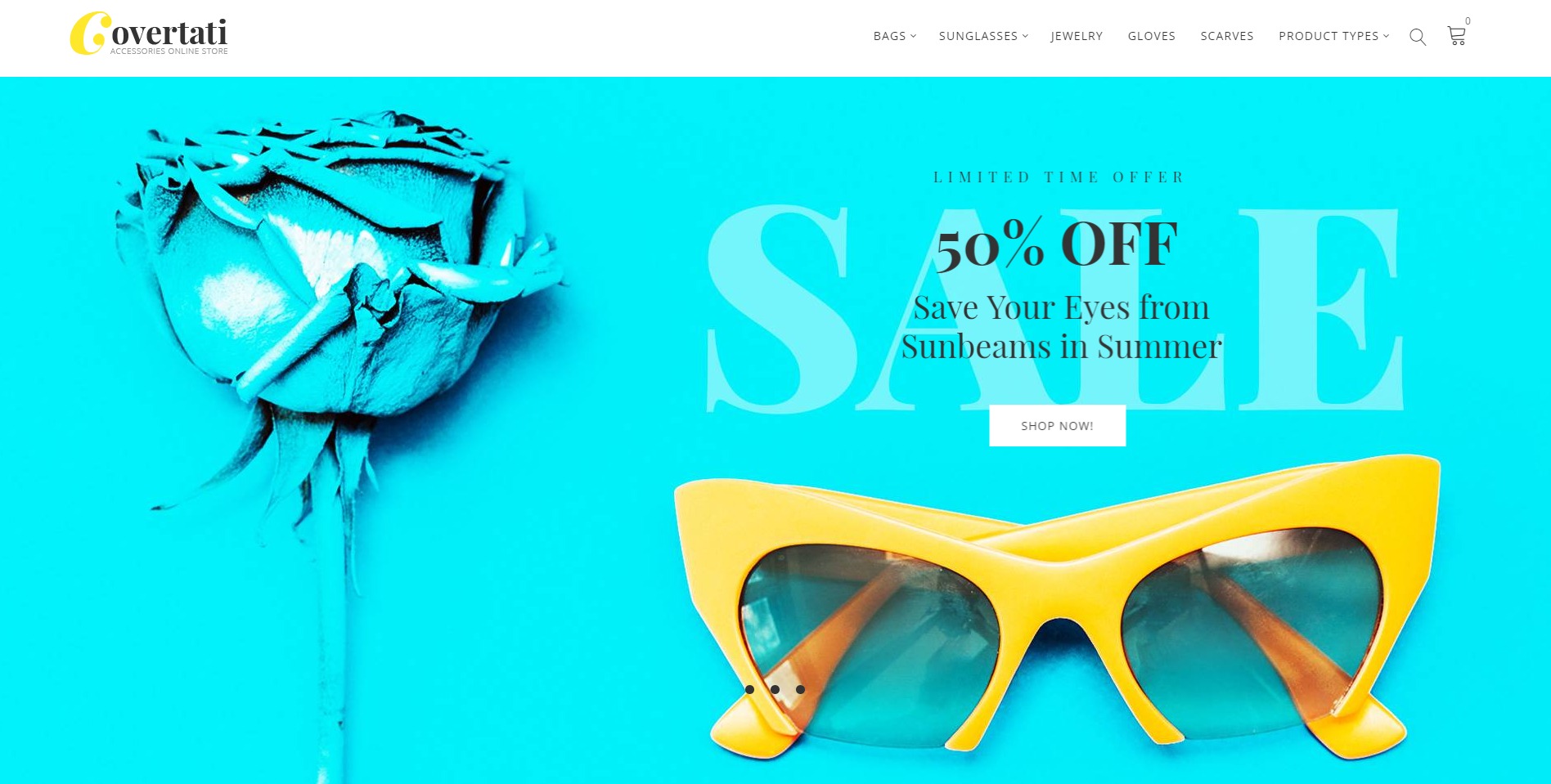 Covertati is a premium theme in Magento 2. It was created to be for accessories stores. This is a beautiful, elegant and luxurious theme. Besides, it is easy to customize with the flexible admin panel system. Another plus point, this theme integrates many powerful extensions. Ajax Search, Mega Menu, Ajax cart make it easier to find products and improve the perfect user experience. Shop By Brand module allows you to search for products by brand quickly and so on.
---
CompShop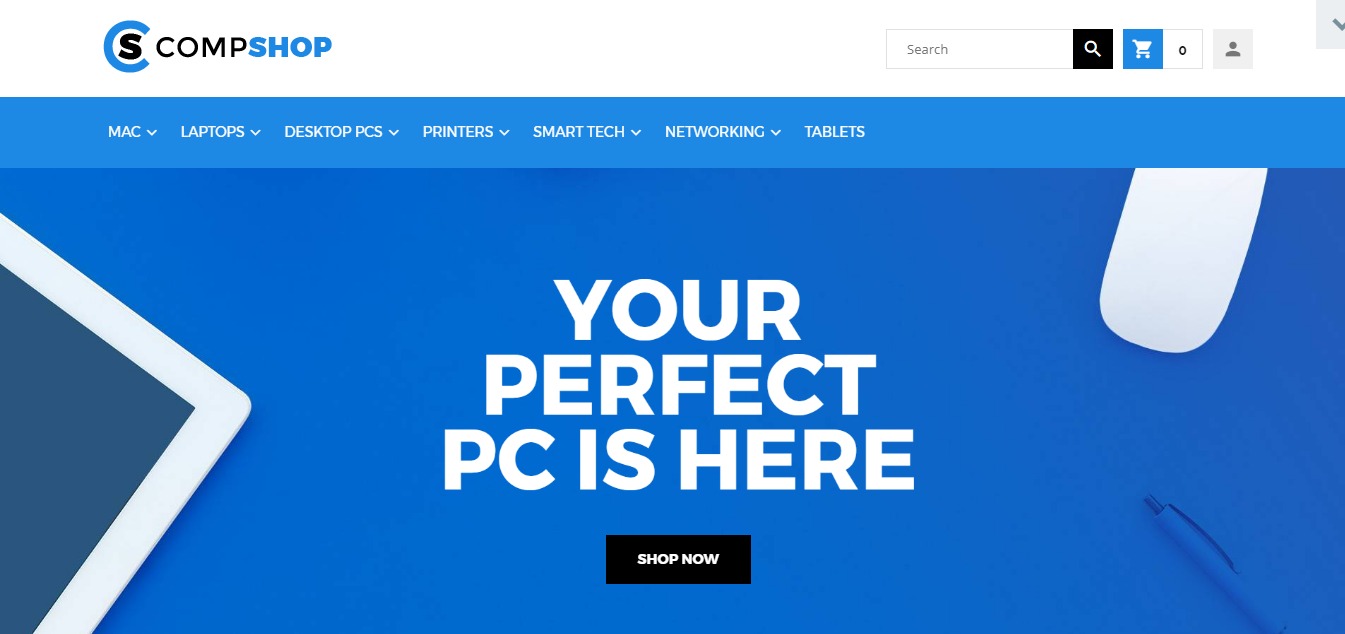 The electronics store always requires the flat pre-made design with the impressive design that makes customers remember about them. CompShop will be the solution for the hardest requirements thanks to clean layouts and flexible structure.Furthermore, the integration newsletter pop-up allows admins to build up an email list and update potential clients on the latest store news, special offers, and new arrivals. Moreover, the customers totally can share the certain product with their friends or give comment about the products on social networks.
---
Let's see Best Shopify Themes Free & Premium / All theme collections for Shopify