Mageplaza Social Login - 6 Case Studies on Actual Magento 2 Stores
Mageplaza Social Login - 6 Case Studies on Actual Magento 2 Stores
If you only have traditional login options which require usernames, emails and passwords, you're missing out on great opportunities to increase conversion rates and boost sales. Social Login gives visitors another way to login the store using their social network account information. This solution simplifies necessary steps in customer journey, improves their experience and gives businesses more safety as well as better personalization strategies.
While the default Magento requires a new account setup through many steps, the Social Login extension for Magento 2 integrates social buttons on the login page easily. This blog is going to give you a clearer view of how stores are using the module.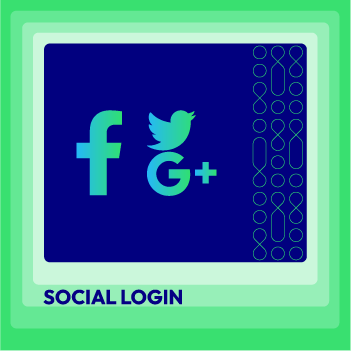 FREE Social Login for Magento 2
Boost sign-up rates by 30% and increase customer engagement. Get started now!
Check it out!
Table of Contents
Why is Social Login necessary?
Social Login module operates under the rule that when customers click the buttons, their personal information in the social account will be automatically taken in case he has previously logged in that channel. If not, he will be required to fill in his social accounts' email address and password to complete the process. But why is it necessary for your store? Let's take a look at some striking facts:
86% of respondents claim that they don't want to create new accounts when entering a new website (Gigya)
Up to 92% visitors tend to leave when forgetting their login information (Blue Research)
24% of customers abandon their carts during checkout due to the compulsory account creation requirement (Baymard Institute)
Quite impressive, right? That's why providing a Social Login solution is essential for all Magento businesses like you. Let's see how stores are doing with Social Login extension:
How successful stores use Social Login extension
Case study 1: The Nutrisense's login page
Nutrisense started selling health supplements with the goal of improving customers' lives. Today, it still is an innovative and responsible retailer offering high quality and reasonably priced products, but is further expanding categories to beauty products, maternal-infant items and household supplies.
In case shoppers do not want to enter their email and password to sign in as usual, they can choose 1 among 4 social accounts to sign in: Facebook, Google, Amazon or Instagram accounts.
Read more about how to optimize conversion rates
Case study 2: Social Login options of Sagistri
Inspired by creative Sri Lankan artisans, Sagistri has been created to be a display space for their great products. All products are designed with creativity and care in details, giving . customers joyful and unique experiences.
At the Main Menu, customers can see the 'Sign in' option, and when clicking onto it, a popup will be shown. Customers now have 2 choices: either typing in email and password for the store, or signing in using social channel accounts like Facebook, Google, Twitter or Instagram
Case study 3: Beauty store Emaglam's social login options
Emaglam, a beauty retailer based in Serbia. Products of top brands like L'oreal, Essie, Maybelline, Garnier, and more can be found here. With the focus being made to create excellent customer services, Emaglam always strives to change and adapt with customer preference.
Besides the traditional way, Emaglam uses Mageplaza Social Login extension to allow customers to login via Facebook or Google accounts.
Case study 4: Noziroh and its social login approach
Noziroh is actually the reversed writing of the word 'horizon', which helps convey the meaning of a lifestyle. The brand partners with several companies to design phone accessories. It aims at elegant and unique design to bring amazing experiences for customers.
Being one of the most commonly-used social media platforms, Facebook is chosen to be the alternative signing in method on Noziroh website.
Find out how to configure Social Login module
Case study 5: Beesline's friendly social login popup
Beesline applies Apitherapy (bee therapy) to create natural cosmetics. Its products are made from resources such as beeswax, honey, royal jelly with other botanical extracts. With these innovations, Beesline is proud to offer natural but powerful cosmetics products to replace chemical harmful ones.
The identical yellow theme together with the titles displayed inside the textbox make a more neat and clear frontend. Other than the traditional way, customers can sign in using their Facebook accounts.
Case study 6: Social Login page of Fadfay
Fadfay is an American home decoration brand, which was founded in 2010. The brand specializes in selling designed bedding items, carpets, curtains and more, as well as takes customization services upon customer request.
Because the Registered customers and New customers section are on the same page, Fadfay places the button 'Sign in with Facebook' next to the button 'Sign in'.
Social Login is a Must-have for Magento 2
Why Social Login?
Better conversion rates by giving a faster and more trustworthy process as well as reducing password burden
Better verification via additional authentication
Build a more comprehensive customer profile thanks to the account linking
Create more personalized experience strategies based on data gained
Mageplaza Social Login Standard version brings you all you need in just one tool
Support a great number of social networks: Google, Facebook, Twitter, Youtube, Instagram, LinkedIn, Microsoft Live, etc.
Popup design customization
Account information and Address book updating
One Step Checkout compatibility
Social account reports
The Social Login Pro version's outstanding features
Of course, it has ALL features as the Standard version, PLUS:
Social Accounts management
Extra social networks support: Disqus, Steam, Mailru, Odnokalassniki
Default checkout page compatibility
Priority support
Read more about One Step Checkout
The bottom line
When the signin process is simplified, a boundary between you and your customers has been removed. Start being closer to your customers from today! This blog post hopefully becomes an inspiration for you to start working on your social login. We are more than delighted to receive your comment and any questions. Click here to let us know how you are doing!
---
---
Harper is a content creator by day, and a coffee lover by night. She loves exploring the world of content and uses her interesting findings, experiences and passions to give readers what they are looking for. Her ultimate hobby is travelling, which helps her learn and grow.
Subscribe
Stay in the know
Get special offers on the latest news from Mageplaza.
Earn $10 in reward now!