To optimize your checkout page most effectively, Mageplaza One Step Checkout integrates many features to help your checkout process look more professional. Among these is Validate Zip/Postal Code feature included.
In case you may not know, Zip code or Postal code refers to a system of postal codes used by the United States Postal Service since 1963. Zip code is widely used in the whole world nowadays and store owners will need the zip code information from their shoppers for the management. In fact, each nation has their own model of zip code. For example, the United States of America zip code contains five or nine numbers while in some countries, such as the United Kingdom and Canada, postal code is comprised of number and letters.
To help your shoppers enter the right Zip code, Mageplaza One Step Checkout encourage the visitors to use the US Zip code form when filling the information. Apart from this feature, if you are wondering whether or not Google Address Suggestion is supported into this module, please refer here
Validate Zip/Postal Code
A validate Zip/Postal Code on the checkout page is prescribed to include of 5 or 9 numbers. While entering the Zip code, the customers will need to type it as 12345 or 12345-6789.
If the input Zip code does not match with the system format, an error notification will appear. However, if the shoppers Zip code does not follow the United States Postal Service form, they can ignore the message to continue the checkout.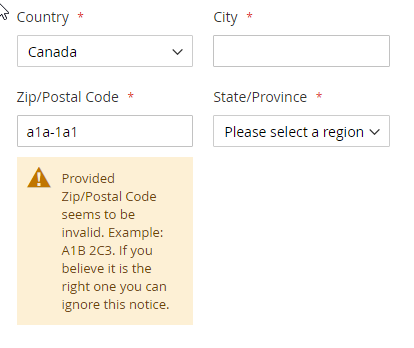 Screencast