Highlight features
Complete list of the features for your understanding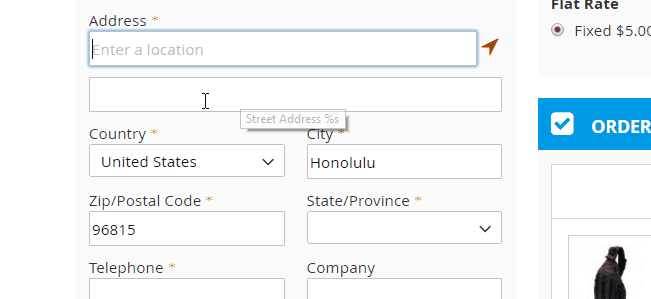 Address Suggestion
Google Maps Suggestion Integration allows showing all relevant suggestions with full of address information basing on the entered characters before.
Especially, an advanced features coming only from Mageplaza is Find me. The functionality auto-find the customer's current address when tapping it, then the address field is auto-fulfilled.
Optimized Checkout page
To simplify the checkout process, One Step Checkout module gathers all complicated default steps to display on one page only.
Friendly checkout interface
Show all information on a single page
Remove all unnecessary fields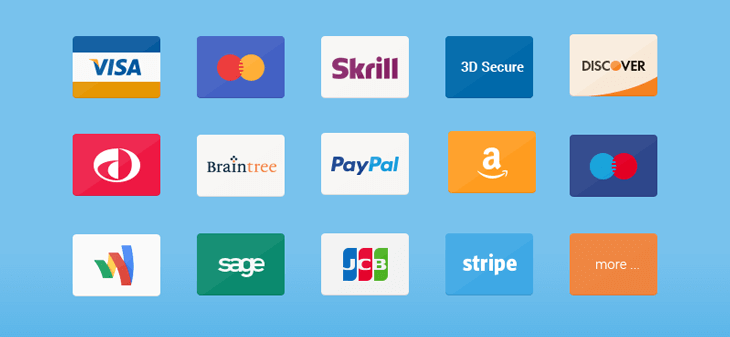 Payment methods
Nearly 100% payment methods are compatible for the checkout: Stripe, Credit Card, Paypal, Paypal Pro, SagePay, BrainTree, Skrill, Authorize.net (3D Secure), Bitcoin, 2Checkout, OnePay and much more
Easy to customize
Magento 2 One Step Checkout is 100%-open-source code. With our module, the store owner is authorized to change the specific appearance from the admin configuration like displaying color or checkout layout without editing any code. In addition to the well-documented code, the settings containing comments, the great auxiliary guidance notes, to help you customize with ease.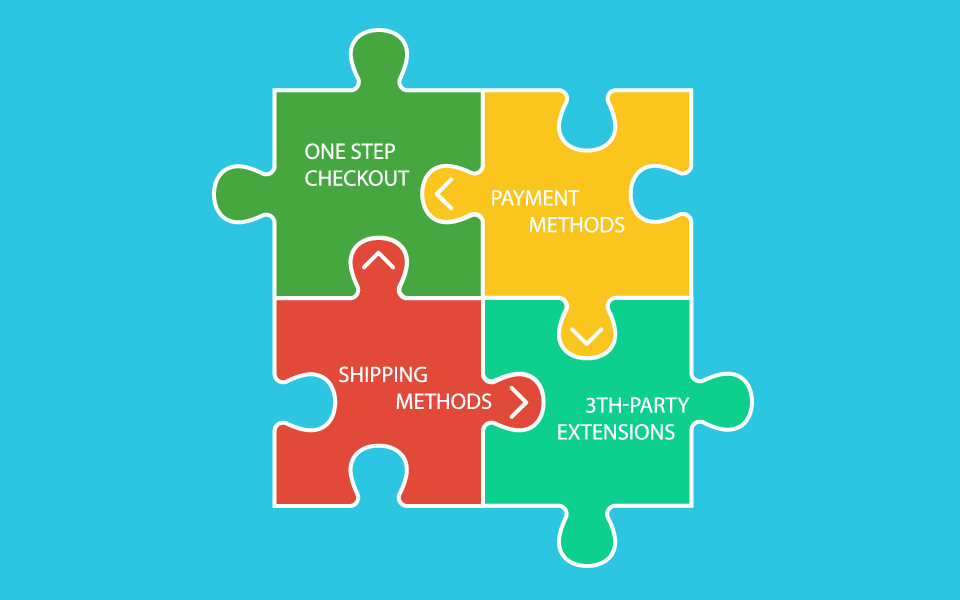 Compatibility
With over six years of comprehensive experience in Magento Module Development and especially for the development and support of One Page Checkout Magento 2, you are comfortable that our module is well compatible out-of-box with nearly 100% of the third extensions such as shipping/ payment providers or loyalty extensions or credit module, etc. In case our extension is not compatible directly, we will work with the third-provider to fix it in the perfect way without any extra fee.
Terms and Conditions
Show Terms and Conditions popover box without opening new tab or page. The Terms and Conditions checkbox can be auto-marked or required the customer to tick before placing an order. Admin can easily configure this feature in the backend.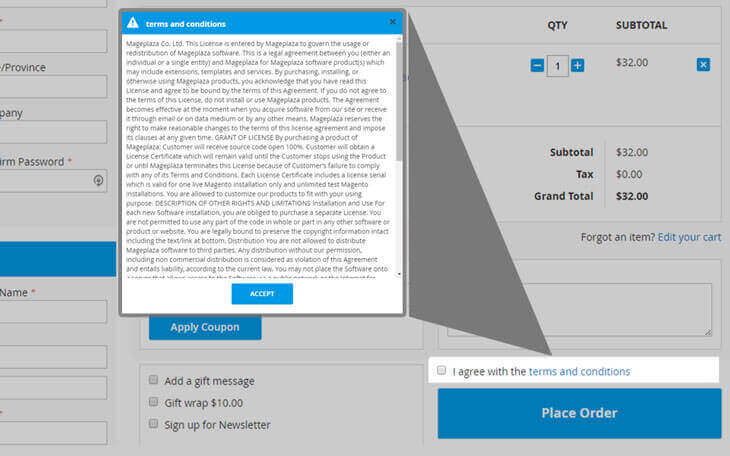 Much more
Checkout more details of Mageplaza One Step Checkout
Responsive Layout
Powerful Layout with Responsive functionality that can be adapted to any screen size. Resize browser to view.
Gift Wrap
Your customers want to send their friends pretty wrapped presents? Help them complete the order with gift wrap option.
Gift Message
Make your shoppers entirely satisfied with your store by supplying and delivering the gift message to their beloved.
Checkout Login
One Step Checkout extension supports your shoppers to log in right on the checkout page. Also allows checkout as a guest.
Fields Management
Store admin can arrange the fields of billing, shipping addresses effortlessly with the amazing Drag and Drop feature.
Apply Coupon Instantly
Your shoppers can easily apply the coupon code via the required field on the checkout page. The discount will be counted automatically and directly into the order.
Delivery time
The smart calendar field not only allows the customer note their favored time to receive the items but also helps to build a better management system.
Auto Detect Email
Auto-detect the entered existing email which customer used to registered on your site.
General UX features
Popup box for Login. Integrated with Social Login
Allow both guests and registered customers to checkout
Leave more comments on the order
Apply coupon code in the checkout process
Edit the cart on the checkout page
Leave Gift Message on the order
Support to wrap the gift per item or per entire order
Multi-shipping methods and multi-payment methods
Drag-and-drop field management
Checkout on a single page with necessary fields
Autofill address field with Google Suggest Address
Fill full address fields with one click on Find me button
Auto-update total price, discount ... if there is any changes of quantity, shipping & payment methods
Responsive design to conveniently reach out the checkout page
Auto-detect customer account that is registered on your store
Easy to checkout as register, guest or logged in
Delivery time
Responsive Design and Multiple layouts
Auto-fit with every device (Mobile, Tablet, PC)
Different configuration, design, layout for different store view
User-friendly interface
Support multiple stores
Support multiple languages
Order Review
Redirect customer to checkout page as soon as adding product to cart
Auto-update order information (plus/ minus/ remove any items)
Support a thumbnail image on Order Review
Show the detail product information
Customization
Easy to install and configure
Support 1, 2, 3 columns layout
Custom the display checkout with unlimited colors
Extra add-ons on checkout page
Support Gift wrap option
Add gift messages and comments to orders.
Signup newsletter option.
Support Ajax popup "Terms and conditions" checkbox.