Highlight features
Complete list of the features for your understanding
Ajax Loading page
Layered Navigation for Magento 2 supports Ajax Loading page which makes all of the matching results visible instantly after filtering any product attribute instead of reloading a whole page.This functionality will improve your site's performance much better.
Multi-filters
Allows shoppers to select multiple options for each product attribute. For example, buyers are able to look for both 'cotton' and 'fleece' in the Material section. The options can be shown as buttons or checkboxes for selecting.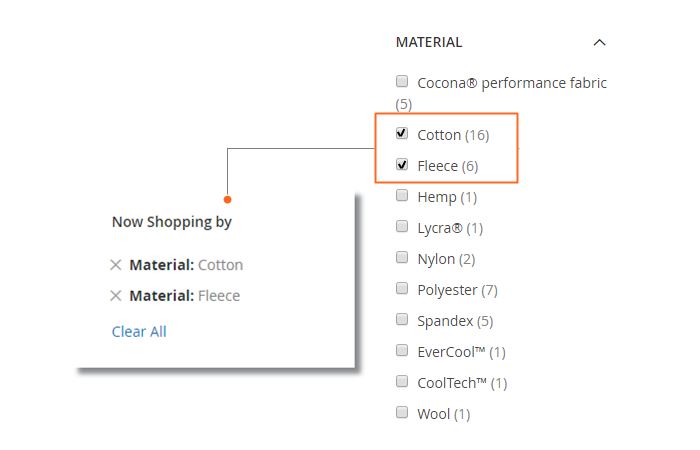 Price Slider
With the Smart Price Slider, your shoppers can adjust the range of filter price to have only affordable items displayed on the page. Hence, this is not only about an advanced feature of your store, this is also a thoughtfulness to your visitors.
In addition, Mageplaza brings various styles of the price slider including Flat UI skin, Modern skin, HTML5 skin, Nice white skin, and Simple dark skin. It is flexible to custom it how to be harmony with your store's style.
More Filter Options
Visitors can filter by Ratings, New, Sales or In stock products. These features will be huge advantages in improving your store's performance.
Filter by Rating is another outstanding feature. The rating attribute will be displayed and show multiple filter options follow each rating level.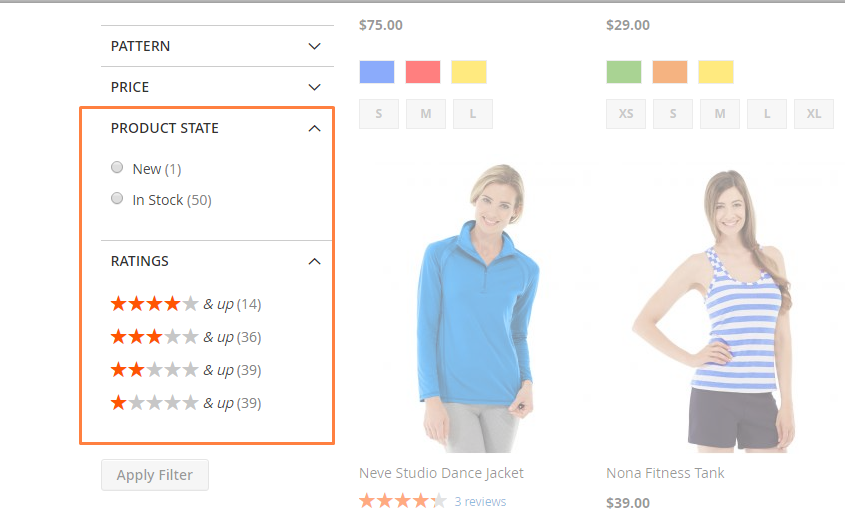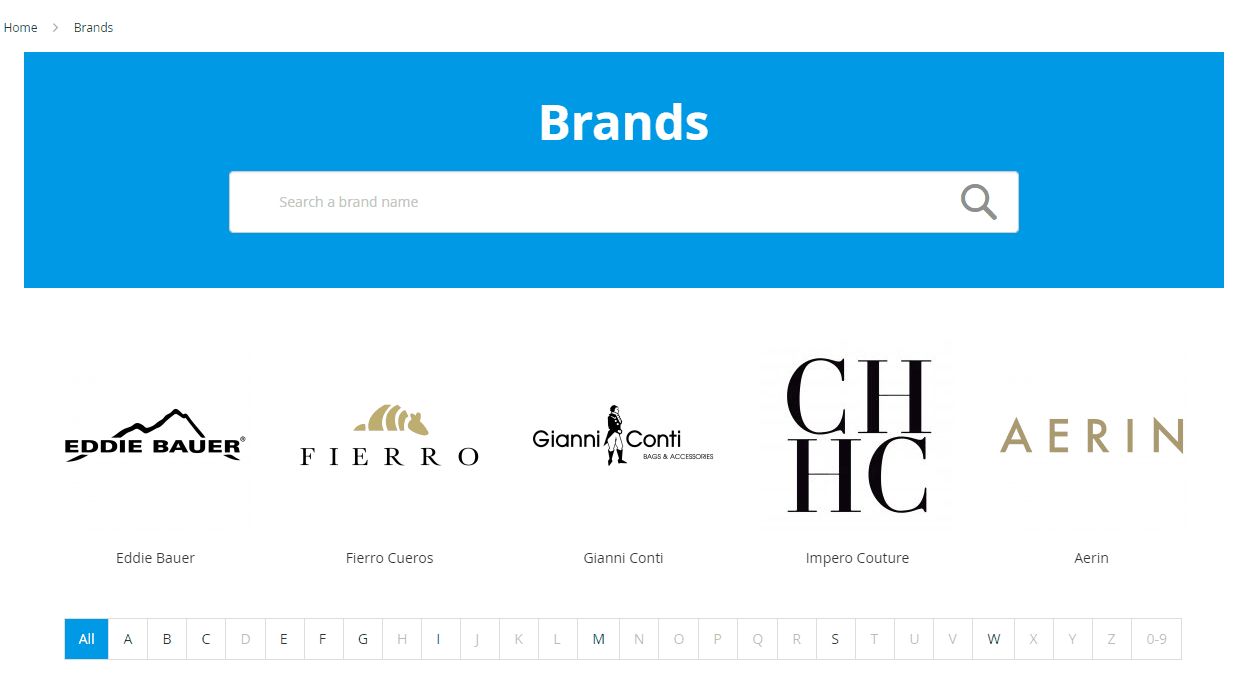 Shop by brands
Featured brands customized to be displayed in the Layered Navigation sidebar will help buyers quickly find their favorite brand names and save time.
All products page
It shows all products at once. Visitors can filter by attributes instantly.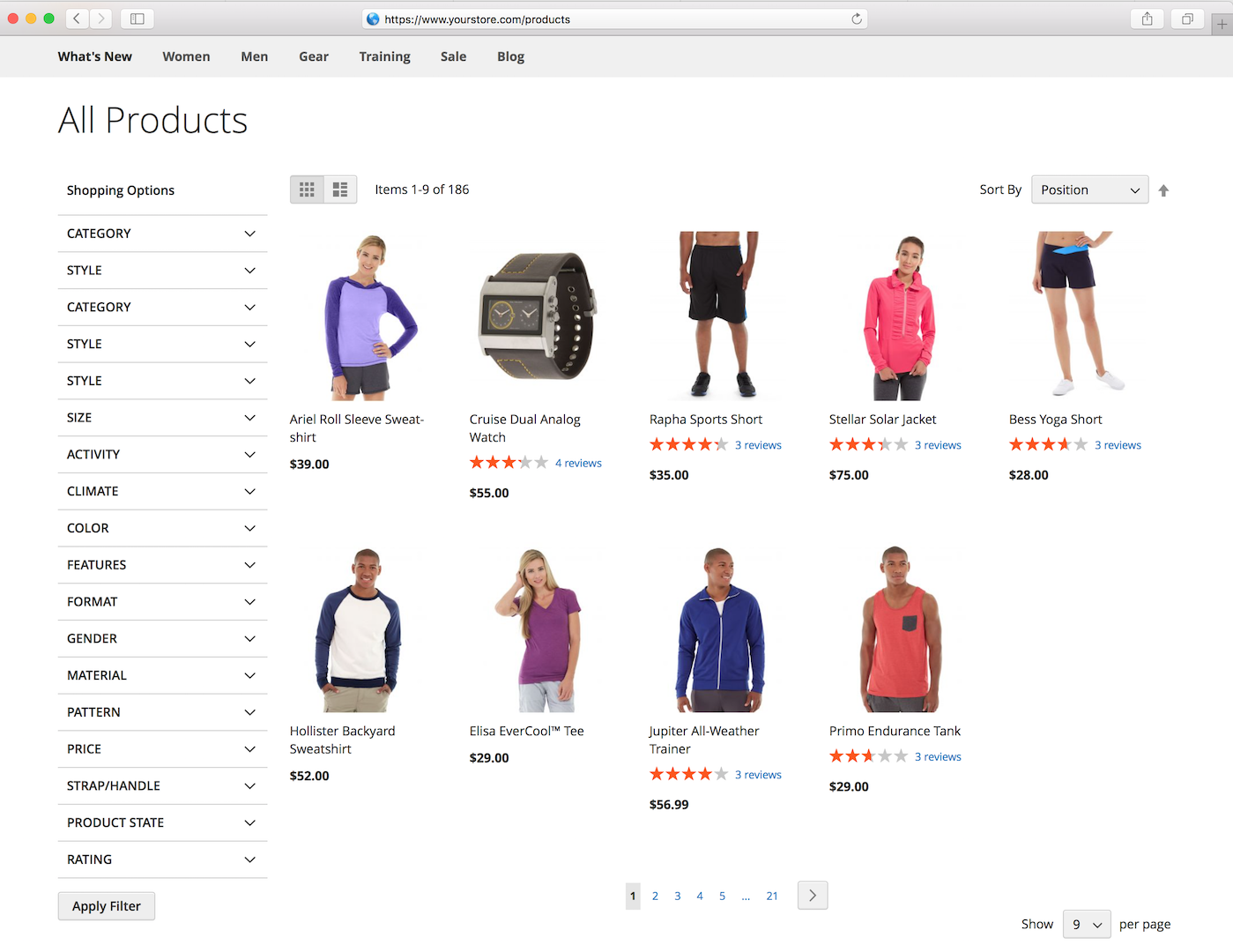 Much more
Some of amazing features from Mageplaza Layered Navigation
SEO-friendly URL
SEO-friendly URL is not only well-organized for the high rank on the search engines but it is also easy to navigate and remember for the next search.
Scroll to top after filtering
After being enabled in the backend, the page will automatically scroll to top when loading results for your visitors to view.
Product count
The number of suitable products will be displayed in parenthesis right next to each product attribute. Product count feature is configured effortlessly by store admin in the backend.
Apply Filter button
The Apply Filter button is used to see the results at once when the shoppers finish ticking all options. This function will eliminate the continuous loading on your site.
Out-of-stock options
Store admin can choose to display or hide the options that do not have any product.
Expand by default
All options will be shown in the left sidebar menu if the Expand by Default feature is activated.
Quick Lookup Options
A search box will be available for each attribute and the customer just needs to insert the keywords to receive the result in a second.
Vertical and Horizontal Navigation
Store admins can choose to display the Layered Navigation vertically and horizontally easily in admin configuration.
Infinite Scrolling
It's implemented in a all-products page so as to enhance your shoppers' pleasure while surfing your online store.
Feature Comparison Table
Mageplaza Layered Navigation includes three packages: Standard, Professional, and Ultimate. Let's take a glance at the comparison table.
| | | | |
| --- | --- | --- | --- |
| Features | Standard | Professional | Ultimate |
| View the Navigation Menu in Shop by page | Yes | Yes | Yes |
| Filter by multiple attributes | Yes | Yes | Yes |
| Click to expand or collapse the attributes to view | Yes | Yes | Yes |
| View product count in each option | Yes | Yes | Yes |
| Use Price Slider filter to set the suitable price range | Yes | Yes | Yes |
| Instant loading results | Yes | Yes | Yes |
| Enable or disable the Layered Navigation module | Yes | Yes | Yes |
| Allow your visitors to filter by multiple attributes | Yes | Yes | Yes |
| Enable the product count in each option | Yes | Yes | Yes |
| Multi filter category | Yes | Yes | Yes |
| Use Apply Filter button to confirm to begin loading the results | _ | Yes | Yes |
| Auto scroll to top after filtering | _ | Yes | Yes |
| View the out-of-stock options | _ | Yes | Yes |
| View options as expand by default | _ | Yes | Yes |
| Filter by product state which concludes of: New, On Sale, or Stock | _ | Yes | Yes |
| Filter by product rating | _ | Yes | Yes |
| Use search box to lookup options | _ | Yes | Yes |
| SEO-friendly URL | _ | Yes | Yes |
| Set the Scroll to top after filtering feature | _ | Yes | Yes |
| Allow Displaying the out-of-stock options | _ | Yes | Yes |
| Let options expanding by default | _ | Yes | Yes |
| Allow your shoppers to use the quick lookup box | _ | Yes | Yes |
| Set the displaying name of product state attribute | _ | Yes | Yes |
| Configure Product state options in the back-end | _ | Yes | Yes |
| Configure the Filter by rating feature | _ | Yes | Yes |
| Set the expand by default for each attribute | _ | Yes | Yes |
| Configure the quick lookup options for each attribute | _ | Yes | Yes |
| Allow the multi-filters for each attribute or not | _ | Yes | Yes |
| SEO Friendly URL on Apply Filter button | _ | Yes | Yes |
| Allow filter with decimal attribute (list, slider) | _ | Yes | Yes |
| Configure the Apply Filter button | _ | _ | Yes |
| Set the display style of each attribute: dropdown, list, swatch, or swatch and text | _ | _ | Yes |
| Flexible to modify Price Slider | _ | _ | Yes |
| Allow customers filter by manufacturer's brand | _ | _ | Yes |
| Support both vertical and horizontal navigation menu | _ | _ | Yes |
| Show Layered Navigation on Search page | _ | _ | Yes |
| Rating filter will be performed in Vertical Slider form | _ | _ | Yes |
| Allow admins add as many all product pages as they want | _ | _ | Yes |
| Rating slider | _ | _ | Yes |
| Easy to install | Yes | Yes | Yes |
| Open source 100% | Yes | Yes | Yes |
| Easy to configure | Yes | Yes | Yes |
| User-friendly interface | Yes | Yes | Yes |
| 1-year Support | Yes | Yes | Yes |
| Lifetime updates | Yes | Yes | Yes |
| 30 days guarantee money back | Yes | Yes | Yes |
| Fully compatible with Mageplaza extensions | Yes | Yes | Yes |
| Supports multiple stores | Yes | Yes | Yes |
| Supports multiple languages | Yes | Yes | Yes |