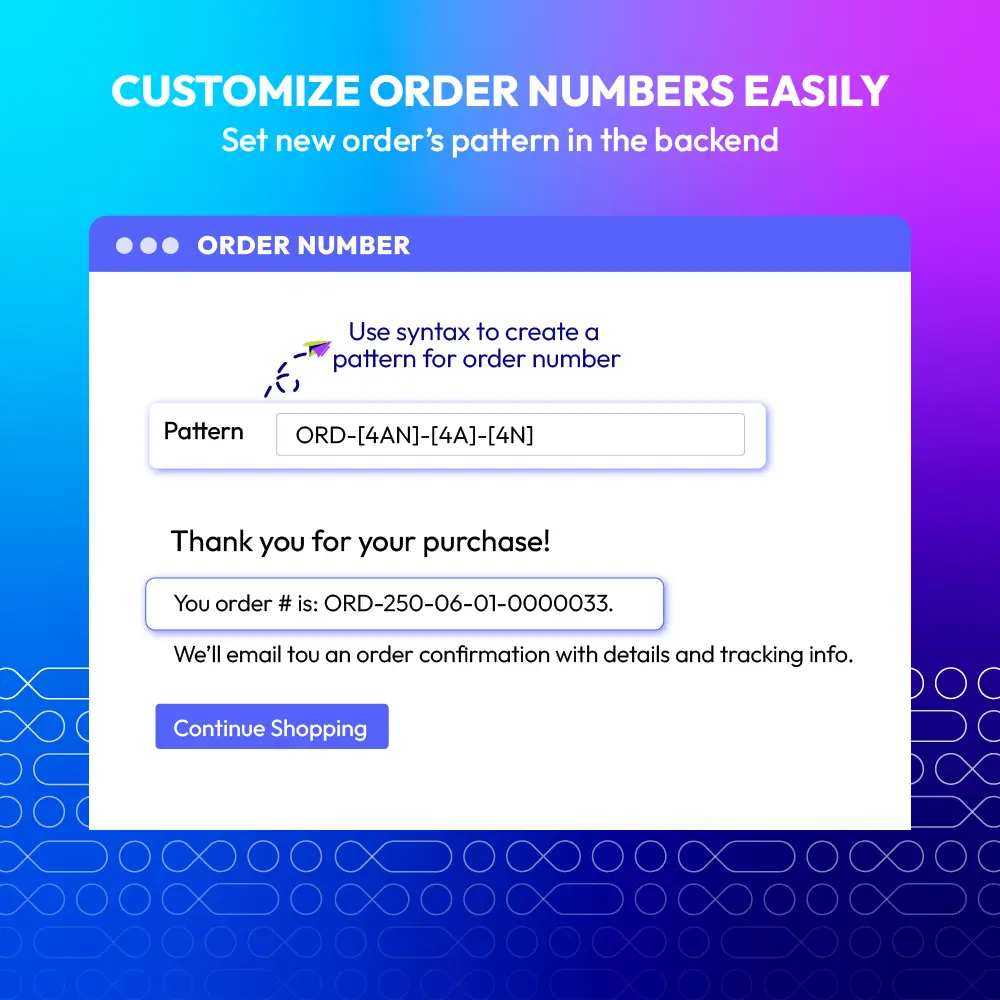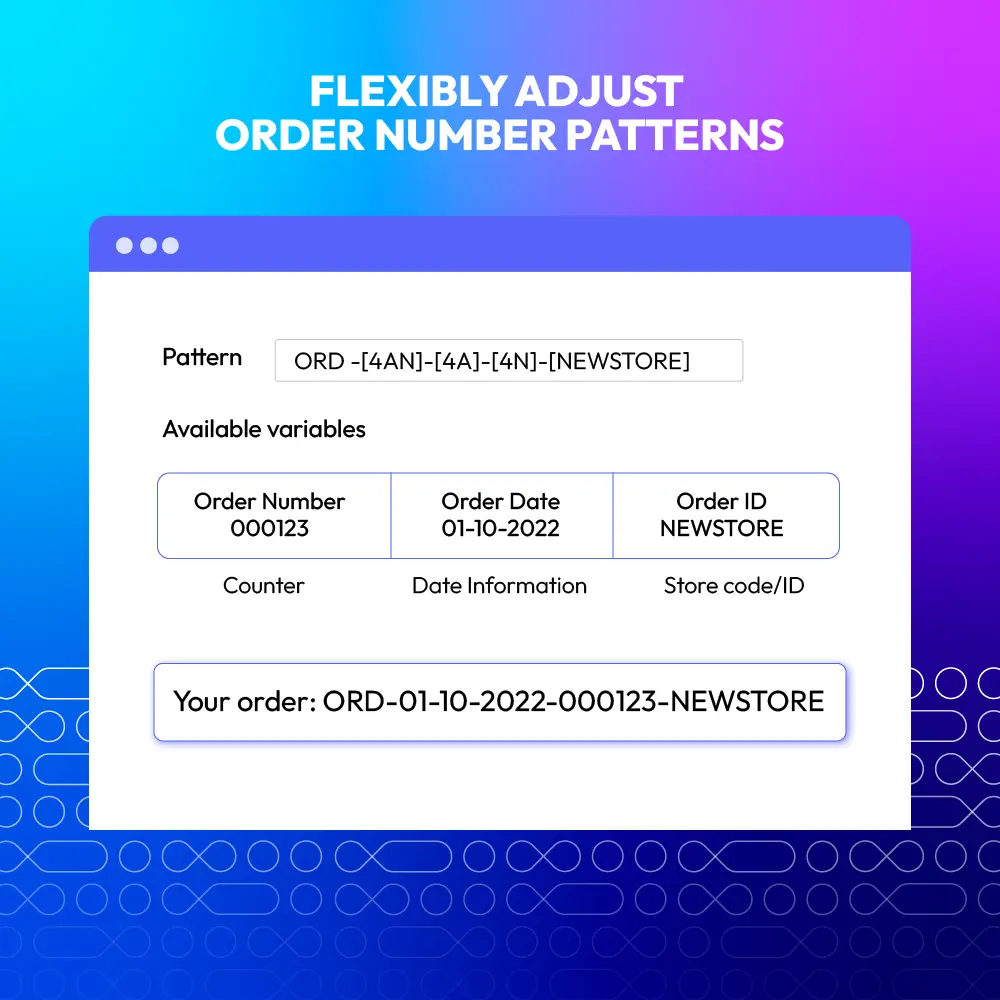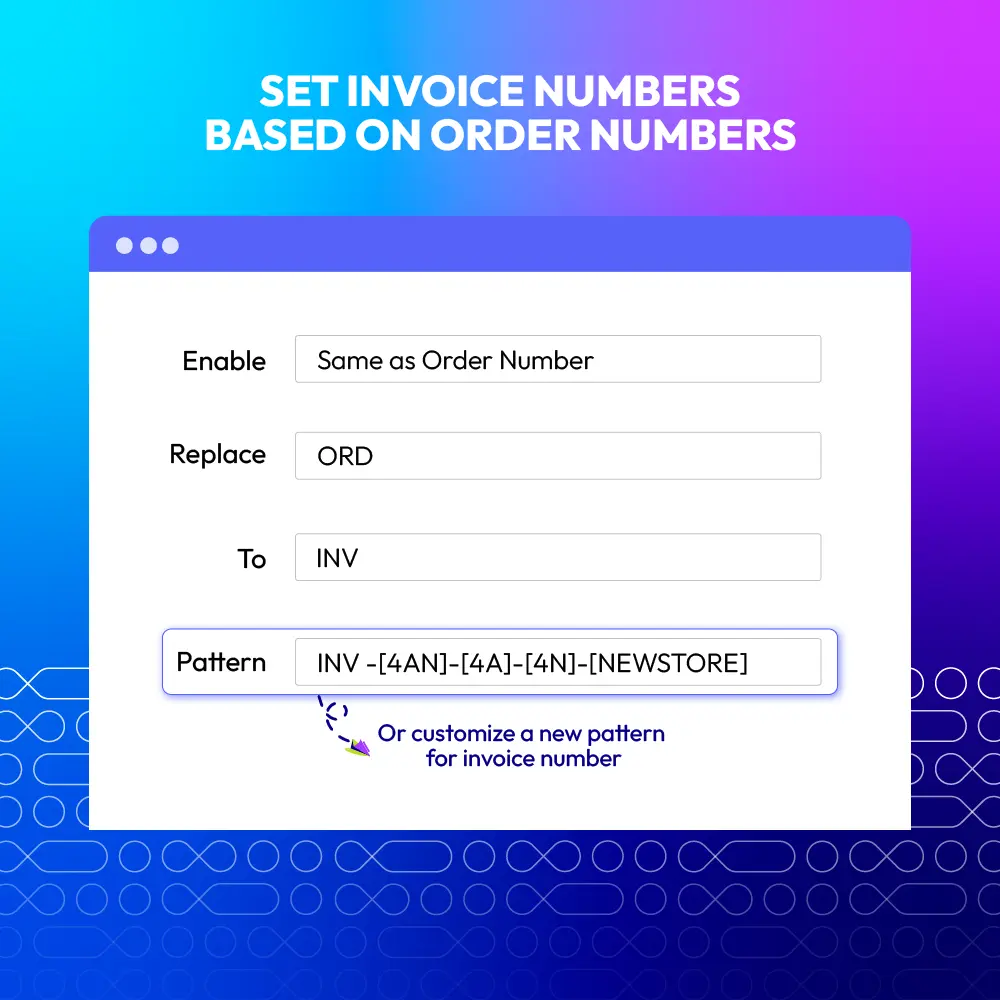 60-day Money Back
Frequent Update
365-day Support
Custom Order Number for Magento 2
v4.0.3
Magento 2 Custom Order Number extension helps Magento stores change order numbers, and increment ID prefixes to protect sensitive business data. Also, the Custom Order Number module attracts new customers by showing them a more professional order number system.
Need API/GraphQL for Magento 2 Custom Order Number? Chat now
CE/EE/B2B/Cloud/ Adobe Commerce 2.2.x, 2.3.x, 2.4.x
Chat now
Problems
In Magento 2 default, order increment ID is a 9-digit number which starts from 000000001. For many reasons, store owners want to change this string structure in order numbers as well as other billing documents. As this cannot be done quickly in native Magento 2, you will need a tool to help you out.
The outcome of Magento 2 Custom Order Number extension is to change the default string into another with more sophisticated one. The new order number is customized to contain more helpful information for store owners, yet make it harder for your competitors and customers to understand.
Solutions
Change order increment ID
Attract new customers using order numbers
Meet local invoice number requirement
Resolve problem from other platforms to Magento
Protect business data
Pricing

Choose your suitable edition
Community
Crafted for a great webstore start
$

149

first year
Supports for Magento 2 Community Edition
Enterprise
Great for an enterprise solutions
$

349

first year
Supports for Magento 2 Enterprise Edition
Highest priority support
No. Magento 2 Custom Order Number extension only changes the ID of orders, invoices, shipments and credit memos, but makes no change in other information.
Yes. There are two available configurations for the order number counter. The order ID can either move up separately by store or increase numerically no matter which store the order is placed.
Yes. You can also add store ID or store code into the structure by using syntax.
Yes. The module allows you to set the counter start to be any number that you want.
Great solution
Customizing the order number is easy with an extension. A few more options would have been nice, but this is an excellent way to get away from Magento's clunky default ordering scheme.
good solution
A solution I've just found out, and it actually works. Set up the order number based on my own rule and the order management is a lot easier.
Kelly Roeland
-
Verified Purchase
MEET ALL OUR NEEDS
The extension sells itself. However, their support is one of the greatest I've experienced so far. They respond fast and friendly. Their support guys are top-notch.
Tatiana
-
Verified Purchase
Custom Order Number
Extension is great if you are looking to customize the order number. I was looking for a few more features, but this is a great tool in helping to rid yourself of the cumbersome Magento default ordering system.
Marc Lee
-
Verified Purchase
Good
Stable and easy to use solution.
Milosz
-
Verified Purchase
Useful and Flexible Extension
The extension is useful with its highly customizable features to cater for flexibility in customizing order numbers, invoice, shipment, and credit note. This is especially useful on a multi-vendor marketplace e-commerce platform.
Go81 Team
-
Verified Purchase
Useful module that caters for a combination of settings
The module seems to provide great flexibility that caters to quite a number of combinations of settings. No doubt there is still room for enhancement further such as to allow Order numbering without a prefix and yet invoice credit memo still able to apply prefix based on the same order number. Overall a useful module that may be able to fulfill versatile user requirements.
Go81 Team
-
Verified Purchase
Easy and safe solution
Who is not in favor of the crappy order numbers of standard M2 install? I think almost every webshop owner has some frustrations about this. I honestly needed this module only for my order numbers, because my invoices are managed by a 3rd party accounting software. Now, thanks to this module, I got a more professional looking order number (which is also printed on my invoice as reference) and I can understand easy when the order was made; just by looking at the generated order number done by this module. Absolutely no risk for damaging the M2 install neither the DB. Great solution from Mageplaza! Happy to order again!
Wesley
-
Verified Purchase
Very intelligent tool!
I have to say this is a really excellent tool. As a new store owner, currently, I have not had many orders so I am worried that the order number will reveal this point, and I really need a solution. Finally, a friend introduced me Custom Order Number and it really solves my concern. I myself can customize the order ID to the formats I want so that my store data is not known. Thanks for this understanding extension!
Kenneth
-
Verified Purchase
Don't see the features you are looking for?
Request feature
Submit your feature requests below
Want to do extension customization?
Custom request
Let us know your requirements
v4.0.3

31 August 2022

Compatible with Magento v2.4.4
v1.0.4

01 August 2021

Compatible with Magento v2.3.7
Fix reset counter yearly, support country_id pattern
Fix minor bugs
v4.0.1

12 April 2021

Compatible with Magento v2.4.2
Fix minor bugs
v1.0.3

20 January 2021

Improved compatible with Magento v2.3.6
v1.0.2

25 July 2019

Fixed error with Invoice ID when Invoiced was created automatically
Compatible with Magento 2.3
v1.0.1

05 September 2018

Store code is in upper case
Fixed minor bugs
v1.0.0

04 September 2018

Initial Release
For store admins
Invoice/Credit Memo/Shipment number config
Change the prefix of Invoice/Credit Memo/Shipment number
Ability to copy the same pattern in Order number to use for Invoice/Credit Memo/Shipment number
Set the numbering system by using syntax
Set the counter start
Set the counter step
Ability to set the counter step to run independently by store
Ability to reset the counter after a configured period
Ability to reset the counter instantly
Compatible with Mageplaza extensions: Quick Order, Order Export, Order Attributes ...
General configuration
Enable/disable module
Enable/disable custom order number, invoice number, credit memo number, and shipment number
Compatible with Mageplaza PDF Invoice extension
For customers
Set the pattern by using syntax
Set the first sequence number of the order by defining the counter start
Set the counter step for the sequence number
Allow/disallow the counter step applied separately by individual store
Ability to reset the counter after a configured period
Ability to reset the counter instantly
Why choose us?
Mageplaza provides consistent and customer-centric extensions for your Magento 2 store.
We don't sell products for one time. We provide lifetime solutions which help our customers thrive with their businesses.
60-day Money Back
Extensive 60-day money-back period. You love it or get a full refund no questions asked.
Extensive Support Timeframe
Mageplaza provides support 16 hrs/day, 5.5 days/week to guarantee the seamless operation of our extensions on your store.
Install via Composer
Simple installation via composer helps you save time and eliminates technical issues during future updates.
Frequent Updates
Intensive update roadmaps ensure great performance, bug-free, highly compatible, and innovative extensions.