How to integrate Guentiger with Magento 2
Table of Contents
What is Guentiger. de?
Guentiger. de is one of the Europe leading price comparison sites (which is based in Germany), just got acquired by the US-based Nextag. Consumers use Guenstiger's brands to easily and quickly compare products and prices of thousands of online merchants and offline retail shops throughout Germany. The portal also provides invaluable information to support consumer-shopping decisions, such as product information, merchant ratings, professional test reports and user opinions.
Since the product data fields in Guentiger. de are fully compatible with those of Magento 2, store' s admin can apply these fields to their product data, which generates Product Feed. However, Magento 2 now does not support feed generating so we need to use the added Product Feed extension by Mageplaza. Besides, Guenstiger. de allows you to upload your feed as CSV, XML files.
Countries using Guentiger. de
Fields in Guentiger. de template
XML file

Required fields

item_data
item_unique_id
item_mpn
item_manufacturer
item_name
item_category
item_short_desc
item_page_url
item_image_url
item_upc
item_price

Optional fields

item_inventory
item_condition
item_shipping_charge

CSV file

Required fields

Order number
Manufacturer's name
Product name
Product description
Price
ProductLink
EANCode
Category

Optional fields

Delivery time
PhotoLink
Weight
ShippingPurchase
ShippingPayPal
ShippingCredit card
ShippingLastschrift
ShippingCancellation
ShippingCash
Basic price complete
Energy efficiency class
Keyword
Color
Size
Gender
Adults / Child
PZN
Tire type
Tire season
Tire size
How to Integrate Guentiger. de with Magento 2 step by step
Step 1: Register and use Guentiger. de
Access to www.guenstiger.de, log in by your Google/Gmail account to use Guenstiger. de
Step 2: Create Product Feed in Guentiger. de
Since Magento 2 does not support to generate product feed, in this article, we introduce the Product Feed Module by Mageplaza.
2.1 Create a product feed
To begin with, go to Products > Catalog > Product Feed > Manage Feeds > Add New Feed
2.1.1 Insert information needed in General information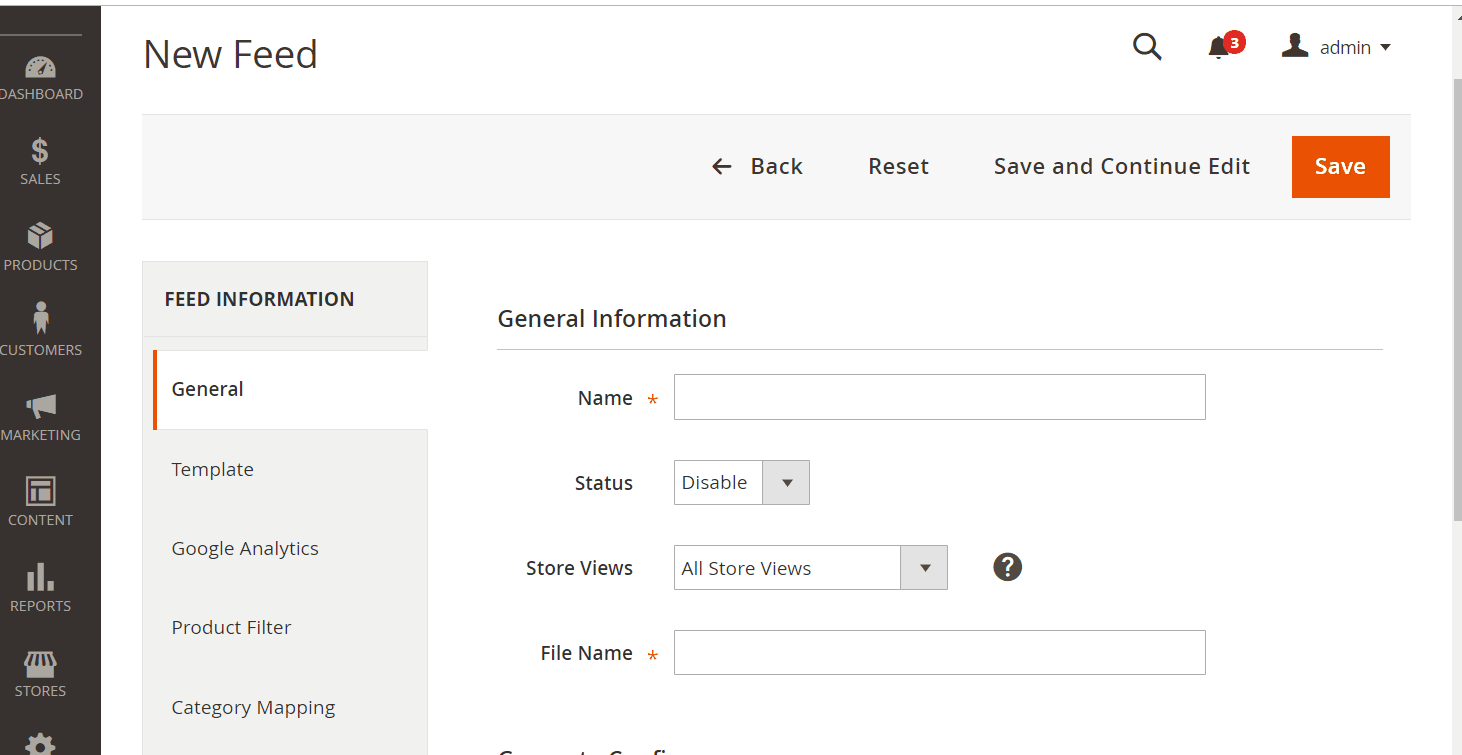 2.1.2 Choose template: Guentiger. de CSV (or XML)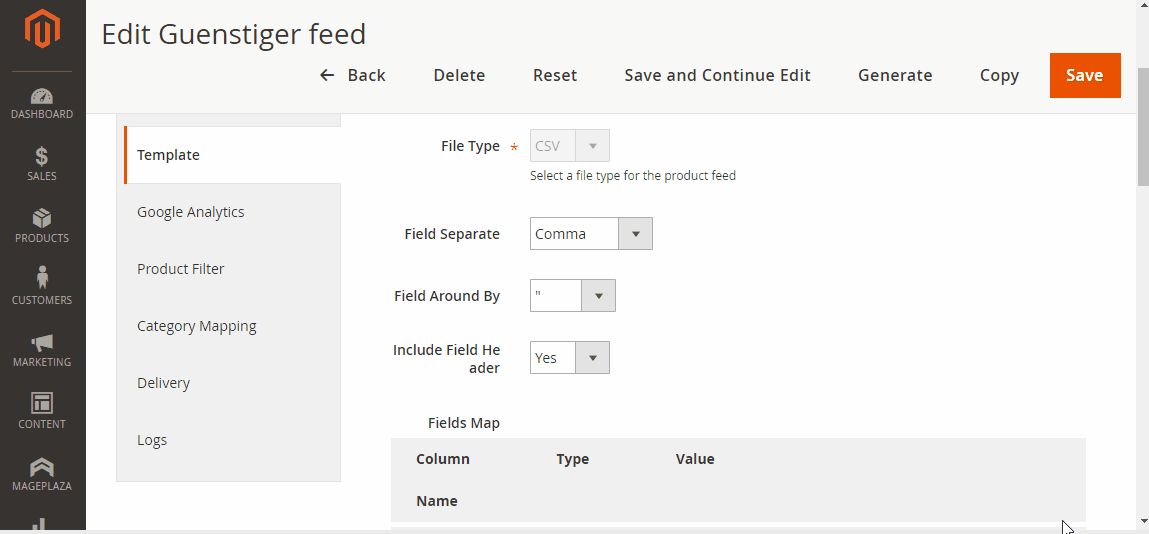 2.1.3 Insert information in Google Analytic part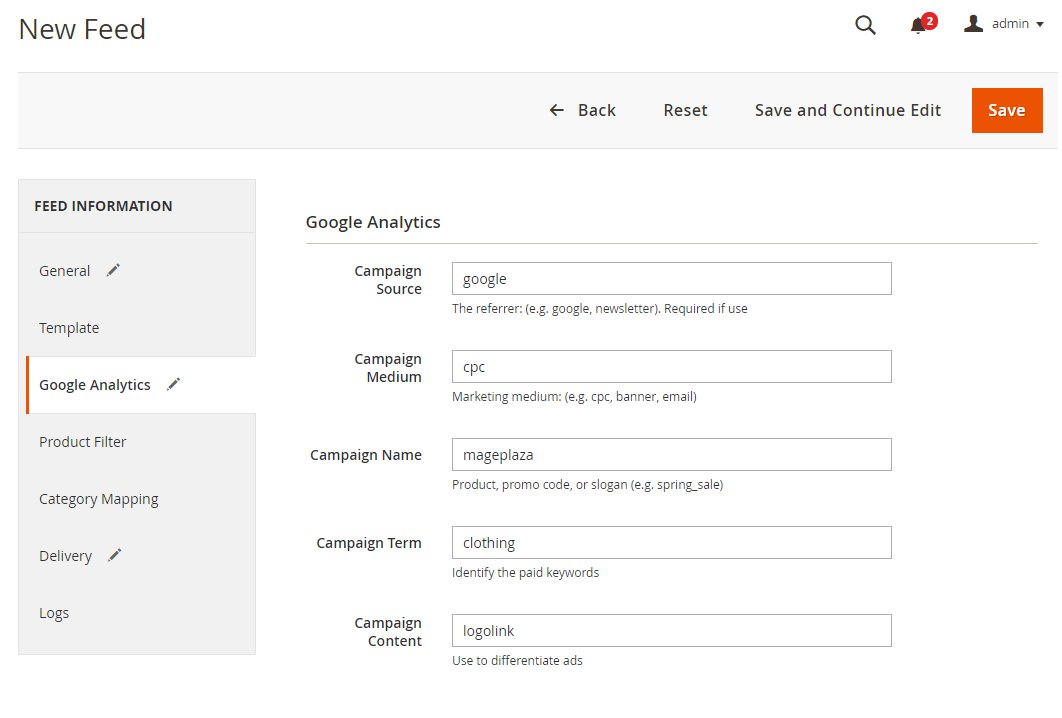 2.1.4 Select the conditions to export files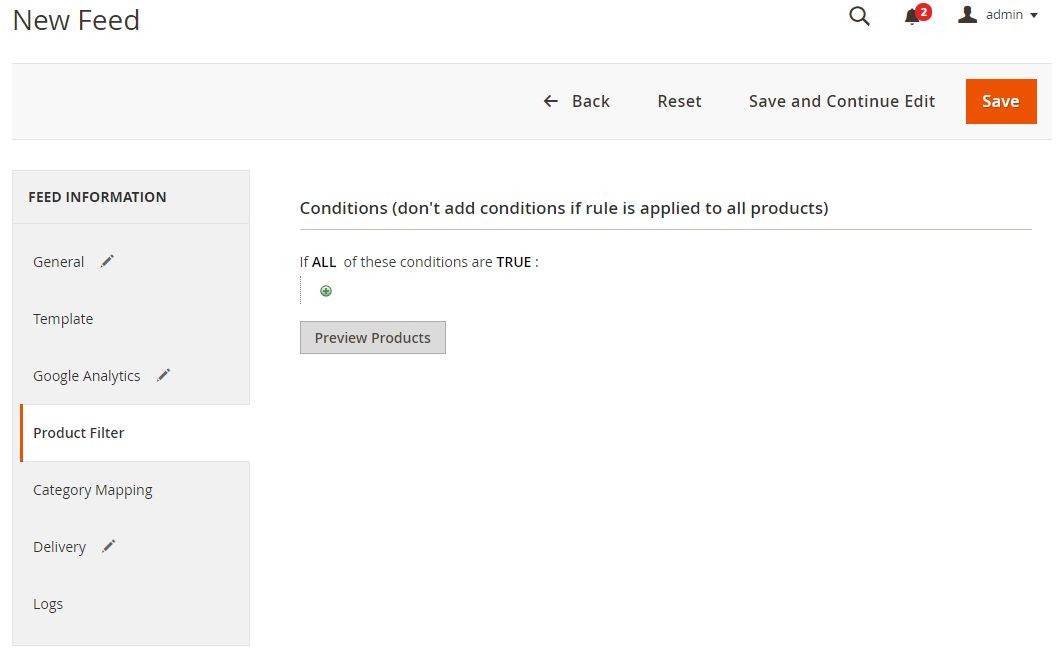 2.1.5 Choose the protocol to upload exported files (SFTP or FPT)
Then select Cron job to generate feed automatically, whereas Manual allows admin to create feeds manually.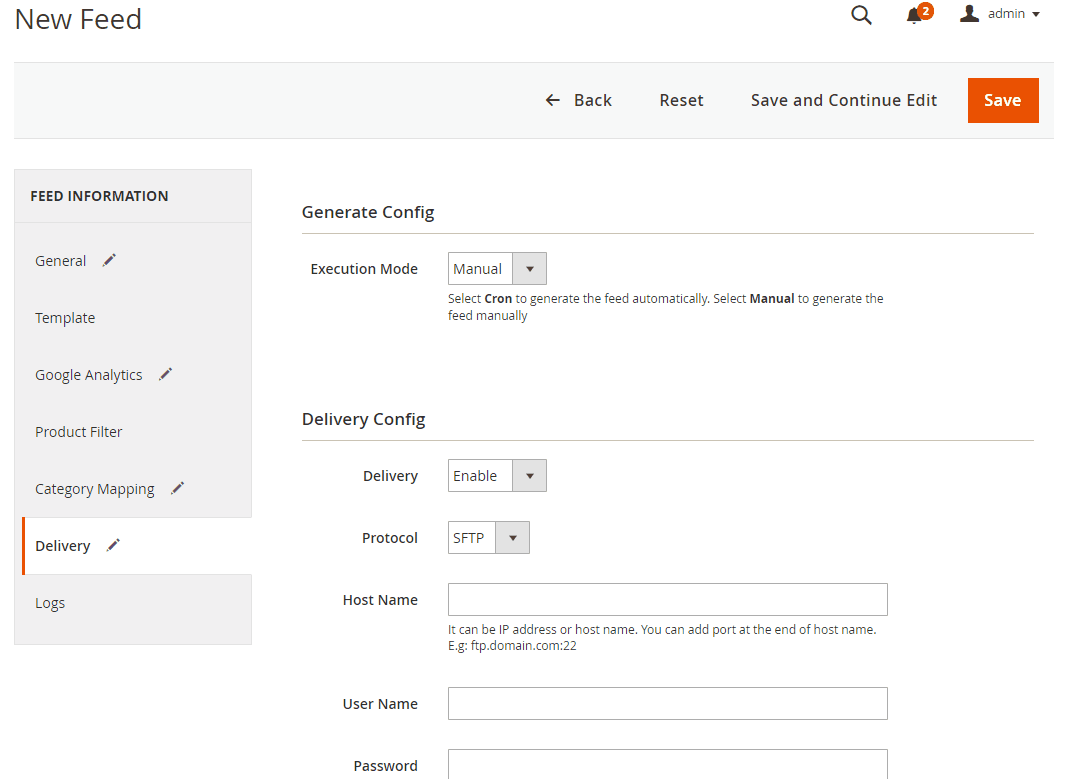 2.1.6 Finish export feed
Save the configuration
Click Generate to export and upload files to the server
Then download files from the server or Manage Feeds

The file results after using Product Feed extension is as below: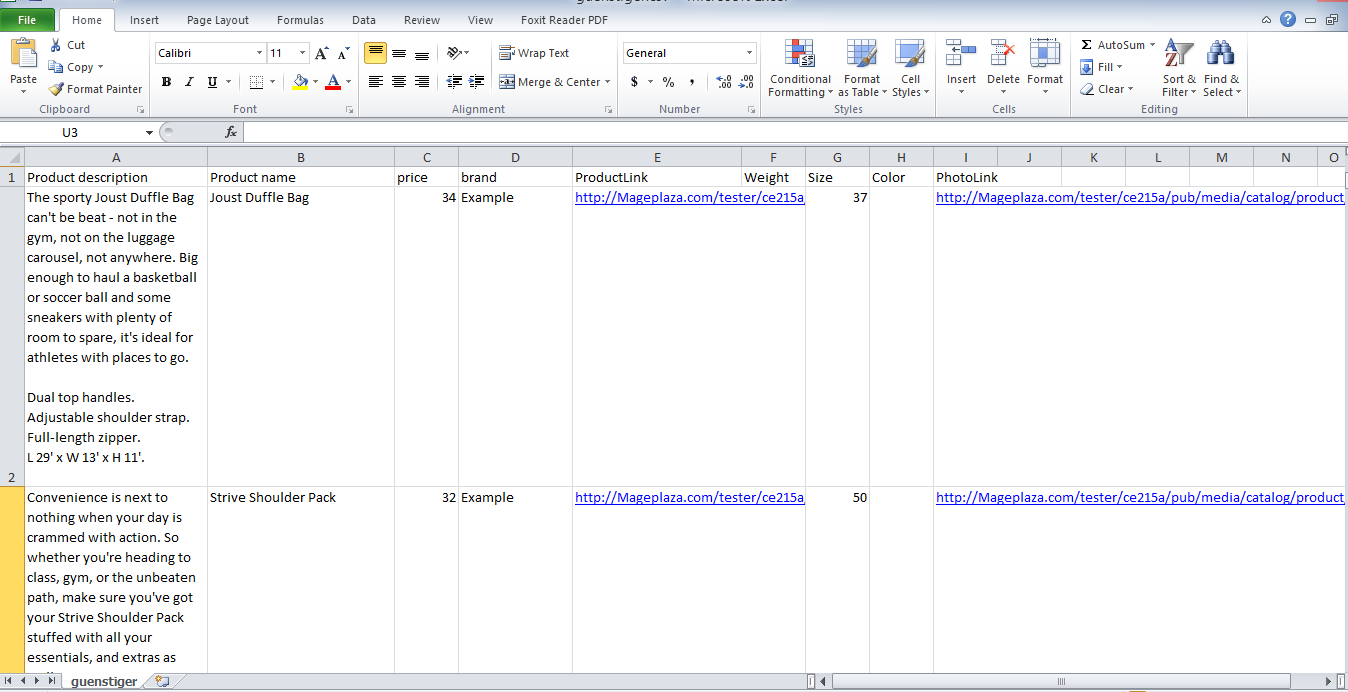 2.2 Upload Product feed files
2.2.1 Fill in your information: address, contact information, your store link and payment method.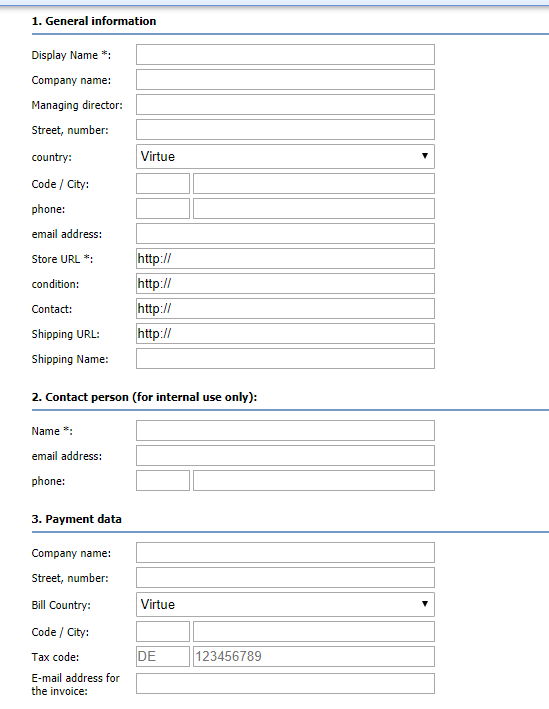 2.2.2 Upload data feed
Firstly, go to the site upfile.vn to get your created feed link. Click and drag your file, start downloading and copying the feed link.
Copy the link you just downloaded, then enter the name and password for your agent
Add a comment for your agency subscription and agree to the terms of the Guenstiger. de
Click Submit a subscription to proceed to register and upload the feed.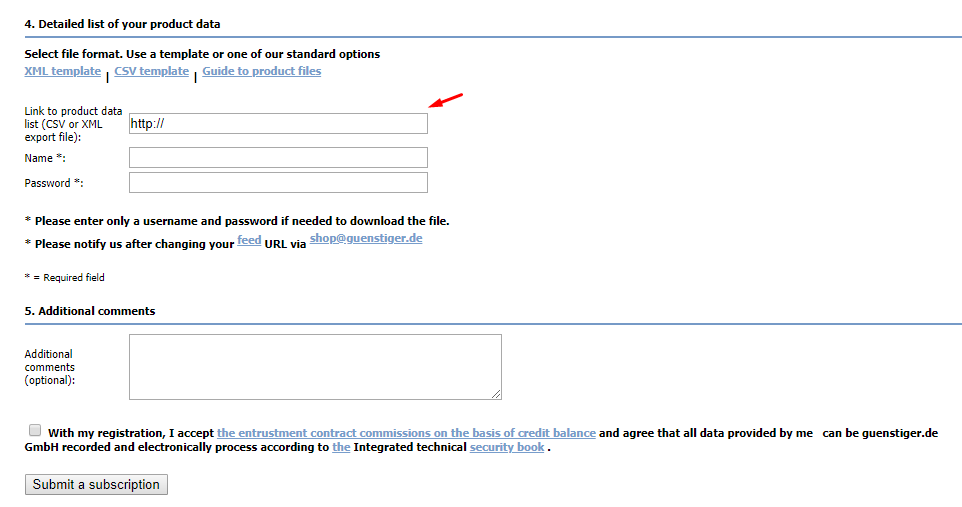 Result
After uploading the feed file, Guenstiger. de will verify and response the product information that you registered. You then come to the payment step.
Conclusion
This tutorial provides you with the guide of creating data feed using Mageplaza Product Feed module and how to upload a feed to Guenstiger. de. For more detailed features of this extension, please visit here.
Note: After registering and uploading your feed, you need to wait a few days for Guenstiger. de to review your registration. You must pay for the subscription, also.
Related posts
---
Back
Ask Mageplaza
---
Looking for more information?
magento-2-tutorial
how-integrate-guenstiger