Exploring Modern Website: Design Tips, Examples, and Trends
Experienced E-commerce Agency for

Magento/ Adobe Commerce/ Shopify/ Shopware

Development
In today's constantly evolving digital world, having an appealing and user-friendly website is essential for businesses and individuals alike. Modern website design, with its emphasis on aesthetics, functionality, and user experience, has become a vital aspect of online success.
The era of static web pages with cluttered layouts and slow loading times is now over. Instead, modern website design focuses on creating visually captivating, responsive, and intuitive websites that captivate visitors and keep them engaged.
This article will explore the concept of modern website design, its significance, and some design inspirations which are necessary for you to build your own sites.
So, fasten your seatbelts as we delve into the exciting world of modern website design and discover the secrets to creating a website that leaves a lasting impression on your audience.
Looking for
Customization & Development Services?
8+ years of experiences in e-commerce & Magento has prepared us for any challenges, so that we can lead you to your success.
Get free consultant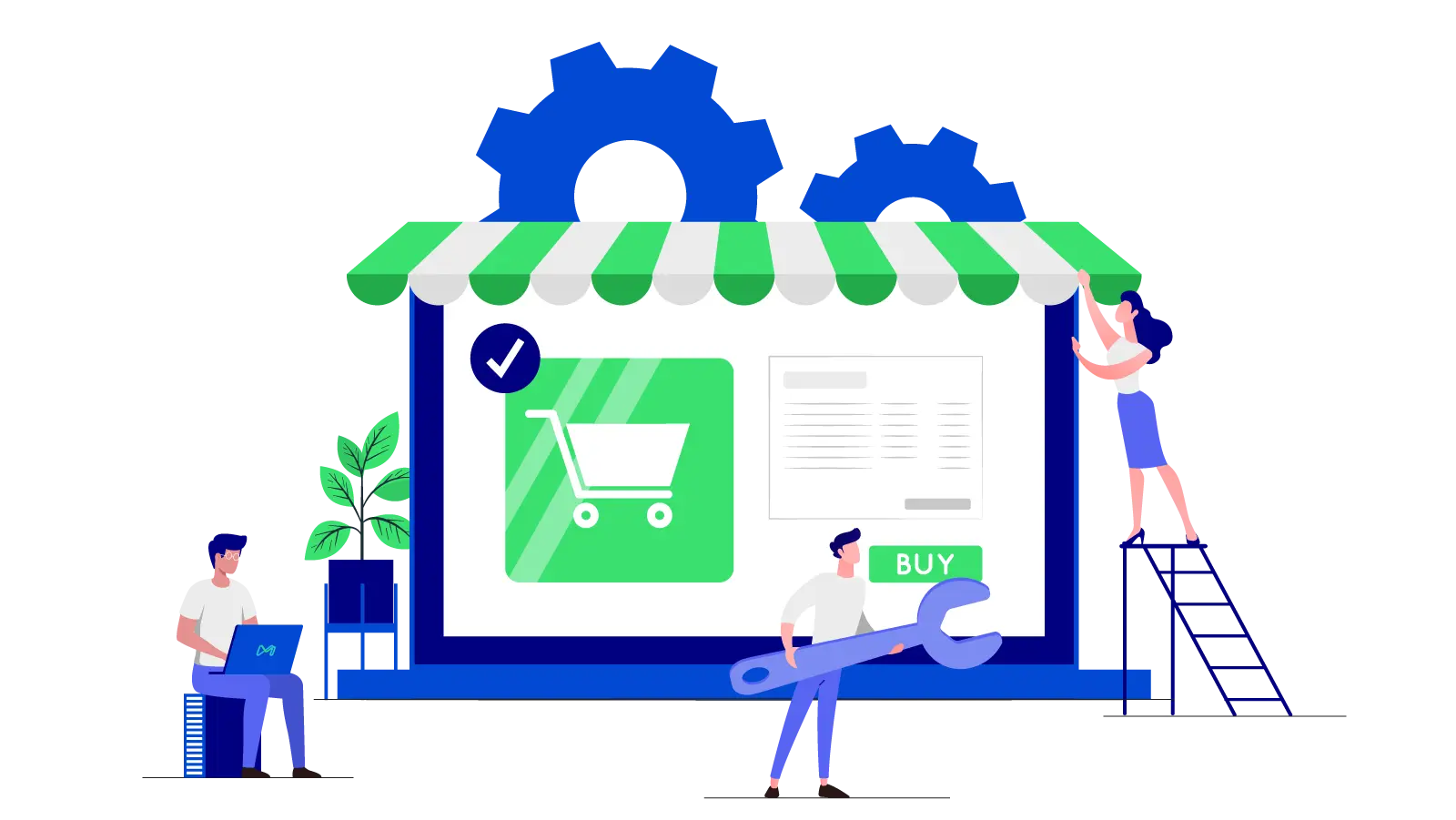 Table of Contents*
What is modern website design?
Modern website design refers to a contemporary and up-to-date approach to designing websites that incorporates current design trends, technology, and user expectations.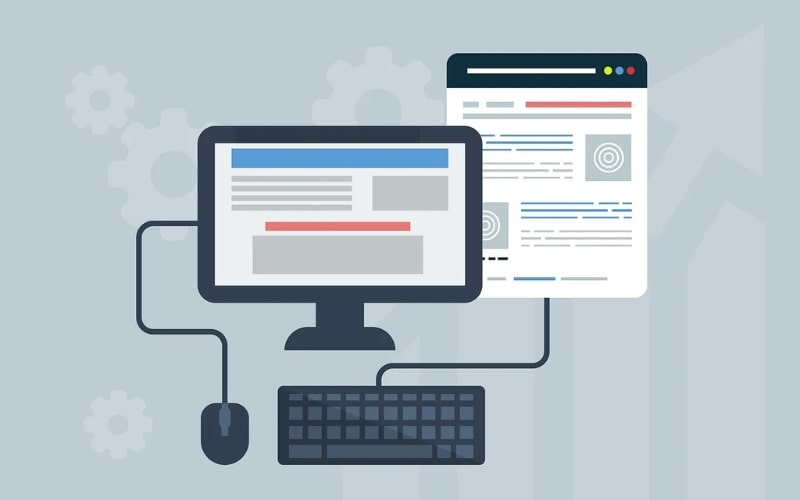 While specific design elements and trends may evolve over time, there are some common characteristics of modern website design including the use of typography, layout, color theory, motion graphics, and responsive designs, which work together to provide visually appealing and user-friendly interfaces that align with current design trends and user expectations.
In addition, modern websites emphasize the use of high-quality visuals, such as stunning imagery and engaging videos, to create visually compelling experiences. User-centered design principles play a vital role, focusing on optimizing the user journey, enhancing accessibility, and promoting interactive elements to encourage engagement and conversions.
Why is modern website design important?
Enhanced user experience. Modern design websites focus on user-friendly navigation, hierarchy, and visual appeal. Improving user experience will help you to increase engagement and conversion rates from visitors.

Branding and visual appeal. The initial point of interaction between businesses and their customers is via the website. Businesses can create a strong brand presence through visual elements. Consistent branding builds trust and credibility among visitors.

Mobile responsiveness. With the increasing use of smartphones, having a website optimized for mobile devices is essential. A modern design website, built with responsive design techniques, can ensure the website adapts to screen sizes and devices.

Search Engine Optimization (SEO) Modern design websites often use SEO best practices to optimize content. Potential clients will reach your website through organic search results more readily as a result of this.

Competitive Advantage. In an online marketplace, it's critical to stand out from the crowd. A visually appealing and user-friendly modern design website can attract visitors and differentiate brands.
Tips to build a modern website design
Keep it simple. Minimalism is a popular trend in modern web design. Therefore, clean layouts, white space, and a simple color palette are essential. Avoid clutter and unnecessary elements that can distract or overwhelm users.

Create a responsive design. Ensure that your website is responsive and mobile-friendly. With the increasing use of smartphones and laptops, it's essential to offer a smooth user experience on a range of devices with various screen sizes.

Focus on typography. Choose legible and contemporary fonts that match the style of your website, because different font combinations and font sizes can provide visual interest. If you want better cross-platform compatibility, think about utilizing web fonts.

Choose bold colors and gradients. Modern web design frequently uses gradients and vibrant colors. Use bold and contrasting colors strategically to highlight important elements and create a visually engaging experience.

Use large visuals and videos. Utilize large, high-quality visuals and videos to make a strong impact. A great image or video on the homepage can successfully express your message to users and rapidly capture their attention.

Make it easy to navigate. Ensure your navigation is intuitive and easy to use. Stick to common patterns for mobile devices. Consider using sticky headers or scroll-based navigation to improve user experience.

Use white space and grid layouts. White space should be used to create a spacious design. Grid-based layouts provide structure and balance, making it easier for users to read.

Maintain consistency. Utilize consistent typography, color schemes, and design components to maintain consistency throughout your website. This enhances the entire user experience while contributing to a consistent and professional appearance. For those interested in how to create a website from scratch, these tips are a great starting point to ensure your site is modern, functional, and appealing.
Read more: 5 Vital Store Design Strategies for Online B2B Wholesalers
5 best modern web design examples
1. Mageplaza
Mageplaza is a business that provides strong tools and resources to Magento & Shopify merchants. This business offers customized development services to e-commerce retailers and developers.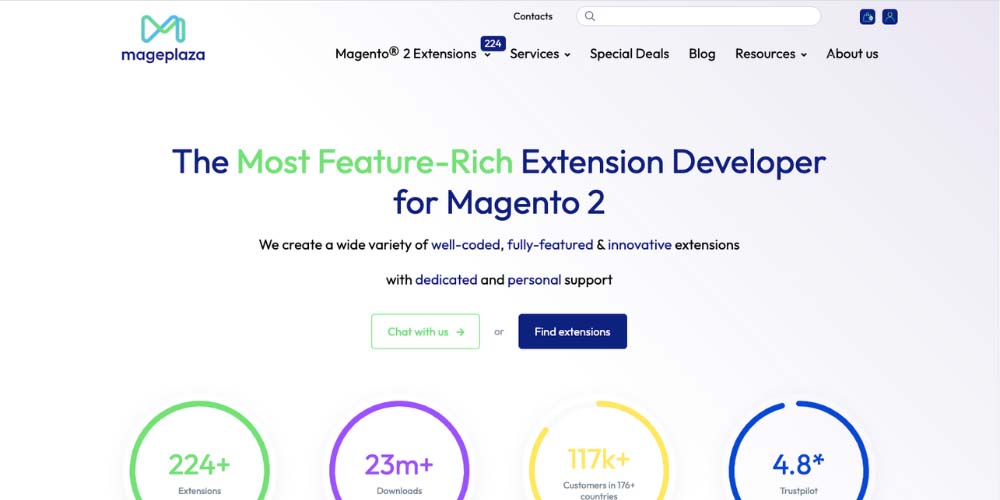 This website offers a user-friendly navigation with clear call-to-action buttons to guide users toward everything they need, such as making a purchase, contacting the business to get more details, or exploring the company's offerings.
Plus, its simple design allows for a clutter-free interface, ensuring that visitors can focus on the most important elements without distractions. The minimalistic approach not only creates an elegant and modern look but also enhances the site's functionality by making it intuitive.
The website's appealing color scheme adds to its visual appeal, creating a pleasant and engaging atmosphere for users. The combination of vibrant yet complementary colors enhances the overall aesthetics and makes the content more captivating.
2. Mailchimp
Apparently, the integrated marketing business, Mailchimp, is best recognized for its email marketing solutions.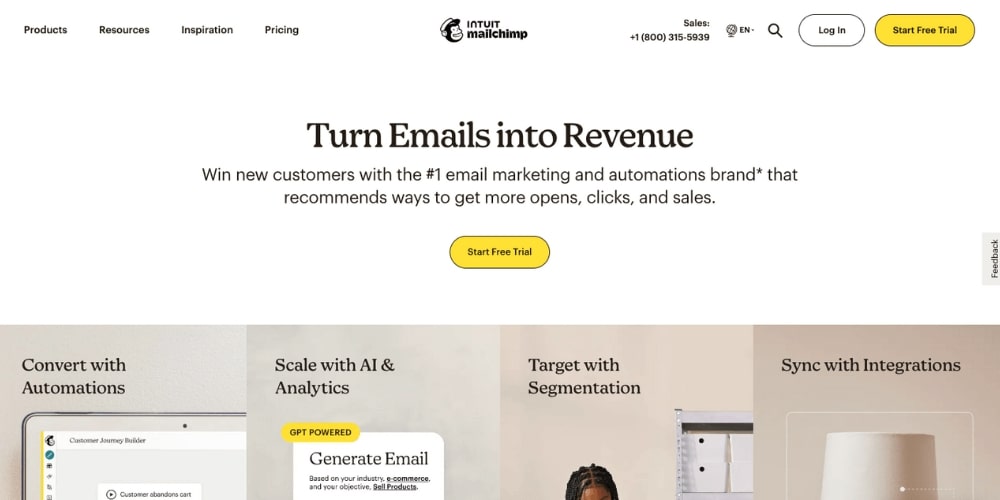 Mailchimp captivates visitors with its outstanding use of color scheme, creating a vibrant and visually stimulating experience. Plus, the black typography and the other colors contrast well, letting the words pop out and fully grab your attention.
Furthermore, the excellent use of whitespace ensures a clean and uncluttered interface, allowing elements to breathe and enabling effortless navigation.
Also, the impeccable use of typography adds another layer of sophistication, with carefully selected fonts and font sizes that enhance readability and evoke the desired emotions.
These design elements, which are excellently combined, create a visually appealing and user-friendly website that leaves a lasting impression on its users.
3. Spotify Design
The most recent version of Spotify.Design by Spotify, which is well recognized for its impressive exploits, is no exception.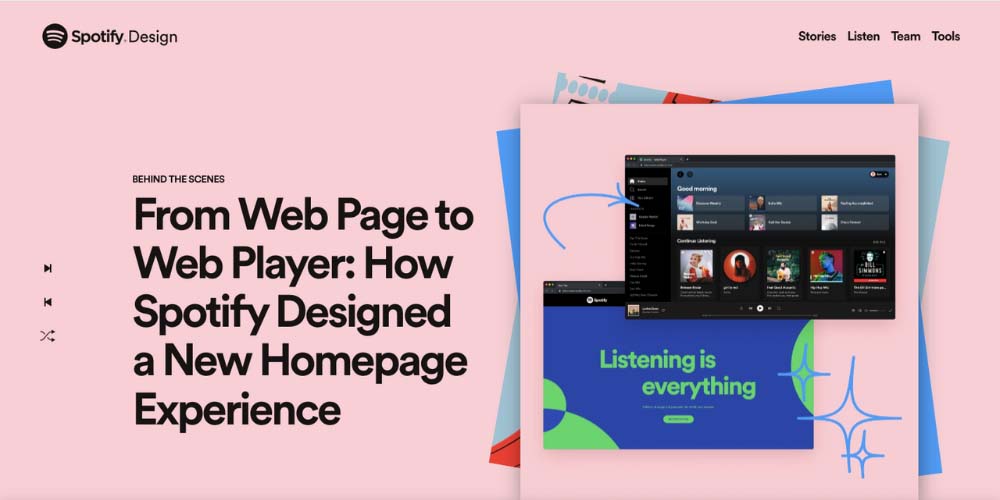 The website captivates users with its vibrant and eye-catching color scheme, utilizing bright hues to create an engaging visual experience.
Moreover, the addition of drop shadows throughout the design elements adds depth and dimension, making the content appear dynamic and interactive.
Smooth animations gracefully enhance the user's journey, seamlessly transitioning between sections and providing an elegant and enjoyable browsing experience.
Together, the combination of bright colors, drop shadows, and smooth animations elevates the website's aesthetic appeal, leaving a lasting impression on its visitors.
4. Amazon
The online purchasing experience has been completely transformed by Amazon, an e-commerce giant. Here are what they have been doing well.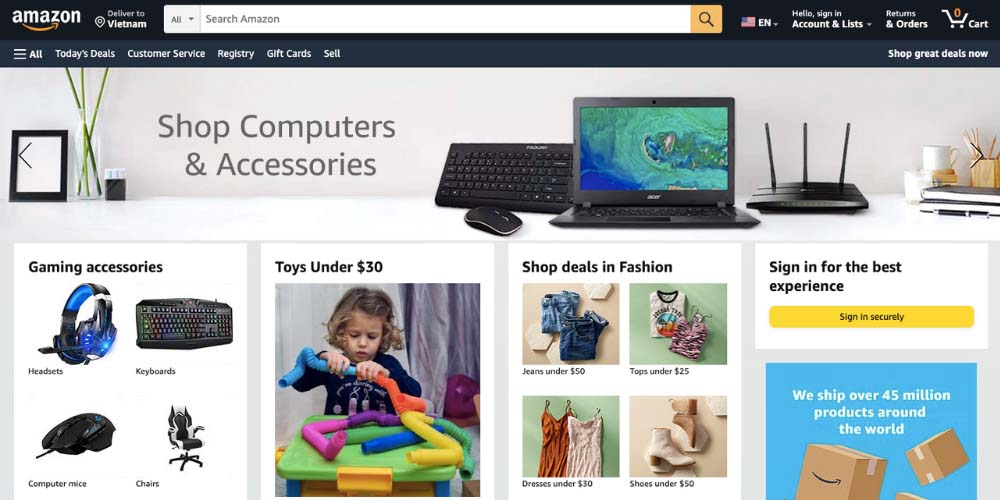 When you enter the website, it immediately boasts an intuitive and user-friendly interface, ensuring that you can easily navigate through its pages and find exactly what you're looking for.
The website also captivates visitors with its excellent use of sharp imagery, immersing them in visually stunning visuals that enhance the overall user experience.
Moreover, the website understands the importance of a simple purchasing process, ensuring that every step from browsing to purchasing is straightforward and streamlined. With clear and concise steps, users can confidently navigate through the buying procedure, making it a hassle-free and enjoyable experience.
5. Netflix
Netflix is a company that has changed people's experience in watching movies by turning every house into a movie theater, and its user-friendly website design is the primary reason why many people enjoy using Netflix.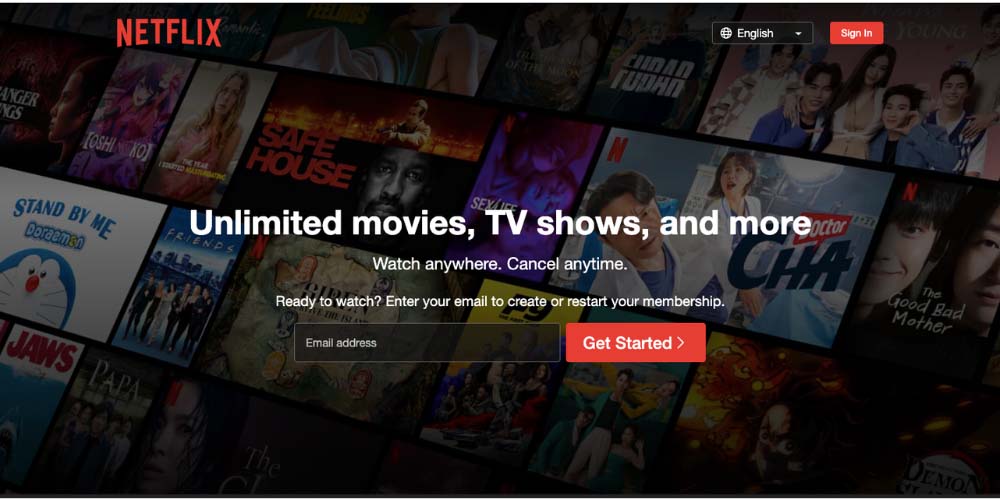 The website presents an immersive experience with its dark-mode theme, setting the stage for an enjoyable cinematic journey.
In addition, its exceptional utilization of whitespace creates a visually pleasing layout, capturing your attention and directing it to the main focus of the website, which is finding a movie to watch.
Plus, the value proposition and call-to-action elements are strategically placed front and center, ensuring a seamless user experience. With a minimalist design approach, the website simplifies navigation by incorporating only two menu buttons, making it effortless to explore and discover the perfect film for your viewing pleasure.
Related topic: Magento Website Audit Checklist: Don't Ignore Anything!
6 modern web design trends for 2023
1. Full-page headers
Full-page design has been becoming one of the most amazing web design trends in 2023. Full-page headers offer plenty of room for eye-catching artwork, strong typography, and inventive layouts because they take up the entire screen.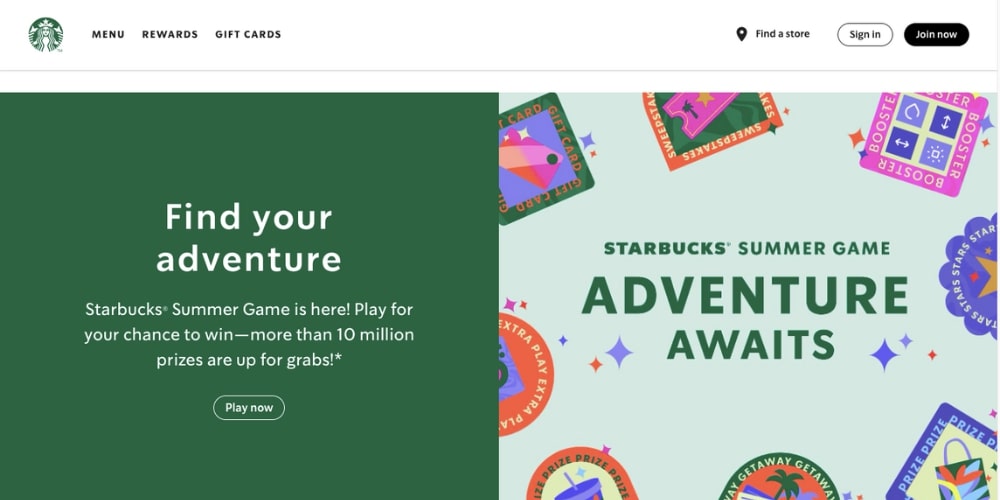 In addition, they enable brands to rapidly communicate their identity and message and create a strong first impression.
2. Mobile-first approach
Mobile usage continues to dominate, so having a responsive design that works on screens of all sizes will remain crucial. The mobile-first strategy, which involves designing websites first for mobile devices and then scaling them up for larger screens, will remain a best practice.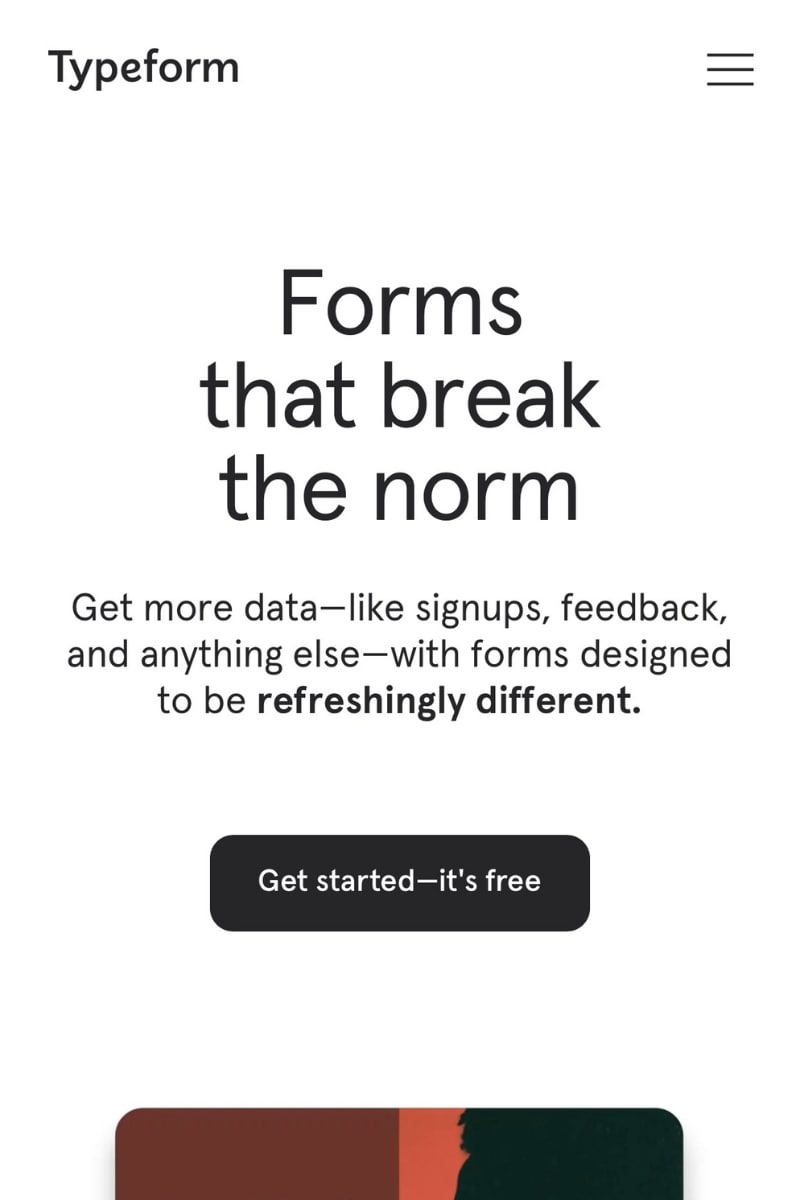 3. Minimal design
In 2023, simplicity, clean lines, lots of white space, and focused content will continue to define the minimalist design movement. A sense of elegance and legibility, produced by minimalism, will also improve the user experience as a whole.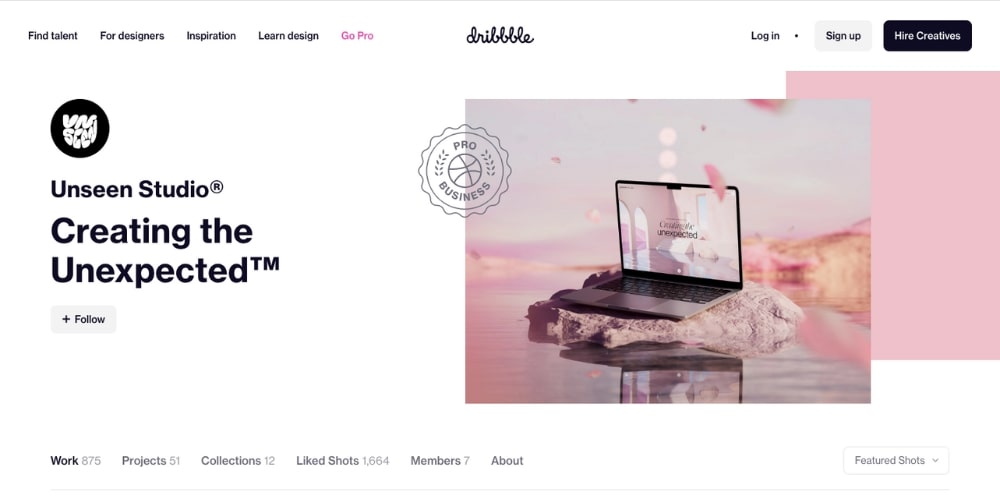 4. Micro-interactions
Microinteractions, such as subtle hover effects, scrolling animations, and loading animations, will continue enhancing user engagement and provide feedback in 2023.
Besides, animations, when used wisely, can bring a website to life and create a more immersive experience.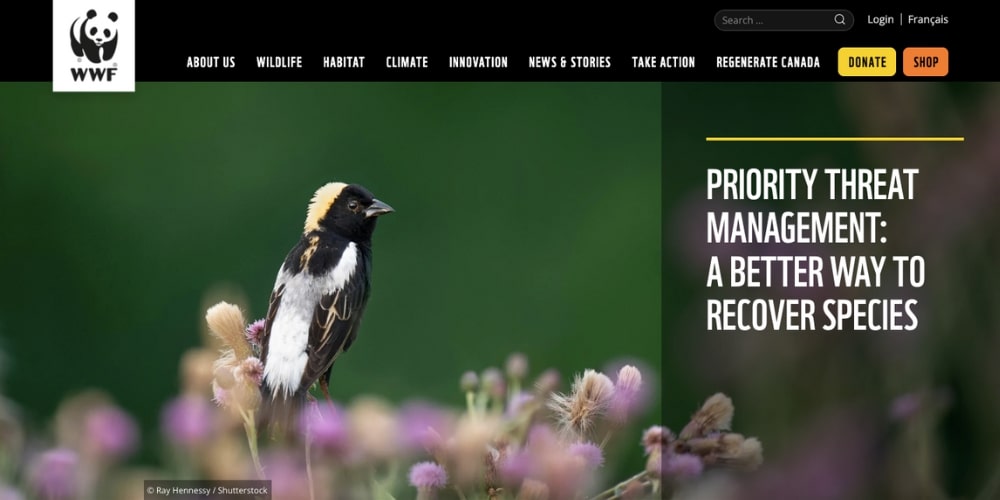 5. Dark mode
Dark mode's sleek and eye-catching design has helped it become more popular in recent years. Therefore, expect to see more websites offering a dark mode option to enhance user experience.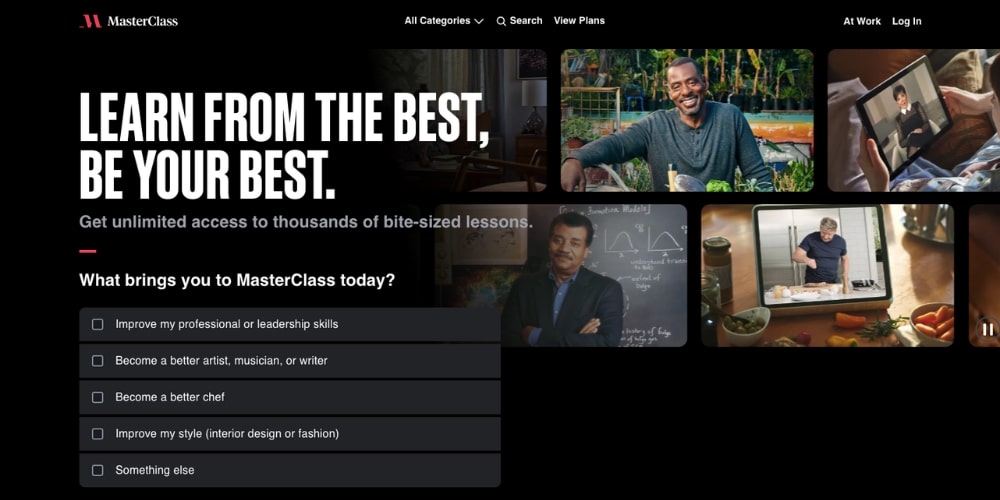 6. Custom illustrations and graphics
To stand out and convey a unique brand identity, custom illustrations and graphics will be popular in 2023. Illustrations that are hand-drawn or digitally produced can aid brands in conveying their message in a unique and memorable way.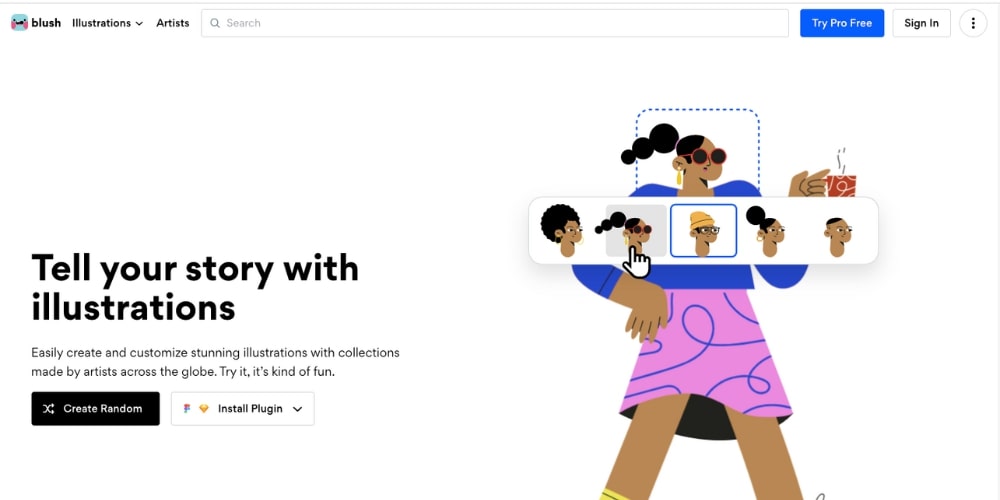 Conclusion
In conclusion, this article has explored the realm of modern website design, covering its definition, vital roles, prevailing trends, and exemplary websites. We have delved into the dynamic nature of website design, highlighting the importance of staying current with evolving trends and techniques.
Modern website design is not just about aesthetics; it's about creating a seamless and enjoyable journey for our visitors, fostering trust, engagement, and ultimately, conversion.
Therefore, please take inspiration from the trends and examples shared in this article, but also explore further, experiment, and bring your unique touch to your modern website designs. Keep an eye on emerging trends, technologies, and user expectations to continuously evolve your approach.

Marketing Manager of Mageplaza. Summer is attracted by new things. She loves writing, travelling and photography. Perceives herself as a part-time gymmer and a full-time dream chaser.
Website Support
& Maintenance Services
Make sure your store is not only in good shape but also thriving with a professional team yet at an affordable price.
Get Started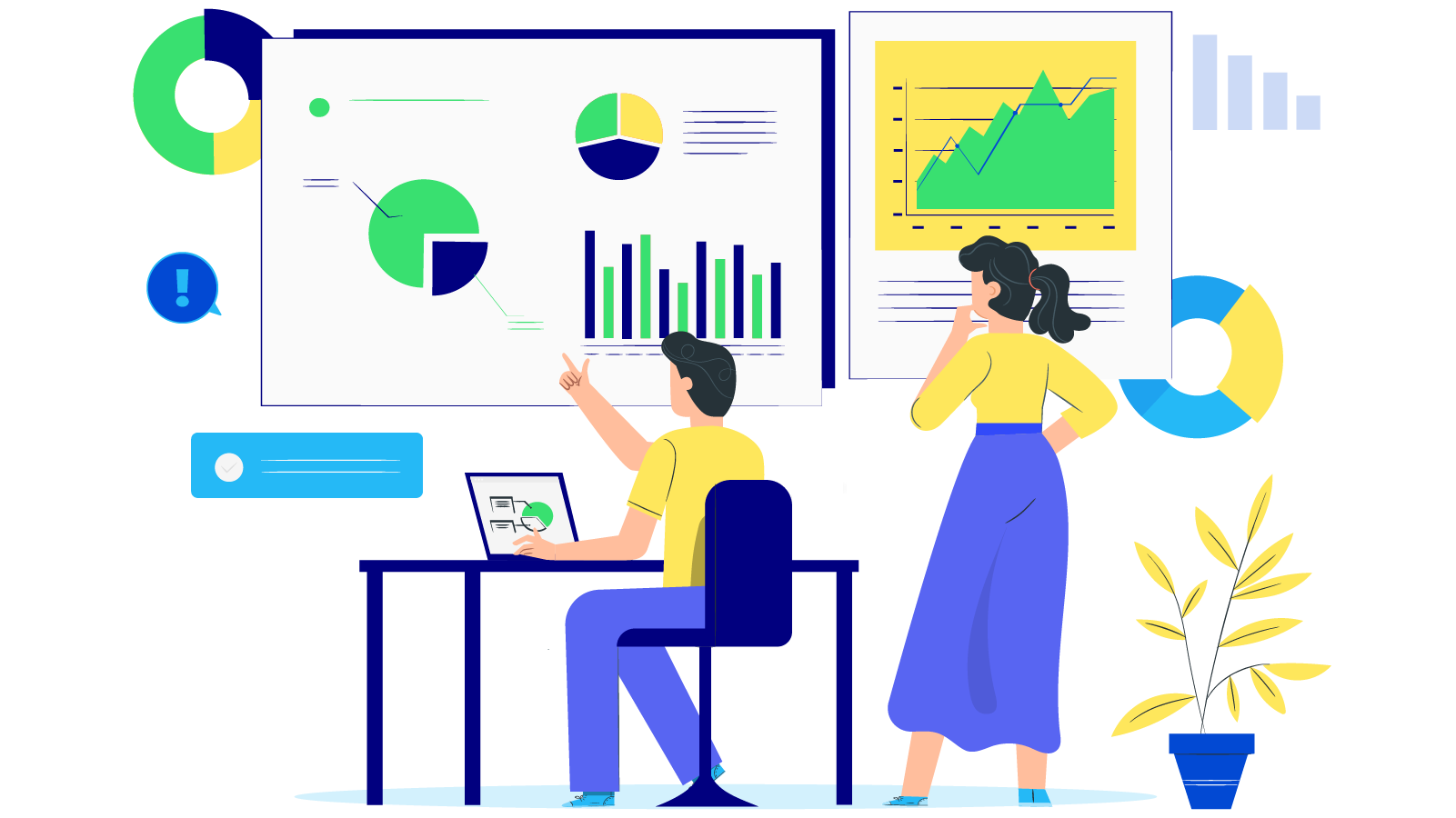 New Posts



Subscribe
Stay in the know
Get special offers on the latest news from Mageplaza.
Earn $10 in reward now!