Simple settings good for SEO in Magento 2
Generally, every website on the e-commerce platforms needs the aid of SEO to approach a wider range of visitors for potential sales conversion. For Magento 2, SEO helps increase the quality and quantity of traffic to engage more customers' interest in stores' products. An SEO-friendly website also improves the overall shopping experience under guarantee of efficient website visibility.
Besides off-page SEO, the optimization of on-page SEO should also be focused. Fortunately, the common requirements of on-page SEO are highly supported by the default SEO settings on Magento 2. Store owners can easily locate the functions default Magento 2 support. In this article, we will introduce not only the basic SEO settings but also other SEO features for stores to get access to a wider range of alternatives to properly configure for their sites.
To improve SEO for your Magento merchants, pay attention to every setting. Following are some brief information about each function and how to optimize them to maximize the number of traffic visiting the webpage.
Related Posts
Table of contents
Setting Homepage title for SEO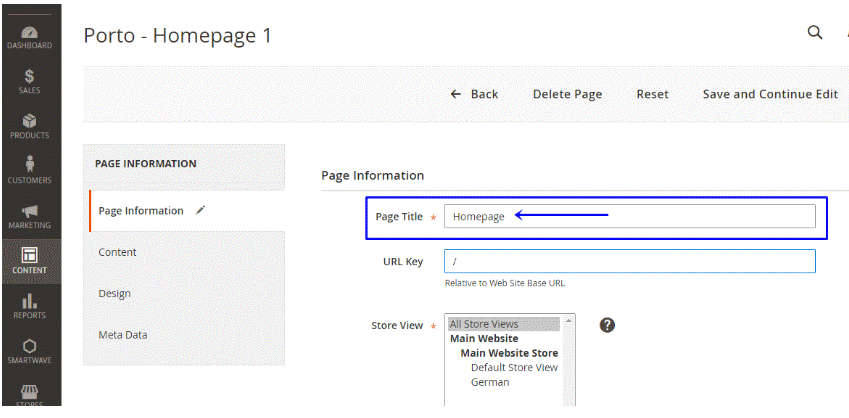 We all know that the first impression is very important to catch attention from other people; therefore, an attractive and impressive homepage is necessary for any online store. To have an ideal homepage, Magento stores need to make change to some default settings. Firstly, shop admins have to modify the default "Home Page" to become a meaningful one such as the name of their stores.
To perform this function, visit Content > Pages > Homepage > Edit. Secondly, ensure the number of important keywords in the homepage as a homepage has possibility to gain higher position in SERPs than any other product pages of the website. Therefore, try to place keywords in the title and heading 1 so that the spider can easily identify what the page is selling.
Last but not least, the links to other product pages should be included in the homepage; consequently, when web browsers visit the homepage, they can notice store's product just in a moment. Title tags are one of the most important factor in SEO ranking, so make sure don't neglect it.
Metadata SEO optimization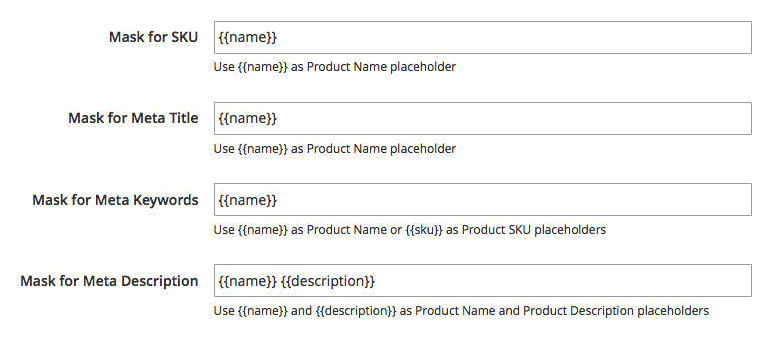 Metadata is one of the most basic and commonly-used SEO features on Magento 2. The setting provides visitors information about what the website contains. This information is not what is displayed on the website, but written in the code which is invisible to users, but will be shown on the search result page as the fundamental for the search engine crawlers to estimate the site. For better ranking and "cleaner" SERPs, stores need Metadata for better SEO performance. Go to Catalog ⇒ Product ⇒ Choose a product ⇒ Search Engine Optimization to start configuring metadata product page.
However, if using this function, shop owners may have to face duplicate content. Because several products belong to the same category but vary in size and color, the link to each product is quite the same. As a result, the product page cannot rank a high position in the SERPs as it is considered trustworthy by the spiders. In this case, Magento 2 SEO extension is the perfect solution for any Magento merchant.
Meta Data for Categories settings
In Magento 2, stores can set up metadata on category level by locating: Catalog –> Categories –> Search Engine Optimization. Admins can add meta title, meta description and meta keywords based on specific purposes and requirements.
Meta Title
In the search result, the title of the product page is displayed through Meta Title. The blank allows under 70 characters only, so website coders should carefully opt for the most SEO-rich keywords for the page to get higher evaluation from the web crawlers.
Meta Description
In the Meta Description section, coders are instructed on how to choose the best numbers of characters for page optimization. The limited characters are default at 255, but the optimal number should be between 150 - 160 characters. A description with medium numbers of characters can engage more clicks through the search other than attractive keywords.
Meta Keywords
For Meta Keywords, the number of characters are not limited. However, it does not mean overfilling the black with words. Stores should add closely-related keywords that best describe their products to inform web crawlers only.
Meta Data for Product setting
In case you have a large scale site with thousands of items to manage, the below settings of Magento 2 SEO guide may be a great help. It sets a template for metadata of products at a global level.
Go to Stores ⇒ Configuration ⇒ Catalog ⇒ Catalog ⇒ Product Fields Auto-Generation Here, you can make a sample for meta title, description, and keywords for all products in your Magento 2 store.
One thing to keep in mind is when using the Product Fields Auto - Generation feature, the default limited number of characters of metadata is still required. Therefore, long product descriptions should be carefully revised and considered to achieve the suggested optimization.
Generally, there are 2 options to work with metadata - manual option for each specific product and automatic option for large-scale production. None of them are perfect - it's all up to businesses' consideration and decision to apply the most suitable method for their stores.
Setting Canonical tags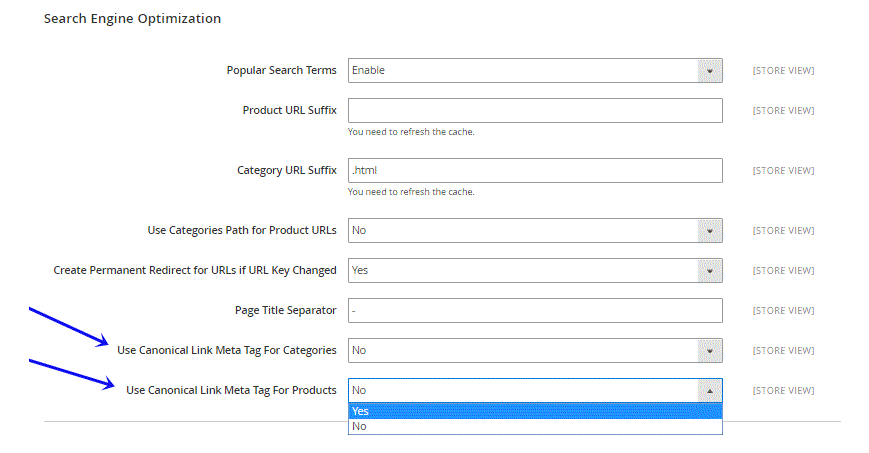 In Magento 2, canonical tags function as a method to deal with duplicate content. Its main responsibility is preventing indexing of filtered categories and products. To set up canonical tags, users can find at Store > Configuration > Catalog > Catalog. It is highly suggested for shop admins to turn on canonical tags for both products and categories. However, if the product and category pages are already different, canonical tags should not be used in this case.
Setting Robots.txt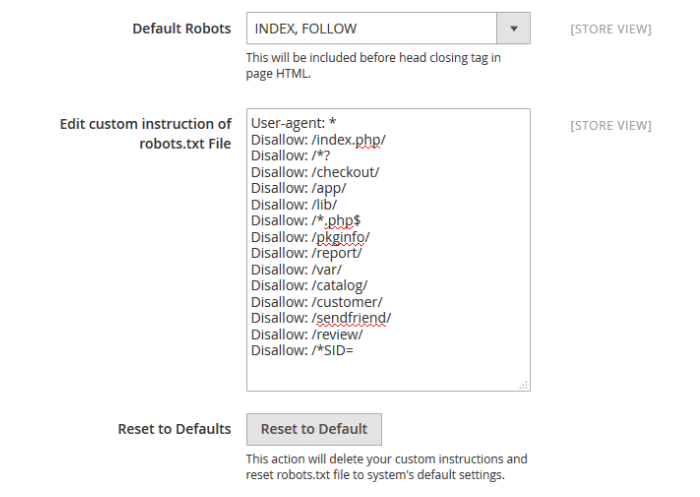 One of the most remarkable improvements in Magento 2 is enabling users to make changes to Robots.txt right from the admin panel. To make any adjustment, users can access by going to Stores > General > Design. Even though Robots.txt is an important element when running an e-commerce, it is often ignored by shop owners. Therefore, when launching an online store, admins can make mistakes regarding Robots.txt. They should remember that numerous criteria should be taken into account when implementing Robots.txt to an e-commerce store. For example, if they want Google to index their website, keeping the default setting "index, follow" is correct. However, if there is any page that you do not want to be indexed, change the setting to "noindex, nofollow" to restrict access from search engines. Additionally, there is one more outstanding feature of robots.txt is blocking site search results. Shop owners can prevent search engines from indexing thin content result by disallow catalog search results.
Add Rich Snippets for product pages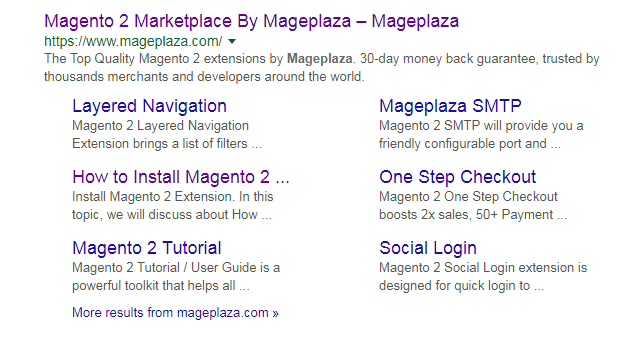 The default setting of Rich Snippets in Magento 2 is considered a big breakthrough from Magento 1. Thanks to this setting, every product page will be included with a small description automatically. However, this function also has a drawback that need configured by users. It is "Availability" feature which is significantly necessary for a product attribution. Therefore, shop owners can decide to add Availability attribute based on their demands.
SEO XML sitemap generation

One of the most important elements of every SEO strategy is the sitemap as it will decide placement of a webpage on the SERPs when indexed by search engines. Therefore, a sitemap is also considered the most valuable asset of any online merchant. That's the reason why shop owners should configure it carefully and properly so that no mistake will be made.
To reset this function, users can go to Store > Configuration > Catalog > XML Sitemap. With such great feature, admins can decide the number of links and file sizes as well as the level of frequency to generate a sitemap. For example, if the store wants to add new products on a daily basis, it is highly recommended to generate sitemap daily as well. Besides, the sitemaps generated can be sent automatically to robots.txt if admins set turn on function "Enable submission to robots.txt"
Alt tags for SEO images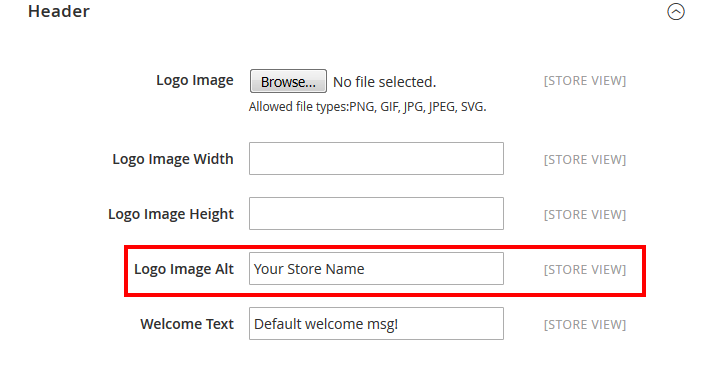 Needless to say about the importance of using images to support for any store products as it contributes to catch attention from visitors. Therefore, images optimization significantly contributes to increase site speed. Although Magento 2 has not dealt with image compression completely, making changes is still quite handy for users. For instance, to put alt tags for product images, store admins can visit Product -> Basic Settings -> Images and Videos -> Alt Text.
And store owners' responsibility is naming the pictures something meaningful. Besides, alt tag for logo image also needs to customize with the content related to the stores and products in general. To perform this function access by Stores -> Configuration -> General -> Design -> HTML Head -> Header.
SEO Solution for Magento 2
In conclusion, Magento 2 has improved several features and added numerous functions to support SEO and generally online marketing. Nevertheless, there are still some basic settings and drawbacks that need much improvement. Therefore, a support from an extension is essential to online merchants to make their business. That is the reason why All-in-one SEO extension is here to help you. For more information and details, please visit https://www.mageplaza.com/magento-2-seo-extension/
New Posts

People also searched for
seo magento 2
magento 2 seo settings
magento 2 seo guide
search engine optimization magento 2
seo for magento 2
seo in magento 2
magento 2 seo tips
magento 2 search engine optimization
magento 2 seo optimization

magento 2.3 seo
seo for magento
magento on page seo
seo solution for magento 2
magento search engine optimization
magento search engine optimisation
magento 2 makes seo optimization easy
magento seo 2
magento tags seo
seo in magento

magento seo tips
seo for magento website
how to do seo on magento
magento 2 seo features
magento seo settings
magento seo guide
seo optimization magento
magento 2 meta keywords
magento page title
2.2.x, 2.3.x, 2.4.x
Subscribe
Stay

in the know

Get special offers on the latest news from Mageplaza.
Earn $10 in reward now!