Magento 2 vs BigCommerce: Which one is better?
The Most Popular Extension Builder for
Magento 2
With a big catalog of
234+ extensions

for your online store
You are owning an eCommerce business and you don't know which platform is a reasonable solution for the current situation. You are in the right place and you can find it easier to select. In this topic, Magento 2 and BigCommerce will be given to comparing carefully together. Namely, Magento 2 is a youngest open-source software and Magento is authenticated by more 290,000 online stores around the world, meanwhile, a fifth of the huge number (about 62,000 stores) are using BigCommerce on their live stores. We will research the reason for that through the aspects list:
Popularity
Hosting
Pricing
Design
Ease of Use
Features
SEO
Community Support
Comparison between Magento 2 and BigCommerce platform
Magento vs BigCommerce: Popularity
First of all, maybe the popularity of each platform will reflect exactly which choice is more effective. Let's take look at the top million and the top 10k ecommerce sites.
In the top million ecommerce sites: 14% of the group have being run Magento 2 and only the stores building up with BigCommerce is about 4%.

In the top 10k ecommerce sites: BigCommerce users go down to 1%, and both of Magento 2 Community and Enterprise editions account for 20%.
Regarding the popularity, Magento 2 is becoming much more widespread and outstanding than BigCommerce.
Magento vs BigCommerce: Hosting
Within 8 different options, Hosting is the biggest difference between them. Because Magento 2 is self-hosted and store owners must communicate with third-party vendors such as SiteGround and HostGator who provide the hosting. The charge is as little as 3.95 USD per month and you can choose the feature you think they are better as well as suitable for your site.
Particularly as BigCommerce, that platform is a hosted solution and the hosting is already included and there is no paid money. But you are not allowed to be free when considering a relevant hosting. In my option, that is a weakness of BigCommerce you have to deal with if using BigCommerce.
Magento vs BigCommerce: Pricing
What about Pricing? Both Magento 2 and BigCommerce are divided into different levels in order to match with customer's demand well.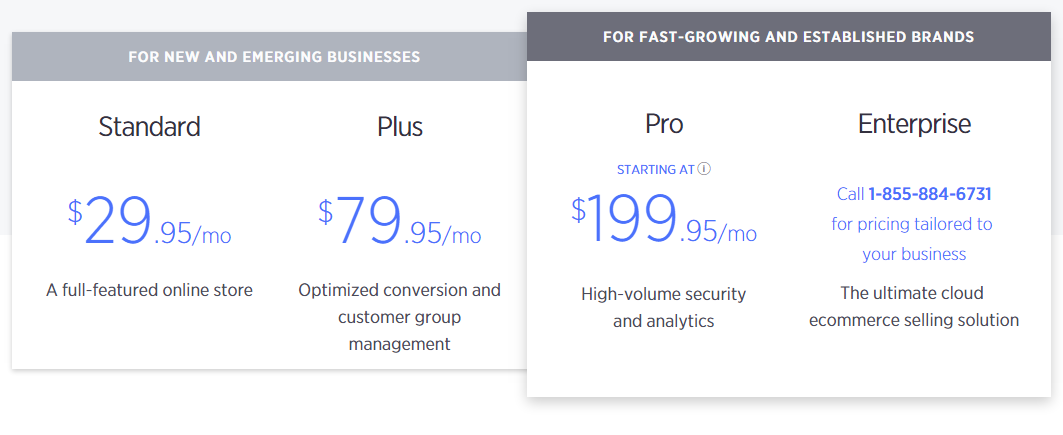 Magento 2 Pricing:

Community Edition: FREE

Hosting: $4-$100+/month

Enterprise Edition: Customized price depending on needs
Magento vs BigCommerce: Design
The better layout of an online store, the greater results the store can achieve. Both of the ecommerce platforms has free design templates, but we can see the different policies among them. If BigCommerce provides only 7 free themes and others is paid from $145 to $235, Magento 2 comes with various free themes by Magento Marketplace and more third-party sites in open source. That means it is possible to custom the design as well as you expect and you want. Oppositely, BigCommerce only includes the certain design options without any modification, so you will apply them solidly in your store.
However, you can see the similar point between them which is they all support for a responsive layout. It is easy for your customers to access via every device like PC, tablet and mobile. Ensure that the shopping process is always shown fluently everywhere and everytime.
Magento vs BigCommerce: Extensions
Magento vs BigCommerce: Easy to use
Before making a decision on purchasing an ecommerce platform, evaluating whether it is easy to use or not is quite important. About the ease of using, might be BigCommerce is suitable for the beginners than Magento 2 because BigCommerce brings quite clear and clean dashboard. On the dashboard, the users will get the step-by-step guides to building up a new site. BigCommerce takes the creation and management easier and more simple.
Magento vs BigCommerce: Features
The e-commerce platforms were born with the aim to bring more benefits and contribute to your development. That's why Magento 2 and BigCommerce both have built-in features which are always ready for your using.
For BigCommerce, the users can apply marketing tools, some of the payment gateways, several sales channels and so on. Besides, BigCommerce has more 100 different add-ons, and the merchant has to pay the monthly fee for each add-on.

For Magento 2 that is famous for boosting increasingly online sales, many powerful features include in it such as full control of management (catalog, inventory, customer accounts, …), full page caching, and more. Especially, Magento 2 has improved the checkout step to make the buyer more convenient during the shopping than the older generation. Differing from BigCommerce, due to be an open source, Magento 2 allows store owners to add nice features as much as they need.
Since then, you can see that BigCommerce is a simple platform to use but there are some difficulties if you want to custom according to your status.
Magento vs BigCommerce: SEO
SEO is an important factor to create the trust from the customers. SEO is optimizing the site to get the high SEO rank on the search engine. According to a ranking of the best ecommerce platforms, Magento 2 is in the highest position to increase the SEO ranking. Using Magento 2 is the great solution for you to drive more traffic site and visibility.
Magento vs BigCommerce: Community Support
Which ecommerce platform provides better support service? That is evaluated by the successfulness of online stores.
BigCommerce is supported by BigCommerce Unversity that assist the user to learn how to increase sales. While thanks to the enormous number of the users, store owners can interact with Magento Community and even request the assistance from the developers who they purchase from. Everything becomes easier with the supporter community.
All are the comparison I give you to make you more comfortable in selecting a suitable ecommerce platform. Depending on your demands, you can have a better choice for owning.
Increase sales,
not your workload
Simple, powerful tools to grow your business. Easy to use, quick to master and all at an affordable price.
Get Started
People also searched for
magento 2 or bigcommerce

magento and bigcommerce
magento 2 vs bigcommerce

compare magento 2 and bigcommerce
2.2.x, 2.3.x, 2.4.x
Subscribe
Stay

in the know

Get special offers on the latest news from Mageplaza.
Earn $10 in reward now!