Mageplaza x Cloudways: Grand Ecommerce giveaway 2020
The Most Popular Extension Builder for
Magento 2
With a big catalog of
234+ extensions

for your online store
In eager anticipation for this year's Holiday shopping season, we've joined the Grand Ecommerce Giveaway 2020 held up by Cloudways. The giveaway also gathers many different giants in Magento landscape bringing along with appealing premium tools. Make your entries and take a closer step to go big this Holiday season!
Table of contents
Introduction of Grand Ecommerce Giveaway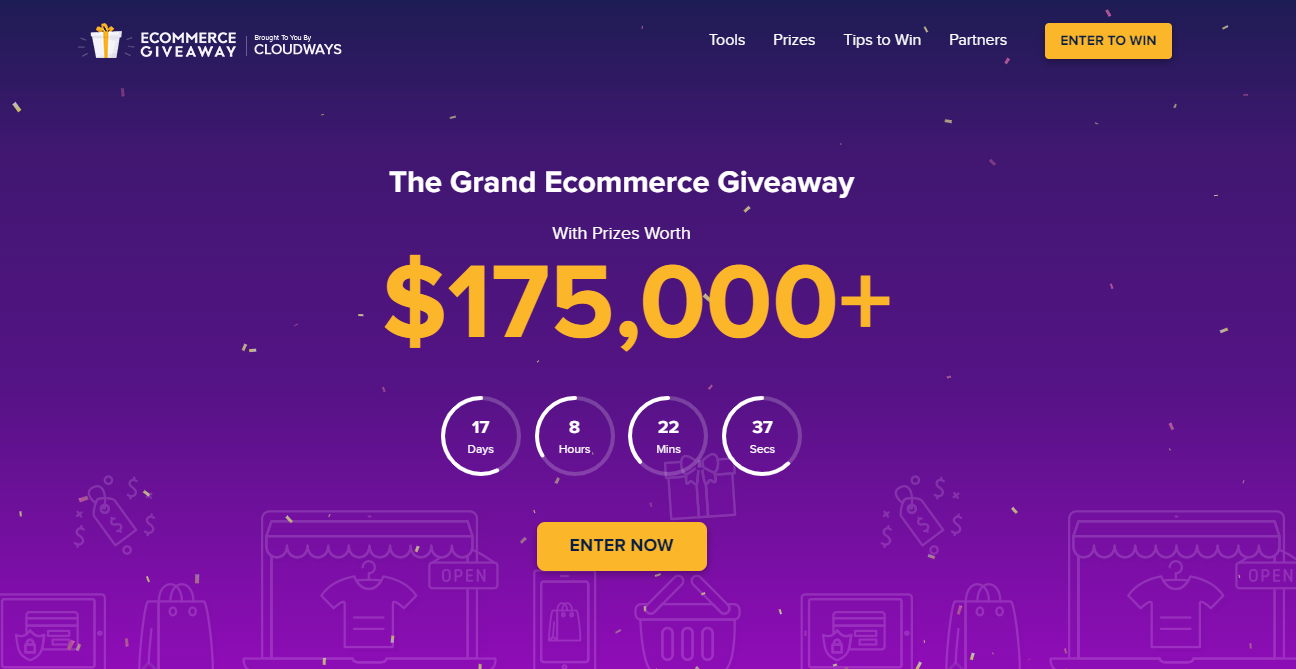 The Grand Ecommerce Giveaway is organized by Cloudways partnering with most prominent names in the industry to give you the most excellent tools for your ecommerce stores. The giveaway has 17 remaining days before the names of winners are announced. Notably, the current number of total entries is already 40,845 and still updating. There is a big chance for you to win the prize worth over 175,000 USD.
Do you get excited about these numbers? The event keeps more and more tempting. It will be even more interesting if you are a part of it. Mageplaza is honored to take along with us our outstanding extensions - optimal solutions you might be seeking.
Let's see what you'll achieve if being the winner!
Mageplaza Giveaways
Join Mageplaza giveaway, and you will have a chance to win almost 4,000 USD of the total prize. We enter multiple categories in the Grand Ecommerce Giveaway loot list, which include analytics, email, marketing & optimization, process management, sales & support, and SEO tools. In each category, we bring the most optimal solutions, including our core extensions, which is worth the time you take to enter this big game. Getting premium modules never comes this easy.
Take a look at this following list to get the details of our giveaway extensions. The extensions are listed according to categories.
1. Analytics
Giveaway pack: Google Analytics, Better Reports.
Value: 298 USD
The combination of Google Analytics and Better Reports is a perfect solution to your business data processing. Google Analytics extension makes it easier to transfer your ecommerce store's data to Google analytics system. While Reports extension gathers and visualizes the data of all relevant elements from the store, creating a precise business analysis. Both extensions are essential to get insight into every aspect of the ecommerce business you are doing.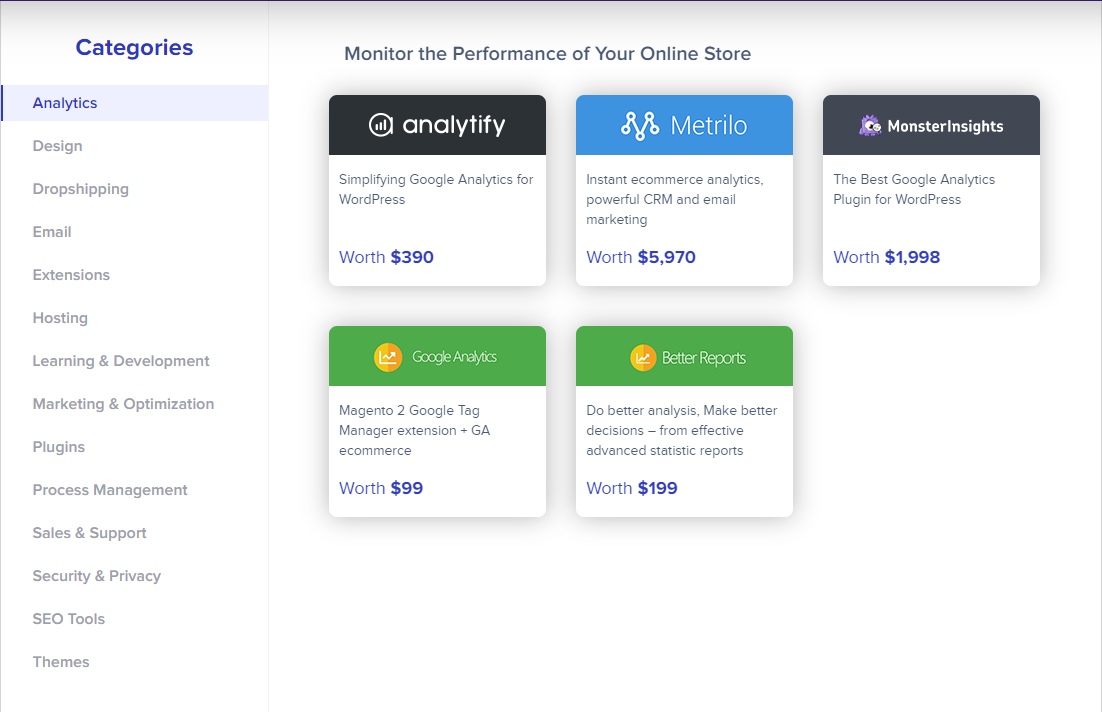 2. Email
Giveaway pack: Abandoned Cart Email.
Value: 79 USD
This giveaway extension is a must-have tool for any online store. You will no longer have to worry about how to deal with the bulk of abandoned carts in your store. Abandoned Cart Email will automatically send emails to customers when having abandoned carts in their shopping carts. As a reminder, those emails will notify customers if they forget to complete the purchases, then it can be a trigger to motivate customers to come back and check out.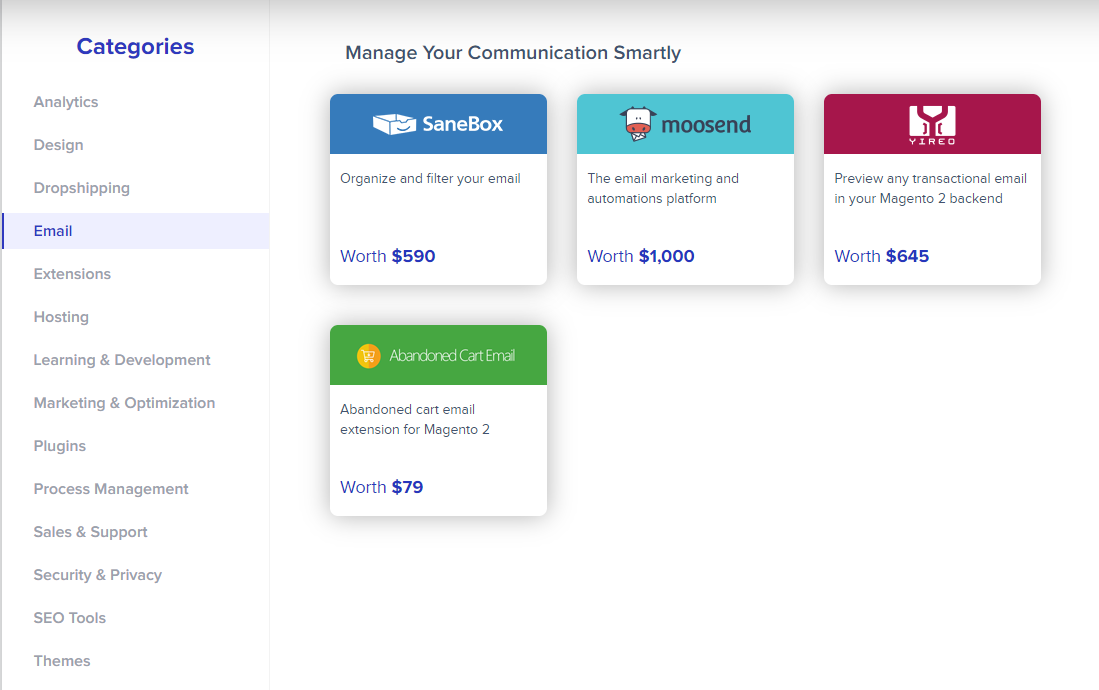 3. Marketing & Optimization
Giveaway pack: Reward Points, Affiliate, One Step Checkout, Layered Navigation.
Value: 496 USD
Looking for extensions that are useful for marketing and optimization? You should not ignore this combo of Mageplaza core extensions.
One Step Checkout and Layered Navigation is well-known for the functionality of reducing the abandonment rate and increasing the conversion rate. One Step Checkout simplifies the checkout process while Layered Navigation makes it easier for customers to find their needed items, then facilitate the shopping process.
Rewards Points and Affiliate are both marketing best supporters. Rewarding customers, after doing specific actions, especially in a sales period, will drive their engagement and create an enjoyable shopping experience. Besides, conducting an affiliate program can increase traffic, quality leads, and better SEO rankings, consequently create positive sales motivation.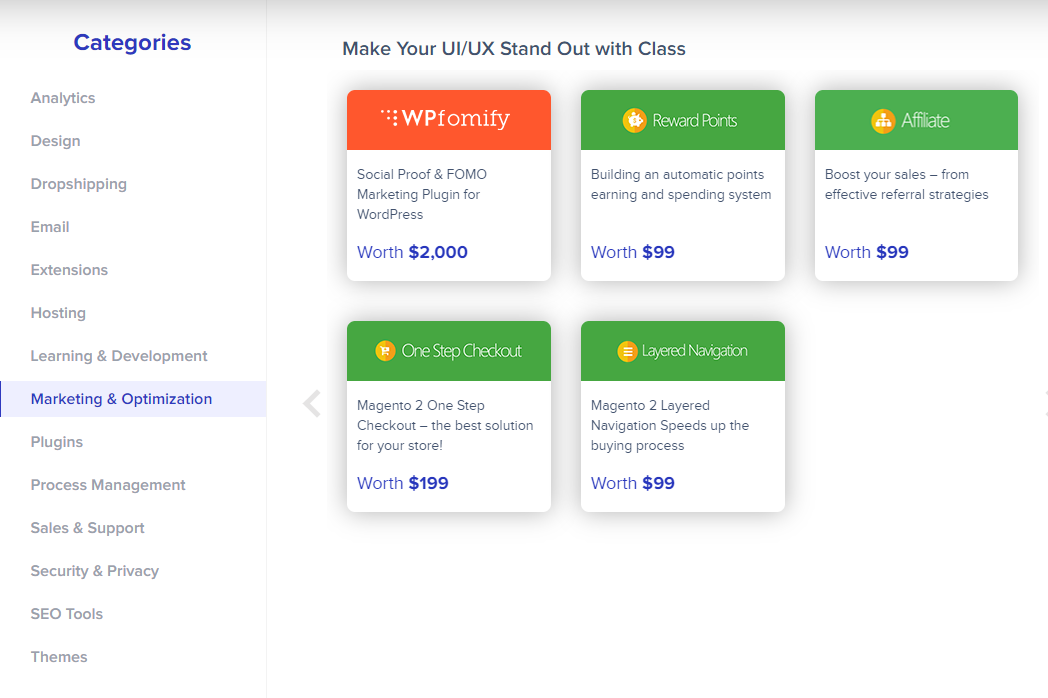 4. Process Management:
Giveaway pack: Customer Approval, Catalog Permissions.
Value: 328 USD
Customer Approval and Catalog Permissions help to reduce your work efforts in process management and protect the store's security.
Customer Approval prevents unsuspected entries into the customers' accounts. The extension is compatible with Mageplaza SMTP, so you will get the email notification always whenever there is a new account registration.
With Catalog Permissions extension, you can restrict customers from accessing specific product categories. It is useful for a sales campaign when you want to target a particular group of consumers.
5. Sales & Support:
Giveaway pack: Automatic Related Products, Frequently Bought Together, Who Bought This Also Bought, Who Viewed This Also Viewed, Free Shipping Bar, Countdown Timer, Custom Stock Status.
Value: 1,043 USD
Surely, you will be impressed by this giveaway package, a bundle of excellent tools for sales and support.
Here, we have Automatic Related Products, Frequently Bought Together, Who Bought This Also Bought, Who Viewed This Also Viewed and Custome Stock Status. These extensions add more functions to the product page. Suggested items will display depending on the products customers are viewing, which diversifies their choices and also help them to find appropriate items quickly. Thanks to Custom Stock Status, customers also know the availability of their wanted items as the status of each item will show right on the product page.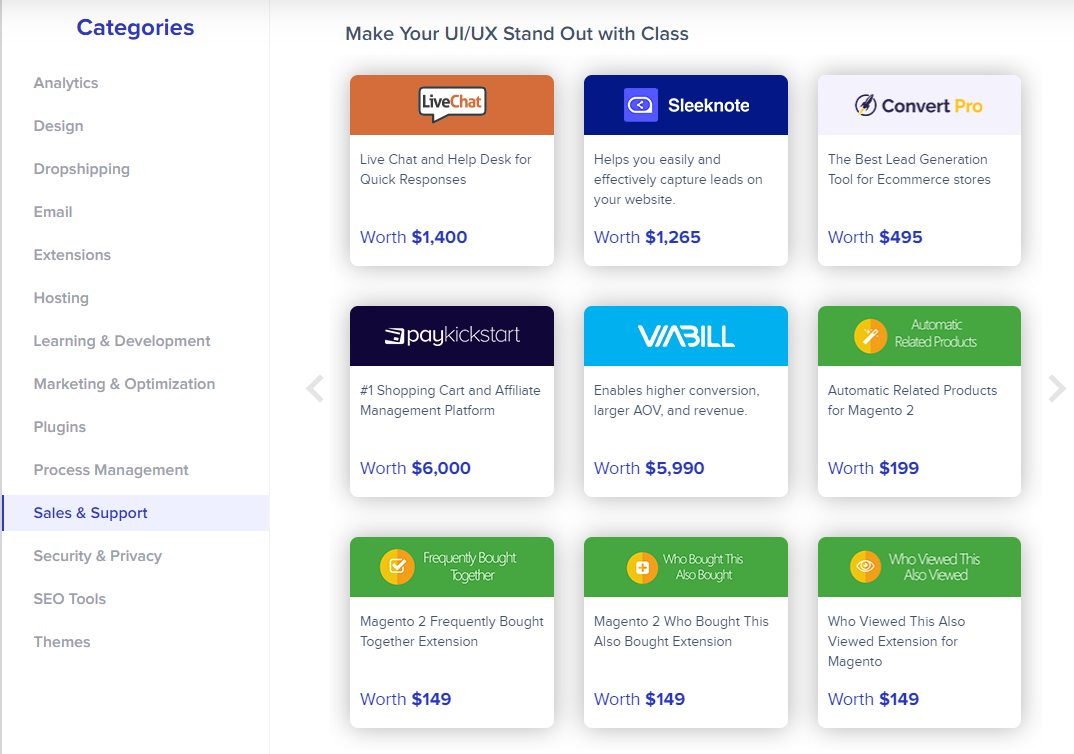 Free Shipping Bar and Countdown Timer are indispensable for your store's sales and promotion success. Both extensions contribute much to draw customers' attention to your campaign and boost sales effectively.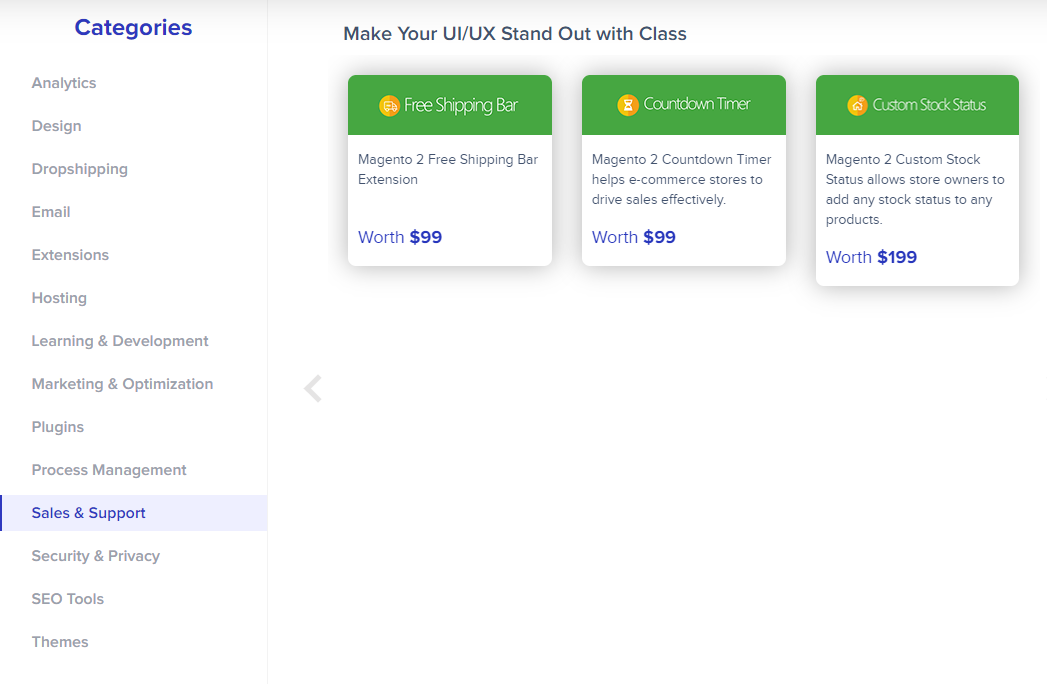 6. SEO Tools
Giveaway pack: Better SEO.
Value: 199 USD
To run an e-commerce website successfully, it is necessary to equip the site with an optimal SEO tool. In this pack, we bring to you Better SEO, which assists you to enhance your store site ranking on the search result page. Some outstanding features of this extension might encourage you to join this giveaway. For example, it stops duplicating content on your site, adds structured schema data to your Magento store, or allows you to set massive information for products, categories, and layered navigation. There are more advantages you can get from this giveaway pack without paying anything.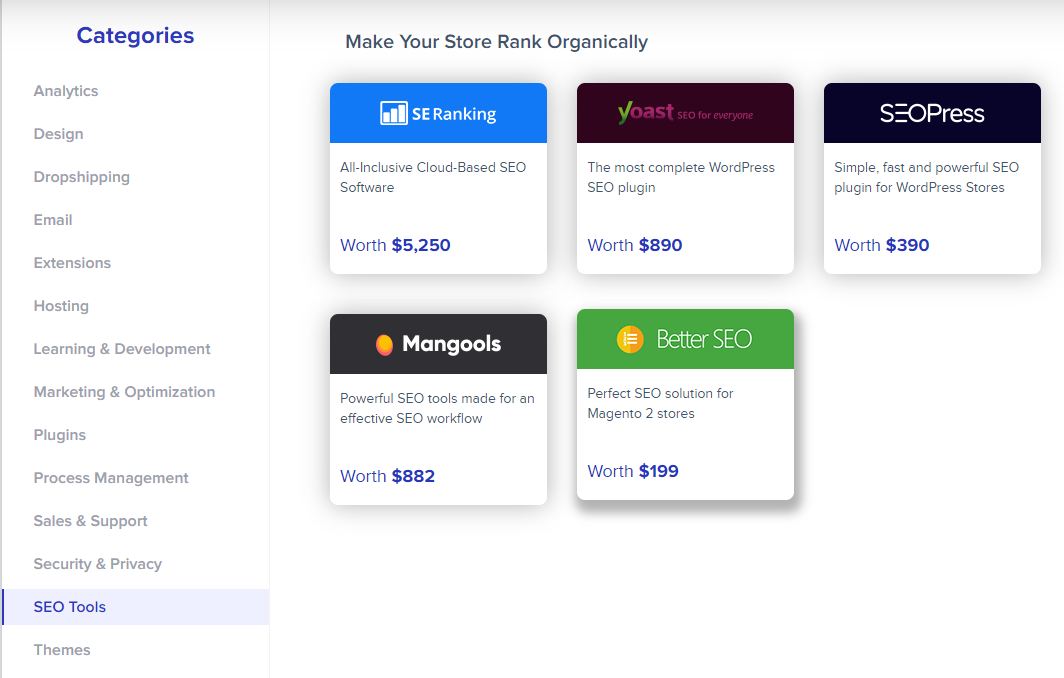 How to win the giveaway
The prize is big and massive, but the rules are simple!
You only need to keep adding your entries to increase the chances of winning. There are some tips to make valid entries to win decisively. The first one is using genuine social accounts/emails, not disposable emails. The second one is trying to accumulate your points because the more points you have, the more chances you get. Last but not least, keep an eye on high points entries to update the situation. It reminds you to strengthen your chance of winning promptly before being left behind too far by others in the giveaway party.
Visit here to get more information about the Grand Ecommerce Giveaway 2020.
We are looking forward to your participation. Come and grab your chance to become the winner. Good luck!
Magento Support
& Maintenance Services
Make sure your M2 store is not only in good shape but also thriving with a professional team yet at an affordable price.
Get Started
New Posts



Subscribe
Stay in the know
Get special offers on the latest news from Mageplaza.
Earn $10 in reward now!