Boost upsell by Magento 2 Free Shipping Bar
The Most Popular Extension Builder for
Magento 2
With a big catalog of
234+ extensions

for your online store
For online stores, the shipping cost incurred is mostly not included in their profit, and it even contributes to the cart abandonment rate. It's because customers seem to hesitate to spend a little more money to receive their favorite products at hand without traveling. They enjoy the convenience of online shopping but do not want to pay the cost for that convenience; it is the truth, sadly.
In this case, using the Free Shipping Bar is an ideal solution since it helps to deal with two main problems mentioned above. The first one is that it makes your site more attractive as customers can achieve free delivery, which reduces cart abandonment. Secondly, it helps generate and display the shipping rules which potentially raise average cart value and drive more purchases from users to reach free shipping target.
Highlight features
Show the free shipping offer
When visitors access your site, instead of placing an order instantly, sometimes, they are just doing searching and comparison before genuinely purchasing. However, if you offer them free shipping for a limited cart value, they are likely to stay on your site and potentially become your customers. Everyone loves free stuff, obviously.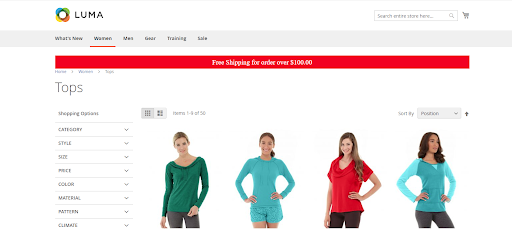 Display messages based on cart total value
After admins set up the threshold for free delivery, three types of messages can be customized based on the customers' purchasing states:
The initial message in the free shipping bar shows that they will receive free delivery if their order is over the threshold. The second message (called Below-goal message) is displayed when buyers' orders haven't reached the goal. It auto-calculates the net amount that is required to obtain free shipping (the different value between their current cart volume and the target amount). The congratulation message (named Achieved-goal message) is shown when buyers' orders reach the goal.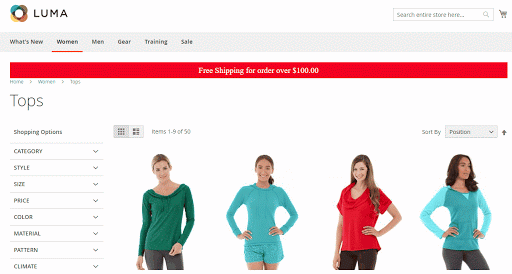 Multiple showing positions
Store admin can select various options to show free shipping bar. As for page types, it allows the bar to appear on either all pages or specific ones with URLs inserted. Within a page, admin can choose four positions for showing the bar including: fixedly on the top or bottom of the page, on the top and floating along with the page or on the top of the content. Admins can even insert a snippet to display the bar anywhere on a page.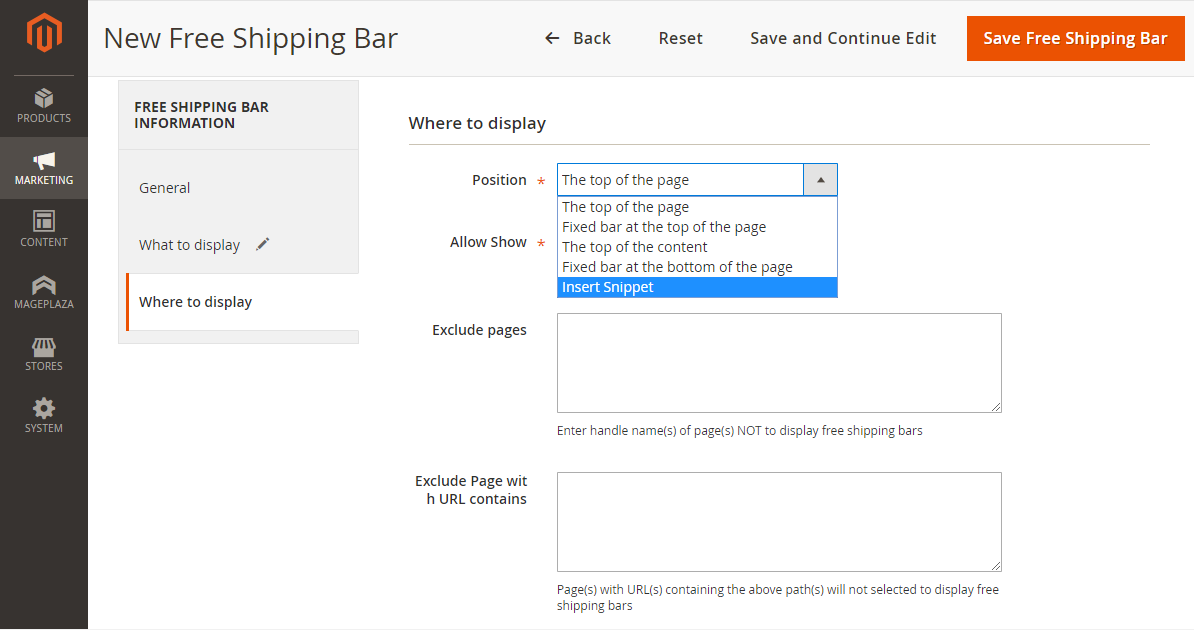 Flexible design and customization
Magento 2 Free Shipping Bar supports template customization with multiple-configuration such as bar background opacity, background color, text and link color, text font, and size. In addition, it also enables inserting an image as a background of the bar. All these features enhance the customers' visualization at your site.
Moreover, the preview field provides an instant preview mode of Free Shipping Bar so that admin can check its replicated appearance before setting it live.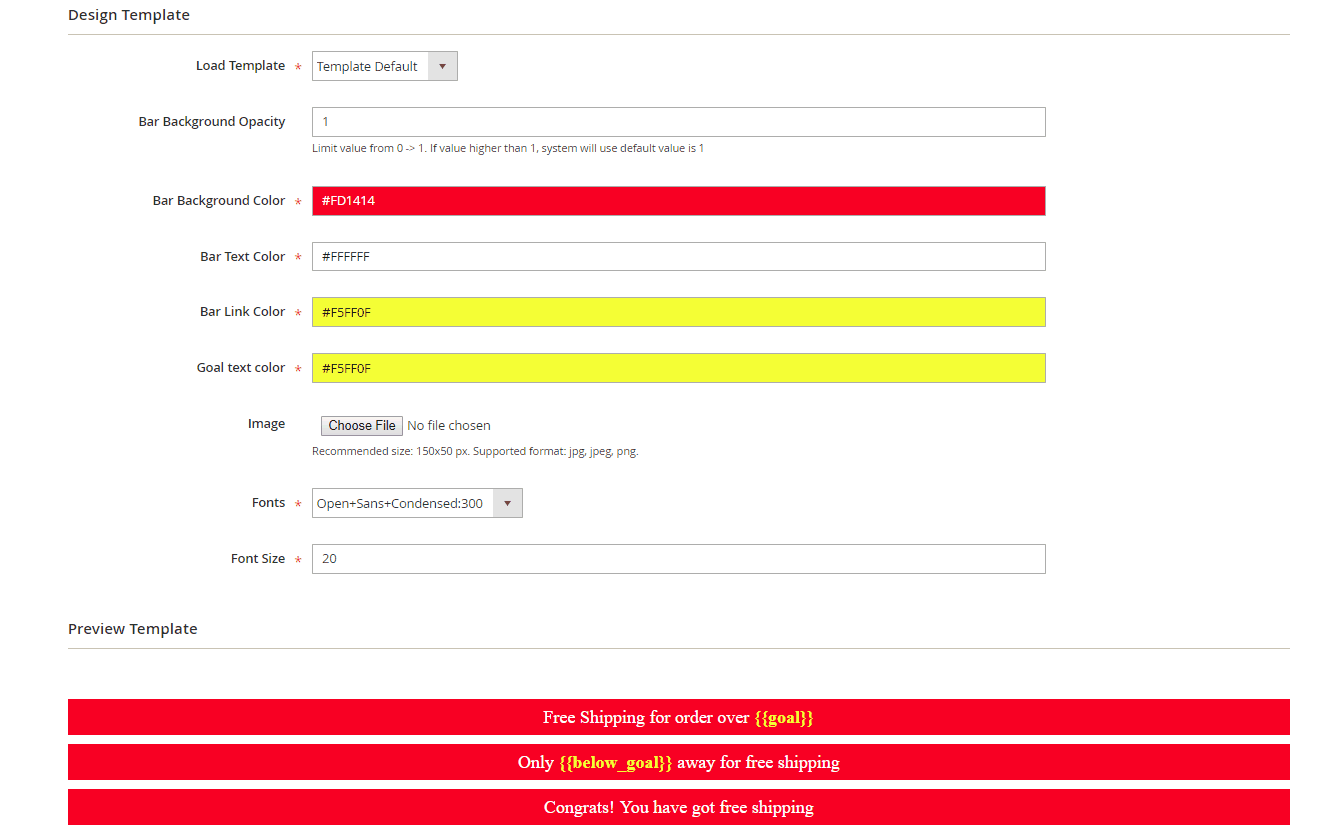 Full features list
For admins
Enable/disable module
Display related messages corresponding to customers' cart value
Free Shipping Bar management grid
Organize free shipping bars in a grid at the backend
Quick remove a free shipping bar
Quick pause a free shipping bar
Duplicate an available free shipping bar
Custom a premade free shipping bar
Add up a new free shipping bar
Free Shipping Bar configuration
Name a free shipping bar to distinguish from others
Enable/disable a free shipping bar
Choose store views for a free shipping bar
Select a period to display the block
Set the goal for buyers to obtain free shipping
Adjust messages to display in different phrases of shopping
Insert a link in the free shipping bar
Select a pre-made template for the block
Make a new template for the block
Customize the template
Upload an image for the template
Support Google fonts
Enable to preview templates at the backend
Include/Exclude pages to show free shipping bars
Using a snippet
For buyers
View relevant messages depending on their shopping cart total
Be noticed of free shipping at anywhere on the store
Be reminded of how much they need spending to get free shipping
Be navigated to another page when clicking on the bar
To know more information about this extension, you can find here.
Magento Support
& Maintenance Services
Make sure your M2 store is not only in good shape but also thriving with a professional team yet at an affordable price.
Get Started
New Posts


People also searched for
magento 2 free shipping bar

free shipping bar magento 2

magento 2 free shipping bar extension
2.2.x, 2.3.x, 2.4.x
Subscribe
Stay in the know
Get special offers on the latest news from Mageplaza.
Earn $10 in reward now!