Top 15+ Best Shopify Product Review Apps
Before we start, let's check out the following statistics:
The purchase likelihood for a product with five reviews is 270% greater than that of a product with no reviews (Spiegel Research Center, 2017).
Product pages with customer reviews experience 3.5 times more conversions than those without (Bazaarvoice, 2018).
Nearly 89% (nine out of ten) consumers worldwide make an effort to read online reviews before buying products (Trustpilot, 2020).
Undoubtedly, to turn a casual store visitor into a paying customer, nothing is more effective than customer reviews or testimonials. They help reduce the risk of spending money on something that turns out to be a dud. Spending a few minutes reading online reviews tells shoppers whether they should trust your brand and products.
But that's not all.
Reviews and testimonials boost traffic, improve search engine rankings, and increase customer retention. So, collect and use them wherever you can, featuring them in your store and including them in marketing campaigns.
To help you do this, we have compiled 15+ Best Shopify product review apps on the market. All the apps in our list have been chosen for the ease in which they let you collect and display reviews, along with their ability to integrate with your store without affecting speed, design, or user experience.
Let's get started right now!
Why should you use a Shopify product review app?
Reviews are essential to any Shopify E-commerce business's success, as consumers rely on other customer's reviews and can be significantly influenced by them when deciding to buy an item (or not). In addition to referral marketing, reviews are one of the peer-driven marketing areas that can make or break your business.
Of course, you could sift through and manually manage your reviews, but if you're serious about your business, you really should use an online tool to streamline and optimize your process.
Shopify product review apps provide specific solutions to help you track reviews, and most importantly, to gather more positive reviews to grow your business. Using a review app can also boost your SEO, as it will let your reviews be visible in Google search results, thus driving more organic traffic to your shop. These apps typically involve some investment level, but you'll see a significant return on investment if you choose the right one.
Related topic: The Power of Better Product Reviews on E-commerce Stores
Why shouldn't you use fake reviews?
In recent years, there has been an increasing trend of businesses using fake reviews to boost their sales. Even some high-profile authors were found to be reviewing their own books in countless fictional names. This practice is certainly very frowned upon and against many terms and conditions across selling platforms.
Amazon, for example, will remove your products immediately if you are detected to promote fake reviews. Besides, you can be shamed on social media and traditional media channels, and this consequently causes serious issues you'll never recover from.
You also need to be careful when importing reviews. Some websites, like Amazon, will claim reviews as their own property. Using them on your site can mean legal action against your business.
This is why you'd better consider using one of the Shopify product review apps listed in this article. When you are starting out, you'll have very few reviews. But these Shopify apps can help you generate more reviews and proudly display them to your visitors. They can also import reviews from the correct websites to make sure that you don't break copyright laws.
So, what are the best Shopify product review apps that we recommend? Let's explore!
Featured article: Shopify Free Trial (2024): Getting Started with Shopify at $0
Shopify App Development
Let's build your Shopify App in the way you want, for your needs!
Learn more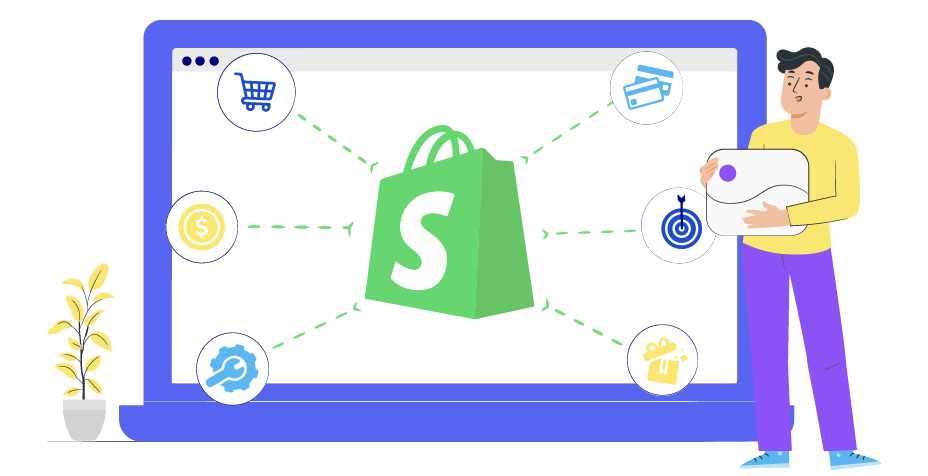 15+ Best product review apps for your Shopify store
1. Air Product Reviews Ali Review by AVADA Commerce
Air Review App by Avada Commerce is a free Shopify app that helps you build customer trust and boost sales through social proof, reviews, and photos. Here are some of the features of the app:
To be specific, Product Review - Photo Reviews offers the following features:
Fully customizable review display (review block, widgets, and popup)
Review management (import, edit, preview, approve, reject, etc.)
Review and photo reminder emails
Multiple languages
Utilize review structured data for better search engine optimization (SEO)
Merchants appreciate this app for its ability to enhance product listings with high-quality photos and customer reviews. They value its customizable features, including CSS changes, and the option to import reviews with images, videos, and comments. Overall, the app has received a 5/5 rating from users. Get started today and watch your business soar to new heights - Install now!
Pricing plan: FREE
2. Vitals 40+ Apps in One Product Reviews App
Vitals provides Shopify merchants an all-in-one marketing solution that helps to drive more sales, boost average order value, increase load speed, improve conversions, and connect with customers on a deeper level.
The Product Reviews App is bundled with the upsell builder, pop-ups, accelerated checkout, shoppable Instagram feed, and visitor replays, among other features.
Key features:
Showcase reviews on product pages, dedicated pages and review tabs
Moderate the reviews before publishing (or turn this feature off)
Reviews are translated automatically
Email review requests to past orders as well
Import reviews manually or in bulk from different sources
Customizable placement
Works with every theme, mobile-optimized
Vitals has a user-friendly interface and is easy to set up. An in-built video tutorial is included with every app, explaining its benefits and demonstrating how to use it.
Vitals lets you modify the texts, language, and colors according to the theme and style of your store.
Vitals support is available via chat 24/7.
Pricing plan: $29.99 per month after 30 days of free trial
3. Loyalty Program, Email, Review by AiTrillion
AiTrillion is the best customer review platform for generating customer reviews. With this integrated marketing platform, you can collect reviews from multiple channels like sending emails with product images, and displaying popups to ask for reviews from the customers who recently purchased from your store.
Brands can easily set up automated workflows to collect post-purchase reviews. They can manually set the time to ask for a review based on customer behavior which increases the chances of getting a positive review from the customers.
AiTrillion also lets you improve your rank by creating rich snippets for each of your products on Google Shopping, including product images, star ratings, and product descriptions. As a result, you improve organic traffic from search engines.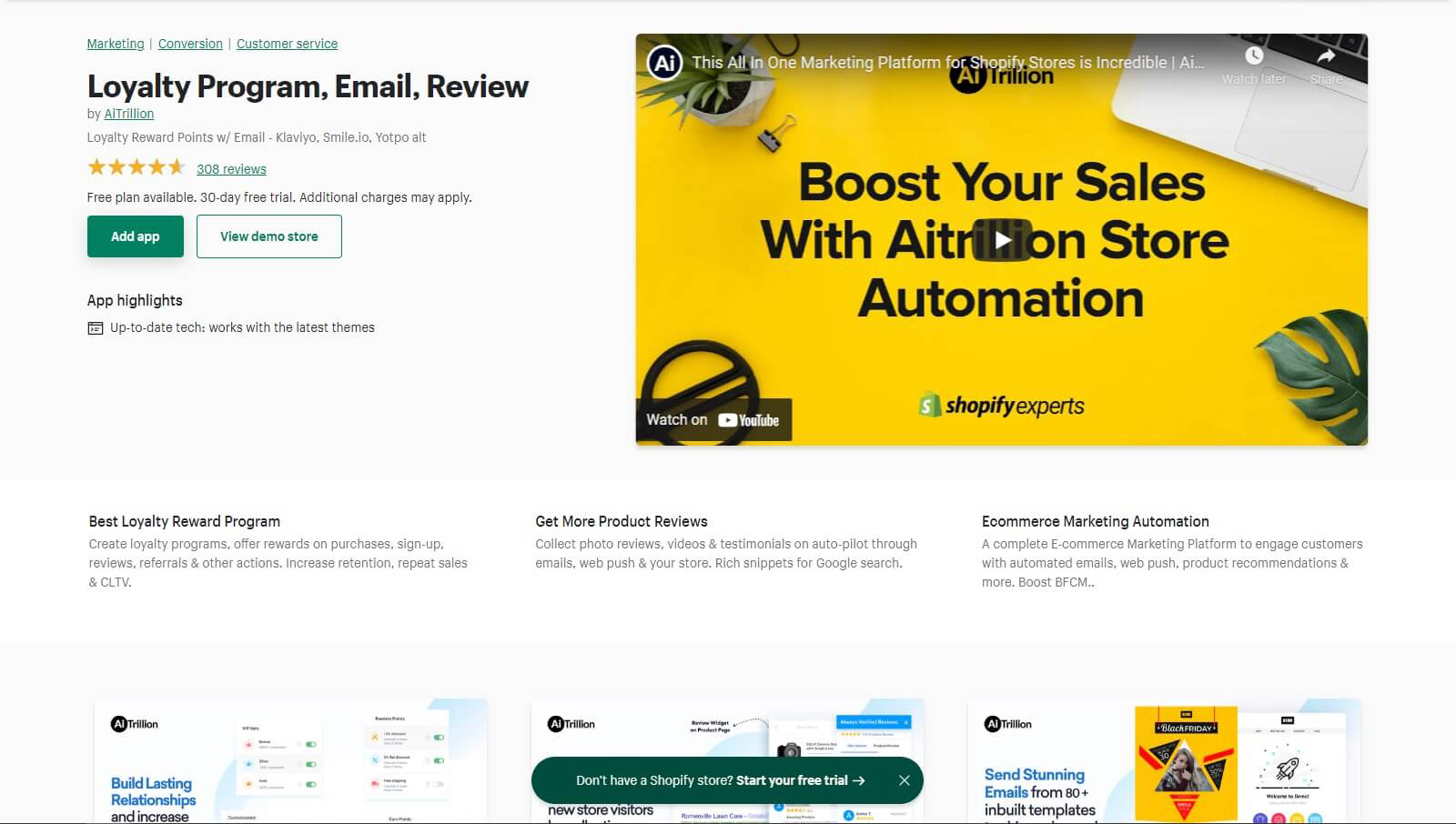 Key features of Product Reviews:
Send post-purchase review request email
Give loyalty points for leaving reviews to customers
Send automatic popups to collect reviews after the order
Use widgets to display your best reviews on your landing pages
Send emails with product images to get an instant review
Review dashboard to view all the collected reviews in one place
Share the best customer review on social media channels
Schedule email review reminders to ensure customers give reviews
Pricing plans:
AiTrillion offers a 30-Day Free Trial. The paid plan has all the 12+ marketing apps included in it and it starts at $49/month.
4. Product Reviews UGC by Stamped.io
Stamped.io is another leading E-commerce management platform with excellent customer review functions. Stamp.io is specifically designed to build trust and social proof on your store to increase conversion rates and boost sales.
One of the most outstanding advantages of Product Reviews UGC by Stamped.io is that it provides an in-email review request form to generate more customer reviews. This is a necessary function as it lets shop owners be proactive in collecting reviews, which is the best way to grow their reviews and drive more sales. Customers can leave reviews directly in the email, which means they don't need to click through to another form, and therefore lowering the barrier to action.
Key features of Product Reviews UGC by Stamped.io:
Collect reviews from multiple channels, such as Facebook, Etsy, AliExpress, SMS, etc.
Include star reviews and product information in Google search results
Offer multiple integration options by connecting with other review apps, Google Shopping reviews, and email clients within a few clicks
100% customizable to fit your brand
Provide smart product recommendations based on user history
Truly mobile-optimized and works with any theme
Offer multi-lingual support, including English, French, Germain, and 15+ other languages
Pricing plans:
Lite Plan: free
Basic Plan: $19/ month
Premium Plan: $39/ month
Business Plan: $99/ month
5. LAI AliExpress Reviews by Smartify Apps
LAI AliExpress Reviews focuses on helping merchants enhance your credibility by adding reviews to their products and boost your conversion rate with other amazing features. To be specific, LAI's key feature is to bundle import reviews via various methods: Import reviews from AliExpress and Amazon, Import with CSV file; Import with Oberlo and migrate reviews from other Shopify review apps.
Key features of LAI AliExpress Reviews by Smartify Apps:
18 beautiful layouts for you to choose
Fast import reviews from multiple sources: AliExpress, Amazon, Oberlo, custom files, manual submission
Advanced displaying settings (pin reviews, filter reviews,…)
Increase SEO with Rich Snippets (display star rating and reviews on Google search result)
Share favourite reviews to your linked Facebook page or create a Facebook tab
Collect reviews and encourage repeat purchases with automated review request email and smart coupon email
Keep track of reviews and emails' performance with in-app analytics reports
Show off your best reviews on Homepage
Integrate with pagebuilder apps, dropshipping apps and marketing apps,…
Pricing plans:
Free forever: Free
Basic Plan: $9.99/ month
Advanced Plan: $14.99/ month
6. Reviews, Loyalty++ by Growave
If you are finding a Reviews and Q&A app, meet Growave - a leading marketing platform that helps Shopify merchants reach their audience, engage users and boost conversions with ease. Growave is not about reviews only; you can get other products such as Loyalty and Rewards, Wishlists, Referral Program, Social Login, Instagram and UGC, Automated emails, and more for a reasonable price.
Many users are afraid that integrating too many apps may slow down their page loading speed because of code conflicts. However, with Growave, you get all the essential tools from one place. The app is simple to set up, with all the features you need are under one dashboard.
Reviews, Loyalty++ by Growave allows you to customize texts, language, and colors depending on your brand theme. It is fully compatible with GDPR and doesn't share your data with third parties. You can contact Growave's customer support anytime via email, live chat, or phone.
Key features of Reviews, Loyalty++ by Growave:
Showcase reviews on product pages, separate pages, sidebars, and carousels
Display reviews on Google
Send review request emails, as well as reminders to shoppers
Import reviews from different sources that fits requirements manually or in bulk
Google Shopping integration lets you showcase ratings and photo reviews on Product Listing Ads
Customize the design and adjust to your needs
Pricing plans:
Free Plan
Starter Plan: $29.99/ month
Growth Plan: $69.99/ month
Enterprise: $299.99/ month
7. Product Reviews, Photo Reviews by Loox
Loox is an excellent option if you are looking for a Shopify product review app that leverages the power of images. The app automatically sends review requests to customers via emails. And if they complete a review for your store, they can get a discount on future purchases, especially if they submit a review with a photo.
As a matter of fact, photo reviews are more trustworthy than written ones, which allows you to quickly build up a catalog of strong and high-performing reviews for your products. To build that trust, you can constrict detailed and gorgeous galleries of photo reviews. Plus, you can share your content on social media channels, gain more trust, drive more traffic to your online store, and boost your sales.
Key features of Product Reviews, Photo Reviews by Loox:
Request photo reviews from customers automatically
Allow customizing timing, review form questions, widget colors, size, font, position
Share photo reviews on social media channels
Moderate reviews, so you can show reviews that you want to, helping prevent spam reviews
Display reviews on rich snippets to improve ranking
Offer multiple displays in sidebars, carousels, and popups
Offer multiple integration options
Be available in different languages
Pricing plans:
Basic Plan: $9.99/ month
Advanced Plan: $29.99/ month
Pro Plan: $59.99/ month
Unlimited Plan: $99.99/ month
8. Product Reviews by Judge.me
Product Reviews by Judge.me offers you an automated and sophisticated way to collect and display your products' customer reviews. The app sends out emails to past customers who can write their reviews directly in the email. In addition to traditional and text-based reviews, you can also collect photo and video reviews. And in case someone doesn't leave a review, the system will send out a reminder and include a coupon to encourage them to complete the process.
Once collected, your product reviews can be shown off across the Internet. They can become part of your rich snippets on Google Search, Google Shopping, Facebook, and Twitter. If you have already got reviews, you're able to import existing reviews into the app to display them straight away. The app also enables you to install the review widgets to look exactly what you want and how you need it.
Key features of Product Reviews by Judge.me:
Allow product reviews with text, photo, video, and automatic reminders
Offer unlimited review request, orders, and imports
Display your reviews on Google Search, Facebook, Twitter, etc.
Synchronize product review groups or shop
Install widgets using your store design
Pricing plans:
Free Plan
Awesome Plan: $15/ month
9. Rivyo Product Review by Thimatic
Rivyo Product Review is one of the two products of Thimatic, which is an exceptional assistant tool for all Shopify merchants by displaying site reviews, product reviews, and feedback along with images.
With this app, you're enabled to add reviews from the back-end and import or export multiple reviews as in CSV files. The dashboard will display daily real-time reports, which give clear information about how many reviews added today. Admins can see total published/ unpublished reviews and questions.
On top of that, to make your store customizable, the app comes up with a ton of options to change your reviews' look, such as Display Name, Display Image, Display Profile Photo, Display Date, Review Per Page, and many more.
Key features of Rivyo Product Review by Thimatic:
Allow importing reviews from Amazon or AliExpress easily
Display product rating in the Google search results
Allow designing reviews and other elements with a high degree flexibility
Export limitless reviews as a CSV file format
Provide real-time dashboard reporting
Pricing plans:
Free Plan
Advance Plan: $5.99/ month
10. Product Reviews & Photos by Yotpo
Yotpo is an E-commerce marketing platform that, in addition to enabling users to manage reviews, also has a wealth of referrals, visual marketing, and building customer loyalty. Product Reviews & Photos by Yotpo uses AI-based technology allowing you to collect reviews and Q&A, and leverage these across other marketing channels.
The app allows you to collect reviews in two ways. Firstly, you can send engaging review emails to your customers. The second and even more useful option is allowing reviews to be left directly onsite.
Yotpo's intuitive and straightforward user interface makes it easy for customers to leave a review for both ways. This is essential because it ensures customers complete their reviews rather than clicking to the screen only to be put off by a lengthy or complicated interface and exiting out at that stage.
The app also comes with integration features that work with third-party systems such as Facebook and Twitter. That means you can post your top reviews directly to your social media channels, as well as integrating star ratings and product reviews into organic search results.
Key features of Product Reviews & Photos by Yotpo:
Collect reviews, ratings, images, videos, and Q&A from your customers
Display them on site
Share the best content from users in social media channels
Show your shop's ratings in search results and Google ads
Offer built-in analytics for you to dissect reviews and adjust strategies if necessary
Pricing plans:
Free Plan
Growth 50 Plan: $19/ month
Growth 75 Plan: $29/ month
Growth 100 Plan: $49/ month
11. Ali Reviews - Product Reviews by FireApps
Trusted by 40,000+ Shopify stores, Ali Reviews - Shopify product reviews app by FireApps helps you effectively encourage customers to leave reviews and boost the presence of customer reviews to build trust and maximize conversions.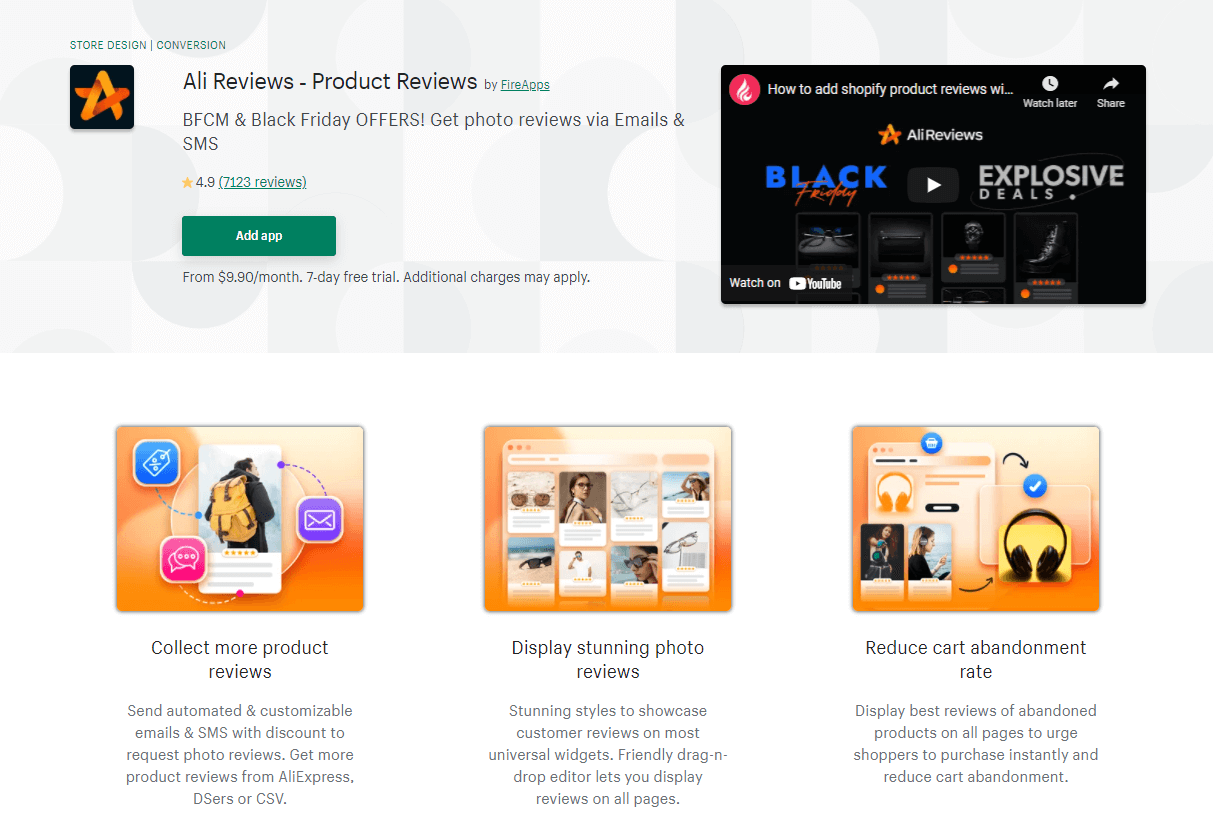 With Ali Reviews, merchants can send review requests via email and SMS with ease, rewarding reviewers' efforts with discounts to increase retention. This Shopify product review app includes 9+ rich review widget styles for showing customer reviews on all pages without code knowledge.
Additional benefits include the ability to personalize reviews based on customer information and on-site behavior, allowing you to reduce cart abandonment and promote sales.
Key features of Ali Reviews - Shopify Product Reviews by FireApps:
Collect reviews by sending customizable and automated review request emails/SMS.
Schedule email review reminder to ensure customers get your sincere request.
Reward customers with discounts for photo reviews to increase retention.
Feature reviews on home, product, or all pages with 9+ stunning review widgets.
Display personalized reviews based on customer info or on-site behavior.
Bulk edit country, Copy reviews, Move reviews.
Show product reviews and ratings on Google Shopping ads.
Pricing plans: 7-day free trial
Starter: $9.90/month + Free $0.3 SMS credits
Essential: $19.90/month + Free $5 SMS credits
Premium: $49.90/month + Free $15 SMS credits
Enterprise: $99.90/month + Free $35 SMS Credits
12. Product Reviews App by Opinew
If you are new to Shopify but already selling on eBay, Amazon, Etsy, or AliExpress, Opinew Product Reviews is a great app to get the review ball rolling.
With this app, you're enabled to collect product reviews from your customers and import them from other sales channels. Don't worry that the app will affect your page load speed because there won't be any request on page open. Moreover, whatever page you're on, all of the available features will be fully provided, such as Text & Photo Reviews, Review Request Emails, Star Ratings, Q&A, SEO, etc.
Key features of Product Review Apps by Opinew:
Gather and import reviews from previous customers from Amazon, eBay, Etsy, AliExpress, and other sources
No effects on page loading speed for your website
Verify purchasers and their reviews
Offer premade customizable plugin design and emails
Support multiple languages
Pricing plans:
Side Gig Plan: $9/ month
Shop Plan: $29/ month
Warehouse: $69/ month
Corporation: $149/ month
13. Video Product Reviews App by HelpfulCrowd
Video Product Reviews by HelpfulCrowd is a new app on the Shopify store, built by seasoned developers, who used to run three successful businesses before this one. This gives the app an advantage, as
The biggest selling point of this app is FRM (Frictionless Review Xperience). This feature allows you to collect reviews for every purchase from a single email, asking only one question in the request email. It delivers a consistent experience across every email client, so that emails appear the same no matter how and where the customer views them.
Moreover, there is a wide selection of marketing, loyalty, and traffic-boosting tools to help your store stand out.
Key features of Video Product Reviews App by HelpfulCrowd:
Increase sales via reviews and Q&A
Collect multiple reviews from a single email with one question
Collect reviews and send reminders at optimal times
Show product reviews on search engines
Provide auto-translation tool
Pricing plans:
Helpful Plan: Free
Startful Plan: $14.99/ month
Growful Plan: $19.99/ month
Blissful Plan: $44.99/ month
14. Product Reviews & UGC by Okendo
Built specifically for high-performance Shopify retailers, Product Reviews & UGC by Okendo is an app with all the necessary tools to capture and showcase high-impact social proof, such as product ratings & reviews, customer photos/ videos, and Q&A.
The app lets you send review requests via email and display any reviews on your website. Reviews can be placed at strategic places throughout your website to help improve conversion rates.
However, we want to remind you one more time that the app won't be for everyone. As it is designed specifically for high-performing retailers, it comes with a hefty price tag as a result. Therefore, if you're just setting out your Shopify journey, you might want to find a more affordable solution, and then move to Okendo when you're ready to take your store to the next level.
Key features of Product Reviews & UGC by Okendo:
Trigger emails that reach out to audiences for reviews at times they are most likely to act
Easy uploading of visual content (photo & video reviews) for customers
Provide an extensive range of widgets to showcase customer-generated content at strategic positions through the buying journey
Push review content to Google Search, Google Shopping, Facebook, and Instagram to drive qualified traffic
Offer simple-to-use dashboard to monitor performance
Pricing plans:
Essential Plan: $29/ month
Growth Plan: $99/ month
Power Plan: $299/ month
Advanced Plan: $499/ month
15. Product Reviews by Shopify
Developed by Shopify itself, Product Reviews is a free app where you are served with the simplest way to share your customers' experiences. To be specific, you're able to add a customer review to any of your items, which can result in a perfect engagement with your visitors and customers.
Its most attractive selling point is that it can automatically integrate the color scheme with your Shopify theme, as opposed with other apps where you have to change the colors manually. On top of that, Product Reviews by Shopify enables you to import and export your reviews as a spreadsheet with the CSV Import and Export feature.
Key features of Product Reviews by Shopify:
Publish, filter, manage, and hide reviews quickly and easily
Import and export your store's reviews as a spreadsheet
Make your SEO healthy by adding reviews scores to Google search results
Easy to change the layout and color scheme of your store
Offer customizable designs to match any themes of your store
Pricing: Free
16. Editorify - Product Reviews by importify
Editorify - Product Reviews by importify is a must-have app for dropshippers who have been running their business on Shopify and want to maximize their conversion rate. It helps you easily import your authentic reviews from multiple sources into your Shopify store to build customer's trust, boost engagement, and thus get more sales.
In addition to text-based or photo reviews, the app gives you the option to import explainer videos onto your product pages. This can significantly increase your conversions by demonstrating how the product can be used and adding another dimension to your product pages. Explainer videos can actually be imported from Youtube, Amazon, and Vimeo.
Key features of Editorify - Product Reviews by importify:
Import reviews from major E-commerce platforms
Import photo views/ explainer videos
Allow you to choose which reviews to show on the product page
Filter reviews that contain certain keywords you don't want to show
Pricing plans:
Free Plan
Premium Plan: $9.95/ month
Gold Plan: $14.95/ month
17. Photos, Social & Etsy Reviews by Kudobuzz
Photos, Social & Etsy Reviews is an excellent app if you want to push your product reviews on social media channels. You can integrate it seamlessly and push reviews to a myriad of social media platforms like Facebook, Instagram, Twitter, and Yelp.
With this app, emails are sent to customers for reviews and feedback to avoid missing any potential review. You'll also have access to four fully customizable widgets to display your reviews, each of which adds a special touch to your page. Besides, after enabling Google Rich Snippets, reviews and star ratings will be shown on Google search engine results, which help a lot in increasing customer engagement, promoting your SEO and brand reputation, thus increasing sales.
Key features of Photos, Social & Etsy Reviews by Kudobuzz:
Easily collect and display product, photo, video reviews and reviews from Google, Facebook, Amazon, and Etsy
You can decide which reviews to publish on your website
Allow responding and commenting to customer reviews
Show off review counts and ratings in Google search engine results
Pricing plans:
Coffee Plan: Free
Breakfast Plan: $12.99/ month
Lunch Plan: $19.99/ month
18. Photo Reviews by EnormApps
This is one of the best Shopify product review apps that you shouldn't miss, partly due to the cost compared to the functions. You are not limited to one photo per review; instead, each review can have up to four images used.
Additionally, the app allows you to use a slider to showcase your reviews. So, it uses less space on your website's design, but allows for more information to be displayed in that space. You can also show star ratings on the collection page so that visitors can see what the best products are.
When a new review is submitted, you'll receive a notification. This is a great choice if you want to keep on top of reviews and respond quickly.
Key features of Photo Reviews by EnormApps:
Allow up to four images per review to showcase why your products are excellent
Offer slider and grid options to display reviews/ product review images
Install your reviews on the product, collection, testimonial, or home page
Let you customize the form colors and settings
Pricing plans:
Free Plan
Basic Plan: $9.99/ month
Enterprise Plan: $14.99/ month
Advanced Plan: $24.99/ month
19. Social Proof & Reviews by Fera Commerce Inc
People value others' opinions, and you can leverage things like product reviews, testimonials, product reviews, photo/ video reviews, average rating badges, social proof pop-ups, and shopper actions to make more sales online. Fera Social Proof & Reviews is an amazing app that helps you use social proof to convert more of your existing traffic.
Along with counting sales and showing them off, the app enables you to easily display reviews and customer testimonials in a variety of ways, letting your shoppers know what others are saying about a given product. These can be displayed directly on your product pages or on a pop-up. Plus, one of Fera's most outstanding features is the ability to A/B test, allowing you to optimize your campaign for conversions completely.
Key features of Social Proof & Reviews by Fera Commerce Inc:
Easily display product/ photo/ video reviews, testimonials, average rating badges, and social proof
Automatically generate product reviews, showcase them beautifully on your product page, import and sync your existing reviews from popular review platforms
Push your store's reviews to social media channels
Show off your store's product reviews in either a photo gallery or video gallery
Allow customizing your template and appearance
Offer robust A/B testing
Be available in 8+ languages
Pricing plans:
Small (Startup) Plan: $9/ month
Small Plan: $29/ month
Medium Plan: $99/ month
20. Photo Reviews & Testimonials by Expert Village Media Technologies
Last but not least, Photo Reviews & Testimonials by Expert Village Media Technologies is a fantastic tool for all Shopify merchants to increase traffic and enrich descriptions of your products for customers. With this app, you're enabled to present product reviews on your product pages or any other pages.
Furthermore, the app lets your customers submit feedback about your products from the front end, and you can assign it from the admin side. Your review dashboard will be kept simple so that you can easily manage it.
There are many more interesting features, such as Import Reviews, and Loading Time integrated with this app. All things considered, the Photo Reviews & Testimonials app is worth a nice try!
Key features of Photo Reviews & Testimonials by Expert Village Media Technologies:
Allow customers to upload product photos with their reviews and testimonials
Let customers submit ratings on the store directly or via emails with a simple form
Customers can post their questions in the review section, and you can answer them from the admin of app
Show reviews in Google search results
Offer 5 pre-made templates for you to customize
You can import your previous reviews from other sources (Yotpo, Looz, AliExpress, etc.)
Allow you to display whatever reviews you want
Pricing plans:
Free Plan
Pro Plan: $9.99/ month
Plus Plan: $19.99/ month
Growth Plan: $49.99/ month
The final verdict
As you can see clearly, to grow a Shopify store, collecting and promoting positive customer reviews is essential! The best way to do this effectively is by using an appropriate tool. It will heavily depend on your specific needs and budget.
We hope that the list of 15+ Best Shopify Product Reviews Apps can help you make an informed choice. If you've experienced another excellent Shopify product review app, please feel free to share it with us! We are always willing to hear from you!
Website Support
& Maintenance Services
Make sure your store is not only in good shape but also thriving with a professional team yet at an affordable price.
Get Started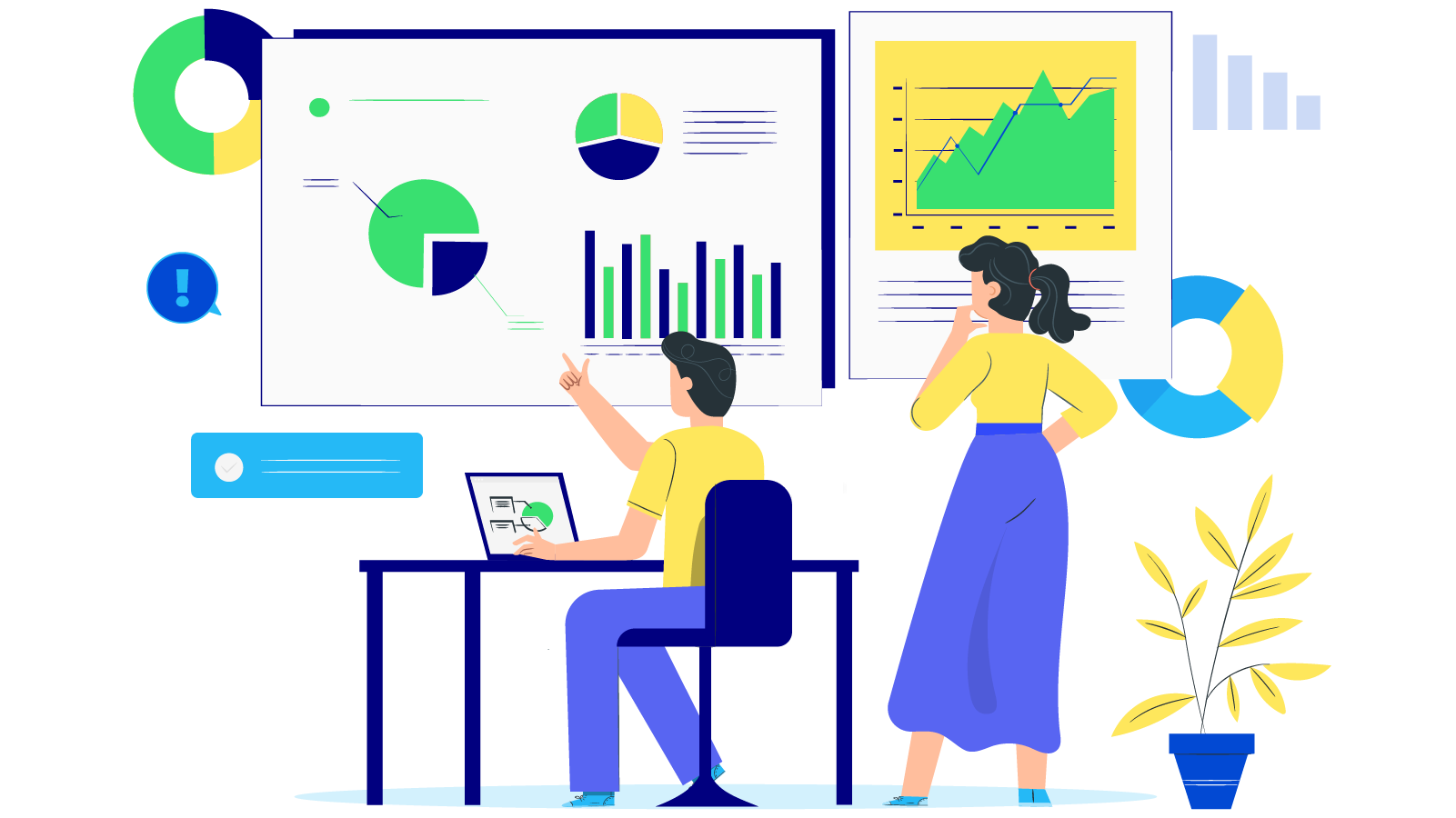 ---
---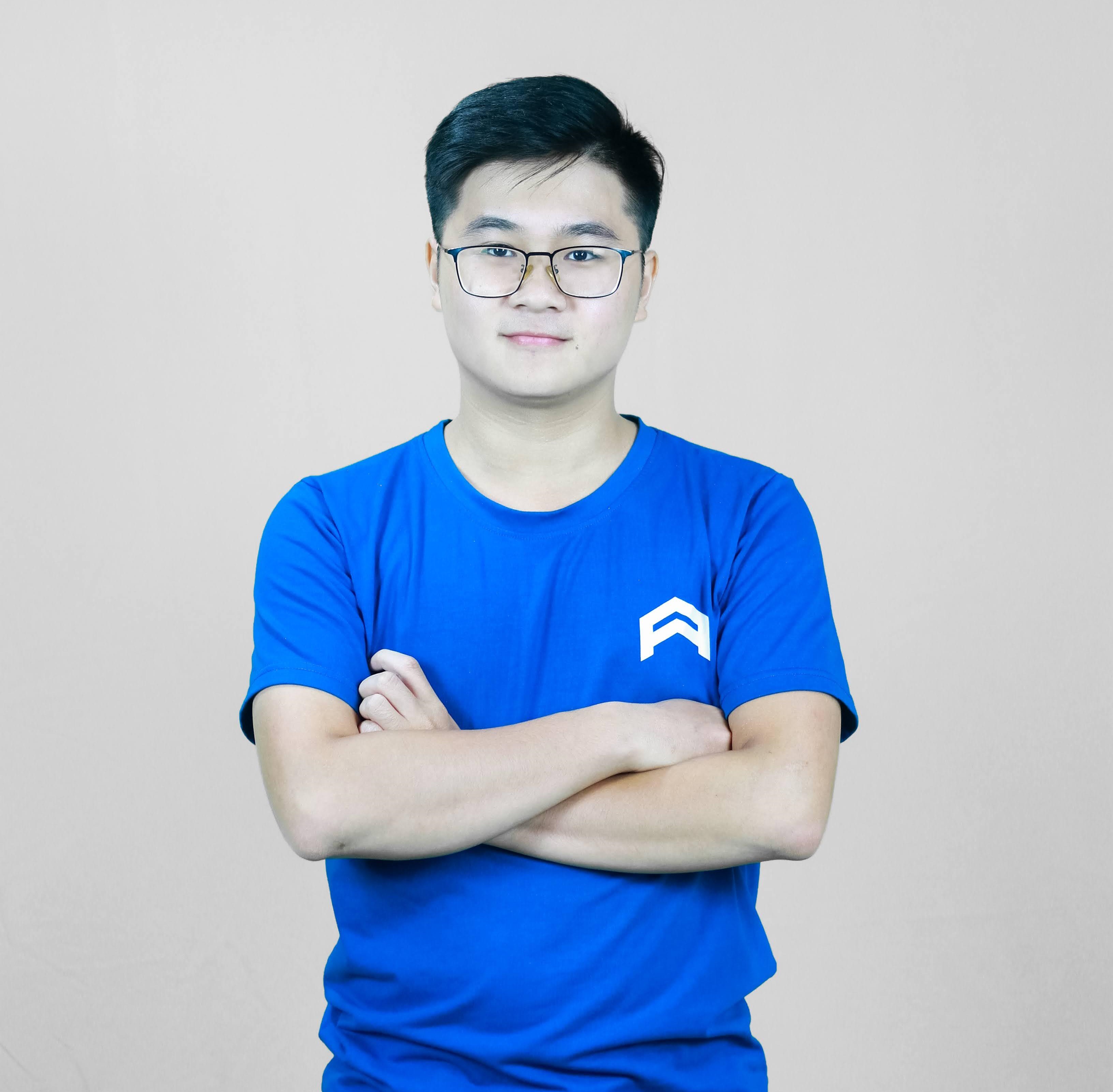 As the CTO of Avada, a company specializing in Marketing Automation Platform, I have over 10 years of experience in software development. I have successfully led Avada's technical team in creating innovative products for our clients.
New Posts



Subscribe
Stay in the know
Get special offers on the latest news from Mageplaza.
Earn $10 in reward now!